Age of Empires IV team on building a 'modern RTS,' from technology to inclusivity
Microsoft talks the return of Age of Empires IV, and efforts to adapt the series to the modern audience.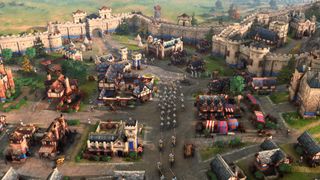 (Image credit: Microsoft)
Age of Empires IV steers the future of Microsoft's real-time strategy (RTS) series, among long-time legends of the genre, revived more than one decade since the last mainline release. The return of Age of Empires spans a handful of endeavors, spearheaded by a new internal development studio, dubbed "World's Edge." That dedicated team oversees three ambitious remasters and a full-fledged new entry, providing a glimpse of former franchise glory. We sat down with two leads under Microsoft's World's Edge team, talking goals for Age of Empires IV, and modernizing the series in 2019.
Related: Age of Empires' head talks the future of World's Edge, Age of Empires 4
Age of Empires IV, and two decades of learnings
The birth of Age of Empires IV follows an over decade-long hiatus, which saw franchise caretaker Ensemble Studios shuttered, as Microsoft scaled back its PC portfolio. Free-to-play and mobile experiences followed that milestone, striving for broader accessibility, but ultimately compromising its core RTS identity. The fourth installment looks to deliver a return to the classic Age of Empires formula, joining Microsoft Flight Simulator 2020 among Redmond's legacy titles revived on PC.
Age of Empires IV paves the future, developed adjacently to remasters of the Age of Empires trilogy. Those dedicated "Definitive Edition" bundles pair titles with respective expansions, alongside 4K upgrades and eliminating frustrations of dated systems. Age of Empires and Age of Empires II saw commendable efforts from third-party talent at Forgotten Empires, while Age of Empires III remains an ongoing project at Tantalus Media.
Modernizing past systems has been fundamental to each remaster, with minor adjustments that reflect expectations of modern strategy, but retaining classic foundations. That's equally true for Age of Empires IV, which balances staying true to its legacy while standing out today. The trio of Definitive Edition projects evoked learnings for World's Edge and its partners, and all considered headed into number four.
"[W]e've learned so much with all of the launches," said Adam Isgreen, creative director at World's Edge. "It's been a real growing experience, but it's unfair to say that it's one way. There are things that we've learned in the development of Age of Empires IV that we can even put into Age II. For example, the network technology behind the scenes is actually from Relic. All of the Definitive Edition games are now going to have Relic's modern networking backend. [...] It's this great two-way conversation between the old games and the new one, about what we're going to share, and how we're going to grow the games."
"It's been an interesting balance, going back and forth between things that people love about the older Age games and things that we want to do in the new one," said Isgreen. Avoiding that identity conflict is essential for any sequel, where Age of Empires straddles the line between legacy fan expectations and realities of the modern RTS space. While Age of Empires branding would undoubtedly shift units alone, it faces more rivals than ever, with high expectations the wait. The ensuing modernization of Age of Empires IV may be jarring for some, with what Isgreen describes as a "different beast" under current plans.
"It's always had this wonderful attention to it," said Isgreen. "Even among our focus testers, it's fascinating, because we have people who have been playing Age IV already, that love other Age games. It gets to some things that are silly but so charming. 'Wait, my knights don't hit the castle with the sword anymore?' […] But the funny thing is that a lot of people, as they play the game and getting exposed to it, say 'You know what, this is a different beast and I enjoy it for what it is.'"
World's Edge and Relic Entertainment double down on history for Age of Empires IV, targeting improved accuracy over earlier installments. The duo is taking a revised approach to design and depiction of civilizations, better reflecting the realities of humankind's formative years. "The approach to civilizations was something we felt we needed to modernize and push the civilizations further apart," said Isgreen. That builds upon one of Age of Empires III's main advancements, steering cultures beyond a universal template.
"For example, we showed a teaser that had the English and Mongols in it, two civilizations that couldn't be more different from each other. The way they play is very different from each other now too. It's one of the new things about a modern RTS system."
"All of that difference came from the history, it came from us designing around history of how these civilizations fought." The team has changed up research efforts for Age of Empires IV in pursuit of accuracy and representation. Isgreen explains how Microsoft actively sought beyond historians, by visiting cultures and translating learnings to meaningful gameplay. "[W]e went to Mongolia, learned about Mongols. We didn't go to a professor here in London, or someone back in the States. We went to the source to learn how those cultures operated, because respecting them and doing them justice is so important."
The concept aligns with Microsoft's continual push for inclusivity, further emphasized under CEO Satya Nadella. Whether diverse Xbox Avatars or the accessible Xbox Adaptive Controller, it's been a fundamental mantra across the Xbox One family. For Age of Empires IV, ensuring fair representation of diverse cultures plays a role in that vision. "Microsoft fully believes in gaming for everyone, including everyone, and making sure that we're authentic and genuine for the customers that we are serving. […] it's as accurate as we can possibly get it."
Age of Empires IV changes strategy with technology
Microsoft also elevates its technical scope headed into Age of Empires IV, in stark contrast to earlier titles. Two hardware generations saw games and supporting technologies evolve massively, best demonstrated by the latest X019 gameplay reel, beside the series' two-dimensional origins. Computational overhead provides a leap in visuals and gameplay, as highlighted by World's Edge studio head, Shannon Loftis.
"One of the things that we did at the beginning of Age 4, and one of the things I think stymied further development of RTS was [that] we just ran out of computing power to make the AI path correctly, to make the [civilizations] differentiated, to make the economy in the sim work. Then to render 3D at the same time you're doing all that," Loftis explained.
Microsoft approaches Age of Empires IV with a sense of transparency, emphasized as a key value in our time with the studio. When publishers, including Microsoft, regularly overpromised and underdelivered this generation, it looks to set expectations straight from the onset. That starts with its gameplay reveal reportedly assembled of in-game features, conveying more dynamic and sprawling gameplay.
Movement receives a fundamental change in Age of Empires IV, pursing more natural interactions too, Isgreen explained. Gameplay showcases the first example of motion capture in action, diverging from the scripted sprites of before. It pairs with a revised approach to pathfinding, advancing fluidity and reliability of units. "[I]f know real-time strategy games, behind the scenes it's been run by a find path solution called A* for a billion years, pretty much since its invention, with a few exceptions here and there," said Isgreen. "One of our big changes is moving to a more organic, more modern solution for find path, which is called flow field."
If you've played a handful of strategy games, you've likely encountered A* pathfinding. It utilizes fixed, path-based movement, finding the shortest route between points, but brings well-documented gameplay and computational limitations. Developers have experimented with more dynamic and adaptive systems like flow field, acclimating to large-scale scenarios, flocking, obstacles, and other movement challenges. "That allows us to do all kinds of interesting things with units, and get them to play in ways that feel more like real things," said Isgreen.
Isgreen details how improvements to visuals will also ease accessibility. Passive upgrades are now represented by on-screen cues, relaying changes directly to the plays. "Those things are all visually represented now in Age 4," said Isgreen. "One of the important things was anything that happens, has to be on the screen. And so that's something that computing power brought, something we didn't have access to before. So every upgrade of a weapon, every armor change, all of that stuff is visual."
Advancements extend beyond the on-screen action, also supporting the soundscape with more natural dialogue and unit chatter. "[When] the units talk, it's not just that you select a bunch of units, and they say 'Yes sir, on my way.' That's not the game anymore. It's organic talking and cheering when they win, and panicking, all of these interesting aspects that you could never really do before that we can now bring to life through voice and other things."
Microsoft views the launch of Age of Empires IV as only the "start of the conversation," promising steadily updates to follow, with planning already underway. However, Isgreen suggests it will also support modding through a suite of technologies, providing tools for community creators. "[O]ne of the reasons that Age has survived as long, it's been this franchise that people have loved for so many years, just because mods have been such an important part of it," said Isgreen. "We consider it one of the pillars of Age of Empires. The mods and good modding tools are tantamountly important to the success of Age of Empires. So you can assume that there will be a really nicely robust suite of mod tools and things that we can support."
Age of Empires IV could be some time out, with Microsoft yet to detail a release window for its next iteration of the RTS. It's an already promising foundation, delivering a notable technological leap after its lengthy wait. Age of Empires II: Definitive Edition has launched in the meantime, returning to the classic that solidified the series' reputation in the genre. With an impressive helping of content and welcomed enhancements over the original vision, there's no better time to dive back into its world-spanning conflicts.
An RTS for the ages
Age of Empires II: Definitive Edition
A lot of game for the asking price

Age of Empires II: Definitive Edition manages to make the classic RTS feel new while not straying away from what made the game great in the first place.
Get the Windows Central Newsletter
All the latest news, reviews, and guides for Windows and Xbox diehards.
Matt Brown was formerly a Windows Central's Senior Editor, Xbox & PC, at Future. Following over seven years of professional consumer technology and gaming coverage, he's focused on the world of Microsoft's gaming efforts. You can follow him on Twitter @mattjbrown.