Age of Sparta fights for victory on Windows Phone and Windows 8.1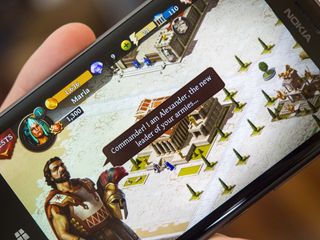 Age of Sparta, the newest free-to-play strategy game from publisher Gameloft, has made its debut today in the Windows Phone Store and Windows Store. As the title suggests, the game is set in the time of the ancient Greek Empire, with players asked to build their city, form their army and lead that force to victory against their enemies.
Gameloft says:
Be aware that while you can download and play the game for free, there are in-app purchases as well.
Thanks to joyson for the tip!
Windows Central Newsletter
Get the best of Windows Central in your inbox, every day!
:) I don't play these games.. But its good for the platform..

I'm not. No Xbox live no deal. If I wanted a game I would buy iPhone. I want game that gives me Xbox achievements so I got WP.

That's a big deal to me too. Since Xbox Live actually has universal presence on my tablet, laptop, Xbox 360, Xbox One and desktop PC... the relationship between devices is a lot more meaningful than the social gaming on the Apple GameCenter or Google Play Games. Whether a game does or doesn't use Xbox Live is pretty meaningful on WP.

Agree. Still playing World at Arms from Gameloft.

You are all prime candidates for the #SaveXboxWP movement. Details here. Make your voice heard.

Hmm featured in the store.. With a bigger picture than other featured games

Another one...but where's aoe that Microsoft promised

There's supposed to be one more AoE apart from Castle Seige.

Its delayed since MS is trying to build it for IOS & Android as well

He is talking about AoE World Domination :D :)

Ya even HALO!! Which was due to release in December?!!

yeah, not sure if Gameloft will actually support this, or stop like they did with Spiderman Unlimited.....

I didn't mean castle seige

Dude.. AOE is already available since 2014..!

He talking abt other aoe which is coming soon.its a cross platform

Maybe he meant this one http://www.windowscentral.com/age-empires-world-domination-windows-phone... :))

He is asking for AOE:world domination

Great to see that gameloft still loves us

I don't get the hype of these types of games lol. But good to see it on the platform nonetheless.

Is it me or the store is showing error in my Lumia 720 India

How this compares to AoE?

Have any one tried the game?

need xbox live support or no download.

No download, no updates for Windows Phone lol.

Yawn.. Another pay to play gameloft title.

I really wish there were more traditional style games on windows phone. Stuff like castle of illusion, rayman, final fantasy. I don't like this style as there is no *win* scenario. I just never feel like I've actually accomplished anything.

Final fantasy is a story. You can finish the game. It is a long game but it is worth it.

Look like world at arm without Xbox support

Can anyone let me know if I'll be able to play this game offline? And, is this game similar to AoE?

Can any one let me know jf this game works offline? And is the gameplay similar to that of Aoe ot something different?

Strategy game again... AOE and WAA aren't enough??

What is the status of Halo Spartan striker? It was suppose to come in December isn't it?