Airyware music tuner for Windows Phone drops from $4.99 to just $0 with myAppFree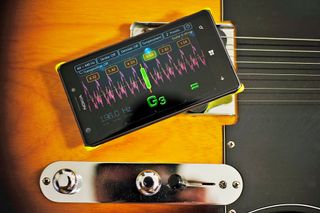 If you play a musical instrument, then you know how important tuning is in making sure your sound is right. Airyware Tuner is a top-notch tuning app for Windows Phone (7.x and 8.x) that lets you tune your gear wherever and whenever.
Airyware Tuner is normally $4.99 but starting today, they have hooked up with myAppFree to drop the price down to zero. If you have ever needed a tuner, today is your day, as once you lock in that license for the app, it is yours forever at that price, including updates!
The developer describes Airyware thusly:
Indeed, the app is neat to play with, even if you do not need to tune up (although obviously musicians get the most value out of it). Airyware should be free for the next 36 hours after which it reverts to its regular price of $4.99, so best to go get it now!
myAppFree
Windows Phone Central is proud to be partnering up with myAppFree, a free app and service that highlights special deals for software on the Windows Phone Store. Make sure you download their app today to keep track of all the specials they run weekly, as you'll never know what you may find.
Windows Phone Central is also highlighting select apps and games from myAppFree going forward as a benefit to the greater community. However, make sure you get their app as we are covering only one title a week!
Windows Central Newsletter
Get the best of Windows Central in your inbox, every day!
Daniel Rubino is the Editor-in-chief of Windows Central, head reviewer, podcast co-host, and analyst. He has been covering Microsoft since 2007 when this site was called WMExperts (and later Windows Phone Central). His interests include Windows, laptops, next-gen computing, and for some reason, watches. Before all this tech stuff, he worked on a Ph.D. in linguistics, watched people sleep (for medical purposes!), and ran the projectors at movie theaters because it was fun.
we dont need to install myappfree. , wpcentral will inform us :p

HRhrHR Rohit totally killed it.

And.... Done :D, thanx for the back up guys!

Side loading is technically incorrect!

Ooh I love oscilloscopes!!! Getting it now.... :D

Have never seen this, thanks Dan for the heads up! I've got six guitars that will benefit greatly from this.

Same here, this is the second free app I got from myAppFree. Tge first one was WP Central.

I suggest you to download our app and get one free app a day!

Hayyy Massimo
I Thank You for this Awesome app
And I'm an old myAppFree user
I really appreciate your daily work
Thank You Very Much

Working for you! The best you can do to help us is spread the word about myappfree and give a review on the marketplace : ) Regards

Sir, dont knw whats wrong but to me its showing "translator with speech".....any idea!! thanks in advance.

Sure I'll do that. Any thing else to help you sir?

Same here. Got wpcentral for free and now this.

Second? I already have around twenty. Some of them I already deleted since I didn't really used them much but some are very useful.

20?I have more than a 100 :p But Idk why they have blocked my account :/ I mean I didn't do anything wrong except maybe uninstalled myappfree app for one month,downloaded again,tried to log-in and BAM! my account has been blocked and Idk why :/

Did you try contacting the app support?

Hi Usama let's investigate on it. Drop me an email ; )

Forgot about this app until this article. Hard to hard reset downloading myappfree now.

I have myappfree and like it but I wish I could sign into it with my MS account. Besides that love it and the devs are doing a great job with the app and a service for the WP community!

We will work on MS sign-in. Thank you for your support.

Now if I had time/money to learn how to play.

Inclination is the most important factor in learning to play.

Undoubtedly, but 12 hour work days and 2 small kids won't really work out.

I paid for this app a long time ago, it is a great value even at $4.99. Lots of features...

Never really got along with any if these phone based tuners. Prefer to just use the Snark that's clipped to the head of my guitar already. Much simpler.

Indeed it does. Until I can afford a couple of gits with Gibsons fancy little MinE-Tune system its the best thing out there IMO.

My AppFree on my L720 notifies me at 15:00 BRT to check out the new free app o of the day, but it only shows it on the app at 19:00 BRT. Why is that?!

It's because of timezones, in a next version of myAppFree you will be able to choose the perfect timing for notification.

Is it a music player or what?

It is very good light weight guitar tuner. I love this app.

I'm not sure whether I'm allowed to mention this in a comment, but my app called GuitarKit is also free at the moment.. (instead 4$) Feel free to delete my post...

Hey man thanks for the heads up.....i will try! Hope it's better than others.

I'm working on a huge update. If you want to be a beta tester to try out the new version, feel free to contact me inside the GuitarKit App.

Hey man.....wow...amazing...thanks for inviting.....sureee!

Just downloaded, awesome app. Thanks!

Thanks buddy. We always try for the best..

Finally an excruciating app...that helps not only tune your jig....but also to figure chording for a song/melody....been there done that!!

Wow! Thanks for this wonderful...i was looking for a good tuner and I found it here... Thanks !

m.m.m.m.m.m.m.m.monster kill kill kill kill

G-G-G-G-G-G-G-G-G-G-G-Godlike

Don't need it but I never know if I will....for free I own it for ever, thanks foe the fyi

Nice, I don't have guitar atm but can find use to this because friends.

Is there a way to contact myAppFree, to give them suggestions regarding apps?

You can write directly to me at massimo[at]myappfree[dot]it

Still got "Translator with Speech" where I live. This one's not live yet

Check it right now ;) Airyware tuner is on 23 July (UTC Timezone)

Great app both myappfree too

Nice to have this app on-board. Too funny that it does not show up on "myAppFree" ;)

That's because we tell the news about app of the day some hours earlier to WPCentral.com. Check myAppFree now (23 July UTC) and you will see Airyware Tuner.

Wow!..that must be the biggest discount till date, and I play the guitar so win win for me I guess.
Thanks a lot Massimo! Very much appreciated.

Does anyone know of a similar app that will do something similar for a singing voice? I couldn't get my dad to switch to Windows because iOS had this app called Do Ray Mi that would help him check the pitch of his voice.

This is exactly what I need! I already have the trial version, but this is definitely awesome.

M so downloading this right now :D

Cool. I have a tuner in my amp but will try this for the acoustic guitar. Always fun to "see" sound too.

I saw this and jumped on it right away. As a guitar player it will benefit me very nicely. This app is amazing and to get it for free is very cool. Thanks for the heads up!

Lol. MyAppFree is the best scheme ever. WIN-WIN-WIN-WIN Everybody wins. You guys are awesome.

As a person with sever hearing impairment who uses a lot of alternate tunings and is a cheapskate, this is absolutely heaven sent. MyAppFree is awesome.

Plz help me guys hows it workz ?