Alcatel announces the Plus 10 2-in-1 Windows 10 tablet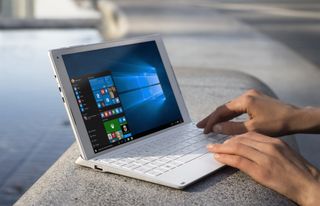 Alcatel, formerly known as Alcatel OneTouch, has announced a new Windows 10 tablet at MWC 2016, the Plus 10. The Alcatel Plus 10 is a 2-in-1 tablet that sports a 10.1-inch, 1280 x 800 display display. It's detachable keyboard also features 4G LTE connectivity, and can serve as a Wi-Fi hotspot not only for the Plus 10, but for up to 14 other devices as well.
The Alcatel Plus 10 is powered by a 1.92GHz Intel processor and has 2GB of RAM. You'll have 32GB of internal storage to use, though you can expand that up to 64GB with a microSD card. It has a 5,830mAh battery, which can be combined with the 2,589mAh battery in the keyboard for extra power. The tablet also has USB, micro USB, and micro HDMI ports for increased connectivity options.
The Plus 10 is expected to go on sale in Europe, Latin America, the Middle East, and Africa in June. Pricing information has not yet been announced.
Press release:
ALCATEL Launches PLUS 10, its first 2-in-1 LTE Connected Device Powered by Windows 10
ALCATEL's first 2-in-1 device powered by Windows 10 is one of the few connected 10-inch 2-in-1s on the market
A quad-core Intel processor, combined with Windows 10, provides for maximum productivity during the day
Dual front speakers with 3D audio effect coupled with a high-resolution IPS display guarantee a stunning surround sound experience
Innovative, detachable 4G LTE keyboard can serve as a Wi-Fi hotspot for up to 15 devices; a great way to stay connected in a jiffy!
Multiple ports, including standard USB, micro USB and micro HDMI, make adaptors a thing of the past
MWC, Barcelona, 22 February, 2016 – Increasing its offering of Windows devices, ALCATEL announced the launch of its PLUS 10 2-in-1 device, running on the latest Windows 10 operating system.
"PLUS 10 is ALCATEL's first 2-in-1 device with Windows 10, and we're very proud of all the functionality we've built into it," said Vittorio Di Mauro, General Manager of Smart Connectivity at ALCATEL. "PLUS 10 goes everywhere I go – the house, the office, even the park! It's a fun product that sparks a lot of conversation (and jealousy)."
"We are excited to welcome ALCATEL to the Windows ecosystem and add their innovative LTE 2-in-1 tablet to our Windows device portfolio. The PLUS 10's unique features, combined with Windows 10, provide the optimal balance between productivity and entertainment from wherever you go," said Peter Han, Vice President, Worldwide OEM Marketing, Microsoft Corp.
3 Modes, 1 Irresistible Price:
Mobile office: With its compatible 4G/Wi-Fi-connected keyboard, PLUS 10 offers a complete mobile desktop experience. It can be used in laptop mode to type documents or create spreadsheets, and in dock mode to display presentations or slides. With its multiple ports — rare to see in this device category — PLUS 10 further shows its hard-working sensibility, by enabling connections to a hard drive, mouse, USB key, secondary screen and more.
In addition, PLUS 10 has a default memory of 32 GB that can be ramped up with an external SD card for extra space for holding pictures, videos etc.
Entertainment center: PLUS 10 can be used in dock mode to view videos or movies. To top it off, the dual front speakers, with immersive 3D sound, coupled with the high-resolution (1280 x 800) IPS screen technology, make film watching and gaming an extra pleasure.
Travel companion: Exceptionally convenient to carry, PLUS 10 is compact and 40 percent lighter than an average laptop. When used in tablet mode, without the keyboard, it is even more portable and is an ideal companion for travel or commutes, to browse the Web, play games or serve as an e-book reader.
Powerful Battery, Wi-Fi Hotspot and Cameras Add Functionality
PLUS 10 is equipped with a double battery. The tablet and 4G LTE keyboard offer a total of 8,410 mAh, which lasts a full 8-hour working or playing day. The unique, connected 4G LTE cat 4 (150Mbps) keyboard works double-time to serve as a Wi-Fi hotspot for up to 15 users.
To complete PLUS 10's long list of functionalities, it has both a front and rear-facing camera, with front flash which is ideal for video calls.
Availability
PLUS 10 will be offered in several different finishes and in an elegant, subdued palette of colors: metallic silver, matte white, matte volcano black and a unique warm gray leather finish, which is silky to the touch.
PLUS 10 will be available for sale in Europe, Latin America, the Middle East and Africa in June 2016.
Get the Windows Central Newsletter
All the latest news, reviews, and guides for Windows and Xbox diehards.