All of Microsoft's Office apps get updated for Windows 10 Mobile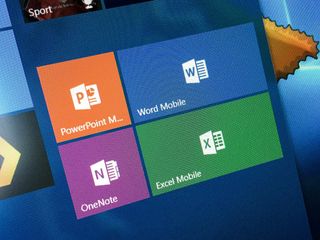 Windows 10 Mobile preview users can download and install new versions of the Office suite of apps from the Windows Store. However, these new versions appear to be just minor updates with no change log and no noticable changes or additions.
At the moment, all we know is that the build numbers for these apps have changed from from 10042 to 10062. If you do notice any major additions or changes in the Office apps, please let us know in the comments and we will update this post if needed.
Thanks to everyone for the tips!
Download Excel for Windows 10 Mobile (opens in new tab)
Download PowerPoint for Windows 10 Mobile (opens in new tab)
Download Word for Windows 10 Mobile (opens in new tab)
Download OneNote for Windows 10 Mobile (opens in new tab)
Get the Windows Central Newsletter
All the latest news, reviews, and guides for Windows and Xbox diehards.
He wrote all the article, spell checked, double checked the info and published it and all you can say is "K" smdh lol

Now please update your WC app to work better with Windows 10 mobile

Or update the app, period. They haven't updated the app in 1 year.

I think the Android version has been, several times.. ;-P

Yes! The android version has a better way to display comments with individual profile pictures.

THANK YOU! This app is horrible on W10. Sluggish and not very compatible. Not to mention it needs some refreshing to match W10's look.

i swear!
the delays in app and page loading are killing me.

You know one thing he didn't do, and doesn't ever seem to do anymore? Add the download link to the WC app.

If them doesn't seems faster I will not even download!!!!! :)

Why does checking for app updates take 3 minutes on windows 10 mobile and 2 seconds on windows 10? It is really slow.

I agree. I field a windows feedback item on the issue... go upvote :)

And the link to that feedback?

Windows-Feedback:?contextid=318&feedbackid=adcca241-ccf3-4ba1-a71e-6bb53e9f3fd7&form=2&src=2

Just 2 weeks left for official release? /s

2 weeks for official announcement for devices.... Not for Windows 10 Mobile release.

You clearly you missed the /s.

( you didnt notice '/s') still lemme light some idea on the topic
Agreed ...Still, they gotta demonstrate the new hardware with new OS...but the OS is not yet ready.. And they are working on Build 10240 and clearing bugs in it just for the October 6 event ( or may be as the official RTM kind of build for upcoming flagships and an update after the release ( November ) will bring the new and feature complete OS update ( Redstone/Threshold2 )..

It's going to be more than that. Why should the hardware event mark the release of the OS?

I feel like I'm really good at BS answers...uh, firmware. The devices we're testing them on haven't gotten the right firmware updates to streamline and fascilitate operations on devices with Windows 10 Mobile just yet. Once the OS is officially out though and those updates get rolling, you'll be amazed at the level of speed and snappiness! =D

I want to know why SwiftKey input doesn't work in the store app. Why the heck is this not a global thing from day one on windows 10?

SwiftKey is not on Windows Phone. Do you mean Word Flow?

Or in the calender for that matter

Translator 10 Beta updated too.

Why doesnt individual people tile in W10 flip like they used to in 8.1 ! Also doesnt even say if have a new msg or mail from them :(... one step back..

I pinned individual people app for the first time on monday, i thought it was a very lovely tile, with the rolling up circle profile picture. I don't know if it displays any other information besided the name tho :/

Tiles for individual contacts do show Twitter and Facebook updates (on my L520). For groups however, there's no more "What's new" and no more social media updates on the live tile. Linkedin is no longer supported in W10M at all, so no more linkedin updates on live tiles. And as soon as Outlook.com drops support for linkedin, no more contact sync as well.

I hope they continue updating these apps once W10M is finally released.

After ios/android, sure, they MIGHT give an update every year or so... but they won't include any noticable changes. Also, they will lack half the features of ios/adnroid.

Can't modify excel documents. Only those with office 365 subscriptions...FAIL UPDATE!!!

It's going to be even more difficult to get people to upgrade from WP8.1 to W10M when they find out that they'll loose the ability to edit documents.

how many times a day do you acually edit an excel document on your phone ? this feature might be handy for enterprise customers which we assume will have Office 365 subscriptions..but for an average user...depends on the user base volume. personally ever since I had a windows phone 7 (HD7) have never edited a single word or excel doc...pc suits better.

Many times a day. I need those functions, if they are not there, then it's useless for me.
On the other hand, I never use word or power point on my phone.
I do those things on desktop office.

It's coming. We will get feature parity with the other platforms.

If you're using the office mobile apps on a windows pc or large tablet, a subscription is needed. It's free for phones with some feature limitations.

It's free for phones and small tablets only.

That's a known bug. Log out of your ms account from office and sign in again.

No longer says beta in app list

less is more windows central

Previously when I installed W10M, these apps wouldn't let me edit without 365. But, I reinstalled W10M yesterday and these apps are letting me edit. Is this a recent change or related to this update?

My 640 dual sim got a huge OS update today as well on 8.1 update 2. Plus the Lumia camera apps got new names and icons..

Send wc a tip with some photos

The whole point is they see my post and do it themselves lol, I can't be bothered with it.

Gt updates for Translator Beta, Remote Desktop and Photos too... =D

OneNote added the ability to delete notes and other options when holding on a note , something that has been missing
And office apps now no longer has "preview"

Naive Apps are been updated but the OS itself needs to be updated as well feature wise...and no update and news about project Astoria. This project suppose to be a big factor that will close the app gap this OS is suffering from. What about the google play services most apps need. What are the plans MS lol!!!

Does windows phone get any extra features than the ios/Android version of the office apps? We should get something better

The updates on Windows 10 have lost their icon for Pin to Start.

Guys .... how to pin an Office mobile file on start screen ? On the 'new' OneNote, even with some issues (when you call an specific list / note, the phone keeps showing off the last note used first, for a fraction of second), we can still do that, the way we do on wp8.1 ... But on Office, I can just pin to a fixed list inside the app itself. The feature is missed or am I doing something wrong ?

Excel, even Word, won't open any of my files.

For me the update removed "preview" from the all the app names as listed under All Apps.

All I need is ruler and word count..

Microsoft had enough time to also update all Office apps for iOS and add very extensive change log....

Still no pinning Word or Excel docs to start. Which I think was a great example of how the Windows start screen was much more useful and versatile than those of IOS and Android.

I keep getting a error saying mine is unlicensed, pleas help

why don't these links open on windows 8 pc?

Why download it and complain when this is windows 10 betas only? Why not suggest and report the error to Microsoft for improve? That's what beta is for...

Still no usable Office for Windows Phone.