All you need to know and expect from Microsoft Build 2015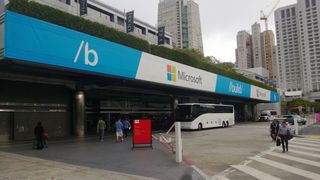 Starting tomorrow, 9am PT / 12pm ET / 4pm GST, Microsoft is kicking off their annual Build conference for developers. Once again, the three-day event is taking place in beautiful San Francisco, California and this year looks to be its biggest yet.
Traditionally, Build has always been for and about developers of Microsoft's various platforms, from Windows, to Azure, to Windows Phone, and Xbox. This year Microsoft looks to expand that to HoloLens and the Internet of Things (IoT) as well.
However, the consumer story is always in the background. Sure, on occasion Microsoft gets on stage and announces "new" devices like the Lumia 930, the Lumia 1520 in green, and the Lumia 635. However, more often than not, the software is the focus and not new hardware. Case in point, Microsoft pre-announced the Surface 3 weeks ago instead of waiting for Build.
As Mark Guim and I prep to fly out tonight to San Fran, let's break it down what we should hear over the next few days.
What we do NOT expect
As always, expectations are super high for Build, but usually things come in a little lower than what people want. So let's mention a few things we do not expect to hear about:
New flagship Lumias – Microsoft will very likely at least reference that this device (or devices) are being worked on and are coming "later this year". They may even hint at some details. However, we do not expect a big on stage reveal of any new hardware. Not yet, as it is just too early.
Surface Pro 4 – Sure, we just ran a story about some possible specs of this tablet/hybrid, but I do not expect anything until later this year, possible near the holiday season. Releasing it too early muddles the Surface 3 message by the sheer fact its model number ("3") is lower than a Surface Pro 4.
Microsoft Band 2 – People can barely buy the first Microsoft Band right now worldwide, so it would be premature to release a new version so early in the product's lifespan. Microsoft appears to be still feeling this one out, both in terms of customer demand and selling a device with robust and refined capabilities. Still, the Band itself should get attention during this event and even some new news about Microsoft Health.
The takeaway for Build is this – Microsoft typically does not squish in big new product launches during a developer conference. Instead, they would rather hold a single, focused press event for new hardware. Then they could invite the right journalists, and have a large, controlled and concentrated event. Doing anything less and risk overshadowing your own products by having too many announcements.
What we DO expect
Windows 10 – File this under 'duh', but Microsoft is going to dive deep into Windows 10. This includes more on Project Spartan (how about that official name?), Windows 10 for Phone, Cortana, Continuum, and new, previously unannounced features. Release dates would also be an excellent thing. How about Windows app development on OS X and Linux? A new cross-platform Visual Studio may do the trick.
Windows Redstone – Redstone is the internal name for the next Windows 10 milestone. Microsoft has been very forthcoming about plans for Windows, and we expect more details about their Windows roadmap post-Windows 10. New features, UI goals, and more are all likely candidates. That's right folks when Windows 10 launches, it is but a drop in a bucket of what Redmond has planned.
HoloLens and Microsoft Band – Not much news has come out since January on Microsoft's new augmented reality headwear dubbed HoloLens. Developer SDK, release information, and demos are all expected to get some love at Build. As far as Microsoft Band, we expect some new feature announcements and details on the expansion of Microsoft Health.
Android apps on Windows/Windows Phone? – The project to run Android apps on Windows and Windows Phone 10 has been known for months now. Last we heard, legal concerns were holding it up, not technical. Will Microsoft finally pull the covers off of this project and throw the switch? Maybe.
Xbox One apps – Tying into the Windows 10 story, more details about Xbox One and Store apps may be on the table, including developer news and timing. We do not expect too much in the way of gaming specific news because E3 takes place just a few weeks from now in June.
Of course, we are not even touching upon Azure, cloud computing, IoT, Office 365 APIs, Windows Hello, SharePoint, Design UX, and more developer focused announcements. Make not mistakes, those will happen too.
Where to watch, how to follow
Finally, after you take all of that in you may want to know what to do next. So here are a few bits.
Build 2015 Landing Page – This has all of our news coverage for the week and what we know so far in one place www.windowscentral.com/build-2015
Keynote 1 – April 29 9am PT / 12pm ET / 4pm GST. This keynote will be the BIG big talk, featuring Satya Nadella, Joe Belfiore, Terry Myerson and more. This event will be live streamed on Microsoft's website (buildwindows.com

(opens in new tab)

). Windows Central will also have a live blog and the video embed with a chat room for you folks to discuss the event. More info on that is coming up in a post later today.
Keynote 2 – April 30, 9am PT, 12pm ET This keynote focuses more on developer news and cloud computing. As such, for consumers it is a little less interesting.
Sessions, sessions, sessions! – The rest of Build consists of developer sessions for three days, which we will be attending. Expect small news reports to pop throughout the day on these events.
Windows 10 Breakout Sessions – This is an invite only press meeting with some key members of the Windows leadership team. Expect our notes after that event as it should be revealing.
Grab the Event app – If you are attending or want to see the sessions, grab the free Build Events app for Windows Phone, iOS, or Android
You can also follow Mark Guim and I on Twitter and Instagram:
Sound off in comments what you expect to happen this week!
Daniel Rubino is the Editor-in-chief of Windows Central, head reviewer, podcast co-host, and analyst. He has been here covering Microsoft since 2007 when this site was called WMExperts (and later Windows Phone Central). His interests include Windows, Microsoft Surface, laptops, next-gen computing, and for some reason, watches. Before all this tech stuff, he worked on a Ph.D. in linguistics and ran the projectors at movie theaters, which has done absolutely nothing for his career.
Build is always exciting and it's fun to run into old friends, meet new people, and hear all that is coming. Prepare for some interesting news coming in the next few days! Now time to pack and fly 2,500 miles.

Let us know everything...

Man I expect the 840 to get its covers off tomorrow at build fingers crossed hope so it makes its way as rumours suggest ;) and happy journey;)

Wont happen. BUILD is for developers and another chapter in Microsoft's story. Hardware announcements more likely in September.

Not really. They could hold flagship devices for later announcement, but pop out some mid range devices to showcase the new OS.

Yess.!! Like last year .!! Hope so this year not flagship but the midranger pops up :)

Me too, very curious to see what the 840 looks like if they reveal it

Did you not read the article? Sheesh.

Flagship announcement is very unlikely at THIS POINT. A new phone(s) is definitely on the horizon, possibly an 840.

Great write up! We'll see what happens. I'm definitely nervous about Android app on the Windows Platform. Save travels!

Me too, I hope they don't do that, it would mean no develipment for the plataform, developers will only develop for iOs and Android, that's no good for the plataform

I'm nervous as well. If I want Android apps, I'd just buy an Android phone. We have too many of those anyway. I hope it's just a rumour.

I too feel the same, it wont happen. I'm a very big fan of Windows Phone. Starts the app develpement from 2010, if its happen, No one will buy WP. All r goes with Android.

Would love to go. Have fun, and take lots of pictures

This is very exciting! It is sad I am not able to make it due to several restrictions but I will watch it live and I am incredibly excited to see how the new announcements can help me as a developer help consumers and even port apps to Xbox One :).

Safe travels out there guys and have fun!

Got any extra tickets Dan? I'd love a front row seat of the action. :-) Enjoy man! Looking forward to how the Microsoft story continues to unfold. :-)

If you seen any AT&T reps there please ask about Denim and GDR2. Thanks!

Hey ruby, is the English language a real problem for Americans? Or should you just claim it as a derivative of the proper version since spelling and punctuation is really a major problem for you all. Check this article for ALL the examples of poor punctuation.

Your second sentence required a question mark.

What do you think its the likelihood of a surface mini announcement at build?

Slim.
Surface mini got cancelled.
And Build is a developer conference.

You should update the photo in your story, it's a bit old.

4pm BST but we get ya ;¬)

Daniel, since you mention old friends, how is Sam Sabri? Say hi from the WC community if you see him!

I was just in San Francisco the other week, it was absolutely amazing there. Would love to have been able to attend Build, but I'll have to watch online for another year I guess :-)

Do you think Microsoft will show the full UI of Windows10 for desktop and mobile? I mean reveal the new design language and how it works similar to what Google did last year with Material Design? Even if they don't have hardware to show a final and completed UI and UX presentation would go a long way

If you're meeting Sam Sabri, tell him we miss him... :)

I'm not watching BUILD if they pull any android crap on us loyal windows phone users/enthusiasts :T
--------------------------------
Really looking forward to a new more stable and feature packed windows phone build! :)

Devil is in the details. I think we should all remain cautious until we know how this will all work, if it does happen.

Daniel, Tom Warren has hinted multiple times that the "Android apps on Windows" is really just including Android app development in the UAP. Have you heard anything about this?

Yup, that is what I'm leaning towards too. Like I said, let's MS explain it before we grab the pitchforks ;)

That's exactly what I said

Wha​ts important for us is that you'll be ready to grab a pitchfork if need be. We'd want a mass boycott, no applauds if they announce the silly android on windows massacre ​

Too late, the clowns have already come out to play.

I have heard that they might allow straight adaptation of everything except the UX. So that W10 will allow people to just publish their Android-apps with a user interface that is adapted to each screen size-treshold that W10 has. This is HIGHLY unconfirmed though, so don't run with it. (I doubt you would anyways, this disclaimer is more for the WMPU-crew that stalks this site).

They're not going to talk about running android apps on Windows, especially at build. 'Hey devs thanks for coming, now go learn android/java!. Everyone is leaving with a free LG G4 with Lollipop!!!!'

Very funny wise guy, very funny. But that ain't gonna happen ;)

I think the best thing would be kind of a converter like put in your android app and you'll get your windows universal app... Following with easy steps to integrate windows stuff like live tiles and Cortana etc...
Every android app on windows would be kinda messy :-o

Android=no apps for Windows! Why are you doing this Microsoft

That's all well and good. Just hoping MS really doesn't make any plans for running android apps on windows phone. It will be like a proverb in Hindi language "apne hi pair pe kulhadi maarna" (Hitting the axe on your own feet deliberately)

Kya baat hy... Chalo issi bahaane Hindi comments shuru 3-2-1... :D

Well, there's no "deliberately" in the original. "Apne pair par kulhari marna" could also mean accidentally.

Imagine this. Go to Play store. Android app codes. Copy. Paste. Send for validation in Windows Store. And it runs on Windows Phone. The beauty of it. Yes, the UI might be the same as android... But you have all the apps you need.. And based on usage, devs can later tweak the app to look like a windows app. If any app after this refuses to publish on our store *cough snap chat cough instagram cough* .. They are just plain *******.

Yeah because going the blackberry route is soo worthwhile! Look at their 80% market share :D most valuable mobile phone OEM on earth! /s

Them doing it was like using nitrous when going down a slope. Us doing it is like using nitrous when climbing up a slope. Big difference. Timing. :)

The thing about a platform is that it has its own native apps. There's already a platform that runs android apps and its called android. Why does there need to be a Windows platform that also runs them?

Market share.? Once people realise that all apps are available now on the windows platform.. There is nothing stopping them from switching to Windows except the OS, which is pretty damn decent here. And once we get the market share we need, then we can rule the game again and force devs to code specifically for windows. Yes, maybe a couple of years later.. But still possible.

Well I still hope it never happens. It could only do more harm than good.

Embrace, Extend, Extinguish. That is how Microsoft succeeded in the past, they need to do the same with Android Hosting.