Display bezel allegedly reveals Microsoft branding for a Lumia phone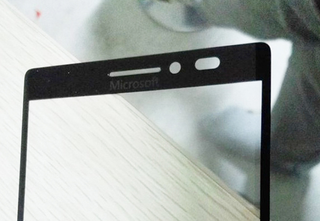 File this story under 'likely', but a few photos of the display bezel for a Lumia phone are making the rounds. Although factory parts are run of the mill, this one is unique since it allegedly sports Microsoft near the top instead of Nokia.
The photos were obtained by French site Nowhereelse.fr a "few weeks ago," although they supposedly held back on them due to lack of corroborating evidence. Yesterday, Geeks on Gadgets gave them that confirmation as they reportedly got their hands on an internal document revealing the phasing out of Nokia in exchange for Microsoft in the coming months, with Lumia being the brand name going forward.
The photos themselves are of decent quality but grainy. Still, running the image through Fotoforensics.com did not reveal any anomalies or obvious manipulation of the photo, suggesting it is real.
Quite possibly, this is simply a prototype as Microsoft begins to explore options for branding on the phone. Everything from font sizes, location, and even the name itself are likely to be considered when Microsoft moves forward with these plans, and this could serve merely as a sample.
As to which phone the bezel belongs to, it is hard to tell. The bezel-style with speaker, front-facing camera, and sensors match the Lumia 930, Lumia 830 and Lumia 73x. However, due to the thinness near the bottom (see on photos from the source), it suggests that this phone employs on-screen keys rather than one imprinted on the bezel itself. Because of that, we are leaning on a Lumia 73x bezel, even it does look rather large for a 4.7-inch device.
Alternatively, it is simply a phone we have never seen before and an early prototype.
One other possible explanation is when this phone goes on sale in the US, as we reported yesterday for Verizon Wireless the Lumia 735 may take on Microsoft branding. The US market seems more accustomed to Microsoft than Nokia as a brand for smartphones, and this may be the first test case for the company.
Source: Nowhereelse.fr; via PhoneArena
Windows Central Newsletter
Get the best of Windows Central in in your inbox, every day!
Daniel Rubino is the Editor-in-chief of Windows Central, head reviewer, podcast co-host, and analyst. He has been covering Microsoft since 2007 when this site was called WMExperts (and later Windows Phone Central). His interests include Windows, laptops, next-gen computing, and for some reason, watches. Before all this tech stuff, he worked on a Ph.D. in linguistics, watched people sleep (for medical purposes!), and ran the projectors at movie theaters because it was fun.
That looks exactly like the 930/icon. Successor maybe?

If you look at the full photos on the source site, it is not a Lumia 930. The bottom bezel on these photos is too thin to accommodate capacitive keys. This is definitely an on-screen keys phone.

Ah, they need to design a surface phone, microsoft phone, or whatever to compete in the high-end space! The 930, 929, or 1520 phones are good phones, but not considered as high-end as the Galaxy S5, or the newy release iphones............C'mon Microsoft, our patience is getting low here. After 3 years, you can at least make super high-end phone, I will buy it and I'm sure many others would too! Panos Panay says he was working on at least 3 new product, why can't they be a surface watch/phone/mini????? They need to get their phones, watches, etc out their before Google and Apple eat up all of the customer base like in the past........When will they learn? I appreciate them becoming a services company, but there's just as many services companies as there are hardware companies! Ballmer has the right mind set when he said Microsoft would compete with Apple and Google on every level leaving no stone un-turned; but it look like Satya wants to be submissive and throw in the towel everywhere except cloud services.

I do think the Galaxy S5 is a far cry of what constitute a high end smartphone with the use of plastics all over its body. Personally, the HTC One M8 for Windows is the gold standard of a high end smartphone and this comes from a happy Lumia 1520 user who considers its smartphone a "flagship" device.

Honestly, average consumers don't see it that way. Store clerks also use internal specs against purchasing WP no matter how smooth it runs on low end processors....even if the average consumer doesn't know anything about processor, memory, sd cards, they take the sales persons word for it. This is why Microsoft just needs to add all the features in, use higher end processors, more memory, sd cards, and make a super high-end phone to compliment all of the low-mind range phones they already have. No pun intended, but even the, "Hood" is carrying phones, so honestly I'm tired of hearing that people can't afford high-end phones as they do what the have to do to get the iphone and Galaxies no matter what the cost. It's a tired excuse....If you don't want to spend the money or don't have the talent employed to make a high end phone then just say it!

Even the hood? Seriously? What a presumptive (and wrong!) thing to say. You don't think they're selling the low-end theory to the States? Well, cite sales, cite an indicator of demand, cite anything more substantial than your... possibly racially-influenced and definitely anecdotal views. Like the many hoods are the absolute bottom of the country's damn barrel in terms of tech adoption. You haven't been out to the hills, the countryside, or the small, struggling towns. You sound pretty fuckin' preppy, man. Please stop talking about "the hood" like it's anything other than an abstract concept to you.

You're using preppy to fight hood? Really?

I think you don't understand what I said.

Dude, you don't know me and where I'm from, but I'll say this, I live in NYC, The Boot (Louisianna), currently H-Town, so not a prep by any means! I'm just trying to convey the message Microsoft is sending by sticking to low-mid range phones, siting that people who live in certain parts of the world or who reside anywhere other than uptown manhattah cannot afford a high-end phone when that's not at all true because everyone no matter their background, region of world are carrying iphones and galaxies which are considered by the majority of the world as high-end device and make a fashion statement. Fact is that Microsoft needs to stop using that assumption and you should assume anything aobut me bro as you don't know me!

Forget H town. Where in the hell is Louisianna?

The difference between talking about something said and talking about who said it is important. I didn't call you preppy, I said that what you said was preppy (You sound preppy =/= you are preppy). I stand by that. If you think it's remarkable that there are iPhones in the hood, that this is uncommon as opposed to relatively uncommon (to, say, a well-developed suburb), then you don't know that people living in hoods aren't universally poor and working-class, that high-end and low-end devices aren't consigned to high and low income brackets (there are trends, not hard rules for making judgments), that you can't really point to the fact that you've seen people with iPhones in the hood to say, "Look Microsoft! Even the hood will buy them, so everyone can afford them!" There are places in the US that are more fucked than the hood, where it's rare to see phones, let alone high-end phones. What I object to is the use of the hood as a good referent for all of them, because using the term in this context to refer to low-income segregated neighborhoods doesn't register the fact that a hood isn't always segregated by income. If you think of "the hood" as representative of the poor places of America, then you're pigeonholing many people.

They had a high-end device in the works, I think it was Goldfinger, but it was scrapped or delayed. It is a gaff for sure any way you look at it.

Like I said, Satya seems to be putting all of his focus into the cloud and neglecting the hardware side of the mobile business except in the low-mid range devices and SP3. But as I stated in another comment, the, so called, "Hood" even carry iphones, beats headset, etc, so the old mantra of people can't afford a high-end phones should be terminated as it no longer applies accept maybe overseas (I'm not implying that, but often see it quoted in forums via foriegn residents).

Didn't they buy Nokia hardware division in April ?

iPhone 6 a "flagship" better than L1520? HaHaHa... lol.

The public seems to think so as pointed out above, but if you really want to know, the iphones build quality (where have you been? as the public is now screaming for aluminun casing, etc), better processor, larger onboard storage options 16, 32, 64. I carry a lumia icon (work), lumia 2520 tablet, HTC 8X (wife and I both), and our 3 kids carry the 920's. I'm embedded in Microsoft's ecosystem, but I'm not afraid to call out Nokia and Microsoft's shortcoming and highlight the competitions advantages.

The "public" are tech-morons, so not a valid argument.
IPhones build quality is laughable; 9 out of 10 iPhone owners encase their phone in horrid rubber/plastic cases (making the aluminium redundant) because they crack like china!
Both flagship Lumias pack 32 gb memory, and the 1520 has a micro SD slot to boot...

Have you ask any of them why the bought it? I'm an IT Manager/Network administrator who deals with the crap every day from users who complain when I issue windows phones instead of iphones in my work enviroment. Believe it or not, the reasons they're giving me aren't because of apps, it because the iphone is looked at as high-end, my daughter has one, or it a fashion statement with or without the case as the Apple logo is still viewable so everyone knows you have an iphone. So again I say, Microsoft needs to make a Super high-end phone so there's no doubt and the general public starts to believe it. Their first step towards this is evident in the SP3 as there is an article in the forums on the Verge titled, "SP3 review from a long time ipad user" in the article, he praises Microsoft for the SP3 and say Microsoft has out classed Apple with it! We need to convince more Apple fans of this, but Microsoft needs to step up in the phone arena now.

No sir Microsoft needs to not put thier name on the phone but do what others have done Make a sub-brand under which the lumia range will fall. like what they did with Surface .... just the word surface and a big windows logo. Once they do that then make a high end device idealy it would be a surface phone and then you have high mid and low range lumia's

I didn't say they needed to put Microsoft on devices. I believe the way they done it on surface 2 and SP3 is perfect. the words Microsoft was remove and the rear of the device simply has the window logo like home button. All the need is superior design hardware like the surface/surface pro 3 with the logo only, with Microsoft not written anywhere on the device. The desing and logo speaks for itself as everyone know Microsoft logo like everyone knows what company an apple with a bite out of it represents........whoever is in charge of branding at Microsoft needs to be dismissed for even putting the words Microsoft across the bezel...it not the shortest word!

"The 'public' [is a] tech moron." Uh, that's your perspective. Also not valid. Posted via Windows Phone Central App

Here we have the classic brain-iPhone-Samsung -washed... Ppl Do not waste your time!...

What makes those WP's NOT "high end"?

The 1520 is at least as high end as the GS5; performance of the two is very similar, and the 1520 has plenty of unique features to make a GS5 owner envious, even with it's greater app selection...

Even though the 1520 came out almost a year ago I still definitely consider it high end. I'll be using mine way past the end of my contract..

You're joking right? The Lumia 1520 has better specs than the "new" iPhone 6 Plus.

How many people do you thinks would chose the 1520 over the iphone 6 plus if they walked into a store and saw them side by side? Better yet, how man sales people do you think are going to recommend the 1520 over any iphone...honestly?

might be a 925 successor!

I'd love a 925 or 1020 successor. Mainly 1020. Even if it had onscreen keys!

the 930(Icon) IS the 925 successor. 925 is just a 920 variant. Why do people keep saying this when there already is a 928 and 930? just unhappy for no reason?

Id argue variant in the 925's case, while yes, it IS a variant of the 920, its not a complete rehash of the 920, unlike previous variants of the lumia family, its not simply a"Lumia 920 for verizon" like the 928 was, it improved on a lot of things (also dropped some) and had a radically different design to it, the 925 can in a lot of ways stand apart from the 920, Id consider it more of an "update" to the 920 then a simple variant, infact, windows phone central named the lumia 925 (not the lumia 920) the all around best windows phone, this is why everyone wants a 925 successor (which the 930 isn't, the successor would in fact be the 935) Please take note though, I'm not saying it ISN'T a variant, I know it is, but i dont think its fair to call it JUST a variant,I feel like it had enough of an upgrade to be considered a little more than just a variant, afterall, everything on the 925 is an upgrade from the 920 minus the built in wireless charging, thats quite a lot for just a variant. Just my 2 cents :P hope it makes a bit of sense

It's none of the existing devices. The camera and speaker placement in regards to each other don't match any of the new current models.

But why would a thinner-than-normal bottom bezel exclude the possibility for capacitive keys? Don't get me wrong, there's no indication this has capacitive buttons, but technology is shrunken down all the time, so size shouldn't be an indication.

Hey Daniel, Do you think that Nokia Lumia 925 sucecssor is closer?

I think someone already mentioned that the Lumia Icon/930 is THE successor for the 920, 925, & 928. The better question is will there be another variant of the 930, possibly coming to TMobile first, or simply unlocked to any specific carrier?

Using the ffc hole as a starting point to estimate the screen size I came to 4.5-4.7 inch screen. I think you got it right Daniel being a mid tier 4.5/4.7 inch. Definitely not a 6" and does not correlate with 930 screen, its close but not a 5inch. I'm thinking 835 for t-mobile. Sad to see Nokia moniker go as I've only ever bought them. Wonder if the section responsible for the pureview r&d are still around after the mass layoffs. Also I think the Lumia name should also leave with Nokia and MS use surface for their phones and keep pureview/zeiss for camera tech. Low and mid could simply use Microsoft name.

Daniel, in the article you mention the thin bezel at the bottom meaning it will have on screen keys, pointing to a mid-range device like 730. Respectfully, I think you are wrong. The bezels are way to too thin for a mid-range device. This is definitely going to be a high-end device with on-screen keys. I'm leaning more torwards a 5" 1020 successor. Look for a big announcement early next year, possibly at MWC.

He said successor. Maybe the successor will get on-screen keys? Idk.

Lumia 1525. Remember, the 1520 has a very small bezel at the bottom and is able to fit the capacitive buttons. Perhaps they just didn't put on the icons on it yet.

What if the title was... Display bezel allegedly reveals Microsoft branding for a Lumia "Surface" phone

definitely looks like 5.5 - inch device. Hope its something good and coming early next year my contract ends at end of march i just cant wait to get rid of mh htc 8x. If i dont like ehat i see i might get unlcoked lumia 1520, can imagine i will be able to get one for peanuts next year.

You and me both, as HTC sucks at support, updates, apps, marketing, etc when it comes to there windows phone offerings. I'm afraid you've seen all you're going to get when it comes to the HTC One M8 for windows.....It's released, that's it! My wife and I both carry HTC 8x devices while our 3 children carry Lumia 920's; My said to me lastnight, my next phone will be a Lumia. I only tried the 8X because of its sleek thin design, but I won't get fooled by them again. Good luck to anyone who gets and HTC, as they're not for me unless they make some big changes internally.

Geez stop living in the past.

Why can't it just say Lumia?

More people know Microsoft brand than Lumia

Yeah but that isn't exactly a good thing. A lot of people still see Microsoft as a company to avoid whereas Lumia has a clean slate and is building up quite a good reputation for itself, from what I've observed anyway.

This is a fundamental truth that Microsoft never seems to understand.
It should be a Lumia Surface Phone. Two brands with positive reputations, and given that MS's goal is to move all these portable devices to one architecture this branding would actually make sense. For once.

I would have just branded it Lumia on the front and a simple new Windows logo on the back.

This! MS naming already has a bad rap for Windows 8 with no start button and IE security issues over the years, etc. etc. While the Lumia name to people by now means great hardware and camera. I'd go with Lumia and have a Windows logo on the back. Simple!

@ Nist I totally agree. Just Lumia with the logo. Think Xbox, Surface, Office, Windows etc. LUMIA ftw.

Here's an idea, just replace that front logo with 'McCLAREN' and give us a true 920/1020 sucessor all in one epic flagship! Make it happen MS!!!!

Sales of Microsoft products say otherwise.

How about "Microsoft Lumia"??

How about Microsoft xPhone Surface Box One 360

It will ... Probably on the back

I agree. Lumia sound better than Microsoft or Microsoft Mobile.

Microsoft / Microsoft Mobile is the manufacturer and Lumia is the model like HTC is the manufacturer and M8 is the model. Microsoft/Microsoft Mobile can make a Lumia model, a Surface model, etc. The manufacturers put their names on the phones, like Nokia used to do.

Nokia by Microsoft is a good option. Or Lumia by Microsoft. And the other upcoming OEMs should have their name followed in small fonts "by Microsoft"

They don't own rights to "Nokia" name... The whole point of changing the name

Nokia is gone, so that's never gonna be an option ever again in a Microsoft phone. Sad but true.

I suppose it is because Microsoft is the actual manufacturer. I believe all other phones have their manufacturer's name printed on the front such as Samsung, HTC, LG (and Nokia).

Not whining but its going to be hard to dissolve it...since all the phones I had were of the name Nokia...guess ill feel bit uneasy when I get the Lumia 730

It is a bit but we have to let it go and see what future brings

Not a bad idea. Better than starting over by using a completely unknown name.

Actually I like how "Microsoft" is seen. I will miss the "NOKIA" logo but we've to move on and get over it!

The purchase of Nokia mobile was only the mobile division and not the Nokia name. The Nokia company is still up and running. It was made known over a year ago that Microsoft would not be getting the Nokia brand name, but only the mobile devices along with the Lumia names. And that after a year it will be called Microsoft mobile.

"Lumia" would be best. Nice , simple, rolls of the tongue. Taking from google, you don't see them slapping "google" on their nexus series, just nexus. A too large name makes for an ugly distracting branding on a screen.

and yet people still say Lumina

Thank God it's finally happening! I hope it's worldwide and not just for US.

That bezel looks huge. 1520 successor in the making?

Hardly. This is at most a 5-inch device. Also, I doubt a 1520 follow up would employ on-screen keys, which is found on the lower to mid range phones.

Daniel, what are you going by? The size of the hand? That could just as easily be a six inch screen.

Yeah, if the hand is the same size as mine it's at least a 5.5 inch. Could even be 6.

Hmm I reckon a few owners of the htc one m8 for windows got a bit upset with that comment. Lol

They're actually quite small. As small or smaller than 1520.

That's what I'm thinking..

You are right, just saw the photos on my 1320 and his hand is touching the same places mine do. Maybe 1320 successor because of on screen buttons ?

Saddened by the loss of Nokia brand but by the love of WP, life goes on. Long live WP (or just Windows)!

Why they buy Nokia then if they want to remove it?? :/

Read yesterday's story as clearly you are not up to speed on what Microsoft actually bought (hint: they didn't buy Nokia, they bought Nokia's mobile division).

Thank you, finally someone that reads the article and not the headlines!

Finally someone who writes them you mean. :)

Dude. He wrote the article!

They didn't buy Nokia the company, just the parts that manufacture hardware and some of the software.

Hmm, maybe its the mclaren prototype? Who knows.

As noted above, I would be surprised if a Lumia had on-screen keys for a flagship phone. HTC One has it due to the screen resolution and it being an Android phone originally, so it is an exception.

Personally the ability to hide the on-screen keys is awesome! No more accidentally pressing the back, home, or search key! Plus more screen real estate! So maybe they are using the idea from HTC.

You lose screen real estate when you have on-screen buttons, at least in the case of the HTC One. Phones like 630 has extra pixels allocated for the on-screen buttons so those don't lose screen real estate.

I agree with this. I have enough on screen real estate with my 1520. Not accidently pressing back, home, or search would be a plus.

You know I'm torn about that idea. I've not yet used on-screen keys but it strikes me that on-screen keys with a flagship device is a great way to minimize the bezel while maximizing the display size. The HTC One example looks to be likely a good implementation and I think I would not mind having a MM flagship with on-screen keys.

Exactly what I meant about more screen real estate.

Could this be another exception? like the M8 but in reverse? Could this be a Microsoft Phone which can be released with Windows or Android?

I don't see why it can't. I switched to cricket and MMS doesn't work on my 928, so i'm using a 630 to hold me over till something better comes out that i like. I like the on screen keys, I'm hoping for a hignend phone to come out with on screen keys.

Why do people think on screen keys are for mid/low devices? Surely having on screen keys allow them to make a smaller device with the same size screen as one with capacitive buttons. Don't get me wrong, I like having hardware buttons, but its not something I see as a premium feature, the only thing I would not want to loose is the camera button.

Wasn't according to previous rumors of McLaren/Goldfinger, the phone gonna be buttonless with a lot of gestures?

I don't know if I like it or not.. Already used to that 5 letter words on all my phones..from the past to the L1520 that I'm holding right now.. I know it's still the same team doing all the job but it's won't be the same to most Nokia fans without the branding.. Because Nokia means durability and quality to them..

Nokia fans should get over it.

Dude, we're trying...but the awesomeness of the Nokia community is more than just the name. For many of us it has been years of uniqueness, changes, Ovi, Symbian, Maemo, Meego, N9, Series40, Asha, Windows Phone, innovation, Pure View held together by a name...Nokia. We're going to need a minute... :(

And to add, the mobile world evolved around them.

If they use the same font and have Lumia instead of Nokia I think it will really give people the best of both worlds... Lumia is a touch of Nokia with a dash of Microsoft... Its the middle ground I think...

Yeah, they really should use the LUMIA brand instead. It sounds elegant, modern and most importantly, catchy. "Windows Phone" is a terrible brand name.

Let's hope they keep the branding simple going forward, something like "MIcrosoft Lumia 1530" would suffice.

Pesronally, I don't want ANY branding on the front of my phone.

Me too. If any it should be subtle, like a logo, not full name.

You think Microsoft would use their 4 color "flag" like symbol,the way Apple uses their apple symbol on the back? Posted via Windows Phone Central App

But we already have a logo of Microsoft on every windows phone.. The start button.. It's Microsoft's logo..!!

1) Windows logo is tilted while Microsoft's is not, plus it has colored squares, 2) not all Windows phones have capacitive buttons.

I agree. Maybe they would avoid putting "Microsoft" up front in countries where the brand is not well-received.

I wish MS would release 535 with Microsoft/Lumia brand on it with SD 210 ( LTE) and it would be brand ambassador phone with $100 price tag!!

And 1GB RAM and/or flash and ffc. I am ok with even a higher price tag.

Looks like the 735 is for you then.

If it's called a surface, add 200 USD for the name... Lol Posted via Windows Phone Central App

I believe Microsoft smartphones will end up adopting a very similar branding to the Surface branding.
Meaning a Lumia logo in the back, following by the Windows Logo and a small Microsoft legal print. I am totally fine with that. If they forbid carriers to put their logos on their phones as well, I will be veeeery happy.

Looks nice! It also looks like it's prime for being ruined by a huge carrier logo from VZW or AT&T.

I hate when they do that shit, but it seems only Apple has that power of not allowing such fuckery to mess up their phones!

I've noticed a distinct change in the Lumia 530 tv commercials. Now, in the end, they just write Windows with the logo, not Windows phone. So does it sort of confirms the reports from yesterday?

It should say Windows at the top. The live tiles are like WI does anyways. So the three main competitors would be Apple, Android and Windows. Sounds better

I was born and raised in the U.S., and I just don't get that same sensation that I'm looking at/holding/using an aesthetically and qualitatively elite slab of mobile hardware with "Microsoft" on it instead of Nokia. But that's just me. Hopefully they at least go with Lumia branding now that Nokia is gone. I personally find it more elegant and marketable.

I do prefer Microsoft brand over Nokia or Lumia since im a Microsoft ecosystem happy user

What could it be? 1530? 1030? Got to move fast, microsoft, if you want to catch to android makers.

No.. I don't like this at all... It should only say MS on the back.. It should say Lumia there...
.............
Also, the biggest WP secret of 2014 is that Sony is preparing a WP version of their new Z3 as we speak... They should be unveiling it soon.

Please provide links and proof to go with your statement.

No❗ .. Just listen to what I'm saying❗

I really wish Sony would just hurry up and announce something!

you look like eddie george

We could always dream...
You know when will they released the Z3 with WP? Right after I spend the money on the Android Z3 Compact. Mark my words. The phone is released, my credit card charged (as I have it pre-ordered) and the Z3W is announced.

Lol❗❗ .. But, see that's what you would have willed to yourself by not being patient like I keep telling you to do... You'll see.

Well, I would go Android either way since there's is where Nokia is now. But I don't hate WP and if Sony released a Z3 Compact with it, I would buy it. But that doesn't seem likely. Sony's phones leak more than Niagara Falls and so far no WP has leaked yet. Maybe at MWC 2015.

Oh my god. This phone is beautiful! I want it! (lol)

OK I see a front facing cam that's about 8 megapixel and also a front flash with a sensor, why isn't no one talking about that? And this makes sense cause they can't call it windows.

The slot next to the FFC slot is for the ambient light sensor, not a flash.


A flash and a sensor like Lumia always had it

Front Flash??? Where?? O.O

Bigger than bigger!!!!! The Biggest Microsoft Phone

The edges looked bent. Not sure tho...

It won't matter what branding it has if they continue to isolate their products with carrier exclusives.

It's goldfinger think out the box, what better way to do this with the right phone

I love that those bezels... :D

Doesn't look bad. i like that letter/font (Segoe)

Wow, how's the cyan update for preview developers users now?

You can ask in the forums, but as far as I know, nothing has been said yet

BE PATIENT, that's what I get from every where.

Here I was, just seeing a leak and hoping a decent device was going to get a surprise announcement soon...I really want a reason to upgrade from my 920.

The Lumia 920 is great, I have one

It's fake. Wrong font, wrong logo location

Barf. Why can't they just use the MS logo.

I agree! Posted via Windows Phone Central App

Looks like a bunch of screen real estate. Kinda LG G3ish. What's the oval on the right top for ?

Sensor to dim the screen when holding it to your ear.

they need to consider using the bottom space if there are no capacitive buttons. i mean why try put everything at the top when the bottom is empty? my bet on the 1020 successor

How about the Microsoft logo with LUMIA printed beside it. Microsoft has had way too many hardware failures for anything else to feel comfortable.

Now all that's left to go is Elop...

Let see how it goes. What I like to see is a vapor mag Lumia phone instead of aluminum and plastic. Basically: 4.7 inch screen 5 megapixel front facing camera 20 megapixel pureview camera at the back. removable battery, microSD card, xenon flash, 16GB on board 2GB RAM Snapdragon 800 or higher, glace with all sensors, clearblack screen 1080p no capacitive buttons front or bottom speakers, camera button, WIFI, 3G/LTE wireless charging - its a dream WP phone for me.

Make a hero flagship Lumia for all carriers and it won't matter! No compromises...give the user what they want!

i wish Microsoft use the LOGO on the display bezel and on Back panel , instead of "Microsoft"

Now the phone sounds more powerful to me!

Bring on the high end 5" Lumia with SD storage or 64GB capacity and upgraded specs from the 930. I can hope right?

Microsoft as a phone brand? Em, nope I don't like it!

Just my own idea of what would be ideal; but I'd like to see 'Lumia' written where Microsoft is in that pic, and have the MS logo (just the for squares) emblazoned on the back at the bottom. I find that to be cleaner, which I prefer.

You people have no idea how happy I am to see a smartphone with Microsoft brand on it. I was waiting for a long time for this to happen. I will definitely buy the first phone with the Microsoft brand as soon as it arrives where I live. I don't care about Windows Phone market share, I'd buy it anyway.

I've had friends tell me they wont buy a Windows phone until its made / says Microsoft on it.

I think it actually looks good on there. Im not sure why so many people hate it. I truly believe the Microsoft name will sell better in the U.S. then Nokia did. After all, the U.S. is their home market so it needs to be number one priority.

I rather it say Nokia but since MS half-assed it and only bought the mobile devision of Nokia and not the whole thing like they should've it's only fair. Let's just hope the design of future phones aren't bricks (930) or soap dishes (630) and they keep the numbering system since generic lame names like Icon don't tell you anything about the product.

Wow, waiting for Microsoft branded phone

Microsoft is not going to remove Nokia brand name from Lumia devices its totally false. Even Nokia has reported to this false rumour. Source :- nokiapoweruser.com

That article that you are referencing doesn't say that. It correctly states that the Nokia brand is not going away, it just won't be on Windows Phones anymore.

The Nokia response was due to incompetent "journalists" writing headlines in the spirit of Microsoft killing off the Nokia brand, when in fact Nokia is still a huge and profitable multi-billion dollar company of its own. Nokia just wanted to remind people that Microsoft doesn't own the Nokia corporation or its brand.

Yes but they help with LTE networks and software. Microsoft can't put the Nokia name on phones after the 830 and 730.

1030 maybe?...seems like a 5 inch device but not 930 coz it looks like it will have onscreen buttons and side bezels are thinner

hmmm, Microsoft!! for me it's ugly, Lumia maybe better i guess

No it is not ugly. The Microsoft brand name is much more powerful than Nokia. People trust the Microsoft name because that is what they see when they turn on their computer.

LOL I don't know what you're smoking but nowhere (maybe apart from the US) do people trust or like Microsoft more than Nokia.

Nokia hasn't been relevant since the 90's that's why they were circling the drain before MS saved them. The only people that care about keeping that name are Nokia fan boy's!

LOL Nokia as a brand has lost its draw appeal before Microsoft came into the picture. If it were still a powerful brand, they would not have needed Microsoft, or Google (oh yes, they went to Google first before they approached Microsoft!), or anybody else!

I'd like to see just Lumia for consumer devices, and Microsoft for high-end classy business / productive devices.

I hope they also move on from the "Lumia" name and confusing number system. Highly unlikely though.

Nokia is quite famous for it's numbers. I've used Nokias 6150, 5110, 3100, 1112, 6111 :D The 5110 and 3310 were very popular, and the 5700 series later on was popular too. They've always used wierd numbers. It's not like Xperia J, K, L, Z1, Z1, Z1i, S or Galaxy Trend Lite, Mini, S5 (active, zoom, LTE, mini), Ace, Ace 2, Ace Style, Core... is any more informative. I like the Lumia though, they shouldn't change it.

In think they should call thw phones Microsoft Lumia im us and Nokia Lumia in rest of world. CAR Manufacturers do this quite often because of vehicle brand recognition

This would actually make sense, because Nokia is still a big brand in Europe, and other parts of the world as well, while not so much in US. People around here (europe) buy Lumias because they're a Nokia, not because it's a windows phone, and certainly not because it's a Microsoft phone. While everyone uses Windows, everyone still has the whole 'M$ sucks and is bad blue screen bruuuh, I'm switching to Linux as soon as it gets <feature>' perception here, even though the Windows is faster and more stable and secure than it used to be.

Should be just Lumia on the front. If they need to put Microsoft somewhere, put it on the back.

Why can't microsoft just use the windows logo at the back side. No need of a brand name anywhere as the windows logo is one of the most popular logos in the world. The recent reports have anyway suggested that they will drop phone from wp. So they might be better off just using the windows logo at the back.

YES! Posted via Windows Phone Central App

Lumia on front and Microsoft with their logo on the back. A little-sized font "Design by Nokia" on the bottom-back.

Looks pretty big compared to any current phone we've had, or maybe just the break is much smaller up top For what its worth I don't care either way, Nokia or Microsoft.

What about back side please put the Lumia there if its not there then its big thumbs down

That's a 1520 size screen (6-inches). We might be looking at the sucessor to the 1520, but with onscreen buttons.

On screen buttons are a downgrade.

Maybe a Moto G competitor??

This has to be something new.. The screen appears to be kinda large. It's definitely not my 1520's screen,so I'm hoping for a new flagship. Don't ruin my dream..

They must tread lightly. The Nokia name is still held in high regard, whereas hardware-wise , the Microsoft name is a mixed bag of sorts.

I sense the first Microsoft branded Lumia. The 1020 successor!!

I am trademarking these two names. It's official;-)

You can't trademark "Lumia by Microsoft" since both "Lumia" and "Microsoft" are already trademarked. You may get away with "Lumisoft" though lol

Hahaha thank you DJCBS. I am just letting the ideas flow. And you are right. I can't trademark the industry staples.

I hope we get something in the 5 inch range with a great form factor and light. MS needs a really great high end phone for when this branding change launches.

Surface phone would be perfect to fill that role...

Another low budget phone? God damn it Microsoft.

Eh I don't care I like Nokia but I like Windows Phone itself I owned different branded WP so this doesn't really matter to me but if they killed of WP I'm screwed have to go to Android

What i would like to see is no branding in front of the phone.. (We already have a Microsoft's logo.. The start button).. Just "Lumia" at the back where "Nokia's" name is seen.. And at the bottom back "Microsoft".. That's it IMoO

I like the sound of this.

It's the Microsoft Lumia 1030

Wheres the 1020 successor

Looks like a 73x variant, I can understand the Microsoft branding for the US but for rest of the world... Just hope they use the Lumia brand. However it may turn out they will go down the Lumia route as they have already started branding apps under the Lumia banner and then you have the Lumia camera that is going to come with the Denim update.

Like Icon here in U.S.
L 930 Worldwide

I think its the 1020 or 1520 successor :). Well hoping that is! Hahaha

Nokia might be seen as a trustworthy brand, but definitely also as something old. Microsoft is a very respected brand, even when someone says something bad about it, I believe it is trusted as a brand with legacy and muscle to give confidence for the future. I like it!

How awesome would it be to be from an Lumia 1030 ?

The rebranding is all well and good but I really just want to see a proper hero flagship device. I r this is a glimpse! In terms of the branding, I personally think the windows logo is good enough - or keep it minimalistic. MSFT want windows to be synonymous with all their devices and services - use the windows logo. People know it. Even if some deplore it... Hmmmm

Looks like a new bezel to me. The holes don't line up for 73x.

I dont mind having a micrtosoft name and logo on the back of my lumia its a good touch it doesnt sound well calling it mcrosoft phone

I have a feeling that is the 1530, looking at my 1520 right now.

I don't want on screen keys. Damn it! WP is going down the tubes

OK the original source images are better... I will declare publicly (and perhaps end up being proven very wrong) that is the 1530.... or whatever the 1520 successor is. I have my 1520 in my hand right now and it looks just the guy is holding that bezel in the source's images... not to mention that the whole thing looks 1520-esque, including the bottom bezel. I may be wrong, but I think that is the 1530... with Microsoft at the top.

Why not just Lumia or Surface

This. I prefer lumia for phones

Microsoft has to catch up in market share, and trying to get 'Lumia' branding recognized would be like starting over. We WP fans know Lumia, most people don't. Branding them as Microsoft will probably double their sales.

Only in the USA will it do that. Outside of the USA they'll want to use just Lumia.

Every phone I've ever owned had the manufacturers name on it. Nokia put their name on it, HTC puts their name on it. Samsung, LG, put their name on it. But, Microsoft can't put their name on it ? Why ? Because It's Microsoft ? That's not a good reason

What about the fact that you can't see the Microsoft name on the Surface? You just see the Windows logo and I think they should take that same approach on their phones for consistency, or start adding their name to the Surface line too.

nice i have been waiting for a long time to see Microsoft logo on phones

If it doesn't say Nokia, its a no buy!! RAWR!!! RAGE!! XD :P but seriously I don't really want a device with the word Microsoft branded on it. It really doesn't need it since it has the windows logo on it. I am moving back to iPhone but still keeping my 1020. I will be using them both.

That's awesome!
Waiting for it to happen

I will say; "Microsoft s-Phone" (s for smart) for the 5inches flagship phones and "Lumia Pro" for the 6inches phablet range. s-phone 1, s-phone 2, and it goes on like that and so for the phablets...Lumia pro 1, Lumia pro 2. and it goe
s on like that.

I hope they make the surface phone that was floating around in the netosphere a while back.

That's where they want to put Microsoft? Does anyone else think that's looks ugly?

Windows Phone goes through so many changes I honestly feel it negatively affects perception of dependability.

I would much rather carry a phone bearing the Nokia branding rather than the Microsoft branding.

You might get your wish in 2016. It might be android though.

Not too bothered about Nokia being replaced but would definately prefer to see Lumia brand name on there instead of Microsoft. MS just seems like a negative name for a phone. I don't see them doing this, look at the Surface line, I don't think that says Microsoft anywhere on the device, only Surface branding.

This doesn't look good.. hope the upcoming phone has minimalist design, bit of both casual/professional vibe to it..

They should brand them Lumia.

I dont mind if they use Microsoft branding, but I was hopping with the nokia removed we would get a clean front, at least for unlocked phones.

Will.Not.Be.Purchasing with 'Microsoft' branded on the phone. I will hang on to my Lumia's for as long as possible, and if they conk out, moving on...

I really don't understand why they couldn't buy the rights for using the Nokia name too. It doesn't make any sense. Nokia means quality, durability (I still have my 3310, works fine..) and there is a certain philosophy behind it. Microsoft means..well, nothing, when it comes to actual phone manufacturing. And I know, that the R&D will still be in Finland, and that the same people (more or less) will design the upcoming Lumias. But it won't be the same. I never had a phone that wasn't made by Nokia, and I'm kinda proud of it. It's said to see the name go. Also, I can imagine Microsoft losing customers because of the 'rebranding', and I really don't think they can afford it. Not everyone will be made aware, that these phones are basically the same thing.

1 - Nokia is still a company. Microsoft only bought a division. As Nokia still exists, Nokia keeps the rights to their own brand. 2 - It's, they'll lose quite a few customers because of this. They've lost me the moment they bought Nokia's D&S already and others will follow.

I know that it's still a company, but surely they could have figured out a deal where Microsoft could use the Nokia name on mobile devices.

I just can't wait to see how Microsoft will screw this rebranding up... (along with the plum in sales but that'll take a bit)

Well frankly. We knew this was comming a long time ago. And maybe its time Microsoft had the guts to set it self as a hardware company (next to being a software company). Apple has proven that hardware and software from one maker has major benefits over software with OEMs. Microsoft has proven with the amazing Surface Pro line it can be realy inovating and amazing on the hardware front.
Its time that Microsoft steps up its game, getting rid of the Nokia name in favour of Microsofts own brand is not so bad, as long as they make inovating hardware combined with compelling software that is capable of pussing branche wide innovation without harming (or offening) there own OEMs. But as long as longlasting Microsoft OEMs are choosing Google software (Android/Chrome OS) over there original software partner Microsoft software (Windows/Windows RT/Windows Phone), and remember that this is the one thate made them succesfull in the first place, they have the right to fill the gapps with there own superiour and amazing hardware!!!!!!

Microsoft... Sounds a lot more powerful than Apple or Google :)

Good bye Windows phone. I was a fan of Nokia phones but now without Nokia branding I am going to ditch windows phone! Farewell Nokia!

If you bought a Windows Phone just for the Nokia Brand, then you have problems. By the way, you do realize that there are still a number of people on the design team and manufacturing teams that were from Nokia.

Yes I bought all Lumia's because of Nokia branding but changing the name won't be the same anymore. And I am also worried about what the future Lumia's will be called. Very disappointing Microsoft.

There's loads of people that only have a Windows Phone because of Nokia. In most places around the world Nokia has a top-class reputation and it will hinder market share in some places when they remove the Nokia brand.

So true Microsoft is going lose a lot of customers after this.

Get ready folks. This is the future 1020 successor. The bezels on the side are way to thin to just be low or even mid-range. Also, there is nothing keeping Microsoft from offering a high-end deivce with onscreen buttons. If you notice, the bezel at the bottom is too thin for a low-mid range even with onscreen buttons. Look at the 630/635, on-screen buttons, but still has quite a bit of brzel. Mark my words, this is a 5" flagship with onscreen buttons (just to make the device physically smaller). I'm betting on a 1020 successor to be released next year at MWC.

I like thin bezels but not on screen keys. Please don't Microsoft!

I have a gut feeling they're going with on screen keys and will go with an on screen camera button as well. The bezel does look sweet though.

Oh no, I think it would be better if it said Lumia. Maybe Lumia on front and MS on the back, but Lumia should be the brand to push.

The windows logo home button is enough for the front. At the back they can come up with decent Lumia Logo...just like Apple. It should also include a minimal front that reads "by Microsoft" It is time to go trendy if you want to survive and succeed. Learn from the conquerors. You have solid devices but lack what it takes to sale...i.e packaging. Ditch all those long and boring numbers that came with Nokia. Iy is a new dawn!

This looks so weird without Nokia on it (and with the Microsoft name on). Nice bezels, though.

Possibly a surface phone? I really don't know why there aren't rumors or even ideas going around for one. To me, it sounds like a no brainer. Maybe they don't feel like alienating other OEMs who want to jump on board.

You got me on prototype....

Reminds me of the 1520 bezel that was leaked before production. This is promising

Based off of the size of the proximity sensor, the screen size looks to be between 4.9 and 5.1 inches (basically 5 inches). Therefore I don't think it's a 735. The bezel is a quarter of an inch shorter (in height) than the Lumia 830 too, so it definitely has an on screen navigation bar (Windows button, back button, etc.). There were rumors that the 830 would come in slightly different styles for each of the US carriers, so perhaps this is a 835/838/83x device.

So what does this mean for "WPCentral" .. guess you guys will have to rebrand yourselves as well.

That names looks ugly on that

Just stop branding it with Microsoft name in front and just make a new logo for Lumia like the iphone has apple on back in the same way

I cant imagine my next Lumia to be named Microsoft in front its horrible plz do something ms

They are gonna loose a lot. Of customers especially in India I have seen people walk into the store and just ask for a Nokia phone that name has a lot off value here

I'll tell you right now. I have just seen this bezel and I can tell this is my kinda phone. I'm an edge-to-edge kinda guy and need my bezels to be as thin as humanly possible. This looks fantastic and will be my next phone, no matter the internals. IF Microsoft goes through with this design that is :)

There are more important things than bezels.

Let's say it's the NX-01? >:)

Or Lumia 1020 successor? (Oh, please, God, let it be a 5" 1030!)

Lumia on the front, Windows and/or Microsoft on the back. Then again, don't care much as long as I get great devices! :)

Wow huge brain fart. For a second, I thought the 930 was a future device lol

Microsoft should just drop Lumia name and name the phones Microsoft Nokia

I would prefer to see the Lumia name on the front. Maybe Microsoft on the back? Or just a Windows logo in the back?...

Sad because the name Nokia on phones will no longer existe, bet the Microsoft name on the screen looks nice.

Um, I bought a Lumia because it said Nokia on it, and many other people did as well. Nobody bought it for 'microsoft' part. If they get rid of Nokia branding, they'll lose even more. Microsoft is somehow associated with bad, slow, unresponsive, bluescree, boring excel work stuff. They're trying hard to get rid of that image, but they're not doing well with it's 'it's got full office so you can look at spreadsheets, and it's got skype' attitude. All phones have that, at least the Nokia part was keeping WP alive. I like my 925 a lot, and I hope it continues to work for as long as possible, but M$ needs to rethink it's strategy. Maybe Nokia branding doesn't make a difference in the US, but it does in Europe, and Microsoft brand isn't going to sell, even if it's just a different sticker.

No way am I going to buy a phone with Microsoft written on the front of it. The best option would be to have "LUMIA" in the Nokia font, then that would be even better than the Nokia brand. Lumia is by far a better brand name than Microsoft.

The end of Nokia Phones R.I.P. Maybe Nokia will make new phones after the mobile ban from microsoft is lifted

Windows phone is dead right now lol lol lol lol long live Android

Microsoft name and a phone lame lame

Say it loud and say it proud MICROSOFT SURFACE PHONE! Now if you want to compromise you can you Microsoft Lumia for all the entry level stuff.

As soon as Microsoft bought the Nokia D&S, I already started calling for the Nokia name to be slowly dropped. Whether one likes it or not, the Nokia name is losing its draw appeal and is fading away. While they're at it, they should also drop Lumia. It doesn't roll in the mouth easily. I remember it took me a few days to say it correctly because my mouth kept saying "Lumina". Not a hallmark of a good brand name! They should look for an alternative that is easily remembered and rolls in the mouth well.

which one is better? [image]

Clearly they're both genuine, because this photo forensics tool nobody on the internet seems to understand "says so". Seriously though, for all I care they could brand it "Hitlerphone" and I would still buy it if it was a worthy new flagship. People are too brand-obsessed.

1520 sucessor. Presentation : Feb/2015. Spring 2015 good news !

The Microsoft brand is so damn lame on the front of the phone... Should be on the back somewhere on the bottom... Too long and too ugly IMHO... They have to redesign it. But this is just my opinion, my taste :) How lucky they cannot wanish the current logos on the current phones with a simple firmware update :D

Is it just me or anyone feels that this phone is broader than some of the Lumias we haev seen so far? Seems similar to aspect ratios for Galaxy grand than 1520 to me. Cannot say much about the size except for the fact that it wont be small

Whatever MS does to coming Lumia changing branding or another thing please don't remove the NOKIA TUNE from ringtone section! Humble request Microsoft. Have been using it as my ringtone since 2001.

looks like blackberry to me. the word microsoft is too corporate feeling

To je propad Mocrosofta...Nokia 4ever v naših srcih!

"microsoft" logo on phone looks very very ugly. bring Nokia back~

Doesn't suit , Nokia was better :(

I was hoping that maybe this was a shot of the 1525, but after seeing the full picture it looks to be more of a 4.7-5" device. Maybe a 935 device with glance and SD support and OSD navigation keys? I could get into a phone like that! What ever the device is, the bezel is pretty slim!

Bezel is pretty slim but once you add the rest of the parts it will be a little thicker. Looks like a cool phone. I'm hoping it's a flagship with capacitive buttons. I still think there is room for them.

I'd love to see a Surface phone released with a magnesium case just like the surface tablets. That would be a real flagship phone.

I want a WPC "rum-o-meter" app...
Windows Central Newsletter
Thank you for signing up to Windows Central. You will receive a verification email shortly.
There was a problem. Please refresh the page and try again.