Amazon integrates Audible in Kindle for iPhone and Android, whither Windows Phone?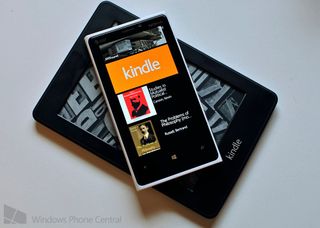 Correction: Turns out that this update is only for the Android and iOS versions of Kindle, and not Windows Phone. Which is pretty lame, eh? You can let Amazon know you want Audible integration on Windows Phone here (opens in new tab).
Original story follows.
Amazon is integrating professional narration into its Kindle app through a software update. The new version of the app allow you to switch from reading a book to an audiobook version of the same for as low as $0.99.
Amazon states that the new update makes it easier to switch from going through an ebook to listening mode with a single tap, without ever having to leave the Kindle app. The technology that Amazon is using to make this feature work seamlessly is called Whispersync for Voice (opens in new tab).
There are over 45,000 professionally narrated Audible titles in the Kindle store, and you can easily find accompanying audiobooks for ebooks in your Kindle library via Amazon's Matchmaker service (opens in new tab).
Upgrading to an Audible version isn't free, as most titles cost $0.99. Bestsellers in the Outlander series and The Hunger Games trilogy will set you back $3.99. Head over to the Windows Store from here or scan the QR code below to download the latest version of the Kindle app.
What do you think of the service? Would you be interested in buying an audiobook version of an ebook to listen to while driving?
Get the Windows Central Newsletter
All the latest news, reviews, and guides for Windows and Xbox diehards.
Harish Jonnalagadda is a Senior Editor overseeing Asia for Android Central, Windows Central's sister site. When not reviewing phones, he's testing PC hardware, including video cards, motherboards, gaming accessories, and keyboards.
Absolutely. I think this is a great idea!

If they bring the update to WP. I'm still waiting for the in-text dictionary. Have emailed them and posted on forums a lot, but no action from Amazon yet. Do any of you editors know anyone in Amazon whom you can contact and ask if an update is coming to the WP Kindle app?

Great idea! I'm using both audible and the Kindle app very often. Hope this will also work with the German audible version.

I would love Audible App to support my Bluetooth radio in my car to listen to audio books while driving.

It does already, which phone are you using?

The phone is a Lumia1020 (WP8.1) and the Bluetooth system a Skoda Columbus (2012). Nokia MixRadio works great with the Bluetooth system, Audible doesn't

Must be something with the system or corrupted app, mine worked fine over Bluetooth on a 928, 929, and ATIV SE with Ford's Sync. Also all works fine with a brighthome Bluetooth receiver into my Sonos system at home. Also fine with a JBL power up speaker over Bluetooth.

What happens when you try to play audiobooks, does it just play out of the phone's speaker instead? What about xbox music/local music, and here drive navigation - does it come through the phone or the car?

Great news! All we need now is to be able to stream from our Prime video accounts.

I would be happy if the wp version of the app just synced reliably.. :|

And didn't F up all the time. Audible is great but the App blows. I also have Audible as part of Ford Sync and it crashes the entire system. I gave up on it. I have 4 monthly credits right now because I hate how bad the App is.

The WP Audible app is a bit of a pita when it comes to playing the audio through a bluetooth headset, but Sync is deploarable no matter what app you are using (and which device, os, etc). IMHO

Works fine with my 2012 Mustang over Bluetooth.

I use audible on a regular basis. I used to think that people that bought audio books were lazy but the busier my life got the less time I had to actually read

I listen while doing chores, dishes, lawn work, etc...

Meh... I use the Overdrive Media Console app. Enter you local library credentials and get free eBooks and audio rentals galore. Some library systems even permit free videos.

That's what I'm talking 'bout. There's nothing better than free. Libraries are a great option for getting free stuff. Well... borrowed at least.

I just prefer Kindle and Audible because I treat my books the same as my videogames: I like having a collection I own. Digital or physical, I prefer my books to be mine rather than borrowed. But I have used Overdrive, too; it's nice.

I use it too but the selection is abysmal. I've rarely found the books I want to read there. Good idea though.

Will the window 8.1 kindle app be updated to include this feature?

Hopefully! The current Kindle app could really use an update!

Not seeing the update yet for this.

According to Amazon's own press release, this particular update/feature has only arrived for iOS and Android as of now: http://phx.corporate-ir.net/phoenix.zhtml?c=176060&p=irol-newsArticle&ID...

It would've been nice if they included this in the article,

Another Indian writer? :O
Hi Harish! :D

I would probably use it except for one thing. I already use up my commute listening to podcasts. Including the one by WPCentral when they do it (hint, hint). ;-)

As a frequent listener of audiobooks (I travel by foot a lot across London, so it's useful for me to be able to consume a book and walk at the same time) it's always annoyed me that they can't throw in an electronic copy of the printed book when you've dropped as much as £30 on the audiobook. C'mon guys! Hopefully this will be rectified soon, as I've been waiting a long time for Amazon to integrate their Kindle and Audible offerings a little more. This is a step in the right direction, for sure.

Nice option but Amazon should improve their reader first. Feature gaps galore.

I completely agree. Almost seems like they side stepped the core issue of other missing features and went for the money grab first.

I read on zdnet that iOS and Android are being updated with this. I'm not seeing an update, did they skip WP?

So they update their app to work with audio books. Though they fail to update the platform that had the worst audible app off all. I was so excited for this news as I had hoped it would resolve the fact audible has not updated their app on WP in over 6 months and the bugs are show stopping at times.

People have been complaining about the Kindle app for quite some time, and instead of fixing it they add more features? They need to set their priorties straight and overhaul the Kindle app. This is a great addition though, but they really need to fix the app to ensure quality for their brand.

Are we talking about the Kindle app or Xbox Music and Video?

I'm not seeing the update. I'm a US customer. Is that why?

Thats funny, nothing in the Amazon release mentions Windows Phone. Maybe the person posting the article on Windows Phone Central should mention that it DOES NOT apply to most of this sites readers.

This article is so misleading. WP central will lose its credibility and flavor, if they keep letting anyone publish the articles here. We need authors like Dan and Sam! May be we just need Dan and Sam..

I hope they add the support to read digital subscriptions of magazines. I have digital subscription of NatGeo with my print edition, but it won't work on Windows or Windows Phone. :-\

Be nice if you could sort your library alphabetically. Hard to find my books have 196 right now.

My audible app sorts alphabetically. Hit "view all titles" then at the bottom there's an icon with three overlapping boxes. Hit that, should see multiple sort options, select by title.

First whispersync for voice is not available in the UK. Not on any device.
Second I am so disappointed in this article. My hopes of the kindle app being fixed and I mean fixed. Not only has it no features it is hit or miss if it even opens.
As for the audible app OM Goodness where would I start, the amount of times I have nearly thrown my precious phone in a tantrum.
Today I received my hardback copy of Diana Gabaldon Written in my own hearts blood and I am contemplating buying the kindle version, well be still my beating heart I read this and think oh a triple whammy. Instead on checking nothing has changed. Nothing. Both apps are still crap. Amazon don't care I phone and complain every month. They're still not fixed. So it looks like I will be buying my ebook version of Diana's book elsewhere.
As for this article it may well be for the US but it's certainly not for the UK.
If someone knows better please please feel free to correct me.

I'd be satisfied if either app worked well. Kindle's OK, except it take forever to get to a book when you have hundreds of them, because there's no way to filter or search or jump to a letter in the list. And Audible loses my place all the time and takes forever to load. The UI will come up but take 3 minutes to become interactive.

to all of you that keep saying marketshare is not everything. this is why it is everything.

I've been talking to Audible tech support on a few issues, one about losing your place when you stop a book using the quick access controls without network connection, a Bluetooth volume bug and poorly formatted store pages on hires devices (e.g. Lumia 925). They said they have a new version coming out soon to support WP 8.1 and hopefully these bugs will be fixed.

Thanks for nothing, Amazon. And thanks for no Prime video either.

The best way to fix this is to not use their app or subscribe to their periodicals at all. I don't use them and I don't miss any of these features. They don't get any of my money except when I need to buy something cheap on sale there.

I agree with EMINENT 1. As of today I won't be purchasing any more from Amazon. I have downloaded ebook reader (UK). I've put it on my phone and my kindle fire HD. The ebooks are similar priced to nook, but as they're is no nook app I can't buy for phone.
Amazon.com have announced on the kindle discussion forum the exciting news of the update. ios and android now can switch within the app to the audio version. Seems before the poor wee souls had to close kindle app and open the audio app. Don't want to make them press anymore buttons than necessary. (US only)
They should try windows phone kindle app they'd need to find the ........book first.

Try Freda. I just installed it recently and so far so good. Anyone else?

Obviously Bezos wants to starve MS platforms.

Wow! This is the second time, that I know of, that a story about an App that's not available for windows phone was posted on this site. What the frac is going on?

It's only for android and IOS users, pretty lame. Guess we need to pester Amazon for the update T_T.

The windows phone kindle app can't even render books properly. Sentences consistently disappear on page turns. There also isn't any highlighting or note taking functionality. Kindle is garbage on windows phone and it has led me back to purchasing real books from other vendors. They demonstrated no desire to update or bring feature parity when I contacted them. Just some generic reply from outsourced tech support. This is a horrible company.