Amazon completes deal to purchase Twitch for $970 million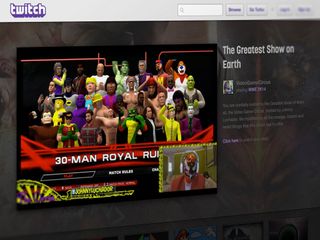 Amazon went official with its plans to acquire popular streaming website Twitch back in August. The deal was announced to be worth $970 million and everything now appears to be finalized, according to a recent SEC filing. Amazon has just taken over the hotspot for video game streams, which boasts over 55 million active monthly viewers.
The company isn't new when it comes to streaming content and Twitch joins a considerable array of services, including video on-demand. While it's not known what Amazon plans for the newly acquired property, Twitch CEO Emmett Shear noted the following in an announcement:
Are you interested to see what the online giant has planned for Twitch? Let us know your thoughts in the comments.
Source: SEC filing, via: ZDNet
Windows Central Newsletter
Get the best of Windows Central in your inbox, every day!
Rich Edmonds was formerly a Senior Editor of PC hardware at Windows Central, covering everything related to PC components and NAS. He's been involved in technology for more than a decade and knows a thing or two about the magic inside a PC chassis. You can follow him on Twitter at @RichEdmonds.
Rumor was that Microsoft originally bid on it, but Twitch chose Google instead. When the Google deal (thankfully) fell through, it's not clear if Microsoft was still interested in (they shoudl've been) or able to (they were prepping for the Mojang deal already) make another bid at Twitch. I wish they would've gotten both Mojang and Twitch, but at least they got the former and at least the latter didn't go to evil Google.

How its related to any windows news.

Exactly... I find this news worthless.

I don't really care, but really, this isn't related to ms it windows phone

Amazon bought twitch. Twitch has an app on Xbox. Xbox is from Microsoft. Microsoft made Windows. Stop whining.

Some people man, they've got no analytical skills. Big move by Amazon.

Microsoft acquired twitch somehow when they released . Or had a partnership with twitch . And now amazon bought it back . There's your relation

Millions of Windows and Xbox gamers stream and/or watch Twitch.

Microsoft has a partnership signed with Twitch so this is directly relevant to them. Also, Microsoft was rumored to be one of the players who was bidding on Twitch previously, so this is the follow-up.

See all the above replies to your comment :)

And also WPCentral does some live shows on twitch like some games and all

How in all hell is that worth that much?!?!?

Access to 55 million people and their wallets monthly. That's why.

Has more net traffic than YouTube at peak hours. Crazy, I know. But it is streaming hi-def video constantly running

Wow. I did not know that. Tried it once but just didn't get the hype.

Its worth even more than that bro.. Twitch will be even bigger than its already is

"Twitch gets new online store, pay-per-stream features in latest update"

Free twitch minutes when you buy amazon prime!

Free, two-day shipping of kilobytes to your home.

Better than Google taking it over

Google and fb will screw things for us. And privacy for everyone.

Is anyone bidding for 971 million?

Do we get the app on windows phone?

Amazon obvi has the money... So make a Windows 8 app already!! It's high time we got cloud player and instant video.

$970 millions = ₹594125,00,000/-
Baba re Baba...

Can I go turbo now since im a prime member? "Deal Breaker"

We chose Amazon because they threw money at us. I don't see the point of this partnership.

At least google didn't get it so that's good news.

From that extract, it looks like Google was going to take away their independence hence why it fell through. There were probably other issues as well. However I can imagine alot of people are happy that deal fell through (myself included) :). Wonder what Amazon's plans are for twitch?

MS missed a huge opportunity here. Decided to waste 2.5x the cash on Minecraft instead! Clueless...

They were one of the first to jump on this opportunity but the Twitch just didn't like the terms of the deal.

I love that we can't feed everyone in the world but we can spend an unreasonable amount of money to purchase companies.

I hate how it's said people are starving in this country yet every sports and entertainment venue throws perfectly good food away every night.

As long as Google loses, everything will be fine.

Amazon shopping network coming soon to a console near you! ( QVC type)

Hopefully they give Twitch more bandwidth!

Exkerz completes deal to buy turkey club sandwich for 3.99 with 40% off coupon.

Montpbm completes a deal to pay cell phone bill for $285.00 dollars oh and 70cents..

They should've just made it 1-billion dollars..

What's to keep Microsoft from making an Xbox only gamers competing "network" to go against Twitch? And could Microsoft ever block Xbox gamers from broadcasting on Twitch? Just trying to think of why Microsoft didn't see the value in outbidding Amazon for Twitch.

It's really simple: Microsoft is planning to buy Amazon! When they do that' then they'll have Twitch, See?