Amazon US is currently offering a discount of up to 50% on SanDisk storage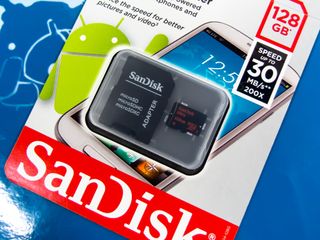 Amazon US is currently running a promotion that sees up to 50% off a bunch of SanDisk storage solutions. Whether you're on the lookout for a new SSD for your PC or a microSD for mobile device, these options are worth considering, even with Amazon's Prime Day just around the corner.
Here are a few highlights from today's Gold Box Deal of the Day:
See the full list of items on offer today by hitting the link below, and be sure to let us know if you're picking up one or two.
Buy cheap SanDisk storage on Amazon (opens in new tab)
Rich Edmonds is Senior Editor of PC hardware at Windows Central, covering everything related to PC components and NAS. He's been involved in technology for more than a decade and knows a thing or two about the magic inside a PC chassis. You can follow him over on Twitter at @RichEdmonds.
Keeping an eye open for some great prime day deals. Btw WalMart is matching Amazon tomorrow... At least that's what I heard.

Electronics from walmart? Not for me.

Because they are any different them other stores?

In the case of memory cards, they are the same. In the case of computers and many other items, like televisions, yes they are different. The models sold are made just for walmart, and generally suck greatly compared to the "regular" versions.

Good luck with that. They always make excuses and won't even match their own online prices.

Hmm jump on this or wait till tomorrow?

Gotta get a 128gig for pi 2

Just bought the 64gb and luckily had a $10 amazon credit from a mistake they made a couple weeks ago... So 64gb for $10. Worth it!

I just corrupted my SanDisk 64gb microsd trying to format it via Windows 10 Mobile in the last weekend and now I cant use it anymore.

There's a 10 year warranty. I was able to get mine replaced for my Lumia 822 with 8.1.

Thanks for the notice, I think cards like these with so large storage should not be formatted using a phone which has small RAM and mobile CPU, its better to use a PC. Just my 2 cents.

You can go to SanDisk support website and file RMA claim. You will need to provide front and back pictures of the card with model number (located on back of card.) You will also need to provide valid proof of purchase. Turn around time was one week for my first generation 128GB version.

First, to be frank about it, you were foolish to do that action on a beta operating system.
Second, should you still wish to proceed and risk the loss of another memory card, heed the advice of the previous responder and format in your computer (non-Windows beta OS).

I stopped using SD cards other than for my Gopro and I'm kinda low on funds so ill have to skip this. Also I LOL @ how they toss that Android mascot around as if it's specially formatted for it. Then again when a majority of the market uses Android perhaps its just good marketing.

Agreed that microSD cards should be an exception to the rule and not a mandatory have feature of phones.
I hope Microsoft's flagships announced for Autumn '15 come with 64GB and even 128GB options, today both the iPhone 6 and Galaxy S6/edge come with these capabilities for storage option and I think that is the difference that makes these devices so special. On board storage is always better than external storage.

+1 When speaking of performance, yes. But it's always a good option to have an SD slot that could save your phone from data loss caused due to a sudden malfuntion that costs you a factory reset. Of course, you have OneDrive for photos, videos and music backup but yet, it's clumsy to have all the stuff downloaded from there over and over again. Also, you always need a PC/laptop to move your files between them and phone. A SD card solves this issue when you're outdoor, too :)

Check the sales numbers. A small portion of the sales are for the 128 gb option. The vast majority of people buy the 16gb version and later realize that it isn't enough storage. At that point it too late. At least the galaxy and WP have the option to add an sd card to expand the storage. Also, remember that they are charging $100 to add 48 gb of storage. A 64 gb sd cost $20.

Its nice to see OEMs are now selling class 10 microSD storage. My 32GB class 4 microSD card died in March of this year after I installed the Windows 10 preview on my Lumia 625, I also was playing Make it rain since February, so I left my phone turned on 24 hours per day but the app was stored in the microSD. For those who wonder what this game does, is it updates counter of dollars every second, so it was writting to the microSD card possibly millions of times during that month and caused the card to die. I just purchased a Sony class 10 32GB microSD card and now I won't install games like MakeIt Rain which do intensive I/O operations specially when you leave your phone turned on 24hours a day, I hope this card lasts more than 2 years.

Will any of these cards capture 4k video? I have a Lumia 1520 but I haven't been able to use the 4k video Camera because the phone says my SD card is too slow. Posted via Windows Phone Central App

This happened to me. After research, I found only the Sandisk Extreme Pro (not on sale but cheaper on Amazon) and the Samsung Pro (much cheaper than Sandisk) series were the only ones capable of 4K without performance related issues

Also checkout Lexar x663 128gb (95 read). I haven't tried it for 4k, but it runs Steam games on my SP2 very well! I picked it up a month or so ago for $72, which is the cheapest I've seen it (it's now $95 (41% off $160)

Question....I havent used an SD card in a phone in FOREVER. Can they be swapped interchangably with other phones? WIthout having to do anything?

No, just android and windows. I have multiple windows however

No. Windows Phone OS will ask to reformat and state it is unusable unless you format when you place it in Windows Phone.
Microsdxc installed Windows Phone apps from another Windows Phone or a restored Windows Phone will be unusable.

Would a Class 10 SD card work on the Lumia 640 LTE?

Yes it will work just fine!

to bad that doesn't include the new 200GB cards

Yesterday it was 19.99$ (followed a link from lifehacker) now its 4$ more!

shoulda picked it up yesterday, deal is gone

I know it says "up to" 50%, but nothing in these links is that much. I think the most was 30% sale for SDXC!!
Windows Central Newsletter
Thank you for signing up to Windows Central. You will receive a verification email shortly.
There was a problem. Please refresh the page and try again.