Amazon India is now shipping the Lumia 950 and 950 XL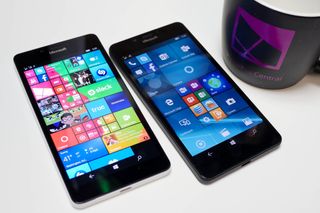 Pre-ordered a Lumia 950 or 950 XL from Amazon India? You'll be glad to know that the retailer has now commenced deliveries to customers a day ahead of either device's retail availability in India. All customers pre-ordering the devices will also receive a Display Dock for free.
My Lumia 950 is on its way from Amazon's warehouse in Mewat, Haryana, with delivery expected by December 14. What delivery timelines are you guys seeing?
While you're waiting for your devices to arrive, make sure you check out our extended coverage:
Lumia 950 review
Hands-on with the Lumia 950 XL
Thanks Raghunandana, Virat, and Ashik!
My order has been shipped aswell...will the display dock arrive with the phone or later

I think you get the dock separately!! Have you generated the pre order code??

How to generate the Pre order code. I have not received the code yet.

Many countries are getting the display dock free, but in RSA we only a Fitbit with the purchase...

personally I would prefer that over the display dock. With display dock I could jjust show off somebody that my tv has become a pc, but I don't really see a real world use of it just yet.

After a week of purchase, display dock shall be shipped.
Amazon has 7days electronics return, thats why!

I preordered Lumia 950 through Microsoft which redirected me to Amazon. I got it on Dec 12 without the dock or any information to obtain it. Amazon customer support says there is no dock in the offer and this is not a preorder. Sad&nbsp;</p>

Nice but it is too expensive here in India.. Hope it will get price cuts soon (950 xl of 43-44k) and I will get it!!

May be it's expensive for you.. So don't complain like " it is too expensive in India ".. it is not when comparing it with other flagships.. So just wait for price drops until you feels like it's good enough for your wallet..

Yeah the iPhone ain't that expensive. Sasta maal haina

It is atleast expensive for me (not in my budget).. Who told you that it is sasta maal. I have not owned any iPhone or iPad in my lifetime.. So, you can't judge me from my statement... And for your kind information i am a Lumia fan and not buying an iPhone or android ever.. I currently have Lumia 620, 625, 730, 925, 640xl in my family and you think that I will buy an iPhone!!

Hey its even expensive for me. And yes I am also a Lumia fan. There was a time in school days when I believed the hype that apple was best. But guess that's not. And yes I am a 730 user and another 520 with my mom. Yes for a normal user its expensive even a s6 or even 1+ is expensive for me cause I am a student. Thise who earn higher salariesits cheap compared to those phones. This was what i was saying. So no hate man.peace

You are the people who insists other buying iPhone and android even if he doesn't like it.. You think that only you belongs to Lumia community and you are free to irony others...
If you think that iPhone is better choice then go for it. Don't suggest it at least not in Windows forums!!

It is d**** expensive everywhere, ok.

Long time no see. Where have you been man?

I have been here all the time, just not commenting. How are you dude..?

It is too expensive in India. Right now Samsung Galaxy S6 and S6 edge is selling cheaper than 950 and 950XL. And for that price, which phone do you think an average customer will go for? The phone that is displayed in most of the bill boards saying it is the best phone ever or the phone that is barely available? There is not much marketing and Microsoft reduced the number of service centres too. So why price this in the premium range at all?

Already its been clearly explained in one of Windows central article that this flagships are solely meant for Lumia fans. That is the reason of no marketing.

That explains no marketing. But does not explain the need of pricing it higher. If it's for the fans, the loyal customers, I am sure they can sell them 5k lesser and still make profit.

Fans will pay anything regardless of design, build quality or maturity of OS.

It has to be with the taxes in India. When you convert US price its 36k which is lot cheaper considering other top flagship launch prices. here you get the free display dock worth 6k, which sums up to 42k (close to actual selling price) whats your point tell me now. When i bought the L930 last year it was priced 38k, whereas the US conversion price was 35k. 3k for the taxes. To me everything seems reasonable if you buy it with display dock offer.

Buhahaha. I got L930 for 29,999 :) The thing is, IMHO if you are planning to buy a flagship, then wait a while till the hype gets settled (and the flagship is no more a flagship??). Then the prices come down. Then you buy ;) Also, as windows 10 mobile is still new and may have some bugs (features?) lurking about, over time it will get better with more improvements and less bugs. So, hopefully till the prices come down, os will be more stable.

To me, it is expensive.
1) Display dock is given for free which is a good to have rather than must have. My thought is they could have released with 3k lesser but saying if we opt for Display dock then we can get Display Dock for 3k more, at least I wouldn't be ranting here :-)
2) just look at the accessories we get with the phone. That headphone is same as that of the crappy headphone I got with 640XL. If the phone is high end, shouldn't the accessories be high end as well? Just look at accessories from other high ends and look at ours :-(

It is too expensive in India means that Indian government has charged so many taxes on electronics so they are a bit expensive than the original price and the price in other countries At least go for statistics... Microsoft is selling the Lumia 950xl for $649 in US.. So according to that $649 = ₹43340 around 43k..
So this was what I mean from my statement...

No need to pull anyone for their comments. As it is the comment is spot on. Unlike iPhone, MS does not rule the smartphone market. If anything they shoudl have priced it similar (if not lower) that latest Nexus devices, which have comparable specs. This kind of pricing will only result in MS losing market share in India. even 550 for close to 10Ks might not generate as much sales as 640 or 640 XL have done.

yeh to hamesa hota hai, price to hamesa ghatega mere bhai

u get a 4k camera with 3led flash, qHD 5.2" display, 3gb ram, 32gb internal, hexa-core processor, and IRIS SCANNER(and there is more) on a Lumia 950 for 40k.. and u are saying it's too expensive.. lol

Microsoft is selling the Lumia 950xl for $649 in US.. So according to that $649 = ₹43340 around 43k.. So isn't it expensive in India!!

US tax system wont work here.. This is India.. And you guys are the d!ck heads in India .. Use your brain ... And thanks for comparing in with 2 months+ old galaxy S6.. You just shut your mouth for 2 months and then Ta Da.. Price drops .. You dont have to worry about the 3K.. Problem solved.. Goash..

Oh you know about tax systems so well. UK has got the highest taxes I supp and it costs £450 there, which is around ₹45,xxx. So get your facts cleared before commenting.

40k? It is 43k+ buddy. 38 to 40k would be the best price Microsoft could have priced. Still, I am hoping we will see the price to drop to that range in 3 to 6 months. Fingers crossed.

You get a display stick worth 6k free now that process equals the US one. 38k is wat I bought L930 an year ago.

And a half baked OS too. Thanks.

No one is forcing you to buy... Just close the door after you..

And no one's forcing you to lead the 'I am stupid' brigade either. A simple comment from rkwap just stating that it's expensive, which it is, turned into a big mash up just because you **** head doesn't want to agree that it's truly expensive for matte plastic and a half baked OS. Which is not making a space for itself among the already popular devices and that too at lower prices.
And ya, pick up your ego before you leave.....

If you cant handle the pain of reading my comments..GTFO.. And for the stupid part.. Not all the plastics are cheap.. There are premium plastic as well.. ( eg. Premium cars doesn't come with metallic Interiors ) ... And for the half baked OS comment ... Windows works like a service now.. So there is that... And for 'already popular devices and that too at lower prices' comment... Why don't you check the price for iphone 6s. .. You can get two 950's for the price of 128GB iPhone 6s Plus.. Go get a job brother... In life not everything is cheap...
And ya,thanks for reminding me to pick up my ego.. But don't forget to take your stupidity with you.. And yeah.. Then just leave

Oh, I think it was you who started abusing and came after everyone, Mr. Copycat. 'not all plastics are cheap', well there are better materials there to compare with, for instance the cheap old Lumias.
And think again on what you wrote about the cars point, you just wrote. Windows is still under development, no thinking twice about it, and yeah I have been using WP since 2012, and can see the differences between WP and my iPhone 6. And pricing part, there isn't just the iPhone to compare with, comparison with droids would be better here. And there are so many of em.
About getting a job, who the heck are you mister..? Refrain from personal comments as you don't know whom are you interacting with actually. Am not gonna get a 950/XL either. There are some things which are overpriced. 'In life not everything is cheap', ya that's why you picked up ego soon.

Come on!! Windows 10 is waas model ..s/w problems will be fixed then and there.

Again compare with other devices that have comparable specs. MS is pricing like it is in the league of Samsung, HTC, Apple etc. It must realize that it is not. In order for the windows phone OS to capture market share, MS must put its financial prowess and even sell the phones at some loss if need be. That would still be better than nearly $8 billion write off, or a potential write off of the mobile division sometime in future. even if says it won't making too many devices, it must make efforts to sell what it makes. Right now, there is some demand that has built up and production has not caught up to that. As a result we have these delays in shipments. By 2016, the phone will be readily available but there would be no buyers. Most Windows fans who want these phones would have got them by then. As it happens everytime, we will see price cuts and further price cuts. But even then the sales will not shoot up. MS had made this one blunder in the past and continues to do so and it will hurt in the long run.

Pre ordered it from a brick and mortar store for 47k. Dont get your hopes up on price falling by much. I have been using 640 xl which is selling for the same price as it was 4 months back.

Its priced ₹42900 or $650 in the U.S.
So,paying an extra ₹700 isnt way expensive. The 950.
The XL is ₹47850 or $725, so paying an extra ₹2000 isnt that EXPENSIVE!!

Bhai US se baat baat par compare kyon karte Hon.
हरकते ऐसी करते हो आज भी दीवार पर लिखना पड़ता हैं " गधे के पूत यहाँ मत मूत " :D :D :D Hygiene Mein kabhi copy nahi karte :D :D :D ~Words by Narendra Modi :P

If one can't afford the phone doesn't mean it's expensive. I can't afford it as I'm sure many middle class Indians can't. That doesn't make the phone any unworthy for the asking rate. For me the liquid cooled processor and iris scanner alone make the phone worth it.

Iris cant be used in any angle or when kept the phone at far distance.
On laptops, its good..on phone, i didnt get that advanced felling about the feature.

Expensive or not, It's overpriced for sure.

Ahhh i think u don't know the price of display dock which cost around 5k-6k dats y Dey look expensive

They say its free, not in a bundle.

no its not..iam in u.s..here prices with taxes is 580$ for lumia 950...my order has ben shipped by amazon ..and without display dock..well in india u getting free display dock...i just purchased surface pro 4 and its wow...

I've been waiting all these days and now I'm at Saudi and they released it now.. **** ...
Now temme "When in Saudi" :-/

Saudi Arabia me kaha bhai? Which city?

You will find it firstly at Jarir BookStore. I got my 1520 back in 2013 in December after only one month of launch from Jarir
Ask them on twitter @JarirBookstore
https://mobile.twitter.com/JarirBookstore

Guys give your reviews after u received the phones.....I want to take it due to budget am waiting

There have been negative reviews.. With some even wanna trade their handset with iphone or samsung galaxy s6. Although past latest update i m in love in windows 10 phone (running on lumia730). And most of gripes was for software. Hope we see change. And lets wait for reviews from early 950 adopters in india.

I recently checked a Lumia 950xl in a retail shop. It's really cool. All negatives are with regard to s/w so updates will take care of those.

Which retailer had the 950XL on display? I'd really love to check it out.

All the Microsoft priority resellers have got the Lumia 950xl from Tuesday.

People here are like... Having ₹2 and expect to get a thing that's worth ₹10 .... Grow Up !! Is a fact that the more you invest the better you get !! Waiting for price cut? Till that time a better new device will come and then again we'll see a same scenario !! So if you wanna buy, its time now !! Go Ahead and end it !! Or stop complaining price !! Bdw my 950xl to be delivered tomorrow !! :-)

Bande kidney beech k iPhone lene ko taiyar hai par ye to bahut mehengi cheez hai yaar

' Kidney Bechke iPhone ' !! Lol that's a good one !!

It's true though, there's been two suspects reported from China.

Bro in US Lumia 950 is available for $550, so convert it to INR costs around ₹36,300 if ₹/$1 rate is ₹66 and add some margin then it should be around ₹40k to ₹41k. But it is betwn ₹43k to ₹44k, so we have to pay around ₹3k more. And pls don't talk about iphone. We are not iphone users, so we do not worried about their price. We are windows phone user that's why we worried about it's price.

If that's the case blame the Indian govt for VAT. That's the reason for the price difference. Even US L950 doesn't come with free display dock (₹5999). If you take it into account it's ₹37699 which is cheaper than the L930 (₹38000) I bought last year.

No bro, talk about any company when it comes to India they charge higher prices for getting more profits. That's the case of all companies even Indian also. And check the interview of Satya Nadella, he told that these are the phones for the people of countries like India, where many people don't have access to computer. So that they can use these phones as computer. So if a person wants to use this phone as a computer then he can get whole like computer experience around the cost of ₹50k(including dock, mouse, keyboard, screen). But one can buy a laptop with basic good configurations around ₹30k and ₹10k for any good basic level Android phone. So he can get all experiences at ₹10k lesser price. That's the point.

You are right.. There are laptops for 30k and even 10K .. Why dont you get a laptop and keep it in your pocket as a phone 'BRO'.. I hate these guys ...

Seems you not are following MS news regularly ..wasnt Daniel wrote an article about cheap continuum for low end devices is in works.

Oh government ko blame chup ho ja :D :D Uss govt Ki issi bakchodi Ki wajah se mobile companya India m manufacturing start kar rahi h ...hint,hint DIGITAL INDIA :P :D

yeah u r right.. but then here are extra amount of taxes(all *****) and if u include these all the price has to be increased..

Its more like in general what people are saying

You are talking about the B&H who dont charge sales tax.
On Amazon.com they have same pricing as Amazon.in, almost!

Spending ₹2 and getting ₹10 is Microsoft's mantra, it seems. For these phones, no marketing. Plus the number of service centres is also reduced. So they are spending less but pricing them at a premium. People will always be looking for value for money and comparably these phones offer less value for the money involved. Only good thing is these are cheaper than iPhones.

To shut all the ******* "this is too expensive guys in India" .. Please use your brain and with some efforts go and check out the prices of every smartphone that released in US and compare the Indian launch price.. Indian price of each products are higher because of the ******* VAT, premium tax,import tax.. Go blame the tax system .. This is not just MS.. Every OEMs have to do the same.. Now just zip your mouths and move on.. These phones are not for price concerned fans.. If you want discounts..wait for 6 months..

I pre ordered my 950 from Reliance digital...they told that u'll get ur device on 20 Dec...but my exams ends on 21dec so...i'll get my 950 on 21 dec...and also the display dock will be delivered by Microsoft...after messaging device's imei and pre-order code...

With MS retail shops it is 11th Dec. Is there any price difference @reliance??

No difference in price...

Costly, propose should be 30k for 950 and 35k for 950 xl

This is too low a cost if you ask me. Adding 6k to your estimation is better.

People are way too cheap nowadays...

₹35000 and ₹40000 would be good price but you wont get display dock whichs worth ₹6000.

30k ??? Itne Mein toh Lumia 1520 bhi nahi milta kis duniya Mein h bhai :D par agar semsang gelaxy s5 chaiye toh mil jaayega :P

Microsoft offered free Dock if it was pre-ordered by Insiders at the Insiders meet in India. No one knew free Dock was offered to anyone who pre-ordered WPhone. Poor Insiders, who risked thier phones and see what joke Microsoft offered to the Insiders !!!

Yeah right .. Thanks . Move on

Mine has also been dispatched from Mewat , Harayana and will be delivered on or before 14th .Also ordered a 32 gb EVO+ to be used with the phone. Despirately waiting for the 14th :)

Mine still says "Shipping Soon"!!! Waiting for mine

I feel strange to see random quarrels in software reported as issues. Every OS has some issues. Used Blackberry earlier, it had random crashes and seen best of Android phones getting slow and laggy with time. IPhone take a lot of time in opening apps and stuff. So nothing is perfect and won't be. It's high time that people at windows central stopping whining about it. Due to such post and forums, when anyone searches for a Lumia device or window OS, he is mislead into believing that there are serious problem in the windows ecosystem. Hence we see less people getting on board. In fact I suggest windows central to remove such post/forums to improve windows smartphone image in layman eye

Totally agree with you except "iPhone take a lot of time in opening apps and stuff". Where did you get that from? :P
Unless you try to run iOS 9 on a 3 yo iPhone, it has one of the best app opening times!

It happens when the memory is almost full.. So there is that..

iphone applications are way to large, with a amazon shopping app more than 70mb.

Woh LAG nahi h , animation bolte h usse animation

950xl one black one white on or before December 12

They said delivery would be 11th....then Microsoft India called me and told me all Microsoft stores will receive them today and are giving away the Dock free along with it on the spot. Out of the 6 stores listed on the Microsoft India Website, 3 are shut down and no longer deal with Microsoft....so that's MISLEADING info! Also as I had placed my order thru CROMA, they stated they haven't yet received any handsets and are expecting them by Dec 12th....

So Amazon India has Lumia 950XL invetory and shipping out...but the Microsoft Store can't even take an order from me? Dear lord...

They are taking orders I guess.. Go to MS store ( online )