Amazon launches Echo Show with video chat
You're relationship with Alexa just got a lot more personal.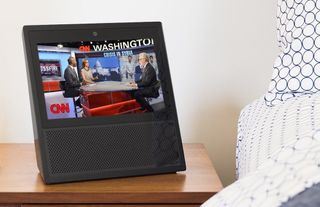 Amazon just launched its latest gadget in the personal assistant line. The Echo Show (opens in new tab) is a $230 stand-alone touch screen device that is designed exclusively for Alexa. Now, when you ask Alexa to order that doll house, you'll see what it looks like first.
The Show, which houses a 7-inch touch sensitive screen and two Dolby front-facing speakers, as well as eight microphones, can hear your query from across the room, even while you're listening to Bruno Mars.
You can also make video calls to others that have the Show using the front-facing 5 megapixel camera. Just say, "Call mom," and you'll be able to talk, face-to-face with you dear mother. If she doesn't have her own Echo Show (you should get her one for Mother's Day), she can video chat with you via the Alexa app.
You can connect the Show to supported smart home devices, like the Ring front door camera or the Arlo security camera, and monitor goings-on without having to take your phone out of your pocket. Just ask Alexa to show you the baby's room and you'll be watching your bundle of joy resting peacefully.
The Echo Show can turn on the lights, turn down the heat, and activate all other Alexa-compatible smart home gadgets.
It also works with all of your other Alexa Skills, like Ted Talks, news flash briefings, and checking your calendar. Only now, you can actually see the results you're asking for, instead of just hearing Alexa chatter on.
Amazon is offering deep discounts on a number of Echo-related gadgets right now. The Arlo Security camera (opens in new tab) is down $72 at $147, which is a 33 percent discount. The Wemo Smart WiFi Plug (opens in new tab) is $5 off. If you buy two Echo Show devices, you can get $100 off with promo code SHOW2PACK. So you can get one for yourself and one for mom!
If you're ready to go all-in and have Alexa in every room, you can grab the standard Echo speaker for just $150 right now, which is $30 off the normal price.
You can pre-order the Echo Show today for $299.99 and it will arrive on your doorstep June 28.
See at Amazon (opens in new tab)
Windows Central Newsletter
Get the best of Windows Central in your inbox, every day!
Your not you're relationship....

What does this have to do with MICROSOFT, OR WINDOWS?

Well.....for one...ALOT of microsoft windows computer users aren't blind fanboys like yourself, therefore we like technology that works, not what has a windows logo on it no matter how big a steaming pile it is....(windows 10 mobile).....so it has ALOT to do with microsoft and windows since we will be connecting it to our windows computers! take off the windows blinds fanboy!

Explain how I'm blind... I'm waiting.

Read past the Comment regarding you being a blind windows fanboy....i know you don't have a long attention span, but damn, I figured you would make it past there. again, fanboy can't see the forest for the trees!

It looks like something from a 70's sci-fi show

It looks like old school project tv's.

First you say it's $230- and then you say it's $299.99?

The price should say $229.99

> You're relationship with Alexa just got a lot more personal.
> You're
Come on, man

the new face of microsoft journalism...

Another non-Windows related article that just makes us Fanboys more upset at how seemingly Microsoft is falling behind it's competitors. General technical articles are valuable, but the WC folks have to admit that publishing this stuff is what fuels the anxiety, concern, and animosity amongst the readers...don't be surprised by flaming comments.

probably the reason it's put there...to watch the fanboys freak out! ha ha....I think it's cool as ****!

You think it's cool? What Windows Phones have you owned?

I have owned the HTC 640, Samsung ativ s x 2 , nokia 520, nokia 1020 x 2, microsoft 950xl and 950.....I was using windows phones before they were windows phones....when it was windows mobile...and not windows 10 mobile....whats your point./???? this has nothing to do with phones....and yes...it's COOL! more than I can say about windows phones/mobile since they introduced windows 10 mobile and shitcanned the entire system!

I call BS.. You didn't own a 950XL, and a 950.. What in the world would be the point in that.. You're nothing but a pathetic troll. Get a life. Prove it.

I don't anymore no.....I DID....and they went....**** you I don't need to prove **** to you fanboy!

There was an offer where the 950XL came with a free 950 if i remember correctly...

That's petty o me. You can buy a computer on that price tag. And develop the full potential of that 7 inch scree. It also looks back in the 80's design. This remind me of the failure fire phone. OMO

Because it wasn't made by the Surface team, which is why we don't need it here........

whats funny is that it looks exactly like a surface product.....squared angular design....fanboys FUN!

UH.....YEAH! slap a MS logo on it and it would be right in with the surface design stragegy of angular boxes...NOT a bad thing because I love every surface device...minus the fugly hinge on the book....but the rest of it is damn sexy...

One ugly piece of crapware.

Another useless device no one needs. Our smartphones can do it all.

I have to say that the aesthetics are disappointing. I wouldn't mind having a "terminal" to view my Ring devices (doorbell pro or the floodlights) positioned some where convenient. But, I'm not sure I'd want to use a device like this. They should consider making something more streamlined/ integrated. Something like the Wink Relay Controller (https://www.wink.com/products/wink-relay-touchscreen-controller/)

Looks like a rear-projection televsion...we've certainly come a long way.