Amazon says Windows and Windows Phone sit well in its strategy for AutoRip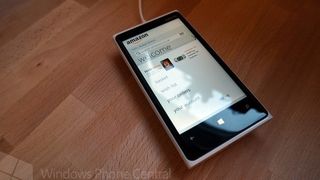 Amazon is currently launching its AutoRip service in Europe, which will join the already established US version. Music purchased through the cloud player and those bought on the Amazon websites are stored in the online music storage to be played on multiple devices, including the Kindle Fire family, iPhone and iPad, Android hardware and through a web browser. Native Windows and Windows Phone apps are yet to be developed but are said to be on the table.
While Windows 8 users can utilise any of the popular web browsers available today to stream stored music on Amazon's cloud service, it would make for a complete experience if there were to be a featured app on the Windows Store. This also goes for Windows Phone, which cannot currently access files store online for streaming and download. Pocket-lint sat down with Steve Boom, VP of digital music at Amazon, to talk about potential apps on Microsoft's platforms.
When purchasing CD or vinyl records you'll receive an MP3 file of each song for free, which is stored on the online cloud player. With over 350,000 albums currently AutoRip-enabled, it would make sense for Amazon to target Windows consumers who may also be avid Amazon fans. That said, we do have our beloved Nokia Music and Xbox Music services. We'll keep an eye out for more details to emerge on the development of these apps.
Source: Pocket-lint
Rich Edmonds is a word conjurer at Windows Central, covering everything related to Windows, gaming, and hardware. He's been involved in technology for more than a decade and knows a thing or two about the magic inside a device chassis. You can follow him over on Twitter at @RichEdmonds.
I figured that they'd do some sort of Amazon MP3 thing for Windows Phone eventually...

I mean, they had it on the Palm Pre.

Cool! Help my employer! Lol

I always feel nice giving my money to Amazon. They never let me down.

Ditto! I purchase all my content through them. :-)

Good guys at Amazon. Wish more companies were "platform agnostic" so we don't feel left out.

They still don't support their video products on Android.

You can play your Amazon MP3 from their cloud on your WP. Just do it via IE. I've done it before. It's not the easiest or prettiest thing, but it does work in a pinch.

Does it utilize the native playback controls?

I don't remember... trying now....

I don't remember... trying now....

aaaaah phooey! it doesn't work any more. The "launch cloud player" shows up for a microsecond then disappears.

I could've sworn that Amazon MP3 announced that they would be working on an app for Windows Phone 8, sometime in the summer of last year...

Amazon is well represented on Windows Phone.

Am I supposed to trust a company that has never updated their very poorly coded audible app?

To be fair Amazon are a good company. But well said about about the audible app. I signed up twice and cancelled it twice. Both times because the app is terrible.

Last year I read an article that said they were hiring developers for a amazon cloud player app for windows phone

As much as I utilize amazon as a company for physical things, and am I prime member, I have refused to purchase any of their digital offerings, for about a year now, until they have complete parity for windows and windows phone.
For music I'm feeling no pain whatsoever; they'll have to work hard to get me back there.
For books, I use o'reily drm free or buy my tree killers used instead. They have a limited chance of getting me back here, but frankly DRM free books and magazines are getting more and more attractive. I'm still waiting to hear back from zinio on why some of my older magazines are not showing up in their Windows products.

I really really want this to happen. Amazon cloud player is my #1 missing app, followed by Amazon's video player, HBO Go and Instagram. They just released a new desktop app but a metro app would be nice too.

How about an Amazon Prime video streaming app?

I just emailed Amazon two days ago asking when they would have a Prime video app on WinPhone. I got the following canned response: Hello Michael, I'm sorry for any inconvenience you experienced. I understand you're concerned about having an app on Windows phone to access the Amazon Instant Videos. Customer feedback like yours is very important in helping us continue to improve the experience of using our digital video service. I've forwarded your message to our Amazon Instant Video development team for consideration as we make future improvements. Thanks for taking the time to provide your feedback. We look forward to seeing you again soon. Best regards,
Shiva K

Yeah, that's kind of a shame. Hopefully they'll get around to it someday.

Agreed. I would love to watch my vidoes on my phone.

I would like this service a lot...but Amazon doesn't allow people who live in other countries that don't have a dedicated amazon site to buy mp3 let alone get copies.
I've accumulated a few dollars I can't spend on my account because of that. Oh well...iTunes it is.

Amazon has always been supportive to windows and wp platform. Amazon mobile app was one of a few early major apps available on wp7, wp8, and w8, and has been updated frequently since then.

I'm gathering that none of this will work in Australia as we can't download any mp3's from Amazon?
Windows Central Newsletter
Get the best of Windows Central in in your inbox, every day!
Thank you for signing up to Windows Central. You will receive a verification email shortly.
There was a problem. Please refresh the page and try again.