Here is why Ambient Weather is my favorite Windows 8.1 forecast app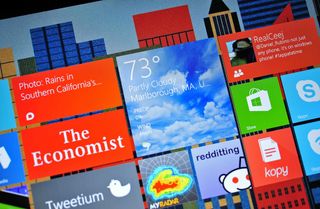 Although there is no shortage of fine weather apps for Windows Phone, when it comes to Windows 8.1, things are a bit different. There is a selection of weather apps, but from my experience, there is a dearth of quality ones that highlight the Modern look of Windows for tablets and PCs. I know everyone cites Bing Weather as his or her go-to app, and with good reason. Assuming, however, you want something different– and the ability to ditch ads – Ambient Weather is my choice these days.
Ambient Weather is not a new app, in fact, I have been using for nearly a year now. However, Ambient Weather has been getting a nice amount of updates lately, and this mini-review is long overdue in highlighting this fantastic app.
Features
Ambient Weather is not the most powerful weather app around, but it does contain plenty of detail and more than just the basics.
Weather is presented in four sections, including Current, Today, Hourly, and Daily. Each one of those provides current temperature, wind speed and precipitation. Current also includes the 'Feels like' temperature, which takes into consideration humidity levels and the Today area includes sunrise, sunset times, and humidity levels in percentage.
When it comes to Daily, there is a small snippet of the forecast displayed such as 'Mostly cloudy throughout the day' or 'Light rain in the morning' with matching weather icons.
Tapping into any of those sections reveals more information, such Summary and Details, like percent cloud cover, dew point, visibility and even the moon phase. Upon first launch of Ambient Weather, the app walks you through a tour of the app, making sure there is nothing hidden or missed.
Location support includes using your current location, which is ideal for roaming tablet or laptop users, entering in your location and handling multiple locations.
Unfortunately, Ambient Weather does not include radar support or push weather alerts at this time. However, Ambient Weather does display NOAA alerts for your location within the app itself. For radar enthusiasts, I currently recommend checking out MyRadar Weather Radar (opens in new tab).
Gorgeous imagery
One of the best reasons to try out Ambient Weather is the background images, which you cannot find anywhere else. The reason for that is the 26-year-old developer, Kurt Dowswell, is a photographer who adds his photos to the app (he often updates the database with new images). The images are a welcomed change from the often-recycled public photos in other apps, or for apps that opt for just a plain background.
As expected, the background images reflect the current conditions. If there is precipitation, you get an excellent rain shot (or snow if that is the case); if sunny, you get a beautiful sky shot with a few clouds. At night, the app switches to a dusk shot of the sky. In short, the pictures give the app personality, and they sure brighten up things.
Live Tile
What is a proper weather app without a Live Tile? Luckily, Ambient Weather has one that provides you with the current temperature, weather conditions, location, precipitation percentage, and wind speed.
Tile sizes include small, medium, wide, and the awesome large version, covering all the bases. Like the app itself, the Live Tile's image is taken from Dowswell's personal collection.
Cost
Ambient Weather is free to use, although there are ads and the Live Tile only functions for the first seven days. You can remove ads and keep the Live Tile for a one-time purchase of $1.49. Value? I think it is worth it, considering weather apps tend to be one of the most frequently used on a tablet, PC, or laptop.
Take away
Back in March, we did a roundup of the best weather apps for Windows 8 and to be honest, not much has changed. Due to the design, frequent app updates, and the ability to ditch ads, Ambient Weather is my go-to choice. In the end, it is a personal decision as to which weather app you prefer, but in case you did not know about Ambient Weather, I think it is worth a quick look.
Is there a newer weather app on the Store worth highlighting? Let me know below in comments. If you use Ambient Weather, give a shout out as to why you prefer it to others.
Windows Central Newsletter
Get the best of Windows Central in in your inbox, every day!
Daniel Rubino is the Editor-in-chief of Windows Central, head reviewer, podcast co-host, and analyst. He has been covering Microsoft since 2007 when this site was called WMExperts (and later Windows Phone Central). His interests include Windows, laptops, next-gen computing, and for some reason, watches. Before all this tech stuff, he worked on a Ph.D. in linguistics, watched people sleep (for medical purposes!), and ran the projectors at movie theaters because it was fun.
Wait. This looks suspiciously like a sample app from MSDN.

I am not sure what any of that means, but...okay.

You can download example source code from MSDN (Microsoft Developer Network), even some apps to learn how to develop for Windows
Still I don't see this app like one of those samples

It was to do with adaptive layouts and listview templates I believe. I guess it's not surprising it might look similar anyway. Only so many ways to show the weather.

Vieather has the sleekest minimalist design, imo. Doesn't have radar or other extras, but if you just need hourly and weekly forecasts, then you're set.

Yup, Vieather made our list back in March of top weather apps. It really is great looking. Only issue, besides what you highlighted, is I find Ambient Weather "brighter" by comparison due to those photos, etc. It's a personal thing, obviously, but I just find Ambient Weather less dreary to look at each time ;)

Vieather was my fav too... Anyways after trying a bunch of weather apps I figured it out.... No weather app can work for me... I live in the mountains. The weather is so unpredictible here that yesterday while going out I saw it was raining, I went in to fetch an umberalla and when I came out there was not even a single cloud in the sky. I left the umberalla and went to work and came back fully drenched. Ya! make an app for that.;-)

Sounds good. Ill check it out Posted via Windows Phone Central App

I like your desktop wallpaper.

Bing weather? It got renamed to MSN weather this morning, Dan :-(

orly? Not for me it hasn't.

Hey Dan, what's that wallpaper you're using for your desktop in the article? I'd like to try it. Also, I'll be giving ambient weather a try.

Daniel, how about lock screen support? I like to see the weather information next to the time.

It does have it, but I don't see the info on mine. Not sure if a bug or something else.

I'll be adding lock screen support and weather alert toast notifications very soon! :)

Download the app for my phone and liked it enough to purchase it. My only issue is that the live tile works well, but does not show me where the weather information is for, is it my current location or the last place looked at in the app? Also it is awkard to change location within the app.

Overall seems fairly similar to the Weather Channel app which I use, plus the Weather Channel app has radar and videos (which admittedly I don't view often). Still Ambient does seem like a worthwhile option.

To me accuweather is still the best one to use... if for no other reason that the live tile flips over and shows the radar. Its an ingenius use of the live tile that everbody should be copying. Still prefer the bing weather for its layout and that it has radar. Personally just can't use something that doesn't have all the data I want when there are apps that do.

I use AccuWeather, and my live tile flips, but it only shows current conditions and the 5 day forecast. How do you get it to show radar on the tile? Do I need to turn off clear tiles?

unstable crashes all the time when you try to add a location

Hey, I'm the developer for Ambient Weather.. Did you click one of the suggestions below what you typed in the add location page? Sometimes it doesn't find the location you type without selecting the suggestion. -Kurt

yes, once you press on one of the suggested locations then save it crashes

Adds in accuweather are annoying. They need a pro version. BTW, don't see ambient in WP store. Is it compatible with phones or tablets?

I have it in a Universal Windows App project right now.. The phone side just isn't ready for prime time yet :)

Ah, I wanted it for my phone. :(

Bing or msn weather is the best

Weather Pro and Meteo Earth combo cannot be topped by any other apps. They are the best and all the rest are far behind.

MeteoEarth looks interesting, but Weather Pro has 2.3 stars out of 5 with 20 one-star reviews. Yeah, no thanks.

If you look closely, you will see that Weather Pro was awarded these ratings before it was updated to match the functionality of the iOS/Android versions (people were disgruntled that functionality is so limited compared to other platforms), and after it was updated some people apparently had some crashing issues (which are now fixed). This does not change the fact that this is absolutely the best weather app in the world. It is most accurate, most intuitive, provides wealth of detailed information (premium services) and the data is presented in the most user friendly way.

they are very nice apps indeed. I agree that if you're a weather "measurebator" these got it all. Yet I kind of get the pick's intention. You don't need all that to be good and in many ways. Just like I don't use adobe premiere to edit home videos choosing a simpler solution that just works, simpler lighter more focused apps complement these powerhouses.

This looks like a decent app, added to my bucket list of apps to try on my sp3. Haven't got round to dropping by currys to pick up.

Mmmmm... Doesn't seem to be on the UK store :(

Can we have a link to the wallpaper Mr. Rubino?

Where does it pull the forecasts/data from? Some place more accurate than Bing?

Where do they get their data? Most of these apps suck hard in Australia, with the current temperature a couple of degrees off, and "feels like/wind chill" absolutely useless.

Hey I'm the developer, I get it from forecast.io. Here is a cool page they offer that lists all of the weather sources they pull from. The nice part about forecast.io is it compares many different sources to come up with the best most accurate information. And its global so I think the weather forecast should be pretty good for your area. Let me know how it is!

Thanks for taking the time to reply! While forecast.io is beautiful unfortunately the weather is pretty worthless for Australia, the apparent temp is currently wrong by 6 degrees celsius in my location. I think Australia is a hard one, as overseas compilers don't really care about compiling the information from our Bureau of Meteorology correctly.

Just installed Ambient Weather, but it's not working right for me. The tutorial that comes up when the app first launches was just text over a black screen. When I selected my Current Location, it displayed the weather, but instead of displaying the actual location name, it just displayed "Current Location" (not the town name). When I tried adding a location, and then selecting the location, the screen still displayed the "Current Location" weather. Couldn't get it to show weather for any locations other than "Current Location". Also didn't see an option anywhere to purchase the app. I tried installing the app on multiple devices with the same results. Doesn't seem others are having these problems, so not sure what's going on when I install it. It looks really nice, but it's not functioning properly for me, so I uninstalled it.

Hey, I'll look into the bugs you found. Thanks for the feedback it really helps!

You had me at remove ads for a buck 50.

Whole app looks good, but behave very strange. I am from poland so my prefered degrees are Celsius, and when I change to C the picture behind changes to snow, when its raining outside the window. Also pictures in hourly view is changing to snowing too. When degrees are set to F everything is ok. I think that app is choosing back picture on F degrees.

Hey, thanks for the feedback! This is something I can fix quickly.

I'm happy with accuweather. It is not showing any ads in my WP and Win8.1
Windows Central Newsletter
Thank you for signing up to Windows Central. You will receive a verification email shortly.
There was a problem. Please refresh the page and try again.