These are the best weather apps for Windows 8 right now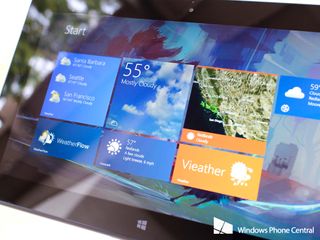 Do I need an umbrella today? Most of you answer this by just looking out your window when you wake up. That might cut it in a place like southern California, but head anywhere else and you're going to need to check the weather forecast to dress accordingly. Let's check out the best weather apps on Windows 8.
Weather apps are a little tricky to review and rank. There are many different users who all look for something different from a weather app. You know, different strokes for different folks. Some put a higher importance on accuracy, while others want a weather app that looks good. We spent the last few days trying out a handful of weather apps in the Windows Store and walked away being most impressed by the following. In no particular order, here they are.
Bing Weather
Why you can trust Windows Central Our expert reviewers spend hours testing and comparing products and services so you can choose the best for you. Find out more about how we test.
A lot of you use Bing Weather on Windows 8, which isn't bad thing at all since the app is wonderful. Bing Weather has been on Windows 8 since launch back in late 2012. The app has picked up plenty of updates, with the Windows 8.1 update making the app really valuable. It's also a free app, though it is ad-supported with no way to remove the ads.
With Bing Weather you get hourly, daily and 10-day forecasts. Weather data comes from multiple sources like Weather.com, Foreca and AccuWeather. Which probably makes Bing Weather the best weather app on Windows 8 since you're comparing multiple providers.
Bing Weather is also ready for Windows 8.1. This means you can make the Live tile large, view the app in multiple window sizes and more!
The biggest advantage Bing Weather has over similar apps is the integration with Windows Phone. Bing Weather is available on both Windows 8 and Windows Phone 8. The magic sauce? Having your locations, settings and preferences sync between the two apps thanks to your Microsoft Account.
Download Bing Weather from the Windows Store.
Ambient Weather
You'll probably really like Ambient Weather if you're a fan of simple, metro style apps more commonly found on Windows Phone. After first installing Ambient Weather, Daniel Rubino thought you all would really like the app due to its looks. I couldn't agree more.
Get current, hourly, daily, and weekly weather with the app. The developer behind Ambient Weather, Kurt Donswell, also shot on the photographs you see throughout the app. A nice little touch for a beautiful app.
Ambient Weather is available for free in the Windows Store. However, you can remove the ads through an in-app purchase of $1.49. An option we wish every free, ad-supported app had. Ambient Weather also rocks much appreciated Windows 8.1 features like a large Live tile, multiple window sizes and more.
Download Ambient Weather from the Windows Store.
Weather Flow
Weather Flow started off as a really nice Windows 8 application for checking the weather. It's still not bad, it just hasn't seen an update in a long time. Still, WeatherFlow is worth checking out if you're looking for a beautiful application to run in full screen or snapped view
Like most weather applications you can check current conditions inside WeatherFlow. Then if you want to get really fancy you check the hourly and daily forecast. You get all this and beautiful animations in the background as you check the weather out. Compared to most other apps out there it's pretty basic, but it does look good and offers you the necessities.
There is a Windows Phone version of the WeatherFlow (though it's spelled Weather Flow), but sadly it doesn't sync settings between Windows Phone and Windows 8 like Bing Weather does. Still, WeatherFlow remains another beautiful option on Windows 8.
Download WeatherFlow from the Windows Store.
AccuWeather
Looking for an impressive weather application with a ton of features? More features than most of you need? Then you're going to want to check out AccuWeather for Windows 8. The app supports all the Windows 8.1 features you want like a large Live tile, multiple window sizes and more.
AccuWeather comes in 27 languages and offers you all the basic functions, plus more advanced weather options. Fire up the app and you'll the current conditions for the moment and the next 72 hours. Swipe to the right and you'll see more days and an even a calendar view.
Download AccuWeather from the Windows Store.
Vieather
We've been big fans of Vieather when it first came to Windows Phone. So you can imagine we're pretty stoked there's a Windows 8 version of the app. Like Ambient Weather, Vieather is another beautiful app that made will make Windows Phone users feel right at home on Windows 8.
The application may be fairly simple in terms of features, but it's a very good app to look at. You can customize accent colors and alternate between a light and dark background. Sadly it hasn't received support for Windows 8.1 yet, so no large Live tiles or support for multiple window sizes.
Vieather offers up current conditions in a clean interface with no ads. Hourly and seven day forecasts are all on the same display, so it's not hard to quickly get a sense of what's happening. No need to scroll.
The app is free, which is a plus. And still works fine as a full screen app or snapped to the side.
Download Vieather from the Windows Store.
Forecast HD
Clean, metro apps are where it's at for a lot of people. Forecast HD is a beautiful app for checking the weather on Windows 8 and offers up some interesting views. While it supports the multiple window sizes found in Windows 8.1, there sadly is no large Live tile.
Forecast HD, like all the other weather apps, offers up quick access to the current conditions. Other forecasts like hourly, daily, and weekly are a few scrolls and taps away. Though we have to admit we like the week view in Forecast HD the best. The app doesn't have any radar views.
Forecast HD is available with a trial. Once the trial expires the app costs $1.99.
Download Forecast HD from the Windows Store.
The Weather Channel
By far one of the biggest names in weather applications on any platform. Whether it's your smartphone, tablet or TV, The Weather Channel is the elephant in the room for weather information. Their Windows 8 app was pretty lame at one point, but recent updates have made it a lot better.
This is probably the best app for those wanting more advanced features. The Weather Channel app on Windows 8 includes your current conditions, hourly forecast, 10 day forecast, and detailed views for days. It also has some of the better radar and map views of apps in the Windows Store.
You get access to maps with views for radar, temp, cloud, dew point, snow and more. The app also incorporates videos from The Weather Channel TV network into the app. Which means if you really want to geek out over the weather you can check it out in the app.
The Weather Channel for Windows 8 is free and ad-supported. Support for large Live tiles, multiple window sizes and other Windows 8.1 features are all in this app.
Download The Weather Channel from the Windows Store.
Your turn
These are our favorite weather apps on Windows 8. Time to pick your favorite. In the poll below select your favorite app. Don't like any of these options for Windows 8 weather apps? Sound off in the comments with your favorite weather app!
Reading this in our Windows Phone or Windows 8 app? Head to the web to take the poll. Here's the mobile link m.wpcentral.com/best-weather-apps-windows-8
Get the Windows Central Newsletter
All the latest news, reviews, and guides for Windows and Xbox diehards.