These are the best weather apps for Windows 8 right now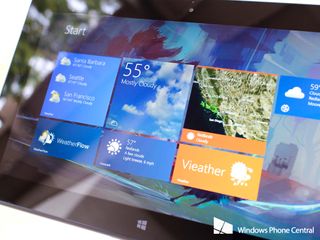 Do I need an umbrella today? Most of you answer this by just looking out your window when you wake up. That might cut it in a place like southern California, but head anywhere else and you're going to need to check the weather forecast to dress accordingly. Let's check out the best weather apps on Windows 8.
Weather apps are a little tricky to review and rank. There are many different users who all look for something different from a weather app. You know, different strokes for different folks. Some put a higher importance on accuracy, while others want a weather app that looks good. We spent the last few days trying out a handful of weather apps in the Windows Store and walked away being most impressed by the following. In no particular order, here they are.
Bing Weather
Why you can trust Windows Central Our expert reviewers spend hours testing and comparing products and services so you can choose the best for you. Find out more about how we test.
A lot of you use Bing Weather on Windows 8, which isn't bad thing at all since the app is wonderful. Bing Weather has been on Windows 8 since launch back in late 2012. The app has picked up plenty of updates, with the Windows 8.1 update making the app really valuable. It's also a free app, though it is ad-supported with no way to remove the ads.
With Bing Weather you get hourly, daily and 10-day forecasts. Weather data comes from multiple sources like Weather.com, Foreca and AccuWeather. Which probably makes Bing Weather the best weather app on Windows 8 since you're comparing multiple providers.
Bing Weather is also ready for Windows 8.1. This means you can make the Live tile large, view the app in multiple window sizes and more!
The biggest advantage Bing Weather has over similar apps is the integration with Windows Phone. Bing Weather is available on both Windows 8 and Windows Phone 8. The magic sauce? Having your locations, settings and preferences sync between the two apps thanks to your Microsoft Account.
Download Bing Weather from the Windows Store (opens in new tab).
Ambient Weather
You'll probably really like Ambient Weather if you're a fan of simple, metro style apps more commonly found on Windows Phone. After first installing Ambient Weather, Daniel Rubino thought you all would really like the app due to its looks. I couldn't agree more.
Get current, hourly, daily, and weekly weather with the app. The developer behind Ambient Weather, Kurt Donswell, also shot on the photographs you see throughout the app. A nice little touch for a beautiful app.
Ambient Weather is available for free in the Windows Store. However, you can remove the ads through an in-app purchase of $1.49. An option we wish every free, ad-supported app had. Ambient Weather also rocks much appreciated Windows 8.1 features like a large Live tile, multiple window sizes and more.
Download Ambient Weather from the Windows Store (opens in new tab).
Weather Flow
Weather Flow started off as a really nice Windows 8 application for checking the weather. It's still not bad, it just hasn't seen an update in a long time. Still, WeatherFlow is worth checking out if you're looking for a beautiful application to run in full screen or snapped view
Like most weather applications you can check current conditions inside WeatherFlow. Then if you want to get really fancy you check the hourly and daily forecast. You get all this and beautiful animations in the background as you check the weather out. Compared to most other apps out there it's pretty basic, but it does look good and offers you the necessities.
There is a Windows Phone version of the WeatherFlow (though it's spelled Weather Flow), but sadly it doesn't sync settings between Windows Phone and Windows 8 like Bing Weather does. Still, WeatherFlow remains another beautiful option on Windows 8.
Download WeatherFlow from the Windows Store (opens in new tab).
AccuWeather
Looking for an impressive weather application with a ton of features? More features than most of you need? Then you're going to want to check out AccuWeather for Windows 8. The app supports all the Windows 8.1 features you want like a large Live tile, multiple window sizes and more.
AccuWeather comes in 27 languages and offers you all the basic functions, plus more advanced weather options. Fire up the app and you'll the current conditions for the moment and the next 72 hours. Swipe to the right and you'll see more days and an even a calendar view.
Download AccuWeather from the Windows Store (opens in new tab).
Vieather
We've been big fans of Vieather when it first came to Windows Phone. So you can imagine we're pretty stoked there's a Windows 8 version of the app. Like Ambient Weather, Vieather is another beautiful app that made will make Windows Phone users feel right at home on Windows 8.
The application may be fairly simple in terms of features, but it's a very good app to look at. You can customize accent colors and alternate between a light and dark background. Sadly it hasn't received support for Windows 8.1 yet, so no large Live tiles or support for multiple window sizes.
Vieather offers up current conditions in a clean interface with no ads. Hourly and seven day forecasts are all on the same display, so it's not hard to quickly get a sense of what's happening. No need to scroll.
The app is free, which is a plus. And still works fine as a full screen app or snapped to the side.
Download Vieather from the Windows Store (opens in new tab).
Forecast HD
Clean, metro apps are where it's at for a lot of people. Forecast HD is a beautiful app for checking the weather on Windows 8 and offers up some interesting views. While it supports the multiple window sizes found in Windows 8.1, there sadly is no large Live tile.
Forecast HD, like all the other weather apps, offers up quick access to the current conditions. Other forecasts like hourly, daily, and weekly are a few scrolls and taps away. Though we have to admit we like the week view in Forecast HD the best. The app doesn't have any radar views.
Forecast HD is available with a trial. Once the trial expires the app costs $1.99.
Download Forecast HD from the Windows Store (opens in new tab).
The Weather Channel
By far one of the biggest names in weather applications on any platform. Whether it's your smartphone, tablet or TV, The Weather Channel is the elephant in the room for weather information. Their Windows 8 app was pretty lame at one point, but recent updates have made it a lot better.
This is probably the best app for those wanting more advanced features. The Weather Channel app on Windows 8 includes your current conditions, hourly forecast, 10 day forecast, and detailed views for days. It also has some of the better radar and map views of apps in the Windows Store.
You get access to maps with views for radar, temp, cloud, dew point, snow and more. The app also incorporates videos from The Weather Channel TV network into the app. Which means if you really want to geek out over the weather you can check it out in the app.
The Weather Channel for Windows 8 is free and ad-supported. Support for large Live tiles, multiple window sizes and other Windows 8.1 features are all in this app.
Download The Weather Channel from the Windows Store (opens in new tab).
Your turn
These are our favorite weather apps on Windows 8. Time to pick your favorite. In the poll below select your favorite app. Don't like any of these options for Windows 8 weather apps? Sound off in the comments with your favorite weather app!
Reading this in our Windows Phone or Windows 8 app? Head to the web to take the poll. Here's the mobile link m.wpcentral.com/best-weather-apps-windows-8
Windows Central Newsletter
Get the best of Windows Central in in your inbox, every day!
Now that I've used all these apps.. I'll probably keep Bing Weather, Forecast HD and the Weather Channel. I'm liking those the best.

Your second paragraph begins with "Whether apps..." you may have meant "Weather apps...".

Did you try Breeze!? Neat way to show the weather for the coming 24 hours!

Weather Channel is great in Windows 8. I just fear what will happen when they update it, given how bad it has gotten on the phone.

My Yoga had AccuWeather pre-installed. It's OK but Bing is still my favorite.

The UI of all weather apps are incredible.

There is no Amazing Weather on Windows 8, only Windows Phone.

Bing Weather, but wished it and its mobile counter parts had GPS live tiles.

Too bad Weather.com ruined the Windows Phone version of the app. I'd like to add MyRadar has the most well done radar on Windows 8.1 and WP8.

+1 Was using it until the recent updates made it a pile of dung. Now uninstalled and not going back to it.

I've never seen an app go downhill that fast. I can't even fathom what managment and development decisions went into that release. I hope it's not the same people making the Windows 8 version. It's so bad I'm tempted to click on the "Report concerns to Microsoft" link in the app store but none of the categories are appropriate. The wost part is they tend to have the most accurate forecasts.

out of topic. what happened to OneWeather?

Or look on the windows...ah, that was terrible.

Apt username... Lol.. Just kidding

Spoken like someone who doesn't live in Florida. :-)

Tsk tsk, then you should know better. ;-) Yeah, Florida does have some problems, my husband and I stay here because of family but the cost of living versus the pay is ludicrous.

My family originated in Philly, that said, I'm the opposite in that I'm over being in the city. The conveniences are nice but I need my space.

Its funny, 20 degrees and sunny looks exactly like 60 degrees and sunny. ㅠ.ㅠ

Bing Weather wins hands down.

Bing Weather. I type Windows + S, "Weather", ENTER. I get my weather. Don't need anything else. It's also a very nice app.

Lets get a wp8 article !!!!

Since the last month Bing Weather always displays wrong weather for my city and nearby cities! Its always raining in the app, but we don't see any rain for months! :(
And when you check the two other sources inside the app these sources show the correct weather. I don't know how to report this. :S

Same behavior in Buenos Aires, Argentina with Bing Weather (Reported several times), It seems the provider WDT is not so good outside USA, I switched to Weather Channel for WP8 and Windows 8

Can't believe I am to say this ..but MSFT actually made a 100% solid app in Bing Weather. They made something close to perfekt!

Cheers for the article Sam, going to be picking up a windows 8 tablet soon as I've got no choice... My hp laptop is on its last legs lol. Get intense frame skips when streaming on integrated cpu (core i5 2450 cpu) - have to use the high performance and the graphics card... and have tried various drivers to no avail. I've never had this many problems with a pc or a laptop...

I feel for you, HP laptops drive me crazy too. My entire family has sworn off of them because they just start falling apart after a while. :-(

I used to like Accuweather, but the app isn't showing large live tiles anymore. Only wide tiles are shown and they don't look so pretty. Their data is the most accurate, though.

Accuweather has been fine here, though may not always update properly. I switched to the Weather Channel one. I like its "metro" feel. Happen to match my android tablet as well. Used to like WeatherBug but it stopped working for me.

I really need one good, accurate and insightfully designed app for weather. I don't see the point of having multiple weather apps. I like how this article tells about the options of good weather apps. Unfortunatly I think this app still focussed too much on the design and esthetics, rarther the funcionality and accuracy. After this article I'm not closer viering off course to try something else than bing weather. Bing weather is good, but from an international perspective I'm not always impressed by the accuracy of the weather report. Often weather reports from the 3 main bing weather sources are way off from each other, often also differing in weather forecast that one mentions a sunny day whilst the other the opposite!. That's not what I call acurate and reliable, and makes the whole weather experience a confusing one, leaving less room to enjoy the esthetics and design of things. What I would like to ask Sam Sabri, author of this article, to do a follow-up and provide an advice which weather app(s) would be recommended to provide the best accuracy forecasting on an international level. That for me is a challenging and perhaps the most important aspect of the weather app, I'm trying to figure out. Your help would much be appreciated.

I'm with you mate. Accuracy is terrible in all these apps.

Try http://www.windguru.cz and then you'll see how ridiculous anything else is :)

I agree... weather apps reviews appear on WPC all of the time and the focus is always on aesthetics with essentially no mention of accuracy or the forecasted attributes (humidity, precip, etc)..

Rename the article to "Bing Weather is the best Weather app on Windows 8" PS: On Windows Phone too.

A weather app is on the bottom of the totem pole of apps I need to get picky with. Bing Weather does it for me, and I leave it at that. No need finding a second one, or looking for better. Just knowing the general info that all standard weather apps already give you (temp, humidity, future forecast, etc. etc. etc....) is enough to plan for the day.


Recommendations for Australia? A lot of weather apps seem to use very US centric sources, leaving us with inaccurate forecasts, current temp, and sometimes no weather radars. Bing weather doesn't seem to be too bad.

Try Weather Channel or AccuWeather , these works well in Argentina

Try http://www.windguru.cz

Going from pure looks based on these screenshots alone, I'd have to go with Forecast HD.

I know there's a lot of Bing love going on but the app is inaccurate and there is no 'feels like.' Complete deal breakers and why Bing weather, although pretty, is just god awful.

I have to agree. I don't understand the love for Bing Weather. The WP app is inaccurate and unreliable. The live tile's updates are sporadic and rarely match up with what the app itself says. Today it said the temp was 81 degrees when it was closer to 70.

NONE of them are any good in Australia. For some reason, international weather forcasters cannot get it right, often up to 10c out either way. They all need to pipe into the Australian Beureau of Meterology to get ACCURATE forcastings for Australia.

Same in Scandinavia. I've tried a few of these and they are completely useless since they don't use small local weather stations to pull their data. They may not be far off in therms of distance but if you live in a valley it is no good to have weather data from a nearby mountain.

Bing Weather is more than enough for me.

Bing weather is good but I wished they show how much rain or snow is expected. It'll say snow 80% chance but 80% of what? 1cm or 30cm? Makes a big difference. I go with accuweather because of that.

Weatherbug is a very good app along with accu and weather channel. If you like it simple, Brightweather and weather4me are very streamlined apps that give you a 5 day, hourly and current weather. All are nice apps. It depends on how much detail you want.

Forecast gets my vote. Visually pleasing, feature rich, excellent support and very accurate.

Accuwesthers top ad space is a deal breaker and the non forcast large tile is clincher.

I use Bing Weather. And about Weather Flow, the devs who make it, Team DIstinction, said an update, at least for the WP version, will come Q2 this year.

Don't know about US, but here in Portugal nothing beats http://www.windguru.cz in accuracy.

I tried several weather apps and settled on Weather To-Go. Seems accurate (at least in the UK) and has the option for temperature in degrees celsius and wind speed in m.p.h.

I use Bing Weather, but since its radar is so piss-poor, I use MyRadar in conjunction with it.

I wish ambient weather made a WP app

I am thinking of launching a new weather app for Windows Phone users in Scotland. It will be much faster and more readily available than other apps because it will not depend on a link to a weather forecasting site. The app will simply display the current time and a picture of rain. Guaranteed to be accurate 99% of the time!

I'll stick to Bing for my morning views. Simple, straight to the point, and easy to view at a glance.

Weather Exchange is a must have app if you have a tablet, it provides real time weather updates from the largest weather network, with anywhere from 20-100 local weather stations to choose from, its easy to find a weather station close to your house. It's a legacy app so it installs and runs from the desktop with the option of having the temperature appear in the tray. *When it installs on windows 8.1 it doesn't install a shortcut on the start menu although it does leave the the installation folder on the start menu, so you have to navigate to Windows>Program Files>WxEx and right click or long press on WxEx.exe to pin to start menu.

I live in europe. I use Foreca Weather wich is very accurate! I have used other apps, none is so accurate as Foreca is.

1WEATHER for ANDROIDS and WINDOWS (PC). IT is super-GREAT!
Windows Central Newsletter
Thank you for signing up to Windows Central. You will receive a verification email shortly.
There was a problem. Please refresh the page and try again.