AMD expands Ryzen CPU family with beastly 16-core 'Threadripper,' more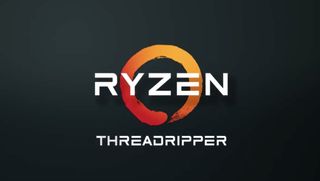 During its Financial Analyst Day presentation today, AMD made a few announcements that are sure to excite fans of Team Red. Though details are still relatively light, the firm announced a trio of additions to the Ryzen CPU family, led chiefly by the beastly (an aptly named) "Threadripper."
Threadripper, AMD says, will try to conquer the high-end desktop CPU space with 16 cores and 32 threads. More information on Threadripper is expected at Computex at the end of the month, but that's certainly enough to tantalize AMD fans.
On the other end of the spectrum, AMD also announced two other Ryzen entries with Ryzen Mobile and Ryzen Pro. The Mobile-branded chips will be destined for AMD-powered laptops, which are due later this year and will integrate bits of AMD's "Vega" graphics tech. Ryzen Pro, on the other hand, is meant for the commercial market.
The three new Ryzen entries were also announced alongside a new high-performance Zen-based server CPU, called Epyc.
Set to run from May 30 through June 3, Computex is right around the corner, and we should learn much more about AMD's expanded Ryzen lineup soon.
Windows Central Newsletter
Get the best of Windows Central in in your inbox, every day!
Dan Thorp-Lancaster is the former Editor-in-Chief of Windows Central. He began working with Windows Central, Android Central, and iMore as a news writer in 2014 and is obsessed with tech of all sorts. You can follow Dan on Twitter @DthorpL and Instagram @heyitsdtl.
Oh my, (In Sulu's voice.)

Such a terrible tease AMD is. They have dragged their feet on GPUs worse than Microsoft on phones. They're now at SERIOUS risk of failing to put consumer Vega on shelves in the first-half, as we have been led to believe this whole time. I'm curious to see the price of ThreadRipper, it sounds really cool. I'm guessing $1,000+, so I wouldn't put my own money into it, but it should be a monster. I care much more about mainstream Vega though, because AMD completely flopped with the RX 500 series and is being frustratingly quiet and slow with a new gen of cards. Volta's got a real chance to put Vega in the grave if AMD doesn't hurry up.

Still waiting on server chips.

At least they gave an idea of releases on that stuff, even if the Epyc name they attached is...confusing.

Its amazing how quickly we get used to CPU names though, most of them sound daft at first and then they somehow worm their way into sounding normal. Already got used to Ryzen and Epyc is probably a better name than that

They did announce a new Zen server chip along sinde the new Ryzen ones.

Who cares about their GPUs.. They bought ati just to kiss their ass so ati doesn't have to bankrupt and keep competition up to NVidia. I woot AMDs for their processors. All my desktops are AMDs with NVidia Graphic Card.

Well, that's fine for you. I personally have never gone Nvidia and never will. Their stuff is pricer than it maybe should be. The way they handled their second-gen Titan cards was garbage (releasing it at $1,200, following it right after with the comparable 1080 Ti for $700, then refreshing the Titan again shortly after). It made their biggest supporters look stupid, in a sense. GSync is still insane, jacking up monitor costs considerably, where as FreeSync doesn't raise costs much, if at all. Nvidia's DX12 support also hasn't been great. They also haven't gotten the new memory tech AMD is using into their products yet. I'll be going Ryzen+Vega in my next build, as I also like the closeness of AMD working on both parts and having them harmonized well.

This is great news for enthusiasts and developers that require high-end build servers. My current build has 4-cores plus HyperThreading (so 8 logical cores/threads). Now that AMD is pushing Intel, Intel is going to be forced to respond in kind and by the time the prices kind of come down for the many-core processors. I look forward to my next server having 32 logical cores.

Intel's next line up info was leaked about 3 days ago. Top dog is i9 - 7920X with 16.3MB cache, 12 cores and 24 threads.

That's not exactly mind-blowing, though. AMD's top-line Ryzen 7 CPU carries 16 MB of cache, 8 cores, and 16 threads. They're doubling those cores for ThreadRipper. While we might not see a monstrous 32 MB of cache going in, we could see it up around 24 MB. If I remember correctly, ThreadRipper is alleged to top i9 PCIe lanes as well (44 vs. 20). Oh, and then there's the part where the i7-E stuff now tops out around $1,700. ThreadRipper might be $500+ cheaper, given the way Ryzen 7 undercut the -E stuff from Intel by 50% or so.

dont be fooled by the numbers wait for the real life tests and REAL life experience

Hate to say, but four cores isn't high end :)

Even if AMD doesn't deliver much this gen they did the most important already and intel is rushing new CPUs and will introduce finally a new i9 series with up to 12cores with hyperthreading. Love AMD for that alone even if I don't think I'll consider them yet for my personal PC. Kudos to them tho.

I love innovation and competition...the same goes regarding consoles...if there is no competition, the customers find no new perks or tech, yet higher prices.

That's why big, fat Intel sat on its throne munching pork chops and releasing products with miniscule performance imporvements for the last 4-5 years. There wasn't any competition, and they could charge ridiculous prices.
Windows Central Newsletter
Thank you for signing up to Windows Central. You will receive a verification email shortly.
There was a problem. Please refresh the page and try again.