AMD FidelityFX Super Resolution vs. NVIDIA DLSS: What's the difference?
AMD FidelityFX Super Resolution is ready to compete with NVIDIA DLSS. Here's how it compares.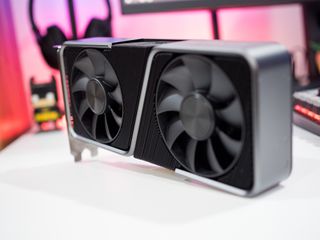 (Image credit: Harish Jonnalagadda / Windows Central)
With the unveiling of AMD's FidelityFX Super Resolution at Computex, NVIDIA finally has some competition on the image upscaling front. This also means that all of the best graphics cards will now have access to one or the other technologies. If you're wondering how AMD FidelityFX Super Resolution (FSR) compares to NVIDIA DLSS, we break things down right here.
What is NVIDIA DLSS?
Starting with the tech that came first, NVIDIA's Deep Learning Super Sampling (DLSS) is something of a marvel. While supersampling has been around for a while as an anti-aliasing method, DLSS (and especially the latest DLSS 2.0) is a new take. It's a proprietary technology that uses artificial intelligence to maximize frame rates while making your games look better. When ray tracing and DLSS are combined, the results can be particularly impressive.
If a game is developed to be compatible with DLSS, it's broken down into what NVIDIA calls supersampled "perfect frames'' which are then examined by the supercomputer and neural network NVIDIA has created. This is initially done at a lower resolution with a focus on anti-aliasing, but the concurrent runs through the frames focus more on sharpening the image with extra pixels for a higher resolution. The supercomputer looks at high-resolution perfect frames, compares them to following low-res frames, and makes adjustments to ultimately create another high-resolution image. This is repeated thousands of times on NVIDIA's side to properly teach artificial intelligence. The knowledge is then fed to the GPU and its Tensor cores via driver updates.
Whereas the first version of DLSS had to see each game fed through the NVIDIA supercomputer, DLSS 2.0 has seen huge improvements. There's now one big network that can handle all games, which should mean that more games will get the DLSS treatment. No matter what, the end result is beneficial to gamers looking to maximize frame rates while still having the game look as good as possible.
Because the frames are being rendered at a higher resolution but still being displayed on, say, your 1440p monitor, you're going to see a lot more detail without a noticeable effect on frame rates. This allows gamers to crank up the in-game settings and still see smooth gameplay. So why not use DLSS all the time? It's only available in select games, though the list is growing all the time. And it's also available only on NVIDIA's RTX 20- and 30-series graphics cards with dedicated Tensor cores. If you're an AMD fan, FidelityFX Super Resolution is the rebuttal.
What is AMD FidelityFX Super Resolution?
AMD FidelityFX Super Resolution is certainly a mouthful, but it's already been shortened down to FSR. This is AMD's answer to NVIDIA DLSS, set to launch June 22, 2021. Whereas DLSS employs artificial intelligence and neural networks to achieve its goals, AMD is instead leaning on advanced spatial upscaling algorithms. At AMD's GPUOpen website, it's stated that "it does not rely on history buffers or motion vectors. Nor does it require any per-game training." This is no doubt the biggest difference between two technologies that attempt to achieve the same end goal.
Details are still limited about the upcoming technology. What we do know is that FSR has support from 10 games studios and game engines with more on the way next year. We also know that there are four different quality presets available, including Performance, Balanced, Quality, and Ultra Quality. This should allow you to choose whether you need to maximize frame rates or maximize image quality. And we also know that AMD is claiming FSR can deliver up to two times better performance in compatible games at a 4K resolution when using the Performance preset.
Another major difference between DLSS and FSR is compatible hardware. NVIDIA's DLSS is locked down to its RTX GPUs, but AMD's FSR is open-source and available on far more hardware. AMD says FSR will be enabled on all of its Radeon RX 6000, RX 5000, RX 500, and RX Vega GPUs. It will also work with Ryzen CPUs and their integrated Radeon graphics. Not only that, but it's also going to work with modern NVIDIA GPUs, including GTX 10-series cards that aren't compatible with DLSS. Following AMD's main announcement, it was also revealed that Radeon RX 470 and RX 480 GPUs will be compatible with FSR.
Whereas NVIDIA's DLSS is limited to its PC-based GPUs, FSR is evidently branching out to Xbox consoles. As reported by IGN, a Microsoft spokesperson stated:
The Xbox Series X|S Game Dev Kit gained access to some of the AMD FidelityFX graphics tools in April, so this should be a huge boon for the consoles.
Which technology is better?
Whether FSR or DLSS is the "better" technology remains to be seen. They both aim to achieve the same goal — boosting frame rates and image quality without a major performance hit — but they do so with different processes. Keep in mind that the first version of DLSS was nowhere near as good as DLSS 2.0 on nearly all fronts, and FSR will likely have some kinks to work out before it reaches maturity. Still, this is an exciting development for all gamers, and we can't wait to test it out.
Windows Central Newsletter
Get the best of Windows Central in in your inbox, every day!
Senior Editor, Laptop Reviews
Cale Hunt is formerly a Senior Editor at Windows Central. He focuses mainly on laptop reviews, news, and accessory coverage. He's been reviewing laptops and accessories full-time since 2016, with hundreds of reviews published for Windows Central. He is an avid PC gamer and multi-platform user, and spends most of his time either tinkering with or writing about tech.
This couldn't come at a better time! A lot of us are stuck with old hardware because of the chip shortage so anything that helps get frames and graphics is a godsend! I know it's going to be a mess out of the gate but I'm glad AMD has the decency to include as many hardware options as possible.

Yes, and AMD needs this to stay competitive. Absent FSR, even their top cards are not close to nVidia's mid-range cards with raytracing turned on. Ray tracing is really the business need driving this for AMD, but you may be right that the benefits to AMD's universal approach will be more broadly applicable and help all gamers, even those who won't or can't use ray tracing.

I'm hugely optimistic for what this will do. As a former PC gamer who now mostly plays on Xbox Series X, we need this to get ray tracing on our new consoles. However, I do have a hard time believing that any algorithmic upscaling system can do as good a job as DLSS 2.0, which involves AI-training the system for specific game graphics and has dedicated Tensor cores to handle the work. There must be a performance cost to performing the FSR effects, but AMD graphics cards don't have dedicated hardware for that (like nVidia's Tensor cores).
My hope is that the gains from FSR are "good enough" so that we can at least get decent ray tracing in 4k gaming without sacrificing too much image quality and still hold to reasonable frame rates. At least theoretically, image quality only matters for the HUD (text clarity is very resolution dependent) and when the graphics are moving slowly (other than in a screen capture, you can't study how perfect the detail is when you're driving or running or sprinting), which also requires less processing power. So if the FSR algorithms can be smart about using the sharpest and highest quality textures only when they're noticeable, without pop-in, so some sort of instant automatic scaling of the effect, that could give the system the needed additional overhead for ray tracing.
Windows Central Newsletter
Thank you for signing up to Windows Central. You will receive a verification email shortly.
There was a problem. Please refresh the page and try again.