AMD releases preview Catalyst drivers for Windows 10 with CrossFire FreeSync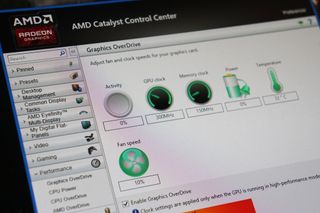 Gamers rocking Microsoft Windows 10 will be able to deploy AMD's latest version of the company's Catalyst Control Center. Version 15.7 has been released as a preview build, bringing with it support for Microsoft DirectX 12 and AMD's own FreeSync. The company boasts some exciting features for AMD owners in this latest suite rollout.
Support for WDDM 2.0 has been added for Windows 10, which aims to reduce driver workload on graphics hardware. This enables you to alter between display modes without delay and screen flicker. There are also a bunch of performance boosters, including Frame Rate Target Control (FRTC) to fine-tune your setup for a more stable performance setting to achieve lower system temperatures, as well as decreased fan speeds for a more silent operation.
Another neat feature is Virtual Super Resolution, which renders at a higher resolution and down-scales, providing super sample anti-aliasing. Finally, FreeSync now works in Crossfire mode, but you'll need compatible graphics components and monitor to take full advantage of an enhanced lag-free experience.
AMD Radeon R7 260 and above, desktop A-Series 7400K and above are supported. See AMD's official announcement for more details and the download link.
Source: AMD
Windows Central Newsletter
Get the best of Windows Central in in your inbox, every day!
Rich Edmonds was formerly a Senior Editor of PC hardware at Windows Central, covering everything related to PC components and NAS. He's been involved in technology for more than a decade and knows a thing or two about the magic inside a PC chassis. You can follow him on Twitter at @RichEdmonds.
Good news. Maybe I'll update my desktop to the preview now.

What's the point? It comes out officially in 21 days. More hassle then its worth backing up your install of 7/8 just to preview something for a few weeks, then revert to 7/8 to claim your free upgrade to 10.

If you are an insider you get it on the 29th otherwise you need to wait, and the preview is stable with almost no bugs.

How can I install DX 12 on my preview Windows 10? I've already installed all the updates but when I check it on DXDIAG, it is still on DX11.

I don't think DX12 comes out till this fall...

Dx12 comes install to windows 10 and windows 10 tech preview also

actually it looks fugly, when do they think they will switch to a more "modern-ui" like experience for this tool? It would be time to start thinking of it!
This looks like win 3.11... But as I understand your comment, it is nice to see them preparing the switch to win10.

Looks better then intels ui

And better than Nvidia Control Panel.

Both NVidia's and AMD's look severely outdated; it's as if they agreed to it, lol.

That's what I was waiting for ! I sadly got Crossfire in my computer, that's not a good idea : not that much games compatible, framerates drop...

"Where are my Intel HD Graphics drivers?!!!11!!!?!!!!" -people trying too hard to be a gamer

The Iris pro 6000 series are pretty awesome keeping in mind that they are onboard.

Intel HD Graphics drivers https://downloadcenter.intel.com/download/25027/Intel-Iris-Iris-Pro-and-HD-Graphics-Beta-Driver-for-Windows-10 ;)

Will it work with ATI Radeon HD7400M grapics card?? It's written that it will work on Desktop-A series 7400K and above..is my grapics above that threshold or below that??

Desktop a series 7400k are an apu not a graphics card! Totally different!

Do you even crossfire bruh?

It's a general driver. It probably works with HD5000 and 6000 as well.

The driver will work, but Freesync isn't supported.

No. It won't work. If I remember correctly, the HD7400M series is just a rebranded last gen chip. That means it's a pre-GCN piece of hardware, and recieves token support at best.

A Series 7400K have R7 graphics. The HD series were one generation before.

Why dont you guys cover news related to the "STORE" errors & issues?? It has become a nightmare to update an app. Latest eg. is "Snake Rewind" Dont you guys experience the same? Remember criticism is more important than praising MS all the time. :/

They did a global review about store and store beta I believe

Criticism is for the feedback app. What you're doing is spamming this negative unrelated crap in articles and want another public whinefest. Why?

Yes because i dont write here or anywhere else for upvotes, likes & favorites. I just wana point what's going wrong & where! I think nothing wrong in bringing the flaws into light when no official is doing so. May be you're ok with it, i'm not. & Criticism should be there for everything, not just a damn app. Thanks!

Nice for AMD users.
I still don't have windows 10 drivers for my nvidia geforce 8600GT. Old card I know but it still works perfect for just watching HD and stuff.

And you won't have. Use latest W8.1 drivers. It will work just fine.

Im not sure. I have the idea some shadows on windows don't render perfectly. The card is perfectly fine if I don't play new games.

Watching a video is a CPU Task...mostly. So..buy a new card, yours is totaly old...

Wow 8600GT.... Pretty good card still, can run games on low resolution, maybe better than my GT 520 2 GB DDR3

I'm surprised at how well my 7 year old GTX 560 still works. I play Battlefield 4 and Shadow of Mordor on High/Ultra at 55-65 FPS.

I have a AMD Radeon Hd 6600A. Will it be supported?

This card is old af. Buy a Fury X or something like that...

Yeah because everyone has $650 laying around to just throw into a GPU...

Well hopefully come July 29th, it will worth with my AMD A10, & 8650/8750M you'd, work great for laptop gaming now, hopefully it will work better!!

I own that too! Asus model. I install a 120 GB SSD and remove the CD drive for a HDD caddy. The result is amazing! I hope Win 10 will make it better although I'm more than satisfied. Do you overclock it?

Hopefully this driver addresses some stability issues I've been having on my desktop. I can't play any video for more than a few minutes without the display glitching out. I'm running an R9 280.

Meanwhile Nvidia has had windows 10 drivers for months. Posted via the Windows Central App for Android

Does it work with the 335M? Concerned that since it's been dropped from current Win 7/8 driver updates for months that it will end up forced to use Generic MS driver. It has me holding back on even reserving an upgrade for my Alienware m11x-R1.

I'm not sure you can install the geforce experience and see if it will give you updated drivers. Posted via the Windows Central App for Android

How about some Legacy device support? Running a 9yo laptop with Radeon Mobility X300 that gets Generic Video driver by default. Running a mod-set that mostly works and brings Sleep/Standby power-option back, but requires forcing system into Sleep/Standby after a cold-boot in order to see the login screen; after that, it's fine, and video is noticably faster.

Hooray, my Dell 15" latop has AMD Radeon R7 M270 so it will support DirectX12 and Windows 10. Thanks WC for for posting these great news from AMD!

That photo is shopped, no way any AMD processor runs that cool.

About time. Was getting worried July 29th is coming and no AMD support for Windows 10.

I'm very excited to try this out but I've run into an issue. I have a 7970m on a Windows 8.1 install and just updated the driver to this latest version but do not have the option to use VSR. Any idea what could be the issue? FYI, I updated the driver and didn't uninstall the old Catalyst. Screenshots: Built-In Display Properties Software Info Hardware Info
Windows Central Newsletter
Thank you for signing up to Windows Central. You will receive a verification email shortly.
There was a problem. Please refresh the page and try again.