AMD updates Radeon Software with Quantum Break support and more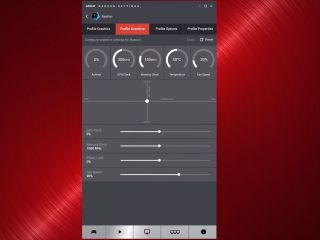 AMD has pushed out another driver update to its Radeon Software Crimson Edition suite, bringing along support for Quantum Break just ahead of the game's official release. AMD says the new drivers, which clock in at version 16.4.1, also bring support for the HTC Vive and Oculus Rift, along with solving a couple of lingering issues.
Here's the breakdown of what's new, along with the known issues in this update:
Support For
Quantum Break -Up to 35% faster performance using Quantum Break™ on Radeon™ R9 Fury X than with Radeon™ Software Crimson Edition 16.3.2.
Oculus Rift
HTC Vive
Resolved Issues
Frame rate capping issues experienced in some DirectX®12 applications is resolved.
Hitman™ may experience flickering when played in DirectX® 11 mode using high game shadow settings.
Known Issues
A few game titles may fail to launch or crash if the AMD Gaming Evolved overlay is enabled. A temporary workaround is to disable the AMD Gaming Evolved "In Game Overlay"
Need For Speed™ may experience poor scaling or flickering in AMD Crossfire™ mode. As a work around users can disable the profile through the Radeon™ Settings game manager.
The Division™ may experience flickering in AMD Crossfire™ mode.
Power efficiency toggle in Radeon™ Settings is showing up for some unsupported products.
XCOM2™ users may experience an application crash when using AMD Crossfire™ mode. As a work around please disable AMD Crossfire™ for the games profile in the Radeon™ Settings Gaming tab.
Some DX9 applications cannot disable AMD Crossfire™ mode through Radeon™ Settings.
A small subset of AMD Radeon™ R9 380 users may be experiencing slower than expected fan speeds. A work around is to raise your fan speeds through AMD Overdrive in Radeon™ Settings manually to a desired amount.
HDMI Scaling options may not be available in Radeon™ Settings on some system configurations.
If your PC packs a Radeon card and you're planning to give Quantum Break a shot, you can go ahead and update to the latest Software Crimson Edition suite now.
Dan Thorp-Lancaster is the Editor in Chief for Windows Central. He began working with Windows Central as a news writer in 2014 and is obsessed with tech of all sorts. You can follow Dan on Twitter @DthorpL and Instagram @heyitsdtl. Got a hot tip? Send it to daniel.thorp-lancaster@futurenet.com.
Wow, a fair bit of known issues.

It's been this way since crimsons been out and it's actually a very good thing. Before they wouldn't acknowledge issues that have been around for months and sometimes years before they fix them. This at least lets us know their new team is working hard to fix those issues and not ignoring them.

Brought to you by, Gaming Central.

The Division has been "flashing in crossfire" in 16.2.1, 16.3, 16.3.1, 16.3.2. Now they are on 16.4.1 you would have though they would have fixed it. The last hot fix finally fixed the Star Wars Battlefront flicking between rounds. When was Star Wars released? 16.1, 16.1.1, 16.2, 16.2.1, 16.3, 16.3.1, 16.3.2, and 16.4. there has been one game or another flashing in crossfire. Tomb Raider, Star Wars, Fallout4 The Division, Just Cause 3 had Corrupted textures and was the only one that the next drivers fixed, but screwed up others. Here's Tomb Raider on 16.2.1 I got still overlays on my graphics. https://www.youtube.com/watch?v=wXLXpcc-2vU The Division on 16.2.1 it hasnt' gotten any better. It's worses and I have to play in windowed mode as Crimson drivers doesnt' allow you to control enable or disable CF even though you have it disabled in profile. https://www.youtube.com/watch?v=mz6pQg-fjEE

I usually think that people are just crazy in going AMD when they want CF support.
Single GPU, AMD is pretty much ok, but CF their support is quite bad. SLI is great, but lately some games seems to not wanting to support it quite wel..

Never had an issue before The Crimson drivers. I ran CF with 4870, 5850, 6970, and 280X.. (Had issues with my 280x and I was upgraded to the 390X when I RMA'd them.) Before Crimson I was able to disable CF in certain games that I didn't want to run CF. Every single Crimson release when the CF is disabled in the profile the game still utilize CF. I have submitted tickets to AMD, posted on their forums, and get "we know of this issue and we're working on it.". It worked on 15.11 and previous drivers. AMD released the Crimson drivers for a better experience and I can't enable or disable CF. Get all kinds of flashing in CF and this is a better experience. With issues taking numerous releases to be fixed. Then they tell me to go back to 15.11 that's 9 Crimson driver releases.

Shouldn't of gone with AMD their drivers are horrible. Posted via the Windows Central App for Android

Well on desktop Single GPU is very good, but apart from that.
Mobile and dual gpu/CF, is a bigggg nooo, just stay away from it.

All depends on the games you play

Lol no issues whatsoever on xbox one ;)

I have Fury X's in Crossfire, and I'm kinda bummed that the Division flickering hasn't been fixed. I'm still able to push my 3440x1440 monitor with the details cranked up on a single card though, and I'm really enjoying the game. Whenever a developer chooses to use nVidia's BS Gameworks technology, it really screws things over for AMD users. The Division is just another example of that.

Lol yeah its a shame nfs team is doing that in conjunction with frostbite since intel hasn't pushed out a driver update for ivybridge in a while

You do realize that you`re complaining mostly about games that have Nvidia`s Gameworks coding inside, where AMD doesn`t have access to the code to do optimization... This is the main reason why Gameworks is cancer to the gaming industry, most of those features have a reason to be there only on the GTX 980ti since the lower cards have too much of a FPS performance hit to be useful but Nvidia plays this hand for blocking AMD to optimize code. There are plenty of videos on YT that explain even how the Gameworks features are made on purpose difficult, one was in Witcher 3 with hairworks , they are using a 64x tesselation filter as opposed to an 8x that has about no visual differences, but the main reason is to make AMD gpus crawl here because they don`t have access to the code, remember that Tomb Raider had AMD`s TressFX hair that was light on the GPU and they gave access to the code to everyone but Nvidia plays the Gameworks card just to have unfair advantage in games. I was an all Nvidia guy till my last GPU, now i won`t support this company again.

"You do realize that you`re complaining mostly about games that have Nvidia`s Gameworks coding inside, where AMD doesn`t have access to the code to do optimization..." Yes, I fully understand what you've written, and it's specifically what I am talking about. What exactly did I write that led you to believe that I don't understand what gimpworks does? Anyone who even just recently started learning about gpu tech understands that nVidia implements this technology to purposefully hurt their competition, but the truly awful thing is that it hurts their own pre-Maxwell hardware just as bad. All of those poor souls who bought 780ti's thinking they'd be set for a couple of years were the ones who were truly punished by gameworks tech.

It was a reply to JetFixxxer not to you :)

Sorry man, it's hard to tell with the way the comments are tiered on my device.

Lol had to many problems with them during the vista days for mobile & some of their OEMs make problematic tweaks that make reference drivers useless for people who enjoy EAs games

The last update (not this one but the previous) really screwed things upo and I get so many of those 'display driver stopped responding' messages I can't play anything for more than 10 minutes.

Is it normal in PC gaming that every new game requires gpu driver update in order to work?

Not to work. Typically just optimization.

Is Amd R9 390 better than Gtx 970, I want more fps and the games I play are Gta v and Syndicate! What should I buy I'm confused between the two! Posted via the Windows Central App for Android

Yes, the R9 390 is better than the GTX 970, it's more future proof as well, because AMD continues improving their previous gen cards even when newer ones come out, and nVidia completely forgets their previous gen cards even exist.

Nailed it!
The kepler series from nvidia, not only seems to got forget by nvidia, but they seem to get much worse recently than they actually were before.
Nvidia have the fame of great driver support, but recently they seem to be destroying on porpouse the previous series, like a planned early outdated, to force users to get a new shinny GPU faster and nvidia logically get some more money out of it.
Problem goes, many users have been notice that, and several shadowing tactics that damage AMD (gameworks), and started to get disappointed.
Well nvidia almost have a monopoly of dedicated GPU, and they are already showing the true colors and the plans how they are going about to rule that monopoly. ;|

I'm also inclined towards amd but the relation between nvidia and game makers scares me to buy an amd due to game works and better compatibility support. How is the driver support? Posted via the Windows Central App for Android

I'll wait for the official release, I don't feel confident with betas, especially with that long list of issues.

The stable release channel has identical known issues.

All drivers have issues, they just put it right in front of you. Or do you prefer the silent Nvidia way where you don`t see any issues presented but at the next driver you get to see fixes to issues you weren`t aware of ... Seems that Nvidia plays the safe card here, what they don`t know doesn`t hurt them... :)

Previous update messed up my laptop it wont even boot just got stuck at boot loading screen. I had to waste many hours trying to fix it and in the end I finally was able to run restore from safe mode to recover windows to an earlier state which was like a 8-10 days back and finally got my laptop running again. That was so horrifying bcoz I thought I might have to formate it and I had alot for data in C plus windows was genuine as well and had no copy of it either.
Will Not Update AMD Driver Now.
NVIDIA ftw but can't replace my laptops processor or gpu so yeah I'm stuck with it. Didn't bought the laptop just got it for free so no complaints.

My brother was stuck with a recently released broken driver as well to his GTX960, he had to go in safemode to remove the driver, after a day Nvidia pulled the driver from their website, don`t believe me ? http://www.tomshardware.com/news/nvidia-driver-364-47-pulled,31370.html AMD`s only problematic driver lately was the one that stuck the GPU fans at 20% in load on some GPUs. Nvidia in the past stopped the fan and bricked some cards (GTX 4xx Fermi era). Also, if you`re ever planning into updating a GPU driver be it Nvidia or AMD always use Display Driver Uninstaller!


http://www.guru3d.com/files-details/display-driver-uninstaller-download.html

Thanx for the link bro :)

I don't have a great need for high performance graphics card but isn't anyone think it's weird it's being optimized for special game and hardware. Aren't we stepping away from standardization.

Just means it'll work all the better on xb1/peees4

Those known issues are pretty harsh... Nothing is perfect though

Yeah I had those issues around release of nfs trial stable update from the other day fixed it but had to blindly shutdown laptop to get built-in display working. Also its now trackable by raptr(amd gaming evolved)
Windows Central Newsletter
Get the best of Windows Central in in your inbox, every day!
Thank you for signing up to Windows Central. You will receive a verification email shortly.
There was a problem. Please refresh the page and try again.