American Express app jumps from Mobile to Windows 10 PCs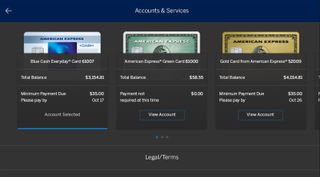 American Express has made its new app for Windows 10 Mobile available for Windows 10 PCs and tablets as well. The app relaunched earlier this week, ditching both the old Amex Mobile name and its web wrapper features that were available for Windows Phone users.
Like the Windows 10 Mobile version, the new American Express app for Windows 10 allows users to make payments with their card, keep track of their credit activity and check on their Membership Rewards points. The addition of the American Express app to the universal Windows 10 lineup shows that Microsoft's efforts to lure companies to the platform might be gaining traction.
Download American Express from the Windows Store (opens in new tab)
I wonder who would use this over browser.

I would. I hate going through the browser for everything. What is this, 2007?

On mobile at least, the app is much better than the browser. Although I agree with you on desktop.

If my bank had a native Windows 10 app I'd definitely use it on my PC, maybe not as much as my phone when I'm on the go but still pretty regularly....I wouldn't need to pickup my phone to do any banking when I'm at my desk (I use the mobile app as much as possible as the web experience isn't as nice at all) There's definitely room for financial apps in general on PC / Tablets for me

Apps are also more secure than browser access to banking.

It is true that in some cases a browser makes more sense. I have never, for example, felt the need to use the facebook app over the browser.

On low-powered & smaller screen, devices apps are typically better. 1) The UI of the site is loaded locally so you're not having to constantly download, or hog memory getting it everytime you changes pages. 2) The app is optimized more for touch. I've seen some sites which are essentially "mobile & touch ready" and work GREAT on touch devices, but others...not so much.

I have, it don't look good.. =[

I would most of the time. It's faster (only a few seconds), but most of the time its just to see my balance and recent transactions. I also feel its more secure considering browsers can be compromised easier through phishing and the like. Posted via the Windows Central App for Android because I am unfortunately with Sprint

On mobile, I would. Not to make payments, but for offers.

The answer is easy, the desktop version, is visually the same as the tablet version, so you just have it done, why not? If you have a touch screen, then it becomes still more useful. I would use it over the browser, mainly because is there, and beacuse using it will give more support to the platform.

Just installed and checked it out... It''s awesome! Better than browser. Only one thing missing from both this and the mobile version... I can't find where it shows the upcoming statement closing date like on the web. I like to see that date (which fluctuates a bit) so that I can clear the balance on the date of the statement. Edit: I just found it so scratch that. It's not missing a beat!

Awesome there may be hope for universal apps after all.

B of A...... Your next......ditto, HSBC, CHASE, ETC.....LETS GO!

Awesome! I'm still waiting for my PNC banking app

PNC ? hmmm.. I am waiting for this app since 2012. They started windows 8 app development and abandoned it for some reason. Hopefully they resume it this time.

Virtual wallet still works for what it needs to be. No bells, I agree that they really need to pick up the UWP

This is great. Now all I want is Chase!

Chase, Cap One, and Discover would be nice!

There'll be no stopping the Windows 10 juggernaut folks!

Sadly it doesn't work with my Amex bluebird card and/or serve card. I contacted them on twitter about it. They said they don't know if/ when apps for those cards will be available.

I would be more excited to get more banking apps on Mobile if it weren't for the incredible dumb decision someone made to disable paste in password fields. Its not like anyone uses password managers at all. So frustrated that this doesn't get more attention.

Hopefully Windows Hello integration soon.

They have to make it available in the UK!!please!!

Am I missing something? Just downloaded the amex app rather excited for both win 10 desktop and win 10 mobile, and basically after loggin in (via the app), it just opens me the browser to log in again?! Then the rest of doing banking is via browser. what is the point?!

I have the same problem. What's going on?

Does the app have an update? Maybe its still rolling out?

Probably not on desktop PCs, but well done Apps are preferable over browsers on tablets.

First BOA now this. I can't keep up anymore. :)

Great! Now, that's progress. Finally.

Would be nice if it would work with Amex Canada cards too

Well we can only hope td, rbc(the only ones that have partnership with enstream),tangerine continue to develop their apps

Does this plug into the dealer app? Posted via the Windows Central App for Android

Why do large corps segregate apps based on regions/countries when the backend stuff is identical across borders. Makes no f'ing sense.
Windows Central Newsletter
Thank you for signing up to Windows Central. You will receive a verification email shortly.
There was a problem. Please refresh the page and try again.