Amplifi HD Teleport vs MeshPoint: Which should you buy with your router?
We're always looking for new ways to make sure we stay online all the time. When AmpliFi tells us they have a new solution, you know we've poured over every detail to make sure we recommend the product that makes the most sense for you.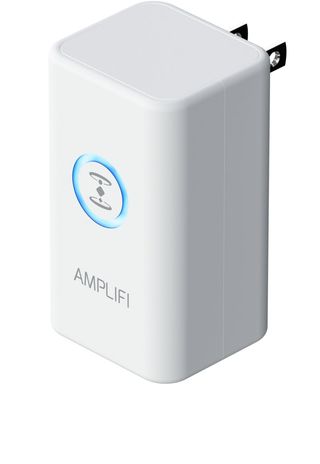 Your network anywhere

The Teleport is easy to use and powerful for the person that needs their home network anywhere they go. However, you will probably never have the connection to fully utilize it. Plus, the lack of AC Wi-Fi might shorten its lifespan.
For
Easy to transport
Simple setup with an app
Access local programs abroad
Bring your Wi-Fi to a hotel or friend's house
Encrypted
Against
Limited usage opportunities
Only as fast as the available internet speed
Wi-Fi speeds max at 300Mbps
A bigger footprint

The MeshPoint HD is a great way to expand your network all around your home. The signal strength display and easy setup with the app make configuring your mesh a snap. The device is also easy to hide.
For
Fast Wi-Fi speeds
Simple setup with an app and an easy to read display
Low profile
Can be used with your existing router
Against
No wired option for faster speeds
Expensive compared to other mesh network kits
The first main question to ask yourself when you are considering which accessory you want to add to your Amplifi HD Mesh Router is where you find yourself most in need of access to your home network connection. The Teleport can bring an extension of that connection to wherever you are as long as there is an internet connection.
The MeshPoint, in contrast, aims to maximize your home space by extending your network's reach far beyond what is efficient with only the router. Both of these products have the advantage of not having to connect your wireless devices to a new Wi-Fi network if you move out of range of your router.
Where do you need your network?
When it comes to the pure speed and power coming out of each device, the MeshPoint is the more capable device. However, with the focus of the Teleport being on traveling far away from your home connection, you will likely never see the full 300 Mbps it is capable of, much less the 1750 Mbps of the MeshPoint since you are constrained by internet conditions on both ends. In contrast, the MeshPoint needs as much reception as possible for spreading its signal and it's clear that AmpliFi pulled out all the stops on this product.
Swipe to scroll horizontally
| Header Cell - Column 0 | Teleport | MeshPoint |
| --- | --- | --- |
| Wi-Fi Speed | 300 Mbps | 1750 Mbps |
| Wi-Fi Standards | 802.11 a/b/g/n | 802.11 a/b/g/n/ac |
| Wired Connection | Yes | No |
| Max Power | 19 dBm | 26dBm |
How far does your network reach?
Connecting to your home network from anywhere starts to make more sense the more you utilize your network. Controlling your smart home can be made simpler if the devices you are controlling exist on the same network as your device. The Teleport can bring the dashboard of a modern connected smart home to the device you have while allowing you to control everything from your heat to your lights.
The Teleport makes even more sense when you consider video. Without it, you may run into a few streaming issues. For instance, if you're a fan of your local news, it may not be available in another state let alone another continent. Also, when you leave the country, you may find your streaming sites much more limited. For example, if you travel to a country where YouTube Premium isn't supported and you don't have a VPN, there won't be an option to download videos for offline viewing on the flight home. These would not be obstacles with the Amplifi Teleport.
If you are hanging at home rather than globe-trotting, the MeshPoint can be a good fit. Discovering a dead spot after a productive day of reorganizing the television room or experiencing a blurry mess when streaming videos can be quite irritating. The MeshPoint's adjustable antenna and easy-to-read signal meter make it a breeze to extend your network to the weaker points in your home. There's no need to run new wiring or resort to adapting older wiring with powerline or MoCA adapters.
And best of all, there's not need to program in a new set of router credentials. The mesh network will do all the dirty work and you should never notice a difference.
Do you spend a lot of time in a hotel or second home?
Of course, you could go all in and get both products to work with your Amplifi setup, but if you have to pick one it has to be the MeshPoint. This product overall makes the most sense for most people. If you are a jetsetter or an international business person, the Teleport can be useful to keep your devices connected when you are on the move. However, for most people, it doesn't save much time and doesn't offer much more than a VPN. On top of that, your speed will only ever be as good as your connection to home.
Your network anywhere
It's like bringing a little piece of home

It really comes down to how much you travel if the Teleport makes sense for you. If you do need it, it's well made and sleek. Just remember to grab it before you check out.
A bigger footprint
More power at home

This is a great little addition to your network with a simple setup procedure and sleek appearance. This is the perfect start to your mesh network that makes very few sacrifices.
Windows Central Newsletter
Get the best of Windows Central in your inbox, every day!