Android Messages for web is officially rolling out to all users
Google also highlights smaller features that are now available in Messages.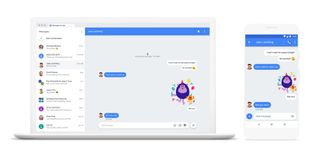 In late-April, Google's plans for turning Android Messages into something of an iMessage competitor were revealed. There are a lot of moving parts with this effort, but one of the biggest ones is finally coming to light — desktop messaging.
If you head to messages.android.com, you'll see a new website with a large bit of text saying you can "Text on your computer with Messages for web." There's a QR code to the right of this and instructions for scanning it through the Android Messages app on your phone.
To get started, open Android Messages on your phone, tap the three dots at the top right, and tap the new "Messages for web" option. If you don't see that in your app quite yet, Google says it's rolling it out to users starting today and over this coming week.
Along with announcing the desktop site, Google also took some time to highlight other new features in Android Messages — such as a GIF search button, Smart Replies being available for everyone that uses English, in-line link previews, and a copy button that's attached to a notification when you get a one-time code to log into your bank, Google account, etc.
I've noticed just about all these over the last few days, so most (if not all) of them should already be live.
Are you excited to start using Android Messages for web?
Windows Central Newsletter
Get the best of Windows Central in your inbox, every day!
What are Android messages? Texts/SMS?

No Lordguard...That would Microsoft messaging. Good try though!

Yes, SMS and whatever the new standard is that they're pushing to replace it, I believe. No encrypted equivalent to iMessage, though.

"standard" - I would never use standards and google in the same sentence. Frankenstandards maybe...

I use Samsung's text app instead of Google's. I wonder if it'll still work. I accidentally opened Google's app once, and all my messages were there.

Available on Samsung phones?

Android Messages has always been available for Samsung phones https://www.windowscentral.com/e?link=https2F2F...

Yeah, but how do you accidently open an app you need to d/l?

I've had the"copy code" from a notification for a while now and I never want to go back 😂 it's so useful!

I don't have the option, when does it go live?

Perhaps re-read the article that states it's rolling out.. just a thought.

So if this works...seems like a super easy and simple effort vs the Skype SMS Relay mess. However, I have my doubts...as the Messages app so frequently loves to break its notification badge icon functionality. Unless it's a Microsoft Launcher-related issue, but for months now my Messages app icon won't show the notification badge of unread messages count. When this has happened before, a lucky update will fix it...just don't know why the issue keeps coming back.

At least give us a dark theme. I will continue to use textra.

Every time an app has a QR code, I ignore it. Do not have time to scan my screen just to text from my PC, among other things. Looks like another year in iOS/macOS. Apple must laugh every time these developers release a "comoetitor."