Andromeda Blue RL, multiplayer space combat from your Windows Phone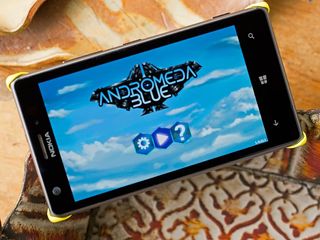 Andromeda Blue RL is a sci-fi styled combat game available in the Windows Phone Store that has you battling your opponent for control of a group of floating islands.
You can compete online against other Andromeda players or take on the computer in a single player game. The graphics and animations are nicely drawn up and overall, Andromeda Blue RL is a fun game to spend a little time with. Available for low-memory devices, the game does need a little fine-tuning, which should be taken care of in the near future.
Andromeda Blue RL wastes no time with a complicated main menu limiting your options to accessing the game's settings, jump into game play and view the About Screen. Settings are equally minimal with options to adjust the game's sound and music levels.
Being an online game Andromeda Blue does require you to log in with your Microsoft account to save your diamond count, unlocked pilots and ships. Logging in is effortless and affords you the opportunity to choose a screen name.
The game concept has you piloting a spacecraft across a collection of floating islands. The game map is randomly generated with each game, which helps the game stay fresh. Scattered about these islands, you will find diamonds that need to be collected (just fly your ship over them) and enemy based that needs to be destroyed.
The diamonds are used to build bases, repair stations and other facilities. Once an enemy base is destroyed, it will change allegiance and you can build on the particular island. The goal is to capture the majority of the islands. Just keep in mind while you are flying around blasting enemy bases to smithereens, enemy ships are trying to do the same to you.
Game Play
When you begin game play, Andromeda will give you the options to choose your pilot and ship. More talented pilots and stronger ships will become available as you advance through the game. Each game begins with you launching your ship from a home base.
Game play with Andromeda is simple. Tap the screen where you want your ship to fly and off it goes. Your ship's health is indicated by a bar meter that hovers above it and your player name will appear above the ship as well. When your ship encounters an enemy ship or base, it will automatically fire its weapons at the enemy. You may stray across friendly ships but they typically fly on by without much ado.
Question marks will appear on areas of conquered islands that are buildable and in tapping on that spot, a menu will appear with construction options. You can build resource mining stations, repair stations and other resources. The amount of diamonds needed will be displayed besides each building type.
The game screen will have a map view displayed in the upper right corner of the screen. From the map, a yellow arrow will mark your ship, green arrows will mark friendly ships or bases and red arrows will mark enemy ships or bases. Islands with unknown allegiance will be gray in color. At the bottom of the screen is your progress bars and the goal is to conquer enough bases to fill your green progress bar before the enemy fills the red.
Should your ship get destroyed before the game has been decided, a new ship will be generated at your home base (the starting point) after a few seconds delay. If a damage ship hovers near a repair station, you will see "+" signs move to the ship repairing any damage.
Single player games pits you against the computer and can be somewhat challenging. Multiplayer games are played online and your opponents are chosen at random. The downside to the multiplayer games is that there isn't very many players online. Also, if your opponent exits the game in mid-stream you are left hanging without any rewards or sense of victory.
Overall Impression
Andromeda Blue RL is an online multiplayer Windows Phone game that has nice potential. Game play is challenging enough to keep you interested and the graphics are nicely drawn up. It is a fun game to play in the single player mode and the multiplayer mode is only hindered by the lack of participation. Hopefully that will change as more gamers become aware of Andromeda Blue.
There is room for improvement and from what we understand a major update is in the works that will improve the gaming controls and offer an improved user interface. Hopefully the update will offer options to edit player names and log in/out with your Microsoft account, as well as choosing a friend to battle online. I also wouldn't mind seeing a campaign mode added where you conquer map after map of islands. The single player game can seem to end way too quickly and having an option for extended play would help the game's appeal.
Overall, Andromeda Blue RL is a Windows Phone game with potential and worth trying. After a couple of dozen reviews, the game is rated at 4.5 Stars in the Windows Phone Store, which isn't far from the mark as we see the game falling in the 4 to 4.5 Star range. If you give Andromeda Blue RL a try, let us know what you think in the comments below.
Windows Central Newsletter
Get the best of Windows Central in your inbox, every day!
George is the Reviews Editor at Windows Central, concentrating on Windows 10 PC and Mobile apps. He's been a supporter of the platform since the days of Windows CE and uses his current Windows 10 Mobile phone daily to keep up with life and enjoy a game during down time.
yeah that's what I see lol

Reminds me of a game I used to play on my PDA back in the day.

Lol. Developer are working hard for this. Just give it a try.

I hate that most games on wp have cartoon graphics

Ikr they should totally port Arma 3 to WP... /s

Graphics looks a bit rough. Will try it because of the cool name though.

Yeah! Wish we had more graphic intense games. Need to push this 1520 to the limits.

I want XCOM on Windows Phone

Yea, this looks like something for my color gameboy.....yech.....

I beta tested this game and it is really a game worth trying. The still images don't do it justice. It is quite an achievement for a first game from the dev and I suspect they were intentional so that they could reach a larger user base. Its all good and well making a game with high fidelity graphics but what's the point if a majority of the user base have devices that cant run the game.