Anet N4 3D printer review: a serviceable printer with no pizzazz
There are now so many of these types of 3D printers it's hard to separate yourself from the pack.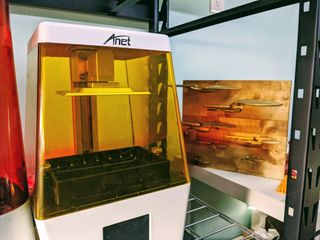 (Image credit: Windows Central)
DLP printers are becoming so ubiquitous that it can be hard for even established companies to distinguish themselves. Anet has been making 3D printers for years now, and its FDM printers are well regarded across the community, but the company has only recently started to move into the resin printing space. Anet sent us an N4 in return for our unbiased opinion and we've been using it for a little over a month now.
Has Anet done enough with its N4 DLP resin printer to show its 3D printing chops and stand out from the crowd?
$280 at AmazonBottom line: The Anet N4 is a competent machine that does everything you ask it to do. It doesn't wow me or make me want to rush out to buy one, especially with the awful homebrew slicer that ships with it.
For
Striking design
Excellent bed leveling
Good Firmware
Against
Subpar slicer
Inaccessible ports
What you'll love about the Anet N4
One way to show your individuality is by changing the look of your printer. Most of the 3D printers that work through DLP are clones of the Epax printer, and because of that, they all use the same design aesthetic. These printers are usually square with a plastic top that you lift off to access your print. Anet still uses this design language but has changed the shape slightly, making it a sort of diamond-shaped. The printer bulges in the center and thins out at the top and bottom. It looks good and stands out on my shelf as something a little different.
All of the aluminum parts are of premium quality, and the bed leveling system is excellent. It uses a solid ball inside with a secure locking mechanism that allows full movement when you are leveling your bed. I leveled the machine when I first unpacked it and haven't had to re-level it yet. If you didn't know, the first layer of any 3D print is the most important, and having a level build platform makes creating that perfect first layer much more straightforward.
Source: Windows Central/James Bricknell
Print quality on the Anet N4 is as good as you would expect it to be in a DLP resin printer, which is to say fantastic. The level of detail that even the cheapest of these machines can produce is nothing short of miraculous. The first test print I did was a bunny rabbit, which failed because it wasn't hollow, but the castle you can see and the lily both worked beautifully. The Sorceress by Loubie3D shows off some outstanding details — her fingers and garters are exceptionally sharp — and using the Siraya Tech Blu makes everything look even better, almost like crystals. I like the print quality and it matches perfectly with the printers I have used in this price range.
The printer's firmware is good as well. The LCD has a relatively standard set of controls, but the contrast is high, making navigation much more comfortable. If only the PC software were as good.
What you'll dislike about the Anet N4
While there is a lot of open-source 3D printing software and hardware out there, it seems that every company making these DLP resin printers wants to create its own slicing software. This baffles me, as it means spending resources on something that could be better spent on the actual machine. Just let the software companies sort all that mess out.
The slicer for the Anet N4 is, frankly, awful. It uses a filetype that is unique to the N4 and yet doesn't have most of the basic controls needed for a resin slicer to be helpful. Hollowing is hugely important in resin printing. It allows you to save on resin and print a lighter, better model. The Anet slicer software doesn't do hollowing. If you want to hollow your print, you have to go to an excellent slicer — like Chitubox — hollow the print, then export it back into the Anet slicer. From there, you can add the supports and try to print the model.
It's just so cumbersome. Chitubox is used by a vast majority of the resin 3D printing manufacturers, and it doesn't suck. Why not send the team at Chitubox your settings, or use one of the file extensions that is already built into Chitubox, and save everyone the hassle of using multiple slicers.
Another annoyance, though slightly smaller, is the lack of front-facing ports. I will never understand why 3D printing companies think that reaching behind a machine full of toxic resin to try and plug in a USB thumb drive is a good idea. Make your power button and USB slot in the front people, make our lives safer.
Should you buy the Anet N4 3D printer?
The Anet N4 is not a terrible printer, nor is it a great one. It's merely an okay machine that will do the job you want it to do. The slicer is a pain in the butt, no question, but the prints that slicer produces are beautiful — like all resin printers. It's a tough sell to recommend something so ordinary.
I think my recommendation would come down to price. If you can find it for under $300, then it's worth picking up, but look around first. You may find a printer that uses Chitubox for the same price, and that's worth its weight in gold.
Level headed
Nothing to write home about

The Anet N4 is a perfectly serviceable printer. If you can get it at a reasonable price, its worth having, especially if they can fix the slicer problems.
Get the Windows Central Newsletter
All the latest news, reviews, and guides for Windows and Xbox diehards.
James built his first PC when he was 13 and has never looked back. He can be found on Windows Central, usually in the corner where all the 3D printers are, or huddled around the Xbox playing the latest games.