Angry Birds Star Wars escapes from the Death Star to Windows Phone 7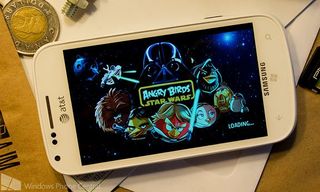 When Angry Birds Star Wars appeared on Windows Phone 8 back at the beginning of November, early adopters of the new mobile OS had reason to celebrate. The latest installment in Rovio's hugely popular franchise launched simultaneously on WP8, iOS, and Android, whereas most Windows Phone Xbox games appear months or even years after debuting on the other mobile platforms.
However, another group of Windows Phone owners wasn't quite so happy about ABSW's WP8 status: Windows Phone 7 users. Nokia quickly announced that ABSW would soon come to Windows Phone 7 too, but with no time table we couldn't be sure if it was an empty promise or not. As it turns out, Angry Birds Star Wars has just appeared on Windows Phone 7 – exactly one month after Nokia promised it.
Catching up on Angry Birds Star Wars
WP7 screenshots seem identical to WP8 other than resolution.
ABSW packs 100 levels of pig-busting fun based around the first Star Wars film (not the hated prequels). The game begins on Tatooine, where Luke Skywalker first met Ewan MacGregor, I mean Alec Guiness's Obi-Wan Kenobi, who pointed him to his destiny. ABSW then progresses through numerous famous Star Wars locations, all the way to the Death Star. Some levels take place on ground and resemble traditional Angry Birds stages, while others happen in low-gravity space environments, just like Angry Birds Space.
The best addition to Angry Birds Star Wars is undoubtedly the Star Wars-themed characters. Each bird is based on a classic character, and they even have unique abilities from the films. After firing Luke, you can tap the screen to make him swirl his light saber, while Han can fire three blaster shots wherever the player aims. It adds a new layer of control and strategy to the series that is sometimes looked upon as too simple by many gamers.
Fan-favorite characters R2D2 and C3PO made the cut as well, but they're only available in levels unlocked by reaching star milestones or finding hidden eggs. Of course, the film's villains also show up as pigs. Players will fling the heroic birds at Stormtroopers, sand people, Darth Vader, and the Emperor. Darth Vader even uses the force to levitate blocks into the player's path; take him out and the blocks plummet.
Windows Phone 7 specifics
If you were hoping to buy the WP7 version of ABSW from a Windows Phone 8 handset, you'll be disappointed. The game's store page claims it uses features that WP8 phones don't have: namely a 480 x 800 screen resolution. That's a flimsy excuse since WP8 handsets can display plenty of WP7 games running at that resolution.
Still, the real reason anyone would want to purchase both the WP8 and WP7 versions would be to stack the game's Achievements – earning 200 GamerScore from each version since they're technically separate games. Unfortunately, that won't be possible even for people who own both WP7 and WP8 handsets because the WP7 version is not Xbox enabled.
That's right: the WP7 game does not have Xbox Live Achievements. Rovio may have chosen to publish it as an 'indie' title in order to circumvent the laborious and developer-unfriendly Xbox certification process, thus getting ABSW to WP7 users much sooner. Or maybe someone doesn't want users with both WP7 and WP8 handsets stacking the game's Achievements like I just described. That would be a double standard though, since the Windows 8 tablet/PC version is Xbox-enabled and stackable.
On the plus side, the WP7 game's store description lists it as coming with 100 levels, whereas the WP8 version only boasts 80.
Angry Birds Star Wars for Windows Phone 7 costs 99 cents and has a free trial. Get it here on the Windows Phone Angry Birds Star Wars Store. For the Windows Phone 8 version go here.
Thanks to Jey Si and everyone else for the tip!
Get the Windows Central Newsletter
All the latest news, reviews, and guides for Windows and Xbox diehards.
Paul Acevedo is the Games Editor at Windows Central. A lifelong gamer, he has written about videogames for over 15 years and reviewed over 350 games for our site. Follow him on Twitter @PaulRAcevedo. Don't hate. Appreciate!