Another Case Solved, a fun mystery game for Windows Phone 8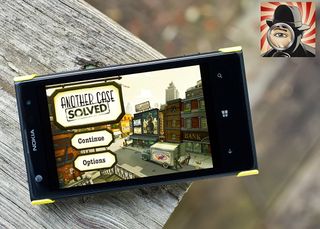 Another Case Solved is a challenging mystery game for Windows Phone 8 that is a collection of puzzles, riddles and matching games. You play the role of a detective working to get to the bottom of a curious candy conspiracy. Along the way you can pick up small jobs to generate experience and cash as well as tackling the mysteries of the main story line.
We highlighted Another Case Solved last week when it was released and have been able to spend a little time with the game sense. The game made a nice first impression and after playing the game for a few days, the impression hasn't faded by much.
Game Layout
Another Case Solved has a very simple main menu with two options; start or resume game play and access the game's options menu. Gaming options are equally simple with language choices, music/sound levels and an option to view the gaming credits.
When you first launch into game play, you will need to create an identity for your character and a mug shot. Your mug shot starts simple with additional options (eyeglasses, facial hair, etc.) becoming available as you earn cash and candy during game play.
Speaking of which…
Game Play
There isn't a help section with Another Case Solved but throughout the game, as new features become available, you'll be walked through a rather extensive tutorial. It would be nice to have a reference section because there is a lot to this game and it's easy to forget what an icon or feature represents.
Game play is centered around your office that starts out, much like your mug shot, with the basics. Missions or jobs are filed away in your filing cabinet or minor jobs discovered in the newspaper that is in your office.
Additional items in your office include a bulletin board that lays out your skills, a mirror that you can use to add to your mug shot, access to the store to buy more furniture for your office (cash register icon in the lower right corner) and candy search button. It seems that every twelve hours you can search your office for candy.
Along the top of the screen throughout the game, you will find your vital statistics that include cash count, candy count, newspaper count, jobs solved, current gaming level and experience level.
Cash, candy and subscriptions are used to unlock jobs, buy furniture, buy tools and extend game play should you run out of moves. If you need to boost your cash, candy or subscription counts you can access the bank option in the game store to do just that through in-app purchases.
As you accept jobs from your filing cabinet or from newspaper ads, there are plenty of dialog boxes that appear to point you in the right direction. You might even catch a few clues while chatting it up with the game's characters.
The jobs are solved with a nice variety of puzzles that often start with a match-three styled game. You will have a set number of moves with each job that are used to collect the various items on the gaming board. At the top of the gaming board, you will see several citizens with a set number of items that must be collected within this move limitation. As you collect the items, you will move closer to the taxi stand, which often takes you to the next leg of the mystery.
Along the left side of the screen, you will see a tote board that reflects clues and evidence collected along with any tools at your disposal.
Matching items removes them from play and generates evidence. It takes five items to generate a piece of evidence. For example, matching and removing five shoe prints will generate hints that can be used to narrow down a suspect. To match and remove an item, just tap and hold on a particular item and drag your finger to connect adjacent, matching items.
When you have completed the matching game, you will be taken to puzzles where you use hints and maps to question suspects or locate hidden objects. If you have enough hints you can narrow down a suspect to beyond a shadow of a doubt. Otherwise, you will need to rely on your powers of deduction or just dumb luck with guessing.
There is plenty of gaming involved and I like how Another Case Solved mixes things up to avoid game play from getting stale.
Overall Impression
Another Case Solved is an eye-appealing puzzle game for Windows Phone 8. Graphics are well drawn up, animations gives the game a clean look, and while it takes a little while to get the hang of things the tutorials take you by the hand nicely. Sound effects aren't too shabby either.
While jobs can be replayed to improve your score and earn more money, there is not a way to reset your gaming progress other than uninstalling/re-installing the game. I wouldn't mind seeing an option in the settings to wipe out your progress and start from scratch or better yet, have support for multiple games.
While Another Case Solved may not be everyone's cup of tea, it is hard to find much to complain about. Sure, I would like a reference section and the typeface is a little on the small side but nothing is so terrible to cause you to pull your hair out and run screaming from the room.
If you are looking for an alternative to Windows Phone games where you blow things up, sling tiny birds from a slingshot or see how far you can run Another Case Solved is a nice option to consider. Another Case Solved is an entertaining gaming title for those times you need a little help in passing the time or when you are in the mood for a longer gaming session.
Another Case Solved is a free game and available for Windows Phone 8 (not available for low-memory devices). You can find your copy of Another Case Solved here in the Windows Phone Store.
If you prefer playing Another Case Solved from a larger screen, there is a Windows 8 version this is also a free gaming title.
Get the Windows Central Newsletter
All the latest news, reviews, and guides for Windows and Xbox diehards.
George is the Reviews Editor at Windows Central, concentrating on Windows 10 PC and Mobile apps. He's been a supporter of the platform since the days of Windows CE and uses his current Windows 10 Mobile phone daily to keep up with life and enjoy a game during down time.