Another Case Solved, a fun mystery game for Windows Phone 8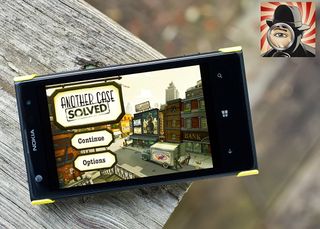 Another Case Solved is a challenging mystery game for Windows Phone 8 that is a collection of puzzles, riddles and matching games. You play the role of a detective working to get to the bottom of a curious candy conspiracy. Along the way you can pick up small jobs to generate experience and cash as well as tackling the mysteries of the main story line.
We highlighted Another Case Solved last week when it was released and have been able to spend a little time with the game sense. The game made a nice first impression and after playing the game for a few days, the impression hasn't faded by much.
Game Layout
Another Case Solved has a very simple main menu with two options; start or resume game play and access the game's options menu. Gaming options are equally simple with language choices, music/sound levels and an option to view the gaming credits.
When you first launch into game play, you will need to create an identity for your character and a mug shot. Your mug shot starts simple with additional options (eyeglasses, facial hair, etc.) becoming available as you earn cash and candy during game play.
Speaking of which…
Game Play
There isn't a help section with Another Case Solved but throughout the game, as new features become available, you'll be walked through a rather extensive tutorial. It would be nice to have a reference section because there is a lot to this game and it's easy to forget what an icon or feature represents.
Game play is centered around your office that starts out, much like your mug shot, with the basics. Missions or jobs are filed away in your filing cabinet or minor jobs discovered in the newspaper that is in your office.
Additional items in your office include a bulletin board that lays out your skills, a mirror that you can use to add to your mug shot, access to the store to buy more furniture for your office (cash register icon in the lower right corner) and candy search button. It seems that every twelve hours you can search your office for candy.
Along the top of the screen throughout the game, you will find your vital statistics that include cash count, candy count, newspaper count, jobs solved, current gaming level and experience level.
Cash, candy and subscriptions are used to unlock jobs, buy furniture, buy tools and extend game play should you run out of moves. If you need to boost your cash, candy or subscription counts you can access the bank option in the game store to do just that through in-app purchases.
As you accept jobs from your filing cabinet or from newspaper ads, there are plenty of dialog boxes that appear to point you in the right direction. You might even catch a few clues while chatting it up with the game's characters.
The jobs are solved with a nice variety of puzzles that often start with a match-three styled game. You will have a set number of moves with each job that are used to collect the various items on the gaming board. At the top of the gaming board, you will see several citizens with a set number of items that must be collected within this move limitation. As you collect the items, you will move closer to the taxi stand, which often takes you to the next leg of the mystery.
Along the left side of the screen, you will see a tote board that reflects clues and evidence collected along with any tools at your disposal.
Matching items removes them from play and generates evidence. It takes five items to generate a piece of evidence. For example, matching and removing five shoe prints will generate hints that can be used to narrow down a suspect. To match and remove an item, just tap and hold on a particular item and drag your finger to connect adjacent, matching items.
When you have completed the matching game, you will be taken to puzzles where you use hints and maps to question suspects or locate hidden objects. If you have enough hints you can narrow down a suspect to beyond a shadow of a doubt. Otherwise, you will need to rely on your powers of deduction or just dumb luck with guessing.
There is plenty of gaming involved and I like how Another Case Solved mixes things up to avoid game play from getting stale.
Overall Impression
Another Case Solved is an eye-appealing puzzle game for Windows Phone 8. Graphics are well drawn up, animations gives the game a clean look, and while it takes a little while to get the hang of things the tutorials take you by the hand nicely. Sound effects aren't too shabby either.
While jobs can be replayed to improve your score and earn more money, there is not a way to reset your gaming progress other than uninstalling/re-installing the game. I wouldn't mind seeing an option in the settings to wipe out your progress and start from scratch or better yet, have support for multiple games.
While Another Case Solved may not be everyone's cup of tea, it is hard to find much to complain about. Sure, I would like a reference section and the typeface is a little on the small side but nothing is so terrible to cause you to pull your hair out and run screaming from the room.
If you are looking for an alternative to Windows Phone games where you blow things up, sling tiny birds from a slingshot or see how far you can run Another Case Solved is a nice option to consider. Another Case Solved is an entertaining gaming title for those times you need a little help in passing the time or when you are in the mood for a longer gaming session.
Another Case Solved is a free game and available for Windows Phone 8 (not available for low-memory devices). You can find your copy of Another Case Solved here in the Windows Phone Store.
If you prefer playing Another Case Solved from a larger screen, there is a Windows 8 version (opens in new tab) this is also a free gaming title.
Windows Central Newsletter
Get the best of Windows Central in your inbox, every day!
George is the Reviews Editor at Windows Central, concentrating on Windows 10 PC and Mobile apps. He's been a supporter of the platform since the days of Windows CE and uses his current Windows 10 Mobile phone daily to keep up with life and enjoy a game during down time.
This is a fun game, I have this on my Surface RT glad to see it's available for Windows Phone 8/8.1

Reminds me of Carmen sandiego looking at the above screen shots... Ppl of age group 25 and above may remember that game...

Wow flashback! I remember getting so close to solving that game then accidentally guessing Peru 1647 and drawing blanks everywhere! Excellent fun, but too difficult for younger me ha

I've had this on Windows phone 8.1 for awhile now. Very fun game. I would love if they made the app universal where the save state is linked between devices. Wouldn't mind resuming my game on my rt.

I finished puzzle craft and really liked it; not much into mystery games but if the developer makes another one I'll check it out asap!

It's not really a mystery game. I have enjoyed puzzlecraft and this one too and I'm not into mystery game at all. Just skip the dialog as I doo, they are useless to progress into the game.

Alright I'm downloading it :D

That's not ENTIRELY true. I did that for a while (on my Surface) but found that some of the dialogue gave you clues when trying to ID the perp or trying to find where they are on the map. Also, when searching the residence/restaurant/wherver you are looking for a specific thing that is usuallu only mentioned in the dialogue. It makes the game much more forgiving.

Royal revolts 2 is out!!!

My store doesn't show it. Is it TOO for 1 GB phones ?

Nope, it has been released in Germany. Please do stick to the topic

George can you please contact the devs to talk about a 512 MB RAM version ? This game certainly DOES NOT need 1 GB RAM, its clear. It wont be much of an hassle for them I'm sure.

If you want to play games buy a 1GB device, otherwise quit crying about it like everyone does for every single 1GB game or app. We were told to stop complaining about apps/games not being released for WP7 so it'd be great if everyone could do the same for 1GB games.

Seriously underwhelmed by this. It's well presented but as the game mechanics are exceedingly dull.

The frame size doesn't even fit with the phone's screen... Please...

Elementary, my dear Watson!

Fun game, but for some reason there is an update in the store for this game that I can't get...also, it crashes every time I get to a burglar in the matching section of the game (this starts is the second chapter)...not sure if this has to do with WP 8.1 or not.

The update that you can't get solves the burglar bug.

I just love this game. Awesome.

Make something like playsleuth.com .
The best mystery game I have ever played in my life.

Who are you asking❓ You must know that WPCentral don't make games.

Wow, this is a relaxing game :D

I really like the game but they have to make it a universal app. Because it already exists for Windows 8 also but it does not sync your progress

I don't really like it. It's not really interesting. I thought i had to solve things but this is just movinf around with the finger collecting stuff. Boring

I feel like this is a repeat story from 4/22/14. http://m.wpcentral.com/another-case-solved-sweet-mystery-game-windows-ph... Oh wait, it is.

You probably didn't worry yourself with actually reading this article I suppose. If you had you wouldn't have wasted your time posting your comment.

I can't bring myself to love this game...

Dry weekend begins..... No news..:P

This isn't "fun" or a "mystery game". As long as you went to school as a 4-5 year old and can draw a line through matching shapes, you've pretty much already completed this. In the few minutes I played it was progressing the storyline and solving the "mysteries" on its own; it feels like the dev(s) designed a character customisation screen (replete with microtransactions) and then lost interest, slapped some lowest-common-denominator, keep-your-fingers-busy-and-your-brain-turned-off-on-the-bus-to-work swiping nonsense on top and went to market. And the fact people/WPCentral are celebrating this rubbish just reinforces the idea that we don't have any quality games on Windows Phone. IMHO.

Seems like it kept you interested enough to know this much about it. I'd say mission accomplished from the developer aspect of it.

Art style reminds me of professor Layton. Its an interesting game ill give it that, but puzzlers aren't really my thing, good there's an RPG element to it or I wouldn't bother. The characters talk like Sims which is fun though.

I know right! I've just logged a few hours on this. Needing 1gb of ram for this basic game is mental.

It would really be nice if you would include minimum hardware requirements in these reviews. It's really frustrating to read up on a game, and want to get it, only to realize it doesn't even show up in the App Store because my phone doesn't have 1GB of RAM...