Another firmware update for the HP Elite x3 rolling out now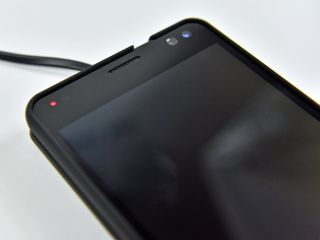 HP has just started rolling out a new firmware update for its recently released Elite x3 Windows phone handset. This is the second firmware update to be released for device, with the first rolling out only a few weeks ago alongside the Windows 10 Mobile Anniversary Update.
The new firmware identifies itself as version 0002.0000.0014.0100, replacing the older firmware version 0002.0000.0007.0088. Whilst the previously released firmware updated added some new features, like Double Tap To Wake, this new firmware update appears to be bug-fix specific.
It seems like this firmware update has drastically improved the Camera app experience, which since launch has been plagued with countless software bugs and performance issues. There's still room for improvement, of course, but today's firmware update makes it much more tolerable, faster and better.
Update: So, far this is what we have noticed with the new firmware
Camera tap-to-focus and focusing, in general, is much faster
The OS seems more responsive including faster transitions/animations
'Lock to lower' feature (part of Double Tap to Wake) is now disabled; Raise to wake works and should be improved
The update is rolling out now on the HP Elite x3 via Windows Update and should be available for those on the Insider Preview fast/slow rings soon. Let us know below if you spot any new changes with today's new firmware update!
Zac Bowden is a Senior Editor at Windows Central. Bringing you exclusive coverage into the world of Windows 10 on PCs, tablets, phones, and more. Also an avid collector of rare Microsoft prototype devices! Keep in touch on Twitter: @zacbowden.
Yaaay. Installed. Everything seems faster!

can you guys ask HP if they plan on adding glance support? I mean the thing is now a w10 system setting, it should work for any capable hardware, hard to imagine the display on the "super phone" lacks display memory

Glance is a Lumia thing, you can wish something similar

Isn't it supposed to be LOWER TO LOCK instead of lock to lower?

the camera was so bad at the ms store. i will not buy this until deep discounts come

Please what is the problem, in test the camera is fine, but not excatly in 950 level - but absolutely not bad.

The problem is the store model was probably not the first updated firmware.

no high end windows phone should 699 at the moment, they do not garner the reputation or support from microsoft to be 699. LG for example makes high end phones that eventually go down to 400 to 350 with fantastic cameras. i will wait for more polish from microsoft and discounts for this phone

I beg to differ. This phone has an outstanding build quality and internals on par if not better than other high end offerings on competing platforms. So has the camera been disappointing so far....of course. BUT not because it takes bad photos....mainly because it focuses slow and the cam app crashed. Both of those have gotten dramatically better with 2 updates within weeks of a wide release through retail. I'd argue that is actually unprecedented support....not only from HP but also from MS. Nearly EVERY phone recieves updates during its life cycle....which means in hind sight things could have been better. Also remember the bet on this phone is the HP "ecosystem" of accessories surrounding continuum---a feature that is soo good right now! But by all means.....wait for the perfect mythical unicorn phone out of the box. Should phones be better out of the box....of course....but this is the way of the industry it seems and not really of just this particular phone.

This isn't really aimed at consumers. Also, people buying it know what they're getting into. It is what it is, for better or worse

Why advertised here every single day. There are other windows phones.

too bad it has a mediocre software

I am really hoping people are not comparing the W10M Hp Elite X3 with Android phones, bad idea, please compare like with like, secondly, why is it Apple cn be the only company with high priced phones ? This is ridiculous, sorry the $699 is a price i expect to pay for the higher end, smooth OS that is W10M.

High priced because they do everything well

Thank you for your grand insight on how much design, R and D, materials, labor, and marketing should be that all result in the price for a new cell phone. I sure hope that HP attempted to get up with you before they released this device so they would know how their marketing plan should go before they started! =P

That response right there is exactly why you should indeed stick to an LG or whatever. How many times must it be repeated that THIS DEVICE IS TARGETED AT ENTERPRISE ENVIRONMENTS?? This is not a device for those that want the flashiest cool new toy in there pocket to show off on the subway. I will pay for this all day as I have already. I will be setting this up to work with my Moonshot environment and then deploy to users in various deparments. I give 2 craps about how "awesome" the camera may or may not be..........

So all startup companies looking to get a foothold into a premium market is not allowed to make money?

one side of the argument: by the time the price drops to such levels newer models come and the industry moves forward to new avenues. Going by what you are saying, you will rather be the mid-range bracket rather than high-end. Second argument: HP is not positioning it for 'consumers'. It is not even positioning it as a 'smartphone'. The Smartphone is just one of the three Xs in X3, albeit the core component. So I am fine with this pricing assuming they will be asking enterprises to look at X3 as a possible replacement for laptops, for people who are on the move. Typically those are the sorts which do not require high-end processing powers but need their laptops to read/review reports and presentations etc. or provide demos to their teams or clients. X3 will do all of it. Last but not the least: Being a die-hard windows fan myself, I would love to own this phone and price might be the only thing preventing me from doing so. So in that regard, I am on the same side as you. But I don't expect 'deep discounts' on this phone, not untill the next variant comes around which won't be anytime soon.

If not for consumers why is it that Zac and Daniel are advertising this thing like no other? At the end of the day its hardware isn't streets ahead of 950xl is it? So why is it not for consumers if you just buy the the phone and dock. which microsoft was giving away free with 950 xl. Looks to me that its just the price that makes this for enterprise.

They are not 'advertising' anything.

This actually made my LOL

This is the update that removes "lower to lock". The device will no longer turn off and lock when set down on a table. "Raise to wake" still works, in fact it's been greatly improved. The option is still controlled by the Double Tap setting.

Interesting. Checking it out. Also noticed animations and the OS feel more responsive/smooth, unless just placebo.

Dang...wish I could get this phone on a deal.

I don't know...I haven't heard that band before... ;-)

No, no. They canceled the Band. ;-)

Aw man....even before the first album!?!? Lol

I've only had it a few days, but honestly it looks like I'm going to end up going back to my 950XL. I'm trying my best to like the X3, I really want a fingerprint sensor, and I like the hardware. But for me, the camera quality just might push me to return it...

Did you get the new firmware update today?

Not yet, still waiting for it unfortunately. I just don't think a firmware update is going to change my mind though :(

I think it will because the new firmware includes a mind changing switch and some camera updates.

Lol, I'll let you know how well that mind changer feature works

Me too, I may return it and stick with my Lumia 950 XL. They should put a good camera and flash on their phone.

that sounds a lot lite "seems faster"

It we're on insider fast/slow do we have to unenroll temporarily to get the fw update OTA?

No, but it may come a few hours later.

Cool, thanks, was worried it might be something more than just a publishing delay. Flashbacks to the early fw updates for the 950XL when they started flighting RS1 builds haha

Yeah, it's weird. It happened lasts time too. I have one Elite x3 on production that gets firmware instantly, but the phone on Fast didn't get it until later that evening. Looks to be happening again, for whatever reason.

How many Elite X3s do you have Daniel? Now for a Quick question you can respond to :) - in the camera setttings, what do you ahve for Image size for the main camera? Is it 10MP and is it still greyed out?

Two. I use them to test off each other for Rings, updates, etc. Re: image sizes; 4x3 = 16MP; 16x9 = 10MP.

So does this phone not have a glance screen? If not, how do you know if you've had a missed call or a notification?

Lock screen notifications or the tried and true live tiles

You turn on the screen using the power button or double tap to wake and see.

That is a deal breaker for me - if I leave the room I'd have to keep unlocking the thing to find out if I missed something - especially bad when I'm on call at work.

It does take some getting used to. But other aspects of the phone out weigh this I think

The screen turns on when you pick it up or take it out of your pocket, similar to the glance screen. No Always On option though, so it won't stay on if you leave it out.

Yeah, it's just a shame because it's otherwise a really great looking phone.

I received my update some hours ago. Can confirm a much faster camera. Wonder if the quality is improved. Compared to the 950 it's abysmal (tho the 950s post processing gets a lot of credit)

I think the camera on the X3 can't be on par with PureView Tech like those on Lumia 950 & 950 XL. I wonder how the Idol 4S Pro's camera would fare? That is going to be next!

Haven't got it yet. That "lower to lock" bug was maddening, so I finally disabled the tap to wake and ithe bug went with it. I frequently tap or type on my phone while it's flat on its back on my desk. Even more frustrating was that the "lower to lock" bug coincided with an unmageably oversentive sleep mode while in a car crade, so that my gps directions app would go dark after evey bump or pothole.

Ha yeah same here. I'm sure HP heard the complaints. They're quick

This is the prove that HP want give the best support to this device!

Daniel, if possible, do the camera comparison before and after FW update. I feel you should do this always when there is significant update as you have two phones. Thanks

Yes. Lower to Lock. This is meant to be an enterprise-level phone so this explains the improved screen locks, less than stellar camera but good enough for Skype .. as Dan's interview stated with the project lead. Also, they promised (along with Microsof's help) to continue to improve the phone and it's drivers, etc, so I think that's very good news. In fact, there's a PPI update coming soon to improve screen brightness when outdoors. HP also stated they would look into bringing the Glance Screen back, or at least working with MS to make it an option a user could turn on or off.

So does this phone have a notification light?

Yes, but it doesn't work as expected, as notifier for missed calls and sms, etc.

Off topic for this but, does the fact that MS stopped production on Lumias mean that we can't look forward to firmware updates or is this still part of W10M development?

@WinCentral team, in the future will we get to see some of the scenarios where the pogo pins are used by companies with custom accessories? It would be insightful to see that!

This reminded me that I want the beast grip rig but it's not available in India :(

Would the win central team have one lying around that they don't need? :P

Anyone on the fast ring receive it?

Weird. Still no update for me yet (USA, non-enterprise). My x3 has been acting a little weird today too. FB and Windows Central wouldn't open. Cast and the Store disappeared.

No update yet for me either - Canada, Fast Ring. I sure hope I am not going to have to go back to WRDT. Did that in order to get the last firmware update.

Dan said the first firmware update took a few hours to hit insiders after GA. I'm hoping its available by tomorrow because I hate waiting for stuff like this

x3 on Production => Update Received and Installed x3 on Release Preview => Update Received and Installed (Antutu Improved a bit, Camera is Faster but still slower than any Pureview Lumias with W10M) x3 on Fast Ring => no Update

What I don't understand is.... When MS released a half baked device, they were slaughtered! HP releases with buggy software and firmware issues, at £800 and it turns into a love-in. Why? I'd love an HP, I now have the funds available, but I refuse point blank to spend double the current price of a 950xl, on a device that isn't twice as good. I have been offered a lease one, though HP small / medium business scheme, but they tie you in for four years!! Does that mean it's the one device and that's it for four years?? Anyways, I still don't get the love-in with HP, and how they can get away with untold bugs / issues when all around are berated

The HP Elite x3 is has a lot less Bugs and Problems than the 950's had at their Release! Hell Before the Anniversary Update (RS1) the 950 were Bad in so much Points exept from Camera and Display... Build Quality from HP Is Outstanding (Even if its no Metal). You got a Point with the Price if you Compare to 950 XL but thats always the Case with New Phones vs. Previous Generation. Also you are right the x3 still has some Bugs which should not be there but look at Apple Releasing iOS 10.0.3 for iPhone 7 only this weekend cause of Problems with Phone Calls or Samsung with its Note 7's Burning... Everyone has Problems with New Devices and no one can do the Perfect Device at Launch!

anyone a trick to update the firmware on fast ring ? dont get the update on fast build...

Be patient will come soon like last Time. (Daniel also mentioned this)

Still no show on Fast Ring, from the x3 itself or with WDRT. US.

Went and checked out the X3 at my Microsoft store. Really nice device and looked the part. Unfortunately I would never get this device as the screen is just too much for me. I'm not a fan of phablets and won't go too far over 5.2 inches. I think the 950 is just the right size for me.

I agree. I can handle 5.5" just fine, and was not willing to go beyond that. I came across a good deal on one of these with the desk dock, so I am going to give it a try...I used the iPhone 6/6s plus for a over a year, and the dimensions are a little beyond that. But the iOS for me was not asthetically built out yet for 5.5" screens, and I find it easier to us W10M with a larger screen, so we will see how it goes.

Still waiting on the Fast Ring. Anyone have any luck? Thanks.

no... download now the 955 update on fast... see if this helps to get the new fw!

I downloaded 955, but still no luck.

Well it's showed up on WDRT, but I keep getting stuck on the flash screen, and could use a refresher as to how to moved passed it.

My Elite X3 arrived earlier today and so far, I am loving it. It's everything you guys described and more. ;) Thanks for amazing reviews of this device, I am going to love it ;) Updating my X3 firmware and other software as I type, and I'll be putting it on Fast Ring later, too.

I agree. All the reviews have been delivered really well. I was sold on getting one after using one in person two weeks ago at the local Microsoft store, but couldn't get past the price tag. I found a smokin deal on a new one w/ dock and made the purchase this morning. It's good to see hp all being actively tackling the software/fw side now too.

WhatsApp web still not working. That's a big disappointment

I haven't figured out how to get the latest firmware update. I am on the fast insider program and I have the most recent OS. Yet I still can't seem to get hp's most recent firmware. Can someone send me a link that has instructions or what I need to do.
nwflbimmer@yahoo.com
Thank You
Windows Central Newsletter
Get the best of Windows Central in in your inbox, every day!
Thank you for signing up to Windows Central. You will receive a verification email shortly.
There was a problem. Please refresh the page and try again.