Another late Marketplace update keeping Sally's Spa at bay, plus Fling raises its price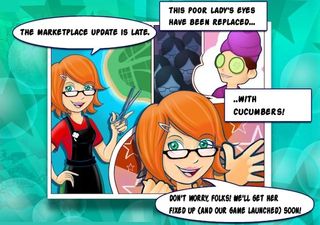 As folks 'in the know' know, updating a platform's Marketplace/app store is a challenging and laborious thing. Regular occurrences like publishing the latest Xbox Live game and updating the Deal of the Week might seem (to simple laymen) like things that could be easily set up in advance, but that is not the case at all. If you need proof, just notice how the Windows Phone Marketplace hasn't updated yet. Challenging, I tell you!
All sarcasm aside, these late updates happen from time to time, most recently in June when Fling was scheduled to launch. Today's delay means Sally's Spa is not available just yet, much to my dismay (the last game was seriously fun, naysayers). Nor do we have a new Deal of the Week. Interestingly enough, last week's sale, Need for Speed: Undercover actually ended on Monday, well before the scheduled end time of Wednesday morning. More evidence that running a Marketplace is super hard? You tell me.
The price is wrong?
While we're on the subject of Xbox Live pricing issues, remember how I just mentioned Fling? Well, that fairly so-so puzzler launched at the reasonable price of 99 cents, the same as the iOS version. At that price, who cares how plain it looks or how annoyingly tough some of the Achievements are? But strangely enough, within the last few days Fling's price has jumped up to $2.99, triple what it was before.
We've seen Windows Phone Xbox Live games drop in price only days after release (Pac-Man Kart Rally), but this is the first instance of a game's price increasing post-release. Certainly curious, and of course we've reached out to Fling's developer Miniclip to investigate. If they comment, we'll post an update.
Back to the Marketplace
Now then, we return to waiting on that all-essential Marketplace update to go live. If this thing happens in a few months' time, we'll have to say the Windows Phone Store is updating late, due to the impending name change.
Windows Central Newsletter
Get the best of Windows Central in your inbox, every day!
Paul Acevedo is the Games Editor at Windows Central. A lifelong gamer, he has written about videogames for over 15 years and reviewed over 350 games for our site. Follow him on Twitter @PaulRAcevedo. Don't hate. Appreciate!
Feel bad for anyone who was on the fence for getting Fling. This probably "Flung" them the other direction.

"I see what you did there" Is annoying and sounds like something a kindergartner would say.

Wow... Someone pee in your cornflakes?

I see what you did there, lol

If the follow the same strategy on wp 8 as the do in wp7 marketplace my next phone is gonna be android for sure.It's a disgrace seeing a company like MS having a so expensive and poor marketplace.They must act fast bringing more competitive games like cut the rope,temple run,wheres my water etc. (AND ALL THIS IN A REASONABLE PRICE!! )

You don't need to spend any money on android, everyone pirates it back and forth.

If the availability of "cut the rope" and "temple run" are your deciding factor in phone purchase, you really shouldn't have bought a WP.

Haha at first I wasn't sure if you were being sarcastic or not in that opening paragraph. I was like "Seriously? I don't know the first thing about it but it can't be THAT hard"

Anyway, I laughed at least twice reading this post. Great Job!

I debated on changing my review of fling when they changed the price last week. This is a game I bought for .99 and at that price it is good. I have a habit of scanning prices in hopes of drops. Never expected an increase! If someone was going to increase a price the game should at least be badass

ilomilo would be a great DotW. Mostly because don't have it yet, obviously. I had trouble getting MSFT Billing to accept my credit card details when I played the trial, and it has slipped my mind since. Will probably get it anyway, though.

Fling has been 2.99 for at least two weeks. :)

Are you sure, I saw the change with last weeks update, August 1st.