Anthem team talks BioWare's learnings, Anthem's ambitions, and future plans
Exploring the struggles and triumphs of Anthem development – and a tease of future plans.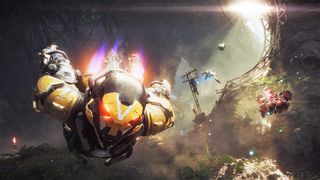 (Image credit: EA)
Electronic Arts' Anthem is shaping up among 2019's most anticipated titles, crafting a fresh new property, slated to rival top players in the loot-driven shooters. The shared world role-playing game (RPG) promises a vast open world of class-based combat, intertwined a signature narrative from its developer, BioWare. And with content scheduled for years ahead, it looks to be the hot new release on Xbox One, PlayStation 4, and PC this February.
While extensive previews have established a promising foundation for Anthem, its cryptic world still stows mysteries ahead of launch. We sat down with Anthem lead producer, Ben Irving, gaining a behind-the-scenes look into Electronic Arts' next ambitious project.
The ups and downs of Anthem development
With Anthem's scheduled launch on the horizon, the project has now "gone gold," ready for production, marking a significant milestone for the project. However, adopting a live-service model highlights its ever-changing nature and a shifting perspective at BioWare in 2019.
However, since Anthem development kicked off in 2013, the gaming landscape has evolved significantly. Since the project's conception, rival publishers have shipped successful shared-world titles like Destiny and Tom Clancy's The Division. Electronic Arts has experienced a turbulent year, criticized for its aggressive monetization policies, primarily attributed to Star Wars Battlefront II's disappointing sales. And we've even seen significant shifts in the hardware space, kicking off a fresh wave of consoles, paired with a mid-generational pivot to 4K gaming. Irving acknowledged that Anthem has evolved amid these changes while retaining a similar core.
As a studio renowned for its single-player-centric experiences, Anthem is an ambitious direction for the BioWare team. Further expanding, Irving discussed the most notable challenges for the project, explicitly detailing its flight gameplay as a critical hurdle. Now a central pillar of Anthem's open world locomotion and combat encounters, its inclusion meant a studio-wide investment in the mechanic.
Anthem's pre-release following also aided development, providing the opportunity to rapidly gaining feedback as content unveiled. Key BioWare figures leverage Twitter as the primary face of engaging with the core community, regularly answering questions outside of official channels. They're now the primary source of Anthem news while conveying transparency with fans.
Adopting an open approach also shaped Anthem's launch content offerings, pushing the team to pursue a multiplayer social space dubbed the "Launch Bay." While initially rejected internally, it now aims to complement the existing single-player story hub without splitting player squads.
The challenges of combat in a cooperative world
Cooperative play remains baked into Anthem's core, with its class-based loadouts encouraging squads of four players. However, while heavily promoted by BioWare, the studio still accounts for those below this threshold. With the help of combat scaling, the studio aims to deliver a player-versus-environment (PvE) experience that caters to solo freelancers, without compromising cooperative balancing.
BioWare has also experimented with transcending its four-player setup, eventually settling on its sweet spot for Anthem gameplay. While not ruling out content with larger player counts later down the line, much of the game's early content scaled around a quartet of freelancers.
Unlike rivals, Anthem's axes player-versus-player (PvP) encounters too, doubling down on its cooperative sandbox. It's a critical decision that could be a deal-breaker for many, but also allows BioWare to tailor its gameplay for release better. While open exploring PvP, its inclusion seemingly isn't a focus of the team's Anthem vision.
Beyond standard difficulty options, Anthem also features a trio of high-tier "Grandmaster" modes for the game's top players. Heavily tied to its endgame, these difficulties further scale combat, positioned among Anthem's hardest challenges at launch. While all unlocked at the game's maximum rank, Level 30, BioWare plans to release two Grandmaster difficulties after the initial launch.
Updated February 8, 2019: In a recent post to Twitter, Irving has stated BioWare now plans to enable both Grandmaster 2 and Grandmaster 3 levels on launch day.
Shaping the future of Anthem (and beyond)
Anthem's live-service approach to its gameplay remains a crucial differentiator, promising "years" of free content ahead, pushing players to invest with confidence. With regular updates scheduled post-launch, BioWare hopes to buy a dynamic, "ever-changing" world for players to explore.
BioWare is seemingly well-prepared to Anthem's future, outlining plans for a full content roadmap, with future story content already mapped. And while unable to rule out a sequel, the studio appears solely focused on scaling this existing foundation and establishing a reliable lifeline for the franchise.
BioWare is keen to emphasize plans to distribute all Anthem game updates for free, with hopes of maintaining a healthy, unified player base after launch. With all monetization strictly bound to cosmetics, it circumvents one of the most significant issues facing rivals, with paid expansions packs limiting content to players.
Details on Anthem's post-launch content are thin, and we pushed Irving for a better understanding of what lies ahead. While specifics are limited, the studio is aiming for a balance of smaller-scale updates and more substantial expansions, aimed at varied audiences.
And although BioWare promises a healthy roster of content both for release and beyond, the studio still has secrets to uncover. The infamous phrase, "not at launch" is a frequent response to fan questions. And while neither confirmed or denied, the team is still exploring ideas for what comes next.
Anthem is a big step for Electronic Arts, shaping a new property with the potential for widespread success. Backed by BioWare's game expertise, its imminent debut looks promising, signaling an apparent shift from the publisher's recent troubles.
Anthem is now available for preorder on Xbox One, PlayStation 4, and PC, priced at $59.99, ahead of its slated February 22, 2019, debut.
Get the Windows Central Newsletter
All the latest news, reviews, and guides for Windows and Xbox diehards.
Matt Brown was formerly a Windows Central's Senior Editor, Xbox & PC, at Future. Following over seven years of professional consumer technology and gaming coverage, he's focused on the world of Microsoft's gaming efforts. You can follow him on Twitter @mattjbrown.