Anthem Closed Alpha kicks off next week, sign-ups now live
Electronic Arts has provided the first details on Anthem's Closed Alpha test, commencing next week.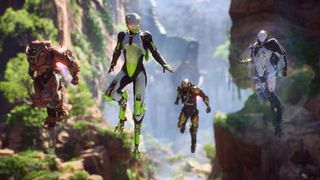 With 2018's biggest titles now on shelves, the focus is shifting to what lies ahead. Electronic Arts' upcoming shared-world shooter, Anthem is slated for a February 22, 2018 debut, promising cooperative class-based gameplay in a vast open world. While details on the title are limited, the publisher is already gearing up for the game's first hands-on opportunity.
Anthem's Closed Alpha is set for next week, from December 8 to December 9, spanning Xbox One, PlayStation 4, and Windows PCs. Unlike previously-announced "pre-launch" demos, these will be "more limited," focusing on networking and stability. The test will be limited to invited players, with a non-disclosure agreement (NDA) enforced to prevent sharing. Four three-hour sessions are planned for the period, with registration via the EA Community Playtesting sign-up page.
For those unable to participate in Anthem's Closed Alpha, pre-launch demo plans are also outlined. The first demo is scheduled for February 1, 2019, with access via preorders, EA Access, Origin Access, and other sign-up portals.
In the meantime, Anthem is available for preorder starting at $59.99 (opens in new tab), ahead of its planned February 22, 2019, release.
See at Amazon (opens in new tab)
Matt Brown is Windows Central's Senior Editor, Xbox & PC, at Future. Following over seven years of professional consumer technology and gaming coverage, he's focused on the world of Microsoft's gaming efforts. You can follow him on Twitter @mattjbrown.
NDAs???
Seriously, if it's a stability and network test then why ram NDAs down players throats. EA can shove that NDA where the sun doesn't shine. I was really excited about Anthem, now no longer. It's apparent EA aren't going to change ever. The only purchase they will get from me is a £1 pre-owned purchase.

Award for the most worked up I've ever seen anyone get over NDA's for a free alpha sign up...

Worked up?
No. I am voting with my wallet and voicing my opinion against NDAs on simple network tests. The only way gamers can affect change is through our wallets and voicing our opinions. Yes, it's an Alpha but it's EA and given they are forcing NDAs. It means who ever spends their hard earned money will have a crappy experience if EA doesn't fixes the issues raised by the players. Plus I don't need to point EA's track records with launches.

I agree with you. You would think with the success of the Witcher more companies would take a CD Projekt Red approach to more things... Everything is just being rushed out.... Phones, Games, Software, Hardware... Nothing seems to get a proper quality test.

Wait, so your concern with NDAs is that people who buy the game will have crappy experiences? I take it that you're saying, "Since people can't comment on the Alpha, other people won't know how bad it is and they will buy the game anyway and then their money will be wasted?" You're free to "vote with your wallet" and not buy any games that had closed Alphas, but it does seem like a very odd stance to take. Maybe you're not familiar with why they hold alpha tests. Alpha tests are performed to help the developer improve their product. There'd be no benefit at all to having an Alpha just to get people to sign NDAs in an effort to hide how bad something is. You'd simply NOT have the alpha in the first place. NDAs help ensure a) bad experiences with early code don't lead to bad press that isn't representative of the final product (be it network code, art assets, place holder audio, etc.), and b) material that isn't ready for public release, e.g. plot points, final branding, etc. isn't released before the publisher wants it released. It's really no different than asking people who view early versions of films to not disclose details of the film before it's released. Again, you're obviously free to take a stand against NDAs for any reason you like (good, or otherwise). Personally, I'd much prefer devs have early player testing, without (as much) risk that exposing a less polished and less ready product is going to hurt the overall reception of their finished product, through NDA protection. NDAs don't help devs make worse products. Devs trying to push bad products just don't do playtesting in the first place.

It's a closed alpha.... of course there is going to be an NDA... It's closed. Anytime you have a closed prerelease test there is always an NDA of some sort. Fallout 76's closed beta had a NDA also. If they weren't going to restrict you with a NDA then they would just make it an open test... Don't rant about stuff that's normal in the industry. If you went to EA or any gaming company to be a game tester you would have to sign a NDA to test the games before they came out.

It's probably because it's an alpha that they have NDA. They probably won't have it when beta release

Took me more than 10 hours trying to sing in, i was impress cause in the forums we see people always complaining about this game like "is going to be a trash", "is a Destiny" etc. So was not so bad at the end right?

Dang only can sign up for one platform

cant wait for that game since e3 trailer omg its so good and graphics and you can play with friends and fam i am planning to pre-order it using allkeyshop so i can compare the prices
Windows Central Newsletter
Get the best of Windows Central in in your inbox, every day!
Thank you for signing up to Windows Central. You will receive a verification email shortly.
There was a problem. Please refresh the page and try again.