AOC Agon AG271QG monitor review: A near-perfect 27-inch display for PC gamers
There's very little not to like about this 27-inch gaming monitor from AOC. Simply put, it's excellent.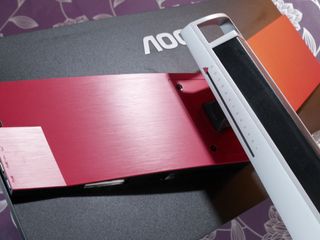 Gaming monitors are everywhere and all the major brands are pumping them out with ever-increasing specs. Folks choosing a gaming monitor look for different things than those who are more interested in creative work and color accuracy.
But there are also monitors that are good middle grounds with decent colors and stellar gaming performance. That's where the $700 AG271QG from AOC's Agon brand sits.
About this review
This review was written based on a review unit loaned to Windows Central by AOC. It was connected via DisplayPort to an Alienware Aurora R5 PC with a NVIDIA GTX 1080 Ti GPU for G-Sync.
See at Amazon (opens in new tab)
AOC AG271QG tech specs
Category
Specification
Size
27-inch
Panel type
IPS
Viewing angle
178 degrees
Swivel
-20/20 degrees
Tilt
-3.5/21.5 degrees
Brightness
350 nits
Contrast ratio
1000:1
Colors
16.7 million
Response time
4 milliseconds
Refresh rate
144Hz (with 165Hz factory overclock)
Resolution
2560 x 1440 (WQHD)
Speakers
2W
Sync technology
Nvidia G-Sync
Ports
HDMI
DisplayPort
four USB 3.0
VESA
100 mm x 100 mm
Other
Low blue light, included headphone stand
AOC AG271QG design and construction
As this is a gaming monitor, the stereotypical design would include aggressive lines and lashings of red. And it delivers on both fronts. However, it's very good looking. From the front, all you see is a fairly ordinary black bezel, an aggressive yet still stylish base, and the slightest hint of color in the Agon branding.
Around the back, there's a red band that angles in and swoops from one side to the other, and nested on top of this you find the 2W speakers. They don't sound like a lot on paper and in reality, they're nothing to shout about. They have OK volume and virtually no bass, but if you don't have any speakers they're good enough to watch a video with.
For gamers, the included headset stand is a nice addition, and while it doesn't look like much, it seems to accommodate even a large headset perfectly fine. I tried it with the Audio Technica AG1X which is huge and the headband fits fine, and it holds the headset at a good height compared to the display, well clear of your desk.
Connections are split on either side of the stand, and as this is a G-Sync display it has the customary single DisplayPort and single HDMI connection for video. Better still, AOC includes a cable for each of these. On the right-hand side, you have the USB hub, with the downstream connector on the rear. This is probably the only weak point in the design of the monitor. AOC has put the fastest USB ports directly where a headset will be hanging, which is messy.
It's also worth pointing out how solid the stand is. It hooks into the back of the monitor via a standard VESA mount, though you'll need a screwdriver to assemble it. But it is heavy. Both the legs and the upright are metal, so it is going nowhere. There's also a silky smooth height adjustment, as well as the ability to rotate it through 90-degrees to use vertically.
AOC AG271QG display and performance
The display on the AG271QG is IPS rather than TN. This means better viewing angles and normally better colors but a slightly higher response time when compared to a TN panel. At four milliseconds, though, the response time is as low as you'll find anywhere on an IPS monitor, and the refresh rate is crazy fast.
The panel itself has a 144Hz refresh rate, which is fast, but thanks to a factory overclock which can be applied in the menus, AOC has cranked it up to a whopping 165Hz. Not only that, but it's 165Hz with NVIDIA G-Sync support built in. You pay a premium for G-Sync on any monitor thanks to the licensing costs, but once you've tried it you probably won't ever go back.
Out of the box, the monitor is set to 60Hz as standard, and in Windows, you can only go up as high as 144Hz until you manually enable the overclock and reboot the monitor. Display settings will then allow you to go up to 165Hz. Monitor overclocking isn't an exact science, but here it's been faultless throughout.
What all this means in terms of performance is fast, sharp images, and smooth, tear-free gaming. If you're playing at high frame rates, a monitor like this really shines. When you're pushing high frame rates and some serious settings, details are crisp and defined and colors really pop.
Or, they do once you've calibrated it. The AG271QG supports 100 percent sRGB and 81 percent Adobe RGB color standards, which for a gaming monitor is outstanding. But, out of the box, the calibration is horrific.
I used Datacolor Spyder 5 Pro (opens in new tab) to calibrate the monitor, and once done it looks superb. But out of the box, there was way too much green tint. Even to the naked eye, it was off, and if you don't have a colorimeter then at least the settings on the monitor allow for manual changes to colors and temperature.
Speaking of the onboard menu, it isn't the best, nor is it the worst. You navigate using the buttons just under the bottom right-hand bezel, and the settings you need to see are clearly laid out. Menus on monitors aren't particularly intuitive to use, but this gets the job done.
It's worth diving in to get the most from the blue light filter if you're not doing color work. Your eyes will thank you. The menu also gives you a quick hit of information on the resolution and current refresh rate you're working at.
AOC AG271QG review bottom line
AOC has been making monitors for a long time, and while this is far from the only super-fast QHD monitor out there, it's hard to fault. The 27-inches at QHD is a sweet spot that balances pixel density and screen real estate. I also use a 24-inch and a 32-inch QHD in partnership daily, and 27-inches feels like the one to get at this resolution.
Pros:
165Hz refresh rate.
IPS panel for great colors and viewing angles.
Low blue light setting.
NVIDIA G-Sync.
Built-in headphone stand.
Cons:
USB hub is awkwardly placed.
Poor calibration out of the box.
For gamers, the monitor has everything you could want. NVIDIA users will have to put up with the price premium for G-Sync, but it's worth it, and when you combine it with the lightning fast refresh rate you get a terrific experience. Fast refresh rates are noticeable once you move up to them even in everyday use. The mouse trails are less, windows move around faster, everything just feels better. For a G-Sync display of this size and spec, $700 is not a bad price. You can spend more and the experience wouldn't be much, if any, better. It has minor faults, like the placement of the USB hub, but all told this is an amazing monitor for PC gamers
See at Amazon (opens in new tab)
Richard Devine is an Editor at Windows Central. A former Project Manager and long-term tech addict, he joined Mobile Nations in 2011 and has been found on Android Central and iMore as well as Windows Central. Currently you'll find him covering all manner of PC hardware and gaming, and you can follow him on Twitter and Instagram.
This is excellent. I just can't justify spending more on a computer monitor than I have to for much larger TV set.

I would say the exact opposite. You sit far closer to a monitor, so pixel defects, uneven backlighting and ghosting are far more noticable on a monitor than on a television. If you work at a computer, you're also likley to spend many more hours a day infront of a monitor than a television, not to mention that the work done on a monitor usually causes a lot more eye strain than staring at a television image 20 feet away. Since this is a g-sync enabled monitor, we'd be paying something like $200 just for that. In other words, this should otherwise compare to monitors around $500... at least in terms of price that's a midrange offering. A monitor is something you can easily use for a decade. Do yourself the favor of going for a bit more than a "bottom of the barrel" $300 - $400 device. Your eyes will thank you for it. ;-)

Yeah it's a shame there's such a high licensing cost for G-Sync, AOC did tell us once what it cost them to have the modules but for the life of me I can't remember what it was.

@Richard Devine Yeah. Some OEMs offer both g-sync and freesync versions of the same monitor. The price difference is very consistently around $200. I'm sure OEMs pay less, but that seems to be the markup OEMs typically expect for g-sync capabilitites. It's a shame considering the difference to freesync is sometimes entirely imperceptible (only in edge cases which some software/hardware combinations may never exerience). The high price is a result of nVidia milking their market position for whatever they can. Far worse however, is how nVidia's tactics artificially segment the market and builds walls around their products (g-sync and CUDA being their two primary tools). For example, once I own a g-sync monitor and an nVidia GPU, the prospect of purchasing an AMD GPU OR freesync monitor becomes much less attractive and possibly much more expensive, as it forces me to either: upgrade both monitor and GPU simultaneously (which I rarely want to do with a monitor), or forgoe adaptive sync functionality Since neither is optimal, I'm more likely to just stick with nVidia from there on out... indefinately... even if there might be other GPU and monitor options that would be closer to what I want. That's nVidia building a wall around their customers, or possibly more accurately, "prisoners". That's the real deal behind these types of things, and IMHO that's far worse than the addional $200.

I have this monitor and it's been stellar. Gsync works great with my 1080, and the picture quality is beautiful. It's even very acceptable for the light photo editing that I do. In regards to the comment above about a TV being a better value as a monitor than these types of displays, I completely disagree. Monitors are built and designed for the use case (looking at it up close). Try doing that with a TV and compare the quality difference. There's also the higher resolution, higher refresh rate, and much lower input lag. Ona budget a TV can work, but if you're a serious PC gamer you're buying a decent monitor.

I'd argue even as a casual PC user you're better with any monitor than any TV. I tried using a TV as a monitor once. Never again. Hideous experience.

Indeed. The actual use cases that benefit a TV over a monitor are far and few between.

Oh yeah....TV is NOT a suitable computer monitor.

Yes, most TV's are not suitable as pc monitor, but there may be exceptions. I think of 4K TV's of smallest size of 40 inch with lowest input lags. For financial sheets, draws, diagrams etc., it would be ideal. If you use monitor for such tasks you need multiple sets, with a 4K TV you just need one.
Windows Central Newsletter
Get the best of Windows Central in in your inbox, every day!
Thank you for signing up to Windows Central. You will receive a verification email shortly.
There was a problem. Please refresh the page and try again.