App suggestions for new Windows Phone user switching from Android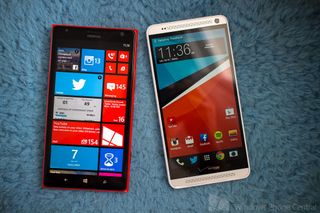 WPCentral forum member, rtojohnny08, is getting a new Nokia Lumia 1520 this week. He is coming from Android and has decided to switch to Windows Phone. He needs help and wants to know what Windows Phone has to offer to replace some of the Android apps that are important to him.
Here are some of the important apps on his Android device:
JEFIT Pro - workout app
KeePassDroid - password keeper
Google Keep - notes app
Key Ring - holds rewards cards
What apps on Windows Phone do you recommend for rtojohny08 to check out? Head over to the forums to join the discussion and see what others have told him already.
Get the Windows Central Newsletter
All the latest news, reviews, and guides for Windows and Xbox diehards.
Wpcentral of course :)
Also I recommend checking out so some of the photography apps we have. One note is a comparable alternative to keep I believe.

Seriously though, when is grindr going to release a WP app? It's kinda a hassle when you are the target audience and it's not there...

what is this? any better features than MetroTube?

I think mytube and metrotube are similar. the only reason I prefer mytube over metrotube is as you're searching, mytube starts giving topic suggestions

Don't forget us :D You can also sync your Favorites from UC Browser for Android

Whoa!I didn't know that uc was also here!Btw when will get the share to Bluetooth option in UC Berkeley which is there in beta?

u r the best.... windows phone would be incomplete without uc browser... nearly everything about browsing exists in uc... hands down for such a wonderful app.. keep up gr8 work..

Asphalt 8.. Rest stay in hell..

Only i miss in Asphalt 8 is police pursuit.

May be will see that in next update. ;)

This is not going to happen.

Evernote, waze, instragam or 6tag, metrotube, SkyDrive, naargh, modern combat, all temple run,

No Xbox live - no buy. LOL

I am really, reeeaaally bad with that sort of thing.
If I can't get gamerpoints out of it, it's not worth my time these days :P

I got it for free, only reason why I installed it.

I really enjoy OneNote since it works well on my phone and my Surface, so it syncs really well. If not, he could try Evernote. I'm not sure about the other types of apps though.

+1 for OneNote. I use it everyday. Its data synchronization is excellent. Plus, you can edit your notes in multiple ways: via the phone app (free), via the desktop app (MS Office), via the Windows Metro app (free), and via the web app (free).

Unfortunately, no Google Keep, but one can go to the mobile website and pin it to the start page. One Note and Evernote are good, but I prefer Google Keep because I use Google Chrome browser on my desktop and there's a nice extension for it. For me, Google Keep is like having sticky notes where I can write some quick notes.

After using OneNote for a while, I find Google Keep absolutely useless. It's just so barebones. Notes for iOS has more features :/

the only reasons that I would recommend evernote over OneNote are if they already use evernote or if they use apps that use evernote, but not OneNote.

1.adidas mi coach/runstatic etc.
2.ever note/one note
3.keeper (password)

Wow, first response that stayed on topic.

Actually, NIST, Jas00555 has that distinction. That is blatant discrimination on your part. See you in court.

Thank you! I thought my reading comprehension had left me, but I thought the new WP user was seeking WP apps that were similar to what he used on Android. (The ones that were mentioned) Thanks for your responses because I wouldn't have a clue what to recommend.

Would recommend Sky Wallet for passwords etc. On mobile and PC and syncs to SkyDrive so easy to load on new devices.

Also Roboform for passwords - great since it synchs with the same app on the Windows desktop.

Skywallet and OneNote, the latter being a no brainer.

Yeah, I used Skywallet myself , is really is good. Almost money back guarantee lol.

Skywallet also, worth what I paid for it. Use it almost every week. Forget a password, go to this app. I use it for remembering website passwords, app passwords, even passwords for blu-ray player, Xbox live the list goes on and on..

SecureWord is a good alternative for Skywallet: http://goo.gl/BBuipX

I have a list that I pass on to friends who make the switch:
6snap (snapchat)
6tag (instagram)
Metrotube (youtube)
Active fitness
Winter ski and ride
Cocktail flow
Gasbuddy
Photosynth
Tvshow
Untappd

Personally I like myTube better for YouTube

+920 YouTube HD is a great app!

I use SuperTube, this works for me. Especially love the ability to download vids to phone.

Do you have gas buddy? Lol

Key ring is the app I miss most from android. No one has a good one that backs up everything for you on WP.

Key Ring will be unnecessary when 8.1 launches in April. Apparently Wallet will contain loyalty card functionality.

Keyring used to be on WP and then they discontinued it. Sent them feedback that you want it back. They said lack of users and hardware restrictions as the reason but I think its bs.

I didn't realize key ring had been discontinued - have had it on all, and still use it on my current WP.

Check out "barcode wallet" it will let you store/retrieve from OneDrive(SkyDrive)... My fav after trying a few others... Fwiw

JEFIT Pro > Runtastic Pro

He's probably got that already since the article came from wpcentral

There's an app for that: http://www.windowsphone.com/s?appid=3286dd5d-3f98-435a-b80c-3fccba05a867

Bro this app doesn't work in India. Why?

Have you tried switching your region to the US?

This would be bloody awesome if only it actually worked everywhere... Not available in Australia...

Why is this a frontpage article, the forum fends for itself.

slow day. but I too dislike these "articles".

+1. Remember the Rename Weather+ bailout?

Just be thankful you don't use that crap anymore ♡.♡

GymBuilder Pro is a great weightlifting app.

The best one on Windows Phone.

Thinkorswim and trade station app pleaseeeeeeee

My fitness pal
Health Vault
Any Bing apps
Disqus
GMaps+
Metro Mail

Metromail is great. I love it, but unfortunately, it will be yanked from the Microsoft Store. I don't know if that means that for those of use who installed it before the May 1st deadline that it may still continue to function.

I think you are confusing MetroMail with MetroTalk. MetroTalk is shutting down in May, as part of a decision that affects all third-party Google Voice apps, accross all platforms. There is nothing pointing to MetroMail getting shut down any time soon.

Yes it is. I went back to it once Microsoft was forced to shut down their version of the official.

Dev unlock your phone, head to xda and install the hacked version of the official Microsoft YouTube app

Endomondo sports tracker, lastpass or master pin and one note

One note or note plus for making notes

I switched from android to and I am proud I did love windows 8! Xbox too! Always had Xbox! And windows on the desktop it just keeps getting better! Gj MS!

Multi Window http://www.windowsphone.com/en-us/store/app/multi-window/a11e1735-3b46-4d9b-a687-bf141640fe93

Welcome aboard! Of the four apps you asked specifically, here are a few replacements... OneNote is good, of course. My Notes is good too. It backups to SkyDrive and you can pin individual notes to your Start Screen, like a post-it note for your phone. For loyalty cards, love FidMe. You can pin individual cards to your Start Screen for quick access. Works great!

7pass is what i use to access my keepass passwords on my drobbox

Didn't realize WP had a KeePass client. Just looked up 7pass, sounds like it would be good, but reviews seem to note many sync issues and that the developer appears to have abandoned the app.

We need more apps for sure just going to say it cause somebody has to there is demand for apps on WP lots of demand here!

1. 6 Week Training
2. ever note/one note
3. keeper (password) 6sec
6tag
8tracks
Clutter
ImageBoard Browser
Readit or Baconit
MyApp Free
Tuneln radio
Bing Weather
Youtube HD

My expenses
nokia camera
Texas holdem poker
near us
App folder
Wpcentral
Battery performance
Tv show

Audiocloud, MyTube, Trivia Buff, Astronomy Hub, T-Translator

Yea, you'll love it. And we're getting a notification center soon!!!
Exciting times

Remote Desktop Connection...wait, nevermind.

Windows Phone does have an excellent RDC app called ConnectMe. I use it to administer my Windows Storage Server.

Adidas mecoach for workout.
OneNote or Evernote for note keeping.
Wallet which is preinstalled will keep your cards.
And no need for a password keeper, WP is way more secure than Android :)

I take it you don't know what a password keeper is. It is not about how secure a platform is it is about a secure place to keep the passwords and other login credentials for many things and places. Some also include storage of other important information.

Last pass for password...
Works anywhere - everywhere Linux, windows, ie, opera, chrome, windowsphone you name it

Game hound ,lockmix,connetivity tiles

I use:
Mia coach, one note, password manager (backs up everything to skydrive), wallet, etc.,

It all depends on how you use your 2520 I've had mine 2weeks. I use the apps that make pursuing my taste more fun. Some of the apps are a game changer because of the power and size of 1520. If you're serious take your time and see what works for you

For note taking app, OneNote is the best ever.

Mytube times a million, its probably even smoother on the 1520. A joy to use I think.

• 1. ProGym — the best app for bodybuilding IMHO
• 2. LastPass or SecureWord
• 3. OneNote
• 4. FidMe And... TinyDO, Connection Tiles, Voice Memos Lite, Nokia Camera, Photosynth, SoundHound, Xbox Music, MetroTube, Cocktail Flow, StarChart, Run The Map, Bing News, Bing Finance, Bing Translator, Neurons...

+1 for LastPass. Love it.

Secure word ,nokia camera

For the photos fantasia painter free, the best photo editor out there u haven't seen any other as good on android

Look at all that wasted space on the Android device's screen...
And so I'm not way off topic, I'd say must haves are:
HERE Drive/Transit/Maps
SongArc
Runtastic Pro(since he's the active type)
OneNote
WPCentral

LastPass for passwords... Check out myTube, WPCentral, Weave, Readit, ArchiTech, and Pixel Gun 3D

Lumia 1520 with live-title is I think the best smartphone, in the terms of usability. You dont have to open anything, just a quick look at the screen and you can see everything important (emails, sms, calendar, twitter updates, etc ). When you quickly look at Android phone you can see ugly Android home screen ... ? Similar situation is on on iOS with one difference - iOS homescreen is not ugly :-)

Workout scheduler
One note
Keeper

Well, I think that
•"One Note" is a perfect for "Google Keep", it helped me a lot when I switched from android, he can also check Tinydo if he needs a simple clean UI to do app.
•adidas miCoach / 6 Week Training / BodBot Personal Trainer (it's really a taste / purpose thing)
•WPCentral app!! One of my favorites.
•2safe for his passwords
•MyTube the best YouTube app on WP8
•Digitally Imported / SKY.FM Radio / TV Show / CineTube for music and media
•Camera360 / Picsart / Fhotoroom / Photosynth Sophielense HD as the best photography apps
•Bing's Collection of apps (News, Sports, Weather, Finance, Food & Drinks...)
•NBC News, Bloomberg, FlipMag Beta, Phonly for news
•Battery Performance / Insider / Cal Calendar for accessory apps
• Get Them All and wpTorrent for downloads. These are my personal favorites, still, there are tons and tons of great apps on WP8.. I avoided to mention the obvious ones like Facebook, Twitter and Instagram Beta. Hopefully this will help a little bit.. Welcome to windows phone 8 buddy!!!

I can't find gas chamber simulator :(

Hello!! Pocket file manager!!!! Allows copy and paste between clouds. Along with UCbrowser makes my phone complete. wp8 and android co exist in my world

2. OneNote or Evernote. ( I prefer OneNore)

I searched a lot an app to replace google keep in Windows Phone. For me the best one that I found is "Tinydo". You can pin a tile with your "to do" list, you can put it in your block screen, and also it's very simple. You just swype down, write what you want to remind and that's it. It's quite similar to Google Keep I think. One note is very good, but the idea here is to keep it as simple as google keep, so I think the best option is this tinydo.

JEFIT Pro's replacement is Runtastic Pro....KeePassDroid's replacement is Password Padlock....Google Keep's replacement is One Note....and Key Ring's replacement is CardStar. Note: There is a Key Ring app on WP, but is is worthless compared to CardStar.

Enpass for password keeper. It is cross-platform and syncs via drop box with their desktop and tablet apps.

Runtastic, Evernote, Evernote, FidMe

Instagram editor apps so people can add music and such to their pics/vids for instagram. That is what my friend was asking if the store had it when I told her she should switch.

Read it wrong, was asking what app is there for this.

KeyRing had a WP app, then pulled it. You can navigate to the KeyRing website using IE, favorite the link, and pin the link to your start page. It is easy to scroll and resize the barcodes for scanning. For some of the most frequently used loyalty barcodes, you can optimize the display of the barcode in IE on the phone, then store a screen capture in the photo app.

Many emails / tweets to key ring to get support back :(

Wpcentral for news
Papyrus for note taking
Runtastic/Adidas micoach for workout
LastPass for passwords
NBA JAM/ Subway Surfers for games
Wallet for rewards
Nokia Camera for ultimate photography
Photosynth for beautiful and interactive panaromas
6snap for snapchat
Warp photo booth for funny selfies
Youtube HD for watching and downloading videos
App Switch for considering some pretty good alternatives from android
FilmONTV for serials and tv shows
Go crazy!

Lol feels like switching from WP to crapdroid

One note,workout scheduler,runtastic pro

I use the MetroPass KeePass client. Works great and syncs with both SkyDrive and DropBox.

New on wp just wait for cortana....

I prefer Vault for passwords. It has a desktop app and they sync over wi-fi. I still don't trust the cloud with my passwords.

I am not too sure about cloud and app storage off bank and card details either. Suggestion for an article on WP, how secure are these apps?

Sportstracker as Fitnessapp

He should not comes to windows phone 8 as it lacks important features like file manager, there is no common database for apps, no pdf file support, Bluetooth can not receive and save multiple files etc

People actually use Bluetooth for file transfers?!?! Beyond the security concerns, the bandwidth for transferring multiple files would be terrible compared to just sending an email or sharing a SkyDrive link.

Its a hard question, as there area number of apps on my android I couldn't live without. I.e. skyGo, a working skype, and Facebook messages (mine stopped working on WP), however there are wp apps that aren't on android. So I would advise to keep both platforms :)

Password Padlock is a good password app. Simple and easy to use..

Password Jinni for password keeping

Winter just doesn't work for me plus the ui is confusing

Suggestion: don't switch.

I'm starting to agree. Since last update.. Battery drain, Facebook messages don't work (but they could be removing), push notifications seems to be hit and miss as well.

1. Not sure about fitness app
2.Sky wallet...password keeper. Its badass and it has a desktop version, backs up all password data to cloud(encrypted). U can access it anywhere just like SkyDrive. I don't know what is do without it.
3 I use one note and again can access it from anywhere( a.k.a across multiple devices)
4 I think wallet for Nokia devices handles the key ring app. Im not sure I would look into it before u take my word for it.

Weave news reader for news
Alpajax (scrabble game) for fun
HERE drive for directions
Paul Thurotts supersite for MS stuff
Advanced English Dictionary
And of course WP central

Password padlock for passkeeper and the beauty of it is you can save to skydrive and sync between Wp8 win 8.1 and win rt.

Lastpass is great password synchronization app.

Last pass, simple calendar, app soc, and wpc to name a few.

SuperN64- Nintendo 64 emula

I think people forget you don't always need an app... Traditional webpages do a good job for a number of things too...

CardStar to replace Key Ring and Keeper to replace the password app. Posted via the WPC App

Welcome to a world of much less lag! Android is the worst for that; Windows Phone is the best by far.

Microsoft and google need to partner up this WP crap is making me sick to my stomach where are all the good apps at. Sheesh.

Endomondo Sports Tracker and ProGym - workout app Sky Wallet - password keeper Evernote - notes app I don't have a rewards card app, but I'm sure there are a few to choose from.

Try this link: http://xyo.net/lumia/ Your favorite apps for your Nokia Lumia Windows Phone are just a download away. Windows Phone already has 46 of the top 50 most popular apps from both iOS and Android. With over 115,000 apps now available on the Windows Phone Marketplace you can find just about anything. Just let Xyo know what you were using on your old device and they will look it up for you.

Re: user928, Thank you. I think people forget.

He won't be gone for long. Lots of my friends that switched to wp went back to android or ios. I'll take a little lag over not having the apps or games I play with everyone else. Lumias do have great cameras. That's the only thing I miss. Posted via the WPC App for Android!

Are you some kind of fortune teller?

I had a lumia 900 then an 820 and went back to an s4. The apps cost money on wp and features are left out. I work part time at a bowling alley and people would ask me what kind of phone I have. I'd let them check it out and they'd all say the same thing. Missing games or apps but the camera's great. I convinced 7 of my friends to change to wp and all of them have gone back within 2 months. No notifications, not really customizable. Cant move apps to an sd card to clear up space. Posted via the WPC App for Android!

Yup.Not to mention that the ART runtime in kitkat makes my Nexus 7 which was screaming on Dalvik,roar.WP is in trouble if Google ever make ART default as it eliminate all lags in Android Posted via the WPC App for Android!

I have had two different andriod phones...I enjoyed my time with it. Before Android I had BlackBerry...to each there own...I'm looking forward to the new adventure! Posted via the WPC App for Android!

Yeah I had a bb too, miss the keyboard on that too. I hope wp works out for you. If you don't play alot of apps or games you'll be alright. That 1520 is an amazing looking phone. Posted via the WPC App for Android!

There is a third party google keep app on the store that works pretty dang well

I think wp should have bbm

Thank you everyone for the suggestions...I can't wait for my phone to arrive tomorrow, I will be checking out all I can! Also Mark thank you and everyone for making me feel welcome here! Posted via the WPC App for Android!

I was just about to post something...but then you responded. So I will reply to you directly. Here is my list if suggested WP8 Apps I have given friends that have switched to WP.
Password Padlock - Passwords (Has SkyDrive support)
Amazing Weather HD - Weather
OneNote - Note Taking and Checklists
6tag - Instagram
6snap - Snapchat
Nokia Panorama and Photosynth - Panorama Type Pictures
SkyDrive - Cloud Storage
Insider PRO - Settings Shortcuts and Quick Live Tiles, Flashlight, Battery Level/Diagnostic Live Tile, Bing Daily Wall Paper, All Windows Phone Specs Listing...and more!!! (My most used app other than WPCentral...TONS of features!)
(+) Lockscreen Style - Collage Picture App for Lockscreen Wallpapers
WPCentral - haha..you know about this one already!
App Social - Social network for sharing your favorite apps and seeing other peoples favorites
Nokia Camera - Best Camera App!
Twitter (Official)
Facebook Beta (Official) - Better than the Regular version currently
MetroTube - YouTube...just recently updated
Car Stand - Dashboard Hub with speed dial, quick contact link for texting, music player, battery level, weather and more!
HERE Drive - GPS (And all other HERE titles by NOKIA)
Desktop Mode - For use while docking or charging. Displays weather, time and appointments
SBUX - Starbuck Card Payment, Balance Checker and Rewards Points Checker
Pandora and Nokia MixRadio - Music Streaming Service
...any other app replacements that you need...just let me know!

Subway surfurs and temple run 2 for lumia 625.........plzzzzzz

+925 My built-in camera app shoots better pics than Nokia Camera.

You just have to toy with the settings. I use Nokia Camera over the built in app all the time now on my L925 :)

Wikipedia,6tag,OneNote,Runtastic,

For fitness you can access www.mymuscle.com as a free webapp to track and compete online.

One camera app could be Pro Shot. There is a cool app Unified Remote works absolutely fine with wiFi connection. I have raised quite a few eyebrows of Android users like Note 2 and GS4

A few WP suggestions for the 4 apps listed in the artice: For JEFIT Pro, try: 6 Week Training, 7 Minute Workout, Gym PocketGuide, or DeekFit Gym. For KeePassDroid, try: Password Padlock, Password Manager, or Sky Wallet. For Google Keep, try: OneNote (the only Note app you'll ever need), or Note Plus. For Key Ring, try: CardStar, Cardmobili, Loyalty Cards, or Barcode Wallet. Welcome to the dark side :-)

On fitness regime there's Hardfox Six pack which is free and quite useful

LastPass works and syncs everywhere, even a secure function for logging into your sites on a public computer by using the browser. OneNote also works and syncs everywhere. It's search function is one of it's key features. Search across all notebooks, chapters, pages, topics. Link to web pages. Handwriting conversion to text. Insert photos and images. Share and collaborate with others. The list of features goes on... Most people don't know how feature rich OneNote Is. I'm still learning.

And you can pin notes to start. I am kind of surprised how much people don't know about OneNote.

Fitness Friend as workout app

KeePassDroid / BluSmartbox :)

Hi all, trying to decide whether to make the jump as the OP did, hopefully the members here can help me. I'm first struggling with the lack of hardware available on Sprint, seems a choice between mediocre and ho-hum (currently using a Note 2 by the way). I'm guessing the solution for lack of a banking app for my credit union would be a shortcut saved - can that be pinned to a home screen?
Biggest question - how does WP handle app permissions? Quite simply is why I am thinking of leaving Android, Google has allowed apps to require way to intrusive privacy information in an all or nothing manner. IOS at least lets you decline a permission and still use the app (don't misunderstand, I do not use and am not shilling for Apple products :-)) so where does Windows Phone come in, like Google or closer to IOS model? Thanks for any insight /education anyone might share. Posted via the WPC App for Android!

Re: radiohawk, There is an app, "Appify" that will answer your first question. I will have to defer on the second.

Unfortunately, there is no app for WP that could even come close to Jefit.. Sorry pal, but you gotta hang in there till Jefit finally makes their long-announced WP version

Nike + running! It must come out! Lots of us are waiting for this apps for windows phone. Why it taking so much time ?

I don't understand how anyone would want to switch from Android to Windows. Am I missing something other than no apps, hideous phone designs, and a slow laborious operating system? Help me understand why, really?

It doesn't even sound like you have touched a windows phone, but i am not here to bring problems or issues. I enjoyed my time with Android its just that what i want in my phone has changed. The way i use my phone has changed. I think that whatever phone or OS you choose fits your personality and what you need it for. I'm sure that all the different OS's have their issues the blackberry i had did , the HTC evo i had did, the Samsung galaxy notes me and my wife have do. When i picked up the NL1520 the difference between everything else i have had and checked out was clear. It just worked, the opening of tiles, scrolling up and down the screen it was all so fluid at least to me. I need the seamless integration with MS for work and the sheer sexiness of this phone doesn't hurt either.

Troll? Its simple...people are tired of android for many reasons...needy greedy google being one of them..

Flash transfer. Wer wp8 can transfer frm android to wp8 and vice versa

1. Endomondo 2. OneNote 3. Club Cards

And why exactly does he need an article for this? If you can't look up app alternatives for your new OS you're either lazy as fuck or shoudln't be able to use a phone at all....

I was surprised when i saw this was an article too. I tried the switch to WP8 app - didnt work out very well, to many suggestions that are incorrect Im looking forward to trying the xyo.net app to see if it is better. Just so you know i have been looking at apps but it is tough to tell without the phone which ones will be even close to what i use now. I was asking in the forum in hope that others that switched would be able to give some insight into there experience here.

I can't say about the apps.. But you could take a nailgun to your feet.. You know if you miss the pain the lags caused.

Anyone who has read my posts over the years knows I have been a staunch Windows Phone supporter. Not anymore. With what 8.1 is doing to destroy Windows Phone, I have stopped recommending people switch to Windows Phone. 8.1 is going to simply turn Windows Phone into the frankenstein monster of iOS and Android. All the unique aspects of the OS will be disappearing or seriously hobbled when 8.1 rolls out. This makes me so sick. I hate all the users who pushed for half of this garbage. So, my recommendation for someone looking to switch from iOS or Android is: STAY WHERE YOU ARE. I owned the Samsung Focus, the Lumia 900, 920 and now the 1020. I bought each on day one, and I still absolutely love the1020--there's nothing that can touch it. But once 8.1 comes out there is no compelling reason to use Windows Phone over the other ecosystems. None.

To each their own, but 8.1 is the major reason I am considering dumping Android... I despise how Google has drawn an ever tighter noose around my privacy, at every turn trying to force Google plus on me, no way to just say no to permissions and still have a functional smartphone... Although I haven't heard from anyone yet on how Microsoft handles permissions yet, so I'm not sure they are the answer for me. Frankly WP needs sprucing to make any inroads at all, much like Windows 8 is being modified to what users expected. Posted via the WPC App for Android!

There is no longer any compelling reason for you to switch. Stick with Android.

What made it not compelling anymore?

I get the impression that scuba dog is not as enamored with the impressive improvements being made to the OS. Not entirely sure why but that's the beautiful thing about having choices. I am still looking to learn more about Microsoft's handling of permissions... When a dev adds unnecessary requests can you decline on an individual basis or do you have to accept all or not be able to use the app? Posted via the WPC App for Android!

Password Plus is awesome. I really appreciate this. I am looking at making the change from Android to WP this week when the Icon is released on Verizon. Will probably grab the Nokia 2520 as well. Would prefer a smaller tablet that can also be good for occasional games, such as Riptide GP2 and Dead Trigger 2. Posted via the WPC App for Android!

Got a question:
in april i'm switching from android to windows phone Is Threema in development? i need this app. =/

I never forgive myself for switching from Xperia L to Lumia 520, although the keyboard is more comfortable & battery of 520 lasts slightly longer than xperia L, the inability to send multiple/ documents attachment in email is a killer flaw, i mean, how basic this feature could be, and if i found out this shortcoming before i made the switch, there is no way i would have bought this stupid phone

Any apps that track cell data?