App update roundup: Asphalt 8, DI.FM and Status Tiles get updated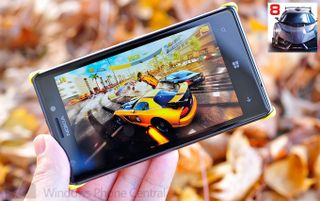 We're rounding off our Monday with a batch of small updates that have been pushed to the Windows Phone Store. While we all recover from a rather busy CES 2014 (for Windows 8 and beyond), platform developers are still releasing updates for all your installed apps. Today we'll be looking at Asphalt 8, DI.FM and Status Tiles. Head past the break for the details.
Asphalt 8: Airborne 1.0.0.1
If you're into racing games with superb graphics and immersive action to keep you occupied when on the move, you'll definitely want to check out Asphalt 8: Airborne from Gameloft. The title, while not Xbox Live enabled, boasts some exciting features and is available for less than one dollar. Should you already be an Asphalt series fan, this latest instalment comes with a new graphics engine and more.
What's new in the latest release? It's a minor version jump, which we believe to be only minor fixes. Some readers have stated that this update addresses some issues with purchases (let us know in the comments if you notice anything).
You can download Asphalt 8: Airborn from the Windows Phone Store for $0.99 (Windows Phone 8 only).
DI.FM 1.0.1.0
Fan of electronic music? DI.FM is your number one stop for the best tunes to blast through your speaker system (or headphones). The service provides unlimited streaming (with advertisements should you not have a premium subscription) with numerous categories to choose from, depending on what mood you're currently in.
Just like Asphalt 8, this update is a minor one and we expect there to be miscellaneous fixes and improvements.
You can download DI.FM from the Windows Phone Store.
Status Tiles 1.1
Attempting to quickly reach common settings, including Wi-Fi, Bluetooth, data connectivity and more can prove tricky without shortcuts. Luckily there are some tools available on the store to help you with just that, one app being Status Tiles. This sweet little app enables you to pin settings you wish to have more convenient access to your Start screen.
The latest update to Status Tiles removes the summary screen users were greeted with when backing out of an individual setting. It's a welcomed change, albeit a small alteration.
You can download Status Tiles from the Windows Phone Store for free.
Head on over to our forum to share updates you've noticed or be alerted to those you may have missed.
Rich Edmonds is a word conjurer at Windows Central, covering everything related to Windows, gaming, and hardware. He's been involved in technology for more than a decade and knows a thing or two about the magic inside a device chassis. You can follow him over on Twitter at @RichEdmonds.
Asphalt 8 in the new update seems to reduced its loading time

Too bad my internet is out at home so I can't update it

How come moliplayer and uc were never mentioned

UC browser updates are strange... Some of them actually fixing bugs and after some other updates it's starting crashing alot... Like after that update

I played Asphalt 8 on a W8 computer with PhysX installed. The game looked totally different than what I am used to on my Surface and WP. Car crashes with PhysX looked awesome. (Video card: NVIDIA Quadro K2000 w/ 2GB VRAM)

Wow. Didn't know that metro apps could actually take advantage of dedicated graphics cards

Yup. It was an absolute surprise.

Too bad Asphalt 8 didn't have Xbox live. I would love to be playing it now. No Xbox. No purchase. #SaveXboxWP

Asphalt Free on android shit!

Come on! Cant you spend .99$?

I dont mind in spending .99 dollars.bt y should we pay for the game which is free on ios and android.partiality

Because you are supporting the platform and helping boost market share? Just a thought.

Php45 is very cheap for an awesome game. :)

but I can buy a burger with that. LOL

So, buy and enjoy both.
You can brag yourself as the one who really support the apps in front of iSheep and FoolDroider.
Also, you are supporting the anti piracy act, unlike some of those,droiders who prefer the pirated version.

In updating Asphalt 8, will it download and install the whole 820 MB file for just a minor update?

Yup, I had to uninstall and reinstall the game using an SD card because I didn't have enough storage.

Thanks! That's also what I did. I was surprised that all my data was restored via cloud. I was not aware that by connecting Asphalt to Facebook that it automatically saves all the data. Thank God, I don't have to start all over again. :)

using an SD card? How to do it?

On your PC, find the app on www.windowsphone.com, and on the left side down you'll see the option of downloading it. Copy the downloaded.xap file to the root of your SD card. After a while you'll see a new SD card section in Store on your phone.

Graphics seem smoother. :)

Why asphalt 8 is not free like ios n android

For the same reason dont work for Free.

Then by that logic the game should be paid on iOS and Android which have way more users. Yet there it's free. Explain that, genius...

1. Google & Apple paid Gameloft, just like Nokia did for some of their exclusive ?
2. Cross subsidized ?

used to play local Asphalt 8 multiplayer with my nephew. I used the windows phone and he used the Surface. A few days ago that was no longer possible. The game returned an "incompatible version" error. Presumably the Surface version received a silent/automatic update. So now the WP version is updated as well to reenable local multiplayer between the two platforms

I updated asphalt 8 on my wp8 and i noticed that my system storage increased from 2.7gb to 3.51gb. I uninstalled it but no change.

Downloaded Asphalt 8 airborne a few months ago, paid for it like everybody else. When I try to update it only shows an option to buy it again, WHY?!?! Not that the game is not worth another .99€ but why should i pay again?!?! Uninstaled it...

Just click buy. It will check weather you brought it in store and if yes, it will start downloading again :D

Last time the phone version is older than the Windows 8 version, so we cannot play Local Wifi multiplayer between the 2. Now it is totally possible!

Hey did you get new cars on Asphalt 8, like LaFerrari, Huayara 2014..?? Androids have these with the update
Windows Central Newsletter
Get the best of Windows Central in in your inbox, every day!
Thank you for signing up to Windows Central. You will receive a verification email shortly.
There was a problem. Please refresh the page and try again.