App update roundup: Nokia App Folder gets bumped, alongside Netflix and 1Shot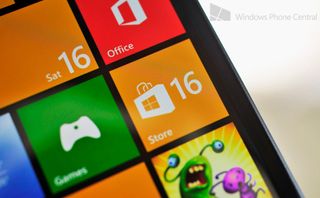 Just because it's the weekend, don't you dare think for a second that it's completely quiet. We've got some app updates for you. Netflix joins Nokia's App Folder and 1Shot in this weekend's roundup of app updates. Pass by the break to see what's new in the latest releases.
Netflix 3.5.0.16
Netflix is a popular on-demand service that's also available on Windows Phone. Unfortunately, the app isn't quite up to speed with offerings available on competitor platforms and misses features like profiles support. What's new in 3.5.0.16? We're not too sure. Nothing has sprung out while using the latest release, so we're assuming there are only bug fixes.
You can grab Netflix from the Windows Phone Store for free.
App Folder 1.0.9.5
Nokia's best known for not only the superb hardware the company pumps out of its factories, but the software that follows any given release. This includes App Folder, the latest offering from the Finnish company. The app, if you're not familiar with the name, enables you to group app tiles into folders on your Start screen.
The latest version is only a minor update, but we're not entirely sure what's included. We could well be looking at fixes implemented for issues consumers have been experiencing, including the increase in random resets. Let us know in the comments should you spot anything we've missed.
Download App Folder from the Nokia Collection on the Windows Phone Store for free.
1Shot 1.0.0.2
If you're one to take numerous shots with your Windows Phone, 1Shot is a sweet little app to have in your arsenal. Here's what's new in the latest version:
Replaced sliders for user selectable options for ISO, Shutter Speed and White Balance
Set to fire auto focus (on capture button tap) if mode chosen is auto focus and user hasn't tapped on viewfinder to focus.
​You can download 1Shot from the Windows Phone Store for free.
Windows Central Newsletter
Get the best of Windows Central in your inbox, every day!
Rich Edmonds was formerly a Senior Editor of PC hardware at Windows Central, covering everything related to PC components and NAS. He's been involved in technology for more than a decade and knows a thing or two about the magic inside a PC chassis. You can follow him on Twitter at @RichEdmonds.
I deleted app folder because of the resetting issue on my 920. I'd like to know if that's been fixed with this update.

I deleted it too because the batter life was pretty horrible

I deleted it becasue ALL of my live tiles stopped updating. Never saw any resets.

I deleted it too, and all reboots stopped, and live tiles started updating again. Definitely avoid this app unless you absolutely must have it for some odd reason.

Where does the .XAP goes when we download application from store ? I know it extract the data when application is installed. I am asking prior to the installation. Does it save in Other Storage?
Sorry for English.

Temporary files...its deleted after some time, but you can manually delete it with Lumia storage check

Thanks. And what about the updating the existing application. ?

On app folders, fool me once...

After installing app folder I got my first random reset EVER on my 920. I'm assuming app folder was to blame since that never happened before and since a lot of users were complaining about the same issue. I've uninstalled it but will now give it another go. Hope that got fixed.

I deleted the folders app since it never saw my full collection of apps. I would add a folder and only have a subset of my installed apps to choose from to place on the folder...uninstalled after 1 day. Totally useless "for me"

You forgot to add "for me". *Totally useless for me*

Grammar nazi spotted -___-

I have L920. The app works fine on my device even before updating to Lumia Black. Hope Nokia updates it and include #s on the tile to know how many notifications received for the apps in the folder.

thats what i thought, untill my phone randomly reseted yesterday night... deleted.. sadly the samsung app folder is alot better, 10x faster to open teh folder, a bit slower to actually launch the apps within each folder.. but its stable :)

I've had a completely different experience.
No resets or problems with Nokia's app folder, and the Samsung app folder was much, much slower all around.
822

I agree, Samsung App Folder loads faster and has Tile View. This Nokia app is slow. I'm going back to the Samsung app.

How did you install both folder apps? I thought the were exclusives?

I don't know how Netflix can update the app without adding the freakin' profiles. It's nearly useless to me without them.

Yes, this. EVERY other platform has this, including Windows 8 and Xbox 360/One. It makes no sense for them to release updates that don't include it for WP8.

The only thing worse than the app not having profiles support is Netflix updating the app and still not adding profiles. It's infuriating.

Exactly. Considering how huge Netflix is, I'm pretty sure they could've properly updated the app by now. They really have no excuse. I've alao bugged them about it on Twitter multiple times to no avail.

I agree. The Netflix app on my Vizio TV has even been updated with profiles.

Wow, surely there are more people watching Netflix on WP than on a Vizio TV.

Maybe not. I think Vizio is #1 in sales in the US. Not sure how many are smart TVs. I tend to watch more Netflix on the TV than my WP. I'll use the WP app a lot to look up movies to add to my queue to watch it on the TV. I haven't really done much with the profiles yet. I created a profile for my daughter, but all her shows are still under the my profile.

Yeah, I thought about it and couldn't really decide either way which one is more popular for Netflix. Whatever the case, Netflix needs to get on the ball.

I honestly don't care about profile support, they should first fix video quality, on my Lumia 1520 looks horrible

Totally agree. I think its 720p. Hulu is in 1080i which is weird because their not known for being cutting edge.

Need an update for Storyteller. Takes forever to load.

Let them release black update for everyone, they will do it for sure.

Maybe I'll give App Folders another shot. Random resets went back to zero as soon as I uninstalled it.

hopefully you can include nfc now in the app folder settings

The first release of App Folder appeared under Settings > Background Tasks with a description given that it checked for deletions of apps to update the icons in the App Folder live tiles. Since updating to this version, it no longer appears under Background Tasks. This leads me to believe that it was the background task that caused the battery drain and random resets, which they have removed until they fix the code. Glad to see the folks at Nokia are responsive to customer feedback.

Exactly. This is why people that had the app on their phones, but had the background task disabled (like me) weren't having any issues at all....

You think so? Don't know why I risk such things so I'll check see if it is still broken.

Makes sense. I remember disabling it from my background task. I don't see it there now at all. I didn't have any resets, but my phone was actually a little weird and freezing. It seems better now.

Same here on my L920, though I didn't encounter any freezes, despite disabling it at the background task. To add, I did notice higher battery drain (as what some reported here) and some random performance oddities after installing it. Not to mention that my phone randomly reset once while I was using the camera. I will try it again to see if there are any improvements as I just updated it. So far so good and the performance is back to normal. Might want to restart my phone just to be safe (always do that after updating the phone or the apps).

I got heavy lags today. Tried rebooting and everything. I guess its because of this app...

Does anyone know when netflix will be available for europe (Switzerland)?

Yes, my preferred cam app on my 820

I've had one random reset before the update but none afterwards. But that could just be me getting lucky too. It didn't happen frequently beforehand. L920

I feel like App Folder is a couple seconds faster. It would take 3 seconds or so for the list to appear. Now takes about a second. L925

Still too sluggish to be useful for me, hoping this can just go native in a future WP update. And with a slicker method of showing the apps.

Agreed. Tiles would make much more sense. If they were tiles wouldn't be as much wasted real estate... iOS is probably the only good example. But im sure MS knows this. But like I've always said... At least were moving forward.

I used to get random resets on my 1020 occasionally since I picked it up in October with Amber installed. Since the Black update I've not had a random reset even with App Folder installed, my battery also last me almost 2 full days.

App fodlers was just too sluggish to use on my 822. I did like the idea, and I will revisit the app after a couple of updates

I do have the app folder but not on my home screen.. It made me feel like ios..

App fders works fine for me on my 920. Pretty handy little app, I say! Update: The bloody phone rebooted last night, just as described here.
This was after being recently updated, too.

I just tried it again after the update. I am confused. Why does it not give me the full list of my installed apps to insert into the folder? I'm trying to create a folder named Productivity, I create and rename it this and then go to select apps to place in the folder, Onenote is not in the list, Office is not, but Evernote is. Are you all experiencing this too? I thought maybe it happens only when the app is already pinned to the start screen. I removed a bunch of apps from the start screen and tried again, dame result. Kind of frustrating.

Doesn't that kind of defeat the purpose?

Saw that the first day. The only folder I wanted to make was Office, Skydrive and OneNote haha...oh well. Maybe after all devices have the Black update we will get an updated App Folder app

I suspect that the office app is really a hub and I don't think you can put a hub into a folder.

App folder launches quicker now.

App folder is working better now. Moreover now i am not getting any reset problem in my L925.

When you guys are talking about resets your talking about a reboot of the phone, or actual settings being changed?

A reset of the phone without the goodbye message.

I concur with the others here. App Folder doesn't seem to be as sluggish when launching and closing. Likewise, when launching an application within the folder.

updated App Folder - seems to launch quicker, now groups apps available for selection into Apps & Settings, still not showing all apps :s hopefully it resolved the random resetting on my 920

Fun fact: app folder was ok in my 920 but after the application's update it got its first reset.

Please give app folder to wp7.8

Ok, I tried App Folders again. Uninstalled it again too. Something about that app makes my Lumia 920 just function badly when its installed. Apps don't run correctly. They slow down and they force close. Doesn't reboot but it does freeze up and that hasn't happened before. If it works for you, great, On my phone, it picks fights with my apps. I had to deep six this very disturbed attempt at folders. Thanks devs but no thanks.

So... I have had no issues running app folder on my ATT 920, but there are some programs (such as calculator) which do not show up on the selection list to put in a folder... which is really annoying because I have a utilities folder that does not have my 2nd most used utility (after the flashlight). And the update did not fix this annoying (all be it minor) issue. Also; Nokia, please allow us to use pinned things in app folders such as web pages! That would be so much more useful than IE favorites!