App Update Roundup: Pepper, WeChat and even eBay make today's rounds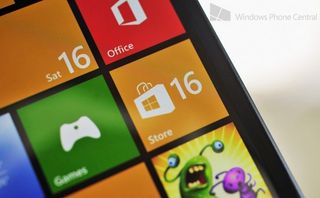 It's a busy Friday in the world of Microsoft. We've just covered the finalization of Microsoft's acquisition of Nokia, but developers have also been busy pushing out updates to the Windows Phone Store. Today we'll be checking out what's new in Pepper, WeChat, among other apps.
Pepper
Pepper is a sweet app for music fans, available on both Windows Phone and Windows 8. The app for the mobile platform has just been bumped to version 1.7.8, introducing some new features to take advantage of Windows Phone 8.1, as well as some other bits and pieces.
Here's the full change log:
Support for transparent tile in wp8.1 - Settings -> Device -> Tile
Support for the UK app challenge.
Support for links to instagram, pinterest, tumblr and bandcamp have been added to artist, venue and promoter profiles.
As well as the above list, there are also a handful of bug fixes included, mainly covering database synchronization and optimizing some features. Currently, Pepper supports the UK and the US.
WeChat
WeChat is a popular communication and social networking app available for both Windows Phone 7 and 8. The service is generally seen to be more popular in China, Hong Kong, Taiwan, Southeast Asia and India, though boasts over 300 million users spread around the globe. Today, the Windows Phone app has been updated with some changes.
Here's what is new in version 5.1.3:
Specify your exact location while sharing location data
Be notified when you're mentioned in a group chat
Save video message to your device
We recommend you check out WeChat if you're looking for a new messaging service to use.
eBay
Wait, eBay has been updated again? That's right, folks. We covered a rather large bump to the official Windows Phone app only yesterday, but already we've seen a minor release be published to the store just hours later.
Here's what is new in version 1.21.0.0:
Improved notifications
Fixed a problem with special characters in passwords
Other bug fixes
We'd strongly urge everyone to update if you haven't set everything up to auto-download.
Odds and ends
It's not just the major updates we cover in these roundups. Be sure to check out the following minor releases:
Head on over to our forum to share what updates you've discovered.
Windows Central Newsletter
Get the best of Windows Central in your inbox, every day!
Rich Edmonds was formerly a Senior Editor of PC hardware at Windows Central, covering everything related to PC components and NAS. He's been involved in technology for more than a decade and knows a thing or two about the magic inside a PC chassis. You can follow him on Twitter at @RichEdmonds.
WhatsApp and Xbox music God make it happen.

Se eager for whatsapp and Spotify :-/

WhatsApp has given up I think

Xbox music WhatsApp !! make it!

When is WhatsApp being updated?

Because you asked, an no one else has, I'm going to tell you...but don't tell anyone else.

Daniel when is the whatsapp update comi.....SLAP!!!

Daniel, why does Rich keep saying that Microsoft acquired Nokia? If he doesn't know that Microsoft did not acquire Nokia, may you or someone on the WPC team explain it to him and please have him update the articles. Windows Phone Central is the premeir Windows Phone site and it just does not look good to have inaccurate articles on WPC, especially concerning something as serious as telling readers that Microsoft acquired Nokia when they have not acquired Nokia. Please consider the people who read WPC and the reach that WPC has along with the credibility that comes with this site. People will read that and actually believe that Microsoft acquired Nokia and it leads to unnecessary confusion. Thank you.

Microsoft acquired most of Nokia in the devices and services division. Most people aren't splitting hairs over the remaining networking, HERE and licensing divisions as only one of those has any meaning to the normal consumer (HERE)

The fact remains, Microsoft did not acquire Nokia and when you are reporting news, you report the facts. Fact vs Opinion is not splitting hairs. If you are a writer, I hope you write factually because regardless of my or your or Rich's or anyone else's opinion, Microsoft did not acquire Nokia. You can think what you wan't to think, it is Rich's obligation to write factually and inform readers and NOT misinform them. Also, you don't know "most people" and you don't know the "normal consumer" and therefore cannot speak for them and their knowledge or what has meaning to someone. People (as in humans) "know" by gathering informaiton from a source and if the source is not true, they will "know" something that is not true and believe it as the truth. If I didn't "know any better" reading this article an many other poorly written articles would have me to believe that Microsoft has acquired Nokia. The same goes for you. Just because WE know better (aka the truth) does not excuse the writer from writing incorrect, false or misleading information. It is amazing to me how most commentors on the internet are fine with being told incorrect information and are fine with people being misled and show that they are fine with lies (Yes, saying Microsoft acquired Nokia is a lie) by supporting said misinformation and the people who say such things. You and a lot of people in the comments make excuse after excuse as to why you think it is ok for a writer to write incorrect informaiton and you base your excuse off of what YOU know and what YOU think other people know instead wanting the information to be accurate in the first place. That is a shame and very concerning the same mindset that doesn't care about the accuracy of information can carry over to our own careers and affect other people. Even in your words, you admit that Microsoft didn't acquire Nokia yet you use your word's in an attempt to defend poor journalism and "make it ok" to say MIcrosoft acquired Nokia when the fact is that they have not acquired Nokia. Don't place your opinion of splitting hairs on a subject when a writer reports something as a fact that is simply not true. People defending inaccuracies by their own understanding is simply ridiculous. Not everyone knows what you know and understands what you understand. A writer that is CONSIDERATE of his readers knows that and will write so people can accurately know something and the writer should care about their readers by uphold a standard of integrity.

I appreciate your opinion and you taking the time to write all that. I understand why you are looking for factual accuracy and I'm sure Rich will consider it in his future writing

I sincerely hope Rich and other writers on the internet consider it as incorrect information presented as factual information is a great disservice to readers and to all the people that the readers may provide that same incorrect information to with full confidence in it's accuracy. Thank you for your reply.

Let me guess your a writer

One-shot & eBay isn't updated for me

Dear. Daniel when is the precious "WhatsApp" update coming ? Thank you :) (*Now send me the date & I won't tell anyone!)

No ebay update for me yet, I still show 1.5.0.12 in the store.

I didn't get any update for OneShot! Lumia 520, Wp8.1 user!

It's kinda ridiculous how much apps are updated now. I probably get ~7 updates every day now, but while back on WP7 that was more than I received in a month. I like it.

Uninstalled ebay , because its didn't have Malaysia version .

What's the "even eBay" app? I've never heard of it before.

I got rid of eBay a few months ago. Is it time to download it again?

You bet! I couldn't believe how clean the new update looks for eBay. The previous version was horrid, go check it out :)

The Clock Hub does not open although it has made many updates...

All apps are updated except WATSAPP. So Pleaaaaaaassee update your app. It's lacking many features.

Poki has transparency tiles!

Wechat production team is suck, especially WP team m>.