eBay updated for Windows Phone with brand new design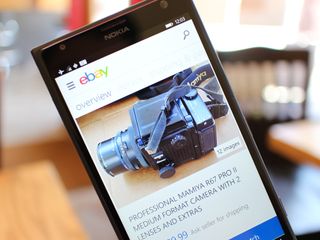 When you compare the Windows Phone ecosystem to iOS and Android you'll find that we have most of the major apps. However, our apps don't get updated as much as we'd like. Which is why we get pretty excited when apps like eBay get updated. That just happened, so let's check out what's new with eBay on Windows Phone.
Head into the Store and you'll see eBay sitting pretty at version 1.5.0.12. We last reported on eBay in late January when we learned the company had plans to update their Windows Phone app. The update was due in March, but as you know its late April. Still, an update is an update and this one looks to be pretty big.
Of course eBay would forgo on a proper changelog, even after our public plea yesterday. So we're flying blind here checking for new features. You will notice that the entire interface has been revamped. Gone is the black layout from yesteryear. Update the eBay app and you'll find a fresh new white layout that brings it more in line with the Android and iOS.
Here's the full list of features listed in the eBay's description:
Searching made easy! Use our refinement carousel to find the exact item you want, at the price you want.
Need more filtering options? A quick swipe from the right side will bring up our complete list of advanced search options.
Browse Daily Deals or your personalized eBay feed right from the home screen!
Find what you like? Hit the Buy it Now button and make your purchase straight from the app.
Want to try an auction instead? Bid with confidence knowing our improved notifications will notify you when you've been outbid or an item is ending.
Shop globally! You can change your eBay site in Settings, giving you access to eBay markets all over the world.
Receive notifications when your purchases have sent, and track with ease.
Pin an item as a Live Tile and track its status on your phone's home screen!
Review a seller's profile and Feedback, allowing you to shop with confidence.
List your own items to sell, auction, or both!
And much, much more!
Play around with the new eBay app and let us know all the new features you find! Download it from the Windows Phone Store for free.
Thanks for the heads up Madelena!
Windows Central Newsletter
Get the best of Windows Central in your inbox, every day!
Actually your comment sucks because you provide no useful feedback as to why eBay sucks.

RIP Modern UI, hey iOS invented flat design language.

I fear the only way we will see the modern UI as a standard for major apps is if Nokia/MS help with the development, pay extra for it or when WP gets bigger. For the last point I hope the modern UI isn't sacrificed just so we can get an app.

So glad Apple brought us that wonderful innovation.

Yeah the UI of Windows Phone is being sabotaged by third party developers. Rudy, do us a favour?

Hell, if we could at least get a dark theme I'd be much happier. This white just stinks.

I don't think it was sabotaged by eBay. It has just evolved, however. Noticed you can still do the pivot navigation. Though there are some superfluous elements that go against the M design, yet again if eBay feels that's part of their branding, who's to say otherwise right? What I do feel reluctant about is that stupid hamburger button. Ugh.

Looks ok to me. Haven't tried the Windows 8 app? :)

Does it work? Has it been updated finally? Just be happy. The modern UI doesn't have to be everywhere although that would be ideal. Just be happy.

I think for big name brands like eBay, Facebook, etc. its more appropriate for them to develop something that is consistent to their brand across all platforms. As long as the design is flat and not skeumorphic, I think it looks fine on WP.

That doesn't justify it. How is Hamburger button, left hand menu anything related to branding? Moving extra stuff under ... Like everything systemic is not against branding. It is against WP design. I feel lost trying to find setting right under my screen. Instead I have to open an ugly list on left and look for settings. How desperate are we for apps that we will take anything. Might as well accept Android clones like BB does.

If you are so lost, please don't use the app. The whining we do here is getting out of hand. The app is far better than the crap we had before.

Agrees!! This app was long overdue for an update. Yay!!

Nice, one of my most used apps and one that was in dire need of an update/overhaul. Thanks for the good news Sam! It's even better for selling your items too with the ability to enter calculated shipment costs! I hated not having that feature. Also, you can finally view tracking info...

This is a hugh update.
I'm extremely grateful to eBay for this update since I use eBay quite often.
I grabbed the update so fast last night.
I can finally sleep knowing I'll get notification of my item being sold.
So glad eBay has finally left the "Dark Ages" behind.

Ooooooh, my head, it hurts soooo much!

Looks much more current. Thank you ebay. Will be good to take a look.

This is good news, kinda wish we had an exclusive black version of the new layout though, this would keep the other two os's slightly envious :P

That would be nice, I suppose but I'll take this any day!

About time, previous version was awful.

Its gets updated often. But a problem never fixed is that loading conversations takes AGES !!

Do you often receive messages, cuz mine does not deliver messages unless I open the app and it's pretty annoying. 1520

next should be updating pageonce to check

Good, hopefully more and more apps get updated now that 8.1 is here! They added a ton of functionality while still maintaining a metro feel!

Is not modern UI at all, or very little

Great timing! I was about to one star the old app and uninstall, replacing the tile with a pin to the mobile site. The old app was useless.

Finally!!! NEXT... Spotify!!!!

PLEASE!! (sorry, I had to :P)

http://news.spotify.com/us/2014/02/24/were-updating-our-windows-phone-app/

Cool!!!! We nee more of this!

The old ebay app for WP8 was the same for WP7.x Nice to see the update, i use eBay a LOT.

I use the app all the time. The new layout is great, going to take some getting use to.

Why updated apps always turn background tasks on? Can this feature be turned of somehow?

YES! FINALLY! NOW JUST FOR SPOTIFY AND IMA HAPPY WINDOWS BOY :D

It finally has UK only rather than listed on eBay.co.uk. Thank god for that. Probably the most annoying thing I've ever come across. Looking for something in a list of 500 Chinese based companies was ruining my life.

This is an update! yeah.......finally!

Great update just wish I could change the theme back to black.

YES! Finally! Just had a quick look at the app and so far it is awesome!

Glad we're gradually going away from the white on black design. It's fine on some apps but in many it doesn't make sense, ebay being an example.

^This! That's why many people think WP is kinda 'boring', too many apps with a black background.

Finally its out. Been waiting for this update right since March. The new UI is awesome! Excellent set of features.

Is ebay still written like eBay?

Finally. I was just using this app today

Need the same kind of revamp on a few apps like Audible and Amazon. Has IMDB ever been updated? It's no even kind of close to what it is on other platforms.

I pretty sure this post is about eaby..... Got to forum don't need to here your crying here! Seriously just think about it!

We need a revamped 8.1 metro style vibe app that sets out apart from IOS and Android

E bay goes ducking sorry word flow...

Another hamburger button... le sigh.

I really despise these buttons... the AppBar is so much more useful for settings because much easier to reach... I hate that even Cortana has that now... at the cost of Bing Vision..

The hamburger button didnt steal Bing visions spot. It was just left out.

Yes, but if they would have kept the AppBar there would have been more room.. that's what I'm trying to say.

Never liked it because there was no way to close the app before you got X on multitasking on Update 3. You would have to constantly hit back button to exit. And if you went "to far" in the app it was nightmare)

It's still a waste, now after using Flipkart it appears more waste.

lol, it's no Flipkart but it's a very useful update nonetheless

So Ebay is just making every version of their app look the same as what they did for iOS without realizing that most high-end Windows Phone's (and also Android phones) use OLED screen and a black background is actually preferred by many users.

Its looks fine. Can somebody tell IMDB guys to update their WP app .? It has been long since we got an update . We are missing so many functionalities .

Until then you could give Film Closet a try!

Thanks . Will give it a try . But definitely missing imdb .

Yep, me too, but Film Closet is a good replacement until IMDB gets an update.

Yes indeed, its high time the IMDb team consider WP and give us a solid update.

Amazon claims they are working on a updating several WP Apps soon.
Fingers crossed.

It will be awesome if they do so.

How about Groupon update?

Excellent ebay done a good job. Now using the ebay app it's pleasurable ;-) I'm very pleased with this update.

Looks a bit nicer, my feed comes up as dollars now though, even though language set to Uk

Same here. I just realised that. Another day another dollar LOL

It only shows me price in dollars in "My feed" section everywhere else shows £'s ;-)

I changed mine from $ to £ and Daily Deals changed to £, but rest in feed still$. Odd

Come on people don't go off topic if you have questions or want to complain about other apps go to forum open up a thread. Be productive for god sake!
Don't put your silly comments all over the site....

Good update. It was more than needed.
But I can't see any way to sell my own goods direct from the app. Am I blind or just stupid?

When you open up menu ( those few little lines in top left corner) you'll see Sell an item ;-)

Thank u for the tip.
Strangely enough I've had to change my country to have the option. It seems like it's not available for all countries.

You're welcome ;-)
Yes that's strange and a bit disappointing I would say.

Yes there is ;-) look at my comment above ;-)

Try to change your country for another. You'll see the option then. It worked for me. But... I don't know if the object will be available to buy in my own country from the fact...

All eyes back to WhatsApp

Ling time now fb Inc is very irritating to release the update.

The ebay update is awesome and is running butter smooth on lumia520. tested OK

Idk how but I can't find ebay app on my WP7.8 anymore... (Lumia 900)

Nice! Finally a worthy app , looks the biz!

Very nice like, but here in the UK it uses $ for prices instead of £... I've set the proper region as well.. Pretty silly bug methinks!

Now we need quickr for WP.

certainly welcome an update, but I really did like the black theme!

I like it but I wish it had a transparent theme

Images don't rotate. Boo!

But have they made their tile transparent?

My eyes are burning, too much white!

I've changed my currency to GBP UK (ebay.co.uk) and my feed section still shows in USD? Everywhere else shows me GBP.
Anyone know how to get around this?

Same issue here., just the "my feed" section in USD and shows US listings, everything else in £

Seems much better and smoother. Also can leave feedback and see that feedback was left.

The app is finally useable

Finally, it has Ireland support. Before I had to browse eBay.co.uk and buy stuff in pounds. And the old UI looked awful. Now this app is a sign that companies and developers care for windows phone releasing new normal apps

It's a really nice update

Looks like a Google web page. What happened to *any* of the Metro design principles?

Facebook brought their iOS-like app over to unify *their* UX, so everyone else is following suit. It's also probably more efficient to reuse resources between the apps and only rewrite the OS-specific stuff.

They're inside the app. It's not all an Android/iOS port.

Finally - Great to see apps being updated more regularly and matching that of iOS and Android :) +925

Doesn't work on my 925 8.1 dev

Works perfect on my Nokia ICON on Verizon with 8.1 Dev....

This new version works MUCH better than the previous one.

This is a step backwards. I can no longer use "make an offer" option. It says to go to full website.. Sucks

really nice improvements. have reinstalled.

Looks nicer, but still just a few ebay sites supported. E.g. no Dutch site. Completely unusable for me.

Companies like eBay hate the modern UI. I personally find it boring in apps because they all look the same. This update is much needed and this design is beautifying my phone.

Now we need a Wide Tile with flipping options.

It's about damn time. The app is alot better now.

So can I finally read and reply to messages without the app launching IE and making me login again?

Having to click top left for navigation is super annoying to me. Just like the back button in iOS, it's a step backwards. Swiping left and right from any space on the sceen was already very user friendly!

I've downloaded and removed it 4 times. My eBay has disappeared. There is nowhere to log in no matter what I do. I tried to restart the phone to see if it would come up... no luck. Without My eBay this app is worthless to me. Let me go back to the last version.

It simply doesn't work on my Nokia 928. It's worthless.

Thank God! My biggest pet peeve was not being able to track shipments. Finally!!!

After years of waiting... Finally I can use the eBay app.

they need to update pageonce to check!!!!!!!!!!!!!!!!!!!!!!!!

Love the new app just need an update for imdb now

Where's the What's it worth feature? It was favorite part of the last version.

Nice, almost usefull. The old version in one word, SUCKED. I could not edit things I am selling, or could not even track a package (see tracking info). The layout was bad, and I found it easier and quicker just to open IE on my windows phone device and do a search or other things. This one is beter and though now a Metro style (feels like a iOS app) but, it works, I can't edit my current only auction with it, it gives an error of "Your draft contains details that are not supported in this version of the app" (nothing special, text, and 6 pictures), so fail on that end, as long as it's updated later, it might become usefull....I can actually track a package so good ! It's about FREAKING TIME !!!!!!!!!!!!!!!!!!!!!!!!!!!!!!! Bug on Windows Phone 8.1....I opened ebay app this morning after seeing this post and it was the old one, I checked downloads, nothing there, history the same, Checked the ebay app in the store, My only opton was to "reinstall" no update....So I had to select "reinstall" to get the updated version.... So much for background updates....

I like the older EBAY app ,this more feel like an ios app...
What made it worst is that I can't MAKE an offer.. And no dark theme.. Shoot..BUY IT NOW

I can live with the Android/iOS style designed apps....but the white theme...urgh...bring the dark theme back! I don't want my eyes bleeding with the brightness of the white theme.


And I think this update is for selling items, I won't be surprise if the PayPal app gets updated too

The update hasn't shown up on my phone yet. If it is now a light theme, I hope there'll be an option for a dark theme later since my phone has an AMOLED screen (uses more battery with light backgrounds).

The WP eBay app looks nothing like the android or ios one... I actually think it's the nicest of them all.

Still it is not full feature app no make an offer
And it does not update in real time when bidding
Come on if you are going to do something do it right