App update roundup: Vine, Angry Birds Go! And ProShot all get a morning polish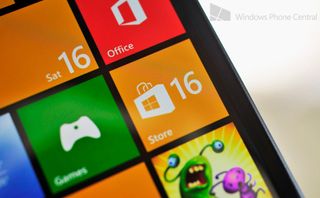 Although Facebook Beta received yet-another-update this morning, here are a few others that have just come in as well. These are some of the bigger titles that many of you are using, so they should pique some interest.
So far at 11 AM ET, we have new updates for the official Vine app, Angry Birds Go! and the popular photography app Pro Shot. Read on to see what's new!
Vine 1.1
Vine came out just over one month ago to Windows Phone. Up until that point, many were (and still are) using the excellent third party app 6sec. Soon after the update, a version 1.01 hit the Store, bringing some minor quick fixes to the app for login issues.
This morning, Viners get a bigger update with 1.1 now live on the Store. That update, as far as we can tell, adds the following:
Drafts mode
Filter sensitive content in settings
App localized in 17 languages
Vine tutorial
Performance improvements and bug fixes
The Twitter company was a little vague on those changes in the app description, but as far as we can tell those are new. Regardless, version 1.1 is a significant bump, to you'll want to grab it now. Follow this link or scan the QR code below.
Angry Birds Go! 1.0.2.0
Angry Birds Go! is probably one of the best racing cart games we've ever played on Windows Phone. It's also jaw-dropping how much Rovio wants to nickel-and-dime you for every micro-transaction. Seriously, if you paid $49 for a high end cart racer, you evidently have way more money than we do.
Still, we can't help to fire up this game and race around the track on occasion, so it's good to see version 1.0.2.0 hit the Store. According to the company here's what is new:
"We've fixed a few small issues in the game to make everything even faster, smoother and better!"
That means there is still no 512 MB RAM support, at least not yet.
Pick up Angry Birds Go! 1.0.2.0 here in the Store.
ProShot 3.1
If you don't have a high end Lumia with the Nokia Camera app, you may prefer to use ProShot. The popular app has been one of our favorites to give finer control over camera settings, and version 3.1 just landed on the Store with some significant improvements, including:
New UI
Huge performance improvement for low memory devices (almost 2X speedup on image processing)
Performance improvements across all devices, including smoother scrolling, reduced video memory usage, and faster image processing.
Integrated shutter selection into the right panel
Lumia 1020: 5MP option now saves the 41MP image to local storage (8 and 12MP settings already did this).
bug fixes
Those are some tasty improvements and it makes ProShot the go-to photography app on Windows Phone. ProShot will cost you $1.99 (plus optional in-app purchases for filters), though there is a free trial. You can pick up ProShot here in the Store or scan the QR code below.
We're sure there will be more app updates coming in later today, but for now, you can grab those above!
Thanks, guyjkh, s_madhekar and Mafiatounes, for the tips!
Windows Central Newsletter
Get the best of Windows Central in in your inbox, every day!
Daniel Rubino is the Editor-in-chief of Windows Central, head reviewer, podcast co-host, and analyst. He has been covering Microsoft since 2007 when this site was called WMExperts (and later Windows Phone Central). His interests include Windows, laptops, next-gen computing, and for some reason, watches. Before all this tech stuff, he worked on a Ph.D. in linguistics, watched people sleep (for medical purposes!), and ran the projectors at movie theaters because it was fun.
Yeah...vine is now on par with android and iOS :)

Well proshot is d best camera app till date for non pureview devices (L720) :)

I wish other apps would take a hint too. Amazon for example, is not up to par with Androids apps. You still can't even filter searches by best rated, etc.

Rovio we need 512 mb ram support

We need subway surfers 512mb ram support even ...

You need a better phone if your primary use was supposed to be for gaming.

Bro every1's pocket ain't dat deep..!!

You can literally get a Lumia 920 for free with contract or like $150 used online no strings attached. No reason to have a low end device if you want games really. The 620 costs like $85 new, but why not spend just a tad more to get something much better (920). Also the 8x is dirt cheap usually free or $100 used online.

In India there ain't no contracts like you sayin and devices like 520,720 are in majority ..!!! People want affordability and services too.!

their is something you should learn called affordability. Not every people can afford high end phone. and about games Subway suffer runs on 512MB RAM even on Android then why not in WP. First Temple Run now Subway sufer, is WP really that inferior OS that need 1GB ram for even those apps which runs on 512MB on other OS


It's not about "can it" it's about "how will it". While I'm sure the support will eventually come, there is a logic behind this. Everything runs on Android. So you can basically play everything, even if that game will be just a slideshow. On WP on the other hand, every game that you can play is guaranteed to play 100% smooth and perfect. Correct me if I'm wrong.

No! Temple runs oftenly crashes in my phone and their are quite hicupps I noticed in Temple runs. So, 100% sooth and perfect is totally wrong logic here. and WP compromises with quality too? for example. Check you Angry Birds and Angry Birds Space in Android and WP..

I can't download MS socl app in store, due to ram restriction. Is that a "game"?

When will people stop supporting greedy devolopers ruining gameplay experience with overuseage of IAPs. If they want money put a price tag to the whole game. Let the player's skill decide what inside the game they get.

Let's be realistic... $1 is pathetic for a game someone has spent possibly $50-100k+ making. If they charged just $10 then everyone would cry about it. Even $3 is considered "expensive". IAP allows a developer to get paid for their effort and you get to enjoy a full game for free.

Oh and Angry Birds Go would've easily cost over $500k

Lets asume Rovio start selling ABG for 1$ (minimum). Is that so bad for them? Their are over a million android users + iphone users + us. They could easily gain profit from the sheer number of people who would die for games like this. Worst case scenario, they could simply port this game to any mainstream console.

Angry Birds Go is such a fun game, but i uninstalled it. IAP and limits ruined the game experience for me. You need to pay to be able to even play it after 10 races or something, or wait until cool down restored it self.

What if they released 2 versions of each game? One with IAPs but free to downlad and the other with a zesty pricetag with no IAPs what so ever.

Did you play the game first before making this comment? I just completed the game on my ipad (since for the moment my WP isn't supported) and I spent £1.49. Bearing in mind it's a free game, this was a small price to pay for an IAP that only just halved playing time necessary to level up. Complaining about high end IAPs is all well and good in games which make it impossible to play without them...but Angry Birds Go! is not such a game. They have the right to add what most of us consider to be stupidly expensive IAPs because frankly, some people will be able to afford them and will purchase them. Spend nothing, and the game is STILL brilliant and on par with the likes of Mario Kart Wii....which is still to this day pretty expensive to buy.

Likes of Mario kart? Really? Wow.
What exactly did you spent your money in this game for? Whatever lt is, you still have to grind your way through all these stupid cool downs and unlocking worlds by maxing out our carts only find the next world requires you to buy a brand new cart which can only be unlocked by IAP. The last kart has a whooping 50$ price tag. Seriously, this is what you want your games to turn into?

Only a few of the karts are IAP purchases. The cool down gets easier the more racers you have. I bought a double coin IAP. As I said, this is based on the iOS version which I'm assuming is the same.

Angry birds go is an excellent game. But its ruined by IAPs. Look at Halo SA, it has a price tag and IAP still that game delivers a wonderful gaming experience. It doesn't limit you by cool downs, u unlock worlds as you progress, also the game doesn't constantly remind you of IAPs.While angry birds go is simply a cash grabber .

Then the iOS version must be a lot different than anyone's letting on..cos I completed the game on iOS in just a few days with only the double coins IAP which is hardly bank breaking. That's not to say I got ALL the karts. Some you do have to buy which I'm not doing right now. I mean I completed it by getting all the racers and completing all the numbered races. It still has plenty of play in tonnes of challenge races...but the fact remains you don't need to spend anything to unlock all the racers and courses.

Was reading today that Candy Crush Saga rakes in...wait for it...£650k a day! A FREAKIN DAY!!! http://www.bbc.co.uk/news/magazine-25334716

And that can't afford a windows phone version?

Mmm anybody noticed that now the update for angry birds Go is 101mb so need WiFi? Before was 99mb not.

My store does not not show live tile updates like show in the picture.Its when i check WPC app and goto to the store to see the update then only it shows.Any fix for this ?

Restarts of the phone no more? (vine app)

Not related, but important - we have a first casualty of the Microsoft-Nokia merge: Nokia 2020 8.3" tablet got killed by Microsoft.

As I tweeted yesterday, unconfirmed tablet, never seen before gets cancelled according to unverified, anonymous source. I suggest raising your standards ;)

Xbox video also now officially on wp store.
http://www.windowsphone.com/en-us/store/app/xbox-video/6affe59e-0467-470...

Angry Birds Go Might be the best kart racer on Windows Phone, but that doesn't mean it's actually all that good. It's certainly no Mario Kart or Sonic Racing, not even close. I mean, it's a competent production but it's bland as hell. It total lacks the kind of visual feedback and control dynamics that you'll find in better racers. There's not enough variety in terms of courses or competitors. Even worse is how in-app purchases are offensively overpriced. But the thing that really kills it is that it's Angry Birds. I've always found the franchise to be obnoxious and this game isn't helping. It's a pity Sonic All-Star Racing isn't available for Windows Phone.

The only thing that turned me away was you have to pay to drive more then 10 races, or wait for cool down.

Soon enough you get to the point where your done racing even before you've exhausted your racers energy, there's just so many

Nothing like a morning polish

Anyone figure out how to log in to a Rovio account yet on WP? I know you can do it on Android and iOS but haven't found a way to on WP. And ABG says we're logged in as "guests".

None of today's updates are appearing in my store. Are they still filtering through or am I missing something here...? There isn't normally as big a delay for me between WPCentral mentioning an update and me being able to get it.

Thank you for the mention, Daniel! Also, ProShot's zoom got increased to 5X. Forgot to mention that in the changelog, d'oh.

ProShot update is great! 5x Zoom and the updated interface is much more usable especially shutter moved to the other options and current values always visible. I would recommend moving shadow recovery as a separate option list, not just toggle, because it is very good to play with when adjusting. Also a little problem is that with White theme the context menu of the photos is hardly readable as the text is white on transparent white.

thank you for the report! I'll fix it for the next update

im getting convered with all these new games not getting xbox certified? is it really that much of a hassle? seems like the xbox live feature on WP is dying.

Is it possible that UC browser and other utube apps also get ability to download video to sd card?
Windows Central Newsletter
Thank you for signing up to Windows Central. You will receive a verification email shortly.
There was a problem. Please refresh the page and try again.