Apple CEO Tim Cook slams Microsoft's Surface Book [Update]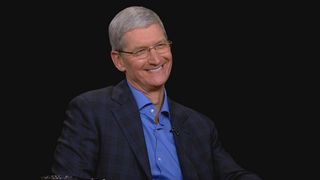 Update: The author of the article posted on Independent.ie, Adrian Weckler, has now posted on Twitter, "Apple says that CEO Tim Cook meant 'diluted', not 'deluded'. Makes sense. Consider this a correction."
Original story: The recently-launched Surface Book from Microsoft is the company's first notebook product, but Apple CEO Tim Cook definitely doesn't care for it. Indeed, he thinks the 2-in-1 notebook, with its detachable display, is "sort of diluted".
Cook made his remarks during a Q&A session at Trinity College in Ireland, where the company announced plans to hire up to 1,000 new team members in its Cork office. While Cook said today that Apple's relationship with Microsoft is "really good", Independent.ie reports that didn't stop him from going after the Surface Book:
Cook's remarks come on the same day Apple officially started taking orders for its new iPad Pro tablet. The 12.9-inch device is the largest iPad ever, and Apple offers an optional keyboard cover and stylus for the tablet, which is similar to Microsoft's Surface Pro lineup.
Source: Independent.ie
Windows Central Newsletter
Get the best of Windows Central in your inbox, every day!
Scubag smile? 10/10 would anti trust again

He's just jealous, wait till you see the next Macbook pro..lol, it will be a Surface clone.

He is jealous that MSFT didn't invite Apple on stage to show off something at the reveal, where Apple had done for MSFT software! LOL !!!!

Tim Cook: "It's sort of deluded" Me: "you're sort of a knob end"

He's the one that's deluded. Surface Book succeeds at being both a clamshell and a tablet. Funny, this come from someone who released a pointless $h**Pad pro with a wanna-be typecover. LOL

How do you know he didn't invite Apple?

They did invite Apple, but they ran out time...

or rather the Apple representative was a snotty brat so Microsoft decided to cut into his time and avoid them

Yea, this is from the guy that called the Surface a doomed "Toaster Frigerator", but is now releasing his own with an iPad Pro.

And that iPad Pro is the deluded device. pretending to be able to do more than other iPads when it can't really

Indeed. The difference between a Surface and an iPad is that the former can actually do both. The irony is that the iPad Pro is the device that fits the description of his critique. Let's just wait and see, of the Surface Book is a success then Apple will release a mediocre alternative to that one too, call it innovation and sell it for 3500 dollars. Posted via the Windows Central App for Android

Exactly! That was a Ballmer moment and so is this! When will he learn? Hopefully never, for entertainment sake.

Cook's comments are a sign that he's concerned about the Surface Book. Why else mention a competitor by name and give them more press? How often does he mention windows phone/mobile to the press?

He doesn't mention Windows Phone at all because Windows Phone isn't really a competitor. Posted via the Windows Central App for Android

Agree. Posted via the Windows Central App for Android

Looking forward to some more "hardware innovation" from Cupertino.

its gonna have a detachable screen. theyre gonna say they reinvented the 2 in 1.

Y'know what deluded? An iPad "Pro". What's that supposed to replace? They've created a 1 in 1.

He's kinda got a point though. Microsoft made and marketed (heavily) the surface to REPLACE your laptop, and then they make a laptop... I'd still buy it but it was a weird thing to see at the event.

I agree. This was a bridge too far. I replaced my surface pro 3 for a 4 on launch day. Surface says we can replace your laptop then makes a laptop?

I'd argue that this too is a surface pro but goes after the MacBook pro crowd. This is the same 2 in 1 device as a surface pro but mimics a laptop better when in laptop mode. No? I think I'd really enjoy the larger tablet screen on the book.

So are you saying it's NOT better to have options? Yes, a Surface can replace your laptop, however, everyone is different and have different preferences or needs. To suggest that the SP4 is perfect in every situation is silly. Similarly, some- like me don't want to carry a full laptop around every day. I don't think there any sort of contradiction by offering the SurfaceBook. What you get is more options which is always a better way to go.

Exactly what jlwaters11 said. Options and situations are different. Apple did the same with the IPod. They made different sizes to fit different taste. I, for one, think it was ingenious.

exactly, sp4 is the tablet first laptop second, surfbook is laptop first tablet second. but it does both things great.options are good. more the better. i remember the days when there used to be 7 notes in all sizes by samsung, all sizes at didderent prizes. note3 neo, note3, note 8, note 10 , note 12 pro. now there is just one expensive one- note 5. and no option of removable battery or expandable storage i m glad microsoft didnt go the samsung way. surface 3, surface pro4, surfacebook.

How does them releasing a hybrid laptop negate the fact that a Surface can replace a laptop?

They have different functions. surface pro is a laptop that is good for carrying and traveling. Surface book is more capable of doing actual graphic work because of the graphic card. And one is much more expensive than the other.

Yeah, Surface is by default a tablet which will never replace your laptop unless you attach a physical keyboard to it, making it a laptop, essentially (try to write some code with a soft keyboard - not going to happen). Surface Book, on the other hand, is by default a laptop with the possibility to detach the keyboard, making it a tablet. I don't really want to nitpick on things, but it's essentially the same thing, with the only exception that Surface Book defaults to the laptop state while Surface tablets default to, well, the tablet state.

to me, they both are good devices. you have the surface pro for those who want more of a tablet experience first and a laptop experience second. the surface book is the other way around. at least thats how it seems in my opinion.

@ed1444 I agree. At home my SP3 keyboard has been sitting on my desk for a couple of weeks (I use the SP3 itself every day). The work laptops also happen to have detachable keyboards, but I wouldn't even think about using it that way as I'm more focused on cranking out work.

It's the pricing. Microsoft says surface can replace a laptop. And then it makes a laptop. Well, the thing here to be noted is the price of both these products. If you are a normal person, then you would go for a laptop, but if you're rich, then replace the laptop with the surface. As simple as that. :)

Yet the screen comes off the Surface Book for tablet use as well. So while for some things IT can replace your laptop, but for others you don't have to replace the laptop.

True. Surface can replace your laptop. There was going to be that segment of users that needed that something more, however. Whether more is rigidity between keyboard and screen, or more power via dGPU, the Surface Book I guess aims to attract those that did have issues with Surface but that still wanted a tablet experience secondarily. I love my Surface Pro 3, but I'm hard pressed between the choice of SP4 and SB for the reasons I listed.

I think the Surface Book (assuming it works as expected) is truly the "no-compromises" computing device, except for the obvious slightly higher weight *and thicker build) than the SP4. The discrete GPU makes the difference for truly higher-end computing tasks, and that's why it is marketed to those creatives first and foremost. I do think Tim Cook's comments are in light of their (Apple's) strategy of having a separate product category for the creatives and the consumers without much overlap.

Steves Cooks comment was as bone headed as Steve Ballmers comment about the iphone "There's no chance that the iPhone is going to get any significant market share. No chance," The Surface line will be a driving force for the W10 platform with the Surface Phone completing the lineup. What MS is doing right now is redefining how we interact with our tech. If they remain focused this Universal computing concept will succeed.

i would have gotten the surface book instead of the surface pro 4 if all the battery was in the tablet portion of the surface book.

Reading over the pros and cons or the differences still leaves me at a loss! I went to a store to touch and hold these guys. They really are amazing devices. Given I use a SP3 regularly for mobile work - they both provide different yet satisfying experiences. Frankly, the only reason I'd choose SB is because of dGPU. I have an Alienware 18, but I obviously don't lug that around everywhere. If I could get a little game time while bouncing between hotels for work, that seems like a plus. There are certainly more affordable gaming-focused laptops for that purpose. But then detach that damn screen and its my Surface experience (though, exclusively tablet when detached). It is so light and svelt. Tough call. To outsiders, these distinctions may appear bigger and differentiating. To us Microsoft followers (i.e. people watching them, not necessarily fan-boys), the difference is a little more subtle because SP3 was marketed as the end all be all. :( because they are both awesome that we have a choice is a great thing. Hehe. Honestly, I'll probably lean the way of the SB just because it has the more "complete" experience with dGPU, extended battery in base, and is super thin and light when I want to use it in tablet mode. I am excited to see what partners in this space do. Whatever your opinion is, it's hard to deny that these are good innovations for Microsoft and its ecosystem.

I've found so far with my SB that i rarely leave it detached for more than an hour or two. I generally find myself attaching it to the base whenever I want to do anything other than light surfing and video watching or running a quick app or two (likely games) just because I can sit it somewhere and get comfortable without holding it or at least can lay it on my legs when I'm on the couch (where I have the stock charger since I have the dock charger in the home office). I'm probably the case for the SB more than SP (even though I had a SP before this) since I generally don't find very long periods of time where a tablet is the best option but I do have times when it definitely is.

Some people preferred a proper laptop to a tablet that you can add a flimsy keyboard to (I don't think this just repeating what was said) so Microsoft is catering for them too

they shouldve added the surface book keyboard to the surface pro 4

No, what is both silly and delusional is Apple producing an iPad Pro after Tim Cook compared the Surface to a fridge and toaster! Also, what is trying too hard is pretending an iPad with a phone OS can be compared to the Surface Pro range.

That is exactly what he is saying. It isn't really a good tablet because it has a full desktop OS. Posted via the Windows Central App for Android

The point being that a Tablet running a full OS can do so much more than a Tablet running a phone OS. Recently, CEO Tim Cook stated the "iPad Pro is a replacement for a notebook or desktop." - That simply is incorrect and the real delusion here is Tim Cook. Again, he realises the iPad Pro is rubbish compared to the Surface Pro and Surface Book but as CEO of Apple needs to talk up the iPad, that's what he gets paid for. But it's still an iToy that is just really a large phone that won't make calls lol

The problem is that there is no difference between ipod and ipad but the size, while there is no difference between iphone and ipod, but the form an call function.

Tim is just trying to heard the sheep back into the yard. They are starting to wander to the better devices. NOW once he has done what he did, they will all be in line again and buy the crappy apple junk.

Surface Book is more of a laptop that could replace your tablet maybe? I agree it is kinda weird, but I think the Book goes after people who still want a more hardcore laptop and in this case, a competitor to the MacBook.

If you get them in the same room together, they disappear and you're out $2500. Didn't you read the warnings?!??

It just means you're awesome!

Nah! SB is the "most powerful laptop" designed to replace your MacBook, with added features to replace your iPad at the same time. SP is the tablet that is good enough replace your laptop...
Seriously, though, Microsoft needs a boatload of high-quality, first-party, TOUCH-FIRST apps to showcase the tablet side of things on both devices.

I'm hoping for the app gap to be filled, especially as a Windows Phone user. I'm just not confident it will happen. Win10 hasn't been out long, but I still feel people will use Windows as a desktop. I have a SP3, but rarely find myself using it in tablet mode nor do I find myself using the store apps. I introduced my mom to some games in the store and she loves it so that's something. Niether her or myself represent the masses but I've defninitely had my doubts that store apps will really catch on with Windows 10.

id be on the store all day if they had more apps. especially xbox apps since i can gain achievements from them while having fun

I think it may happen. There wasn't much incentive for developers initially. Touch wasn't prominent, and the user base was tiny compared to the Android Marketplace and Apple iOS. The Surface 1 & 2 were not very popular, the Windows Phone OS was a totally different infrastructure. With Windows 10s app store working across devices after the fall update (Windows Phone and Xbox!!!) the number of windows store users is about to make a significant jump. I can't see how developers wouldn't jump into that marketplace. You are talking an exponential increase in users & devices. What before didn't make practical business sense, is now an enourmous untapped (or lightly tapped) market.

Not sure who you're calling stupid, but just don't. Let's be civil here. I agree with your point, but you're missing a huge user base: those that moved from Windows 7 to Windows 10. That does create new users. However, I'm not sure what appeal the apps have to those new users. I feel most don't know what Windows 10 adds to their experience. MS hasn't really advertised store apps as a cool, new feature of Windows 10, which is of no surprise given their track record of missing the marketing boat on many occassions.

it means you are broke or a baller

SP4 becomes your laptop and SB becomes your tablet - vice-versa.

Some of us need a tablet that can replace our laptop, and some of us need a laptop that can replace our tablet.

But the Surface Pro line does replace your laptop, the Surface Book would be more akin to replacing your gaming laptop or even desktop. It is replacing your more expensive laptop.

That GPU isn't strong enough to replace a gaming laptop. It's just a more powerful tablet. It's not really a "gaming" anything. Posted via Note 4/Nexus 7 (2013)/Lumia 1020/ Lumia 2520

That's why the careful wording in the marketing is extremely important. Just because the Surface Pro CAN replace your laptop, it doesn't mean that it WILL. For those instances that it can't, there's the Surface Book.

It's a range extension rather than admitting that the surface was a failure, which financially it wasn't. They are simply catering for the whole market which doesn't just want a tablet. You have to admit the SP1/2 is a bit too small for heavy productivity work but 13.5" Tablet is a bit too big to carry around on your arms. It's no different than Apple releasing the original iPad and realising there's a market for smaller 7" tablets too.

except Apple didn't realize there was a market, others created the market and Apple "Realized" they would starr losing users to another platform if they didn't give them what they wanted. Just sayin'

That's called realizing a market exists. No one ever said they created the market. Posted via the Windows Central App for Android

@eddp77, just as cjallan417 and Mike Hillyer wrote, the iPad is a tablet than can replace your laptop. The Surface Book is a laptop that can replace your tablet. It's a question of priorities -- if you mainly want a tablet with far better laptop crossover than any iPad, they offer the Surface Pro. Solid tablet, made more compelling by running full Windows, and has hardware that enables it to be fully usable as a laptop (but it would be hard to argue it's the best laptop out there). However, if you mainly want a laptop, which can occasionally provide tablet features so you don't have to get another separate system, then the Surface Book is for you. The Surface Book is likely the greatest laptop ever made, but probably not the best tablet.

Agreed. But I really don't care. Microsoft is on a tear with its hardware designs. Now if they only knew how to market effectively they'd be golden.

I don't know. Have you seen the hinge on the Surface Book or how it is basically a Macbook Air clone. The Band is another monstrosity. Especially the first gen. I do like my Surface Pro though. Posted via the Windows Central App for Android

I like my first Gen Microsoft band it helps me keep track of my workouts. And other stuff. Is the second Gen better yes. But Microsoft created this and did a soft release I think it's cool. May not be for everyone but Microsoft is not saying that everyone has to have this. They are saying look at this we made this you can buy this.

Macbook air clone. BAH HA HA HA. tooooooo funny. The surface book is ten times the device the macbook PRO is let alone the air. Another thing, the hinge on the air is exactly the same as the hinge on the macbook, and macbook pro.

Different devices for different needs. Surface Pro works well for people who are mobile the majority of the time, but also are stationary sometimes, I.e. no compromise tablet, small compromise laptop. The Surface Book is for people the exact opposite, I.e. no compromise laptop, small compromise tablet. So both are devices that succeed at one thing but are also very capable in another. Whether that is sufficient depends on your need. Posted via the Windows Central App for Android

Yeah well... SP3 replaced mine, for development (!). On top of doing whatever my old laptop could do, it does tablet mode and ink aswell. Great device.

He didn't notice how hard an iPad is trying to be a Pro? Budhdha sathiya gaya hai.

Lol. In the same way the surface pro was deluded until Apple got around to copying it?

No no, apple invented it! Dont you know they don't copy, just invent!!! They are just pissed off that their device can't do half of what MSFT can do, for similar entry price...

They cut the word copy, and replaced it with invent, in their dictionary. I'd be surprised if the iPhone would let you type the word copy...wait autocorrect...invent...

At least apple can boast with the excellent office apps their iPad pro has...wait...did apple invent ms office?

Except what they really copied was the Surface RT.

Only in size and some of the functionality. It had a lot more flexibility.

This is so pathetic! I feel sorry for him and his shitty company.

You mean iPad Pro? Yeah, frankly not sure how much of a copy it really is, other than aiming for (at least partially) the same marget segment, but from a different side/angle.

.... Without an eraser Posted via the Windows Central App for Android

With iShitty battery life.

Nothing is more deluded than the iPad Pro.

Right? Even the most delusional of the Apple fanboys know the iPad Pro is the furthest thing from a pro device, yet it costs them pro dollars.

all true - but also the iPad Pro will likely sell more than the Surface line will. even though the key cover costs more than the SP Keyboard which got MS panned but Apple gets a pass even though the Pencil is an optional accessary while the Pen comes with the Surface line The reality distortion field is strong young one! https://www.youtube.com/watch?v=_jTk3Fv9ido

I think MS is happy that Apple made their accessories more expensive. That takes away the attention from them about the accessories being overpriced, and actually makes MS's prices more reasonable.

Tim Cook tries too hard to do too much," the Surface Book said. "He's trying to be a CEO and a Visionary and it really succeeds at being neither. He's sort of deluded."

Outstanding comment, you wins the internets today!!!

Wahaha! Right on Surface Book!

Seriously! Apple's innovation ended with Steve Jobs.

Don't give Jobs so much credit.

After reading his book, seeing all the so-called "documentary" movies of him and speaking to a few colleague that worked at Apple during his rein, I've come to he conclusion he was an asshole.

Haha, that much was evident all along. :P

Well we at least saw some sensible innovation and design when he was there. Now they are just making crap. And by crap, I really mean crap. They don't make any sense.

Innovation ended with Xerox PARC.

Iuno. If Jobs were still running things he would've never let the iPad pro happen, nor would the iPhone have ever embraced the phablet phenomena... hell it'd probably still be a 3.5 screen too so long as there were Apple fanboys ready to say that size screen was *scientifically perfect*.

I think there'd still be an iPhone phablet if Steve jobs was alive and still CEO of Apple, Steve Jobs was a very intelligent man and even he would have realised the trend towards phablets. Posted via the Windows Central App for Android

Media who own Apple's shares overrated Steve Jobs and iPhone, iPad, Mac and everything....

There's a reason why people love Apple: iPhone, iPads and Mac. Maybe Apple products are not for you tech nerds but they are the best for most people. Posted via the Windows Central App for Android

I dont think steve was jesus like he thought. I think he was a massive asshole and everyone just worked that much harder to do things correctly. I think tim cook is a puppet, etc. I do not think he is an asshole, but just pushed out there to do this stupid stuff instead of jon and the boys who are really in charge.

http://cdn.meme.am/instances2/500x/2833619.jpg

LOL just tweeted this to the deluded himself.

Awesome, great comment...+1 Microsoft. Apple -5

In the mobile space, Apple +1 Microsoft - 5 and that's how it will remain. That being said I think Tim Cook is wrong to say an iPad can replace a PC. Posted via the Windows Central App for Android

If Tim Cook read this... Man I would wanna see his expression!
As if his company's products aren't deluded... They're all recycled overpriced crap Posted via the Windows Central App

You Sir, won the internet! xD

To the top! Wait, this isn't 9Gag. Dammit. Alright than, other comment: *Insert "your god damm right" gif* Wait. Wrong again! Well... you know what I mean.

^ this guy deserves a cookie

@tim_cook @panos_panay: https://twitter.com/dbrandusa/status/664522142881476608

I think you will find that Cortana says the same about Tim (Paul O Grady) Cook.

What does the cook say? "ting ting ting ting, i am an a**hole!"

Next thing you know they make a similar product and they're gods -.-

Yes I do believe that Apple is going to copy the surface book eventually but Apple will NOT be gods this time. I believe that they have lost some of their swagger. I know that my statement may appear deluded because of the volume of iPhone sales still happening today. However, there is a general consensus that there haven't been much innovation coming out of Apple lately. The Apple watch by all measures has been a flop. The iPad has been declining in sales quarter after quarter, hence Apple's desire to mimic the Surface Pro.
So basically Cook has NO choice but to disparage the Surface Book. There is no question that it is the machine with all the buzz and as a result it will likely compete with the MacBook Pro. His statements are in line with most CEOs whenever there is a new and upcoming competing product gunning for you. He has the "never let them see you sweat" attitude. He needs to make statements to comfort the Apple user base, however I assure you that Apple is going to carefully watch how consumers respond to the Surface Book. If it takes off as I expect that it will, I expect more responses from Apple in many forms.
On the other hand, it is entirely possible that Cook believes his statement about the Surface Book, but thankfully it is not the CEO of Apple who is going to determine the success of the Surface Book, it is the general consumer as well as businesses. No need to call Cook names, he's doing what he thinks is in the best interest of Apple but no rational thinking CEO could truly dismiss a product like the Surface Book that's coming after you.

I get not wanting to admit you're jealous of your competitor's products, but dang.

I read that 10 min ago and literelly lol'd in the office. Dumbest thing I read all week. Now I will laugh even more as I see the ipad "pro" fail

Their next product will be an Apple Air with detachable screen, and it will be innovative and new!!!

They first have to invent a touch screen on a laptop, then they can innovate by making it detachable.

May have already been on here but: http://youtu.be/_jTk3Fv9ido

They will also invent the name iBook for it

You will be waiting awhile then it sells millions for a reason, but it will not be successful as the original though, because the price is too high and I think people are really starting to catch on about the surface line.

And all their products do too little, and succeed at being for idiots who can't use tech. I'd choose deluded over idiot-proofed any day.

True, Apple fans don't care that their iPhone is inferior just that its easy to use. Most weak sheep consumers seek validation, since everyone has an iPhone they have one too. The iPhone simply replaced the iPod. Tim's problem is the iPad is selling less and less (5 quarters down) and the Apple Watch was a flop (he still won't reveal numbers). The day the iPhone is no longer cool, Apple has a company is screwed. iCar (Tesla clone) will be the last roll of the dice.

They could go to banking. Too big to fail. Great at dodging taxes. Well connected. Milking money from sheep's like there would be no tomorrow.

Judging how successful the iPhone has been lately your prediction of the fall of Apple doesn't look like happening anytime soon. Windows us more likely to fail. Oh wait it's already a failure, and Windows 10 is just another reboot at least one that actually has promise with continuum. Posted via the Windows Central App for Android

Nice! Timmy is clearly feeling the heat having to make a statement like that. Perhaps he knows the iPad Pro can't compete with the likes of Surface Book / Surface Pro

Deluded = overpriced iPad Pro

In a few years they will copy it just like they did the Surface. And Apple will have "innovated" yet again...

How can people build iOS apps without a laptop? Please shut up :/

The same way people can't build Windows apps on a Sur... Oooooooohhhhh...

Umm, actually you can build Windows apps on a Surface. I do everyday

He was being sarcastic Posted via the Windows Central App for Android

MS put Apple back on there feet back in the days..... So they better thx MS

Don't they still own a ton of Apple stock from that deal or did they sell it back to them?

Tim should become a stand up comedian. He's got talent for it.

Pathetic and funny aren't the same thing. This man only knows about supply chain. He knows nothing about markets or technology. He will lead to the decline of Apple.

Well, I think he's pathetically funny :P

Well, his comment made me laugh, though that was not his intention. The comment is also pathetic, especially as he made negative comments about the Surface, then attempted to copy it with the lame iPad Pro. So all comments here are accurate apart from T. Cooks.

Although I don't condone his comments about the Surface Book or the iPad Pro replacing a PC, Tim Cook has done a brilliant job as Apple CEO, and will continue to lead Apple to continued growth and success. Posted via the Windows Central App for Android

He should go back to being a Drag Artist, much funnier then,

They have totally strayed away from Steve Job's vision of innovation and have resorted to copying and rehashing tech. The only thing I've seen out of Cuppertino recently is "make it bigger".

Actually, Jobs didn't innovate either. He took existing ideas and made them a different color and the "cult" of people who think they are better than the rest jumped on board. Mp3's and mp3 players existed before him, tablets existed before him, they were in the computer business for 30 years and couldn't build anything people wanted. They were bailed out by MS, he got fired from Apple, fired from his next company and then brought back to Apple. He didn't believe in apps and almost cancelled the Ipad because of the tone of white they were going to use. He is also the one who famously said "good companies borrow ideas, great companies steal them" something along those lines. The most overrated person ever.

Maybe, but contrarily to Tim Cook, he actually made better products than what he ripped off.

Tim Cook is sort of delusional.

Maybe he should actually use one before opening his mouth. it definitely succeeds as a laptop and competes well against the macbook. It actually doean't try to be a tablet. They know tablet use is limited and that's why they call it a notepad. if you want a good tablet, you get the surface pro.

It'll only be deluded until Apple makes the iBook or whatever they're going to call it. Then it'll be "amazing," "revolutionary" and "never done before."

Reinvented and magical too lol

He is such a pos. Can't stand the guy. Leader of a company that literally views it's customers as idiots and charges them twice the price for half the product because they know they can get away with it. Guy thinks he has done something. He has done nothing. He announces new models of products that have existed for years and he thinks he has room to talk. Whether or not the Surface Book is deluded doesn't matter to me at all. But he sure is delusional.

Exactly. Classic example is when he did some chest pounding after they announced iOS 7. What did he say after that, 'can't innovate my ass' or something to that effect. If he thinks that's innovating, then that's his primary issue. He clearly doesn't know what it means to innovate.

That was Phil Schiller & it was about the new Mac desktop

Yeah, that wasn't cook. That was another guy talking about their tiny desktop with a lot of power and a genius cooling system. At least it looked genius. I have no idea how well it actually worked. But that seemed pretty innovative to me. Can't modify it at all, but for an all in one package seemed super good. Posted via the Windows Central App for Android

Dang it! That was going to be my post.

The iPad pro is deluded, it's a giant iPod touch with no success of exceeding any expectations in any area whatsoever, it doesn't have phone capabilities so it's not a giant iPhone, it doesn't run osx so it's not related to MacBook's, it can't allow your palm to rest on the screen whilst writing with the iPencil, it can however be a useful note taker with the separate keyboard and Microsoft office suite, but there are millions of cheaper and better options out there than this expensive (Imo) epic fails and loss producing device. Tim, go home, you're drunk and deluded.

You missed an additional benefit to the iPencil - buy two and in-between doing some "Pro work" you can get some knitting done - a few nice jumpers for Xmas lol

Yeah, you can rest your palm on the screen. It's a Bluetooth stylus, with built in palm rejection. Super similar to the surface pen, just they use different connection methods I believe. Posted via the Windows Central App for Android

iPad Pro is beating the Surface Book in single-core CPU benchmarks already and is on par in dual-core usage. And there was a drawing test Surface Pro 4 vs. iPad Pro in one of the reviews which didn't end up well for the Surface Pro 4: The SP4 completely lost track of the line during faster drawings. "Neither system could actually keep up with my frenzied scrawl, but while the Surface Pro 4 actually lost track of the detail in my lines and seemingly made up the gaps, the iPad Pro, which was somewhat less behind, never lost the veracity of my line." There is a video of the drawing test too, so you can check it out yourself: http://mashable.com/2015/11/11/apple-ipad-pro-review/

They can put a faster processor in an iPad, it still can't run desktop applications.

Why do you want to run desktop apps on a tablet? That's the whole problem the SP4 has: It basically has no tablet optimized apps and the desktop apps are hard to use without using a stylus.

Uhh.. noh it might beat it with its pencil. But it can't beat ANY surface PRO at CPU performance and its not even close the surface pro 3 is at least 2x as fast at single core performance. Just look it up on geekbench I refuse to post links for someone that thinks the iPad Pro can beat a surface book

I think Tim Cook is again making delusion comments under an a.k.a. above lol

Yes it can according to ArsTechnica: http://cdn.macrumors.com/article-new/2015/11/iPad-Pro-Gfxbench-OpenGL.jpg

What would you expect when the reviewers are biased ipad users??? Basically the whole tech world outside of windowscentral are Apple fan boys....Even news outlet are and if you deny this reality, then you're onboard with them as well!

Ehm...no! All he said was "not by the margin you would expect", which is iSheep talk for "the pad got owned". But who cares, it's still just a dumb iPad which can't even rival the Surface RT from 3 years ago in productivity.

They tested it running full Creative Cloud correct? Oh wait.......That's right the "Pro" name is just for show. You should read some reviews by artists who are now using the Pro 4. They'll be the ones who will have the better review. I'll give you a hint. They've been really good.

Oh yea, as if you could use CC on SP4 probably. The SP4 already has problem with 4K video editing which works fine on the iPad Pro...

he may copy surface book and then call it as a revolutionary product.

So will BGR and other iTards.

Says the man that hires people from car companies that got fired, no that's good trust in apple products right there. Besides, he's a cook.... What's for dinner? Likes copying recipes and claims innovation. I say nee daft man, thats not how it works.

"Apple has learned nothing from Microsoft's Surface" http://www.theverge.com/2015/11/10/9704020/apple-tim-cook-ipad-pro-repla...

Mark Summer's comment is both utterly moronic and hilarious! The gist of his comment is I don't use a laptop on my lap therefore no one in the world does either. WOW, talk about an ostrich stuck in a bubble.

He always has the same smile...

What a Muppet, lets see the surface book go head to head with the iPad "Pro" :P. After all both products are "delusional". Oh wait, it's just the iPad pro that is delusional; it's trying to be a full fledged pro device yet runs nothing but mobile apps.

I love that picture of Cook. He has the "look at me... Im a f****** giant douch-bag" look on his face. On a side note, I was about to jump ship, not get a 950XL and get an iPhone. Thanks a** munch for reminding me why I dont want to do that.

Until Apple release their own version of the Surface Book...in 2019!

I could have sworn that was Steve Ballmer being the CEO of Apple.

Yup, reminds me of Ballmer dismissing the first iPhone.

That's exactly where I was going.

But Ballmer was completely right in dismissing the first iPhone, which lacked many features (no cut and paste remember?) and didn't have an App store at that time. It wasn't until the second iPhone that things came together for Apple. The Surface Book OTOH is not such a product, it's actually a much more mature product compared to the first iPhone. So Cook is probably the bigger idiot here.

Hindsight is always 20/20.

My comment to ipad pro: "It's a product that tries too hard to do too much," "It's trying to be a tablet and a notebook and it really succeeds at being neither. It's sort of deluded." "It cost more than two kidney for full experience"

First of all, He needs to get his head out of his *ass because if you really think that, the surface book or even the surface pro hybrid isn't the first foray into computers being more mobile. In the past there were laptops with the swiveling 360 display on them that would swivel and lay flat for a more portable use case over ten years ago. What's happening with is the current device is that they are refining this same concept while improving the displays, processors, material, and OS that drives them. Besides, he said the same thing about the Surface Pro gen 1 and even the SP3, yet look at what Apple just did with the iPad.....Trying to make it an SP3......This could be a good omen......Keep talking Tim. We will see a macbook pro with the same removable clipboard in the future and just like he hasn't acknowleged that Apple was wrong about the SP3, he won't about the surface Pro 3; They will just release their own version!

He's just jealous because Apple doesn't have touch screen support in OSX.

With a flimsy single angle cover, which will cost more than a low end notebook :P.

Microsoft Surface Book is a true masterpiece, a purely engineered hybrid device. He has no idea what he's talking to. So Shut the f*ck up Mr.Cock!!! I meaning, Mr. Cook!!

What else would you expect the CEO of a rival company to say? If he said he liked it, iPad sales could suffer.

They are SO afraid of the Surface line. :D :D

IPad Pro = Surface RT at best.

iPad Pro does have a beast of a SoC, and a complete touch ecosystem behind it. Apparently the "Pencil" is pretty darn good as well (pressure, speed, tilt). It has plenty of flaws as well of course, but it does do some things very well. And the same is true for the (M)SB.

But..... It's still only running IOS.

So first he says the iPad Pro can replace ur laptop, then he says Surface Book is deluded? I'm starting to think Tim Cook isn't that bright in certain areas. The hate is strong with him.

Wow, so obviously he doesn't remember Steve Ballmer statement to the media addressing he didn't believe people would want the iPhone ( http://m.youtube.com/watch?v=eywi0h_Y5_U )
Lol... Now look at Tim Cook carrying the same arrogant attitude about an Microsoft product. 2 predecessors off the hype of the last.
#yournotstevejobs

Tim Cook is no Steve Jobs. The laugh is going to be on Cook with all the upset fans that shell out a fortune for the Ipad Pro which is nothing more than a regular ipad with a stylus. It's not a full fleged computer and can't compete with business customers that need a real computer. If Cook wants to compete in this area, he needs to merge the touch aspects of iOS into OSX.

Yup and to be honest it may not happen any time soon either. It will probably take them two more generations to get there.

The only thing the sheep will do is BAHHHHH about how awesome, innovative and magical it is.

Does he have nothing better to do like maybe looking out for his kids? Ohh wait....

Microsoft should fully enter the hardware business, not just create new categories for devices.

Not going to happen, they don't want to lose their OEM partners completely. Although they did bring that upon themselves by churning out boring crap year on year.

it's funny because iPad Pro is a copy of the 2 in 1 surface 3 pro...

We can say copy in just size and look there is not comparison between surface and iPad that really sucks

Yeah so people can say it's history but history has a factual solid foundation. When Steve Jobs came back to Apple, the company was going under and Bill Gates of Microsoft (hold on this is where things get unbelievable) bailed out Apple by giving them $150 million dollars. Apple since then has created great products. Under Tim Cook Apple has actually become deluded just as MS has under Steve Ballmer. Microsoft got rid of Ballmer but Apple still has you Cook. Your idea of Tech is copy and paste other companies. Slap White and Silver on it and a half baked Siri into play. Posted via the Windows Central App for Android

Adding onto your last line, and an aspect ratio of of the 90s that nothing actually uses anymore

C-E-oh no he didn't. Reminds me of the time the Blackberry CEO made a similar comment years ago.

Apple is just underestimating others nothing else, Samsung has definitely better phones than present apple line up windows 10 is much better than the Mac OS and laptop/tablet no comparison between surface and iPad.....

Samsung only has better phones on paper than Apple, Apple has the better software and is properly optimised and Apple supports their phones better than Samsung, with software updates and don't give me the 'planned obsolescence' bullshit. Posted via the Windows Central App for Android

Tim Cook is such a boring man. Even the Apple fans don't care about him.

Haha, as he launches his blatant ripoff of the Surface.

All I heard was shit why didn't we think of that.

You can create two in ones that are clever (Surface Book) and category creating (Surface Pro) when you are a software company that figures out how to make your bedrock OS work on any type of device. Apple is going the exactly opposite direction by creating different OSs for its various new products. That is why Tim Cook can't see the value of "toaster fridges" or "cars that fly and float." His business model is based on selling the faithful new, slightly thinner models of pods, pads, phones, watches, TV devices, and soon, cars every year.

When they create a toaster fridge the fanboys and girls will stand in line to buy one.

...said the man, who said the same of the Surface Pro, who copied the Surface Pro with the iPad Pro, who copied also the "Pro" label...ROTOLOL...

I wish everyone would stop saying that iPadPro is a copy of SurfacePro. Yes, they share name sufix and price range but that is simply not enough.

Dude, the iPad is a glorified calculator. Can't get any more deluded than that.

Apple folks calling Microsoft as delusional... That's cute

Apple does not have any good initiatives they just copy... Dumb Tim cookies... Ha ha ha

This means that in 2017 we'll see the all new MacBook book. The notebook... Reinvented. (TM)

To me, it's the iPad Pro that is deluded. It's trying to be an iPad and a laptop replacement at the same time and it fails at both. Too big to be a comfortable iPad and too crappy to be a laptop. With Surface Book, it's a full on laptop with an ability to become a tablet of sorts if you need it. And I'm not saying that because I had a Surface Book but had to return it. Yes, Book has a fair share of software problems, but those are just software. The hardware itself is absolutely perfect. Best laptop I've ever had, even if it was just for a week.

He probably said the same thing about Surface RT when it came out and now they have the iPad Pro, which is basically a large Surface RT close.

Except that the Pro has a million apps. Yes yes, I know why that doesn't really matter - but it does. :)

I'm still sporting the Surface 2. I stopped browsing the store for new apps a while ago. It's hopeless.

It really doesn't. Apps, as we refer to them for mobile devices don't make a piece of tech "Pro." There's still a healthy gap between the sorts of applications designed for mobile and those designed for work.

It really does. What "Pro" really refers to is people using something for work. Probably 90% of work world over is done on MS Office, email and calendar. The iPad Pro can probably handle 99% of that fairly well. And those "Pro" users certainly don't mind having access to iOS catalogue of apps. I think Cook probably IS right that SOME users will replace their PCs with it (as some already have with iPads). That does not meat there won't still be a LOT of people buying PCs (aka Windows devices in various form factors).

Even taking office suites into account, it doesn't come close to being "Pro" any more than your smartphone. The app experiences of Office 365 are great in a pinch, but it don't replace the full experience for anyone who needs to use it for more than an hour at a time. They're stop gap solutions unless you're using them on Windows, which is entirely the point. The iPad replaced PC's for people who used the PC as a form of media consumption and light communication i.e. casual email, reading websites, watching videos. It didn't replace a pc for anyone that actually needed to use it for 4+ hours at a stretch. I fully expect people to THINK an iPad Pro will give them everything they need and find that they were sorely mistaken.

Be as it may 1) there are plenty of people who do do most of their work on iPads already (yes, they may have a PC as well) and some of them will be even happier with the iPad Pro 2) the original comment was companing the iPad Pro to the Surface RT, and the point remains that they are not really comparable given the huge iOS app catalogue. IMO. :)

And Sataya said this about the Ipad Pro "It's a product that tries too hard to do not too much," he said. "It's trying to be a tablet and replace a laptop and it really succeeds at being neither. It's sort of deluded."

Okay first the larger iPad is NOT similar to the Surface Pro series in any stretch of the imagination. The larger iPad can't run desktop programs and doesn't have a real processor or real OS. Notice I couldn't even use the word Pro within the name. It is only a larger toy.. Apple products aka Playschool products.

As silly as Cook's comment may be, at the same time it's probably the case that the Surface Book too needs another round or two to really perfect the product.

I personally would worry about being on the SB team. I have one and I can't think of anything I would improve on it. I've never said that about any advice before including the iPad and SP3. This machine is wow!

Apples nick name "JEALOUS KING"

He's the one that's deluded! iPad pro? Pleeeeeease!

LOL tim Cook of the Inc cool 8

Hate us cuz they ain't us.

Tim Cook is an idiot and will destroy Apple if he is not supplanted soon. Apple is delusional for thinking that they can release an iPad and put the word Pro on it without putting a real OS on there. It is the same incapable iPad it always was, but now you can draw on it with a Pencil that doesn't have an eraser. It should have been a MacBook Air with a detachable or foldable touch screen, they know it and now they want to spread fud over the idea so they don't come out looking like buffoons. The Kool-Aid is getting sour and people will move on. With all of that said, I wish no ill will toward Apple and genuinely want them to keep innovating so we can keep getting even cooler stuff from Microsoft and its partners.

They will never use windows. The only REAL OS out there. So, NO apple product is worthy of the word PRO. Should be PRE. macbook PRE. as in PRESCHOOL.

Came here to point out the same thing. It's so silly how all the tech news sites are copying and pasting the same misquote...

Maybe in 2017 or 18, they would make the mac book screen detachable, and call it idetach, and claim they where the first to think of it

Kinda funny and odd the Apple would go out of their way to slam a MSFT product. The world runs on Windows Tim

Kenzbit I agree in a few months we will see Macs do the same thing and everyone will think it "innovative" because apple made it. Apple has not been so for years. They just have stolen ideas and products from other companies

Thats exactly the point it does too much (tablet,laptop, writing pad, productiviity etc) so that you don't need to buy all these separately. Plus its funny all the windows x86 tablets(pc) did exactly (from functionality perspective) what surface book does ever since win 8.x came out. But the people don't realize that unless it comes someone from Microsoft. I can bet that people still don't understand its OS power (its a 2 in 1 OS) . There is no other OS available which has a 2 in 1 capability (Desktop + tablet). People buy a non windows tablet and then realize this is exactly what there phone can do , not sure why they bought it. On the contrary apple products are all the same - iPOD T , iPOD T + ph, iPOD T + ph+, iPOD Medium, iPOD Large, iPOD Plus. I wouldn't be surprised if many of the apple fans have atleast 3 of these at any given time.

Not like Cook. He must be worried.

He is not entirely wrong. It is a device that tries to do everything, and that comes at a cost in the form of some functionality and a pretty hefty price tag... but at the same time it looks to be pretty functional and seems to have better build quality than the apple products I have seen lately. When is the last time Apple released a new product that shook up the market?

Hefty Price tag? Apple products all carry the additional "Apple Tax" of a hefty price tag for lesser specs than competing products. Also they have always leaned more towards looking good and worried less about actual functionality. Screens that crack in a slight breeze, antennas that dont work when you hold the device. The list goes on and on. I think Apple is just pissed because M woke up and is passing them by.

Surface book is not trying to be a tablet at all. It's a laptop with a detachable screen. Microsoft is very specific in saying it's not a tablet nor is it intended to be used as one.

We all know Apple fans are going to listen to Tim.

Oooh.. Sounds like lil' timmy's feelin the pressure..

Didn't they say the same about the Surface Pro line?

He made negative comments about the Surface comparing it to a toaster and fridge (like that's not delusional) and then tried to copy it with the iPad Pro......sorry, he magically re-invented a tablet with a keyboard lol

I don't really get into the 'fanboy war' arguments, but c'mon.... The iPad Pro tries too hard in order to appear as if it deserves the 'Pro' title and yet fails miserably. It's a jumbo-sized iPad with a keyboard and nothing else special about it. iPad XL, nothing more. The Surface Book actually succeeds at being both a) a high-spec laptop and b) a decent-sized tablet - and it runs an OS that is actually suited to the intended high level of productivity with it's ability to actually be a PC, and not limited to playing games or using basic apps like with iOS. It's not even comparable to the iPad Pro-tend (I am determined to make that catch on). But maybe that's just how Apple thinks regarding technology. Microsoft's devices break the mould and 'try to do too much' in order to be new, stand-out, and useful devices. Apple's devices use existing/copied features and just feature a 'fashionable' logo and an excessive price tag. Not that I have any bias or anything :D

Similar diss to when the Surface/Surface Pro came out.. And now we have an iPad pro. Mmhm..

This reminds me of when Balmer talked poorly of the iPhone.

Apple is losing relevance. They haven't had a truly new product in years. They just keep rehashing the same products over and over. They started as the next big thing and at the times they were. Now they are that last big thing as Microsoft blows by them. They are left making poor imitations of other company's products. Kind of sad actually. But not to worry Mr Cook, you could put an apple logo on a cat turd and the faithfull will buy it.

Far less deluded than thinking that the iPad Pro will replace the PC!!?!

The iPad Pro is trying to be a Surface and it really succeeds at not being one. Fixed that for you, Cook. ;) Perhaps the Surface isn't perfect, but I think it does pretty well in both roles, at least for me. When using my Pro 2 as a laptop I don't feel like I'm having to comprimize over a normal laptop, other than it may be nice to have more than one USB port (although the new Macbook only has one port for everything, including power). The iPad works well for what it does, but it's still not quite there as a power-user's machine. The Surface Pro perhaps doesn't have as good of a tablet app ecosystem, but I feel that it's good enough, especially since MS cleaned out the app store of bad phoney apps and 10 has encouraged more development. The 3, Pro 3, and 4 seem to be selling decently as well.

he is just doing his job people ... so much hate in this comment section ... he is just poking fun at microsoft ... he knows how MS bailed them out back in the day and that Office on Mac drives mac sales ... what's he supposed to say? "the surface book is a great device ... you should buy it instead of my company's products" ??? chill out peeps :)

His job is to make idiotic comments? To me his comment reeks of arrogance.

Somehow I would be disappointed and surprised if Satya came out with a crass dissing of iPad and Macs products, because Satya has more class and intelligence.

Deluded? Well, he's entitled to his opinion. However, this comment only comes up, when MS decides to make this type of device themselves. I wonder if this was his mindset, when other OEMs made similar devices? Probably not, it's just that I find it kind of funny that he would call the Surface Book deluded, when the iPad Pro is even more so. Outside of the split window and pencil, what does it do that any other iPad can't. I would say the word he would be looking for the iPad Pro would be diluted. You get a couple of features of the Surface Pro or Surface Book, but not really.

Lets see Cinebench results for Surface Book, then we'll know for sure.

It's so strange. For a tech company that likes to position itself as the maker of optimal products for creators and artists their perspective is incredibly limited. Most artists like to dabble in multiple mediums if for no other reason than to recenter themselves so that they can go back to making their art. As a writer, I like to draw. It helps me clear out the cobwebs, and flex new muscles for telling stories. A laptop that lets me make art in both the ways I love is the exact opposite of deluded. It's perfection.

Sure thing Tim, whatever you say

Didn't they say something similar about the surface, and then completely validate it by copying it... Badly. Sorry Tim but the general public is starting to wise up to just how bad Apple are. Microsoft are delivering vastly superior, more elegant hardware that weights less and is thinner than the shitty mobile running OS hardware you're churning out. Like one reviewer said, I can't find fault that the surface 4 pro isn't perfect for touch, when the iPad pro can't even run adobe's full suite of software :) Apple really need to be scared by this new passionate Microsoft!

EXACTLY. JUST WATCH. TWO YEARS DOWN THE ROAD, THE NEW MACBOOK 2 IN 1

Sadly for Apple, it will be pretty hard to make a 2 in 1 Macbook because ios isn't built for touch. :/

I think you meant OSX is not written for touch.

There in lies Apples true dilemma. Microsoft has been working for years on creating an OS that works everywhere and taking a lot of heat foe the steps along the way. Now the vision is finally coming through and Apple and Google are starting to worry. If MS is successful with this, they know they are years behind. Just a couple weeks ago, Google leaked that they are combining ChromeOS and Android even though they are vastly different. They too see the writing on the wall and know they are way behind. Apple is in a bad spot though because OSX isn't even close to being touch friendly and IOs isn't close to being a full desktop OS. They are miles apart and no amount of money can fix that quickly.

The 'shitty' mobile OS is blowing Microsoft away, in sales of iPhones of late and does look like slowing down anytime soon. Thus is just the sort of comment from a deluded Windows fanboy. That being said, Tim Cook is wrong for thinking an iPad Pro or any iPad for that matter can replace you laptop or PC. Posted via the Windows Central App for Android

I was kind of hoping for more civility from Tim Cook after Apple and MS appeared to bury the hatchet buy inviting MS on the stage at the announcment of the iPad Pro. I guess somethings never change. One of the reasons I really like MS is that they are willing to play nice with others (they haven't always) and it is really starting to pay off. Oh well, maybe Apple's next CEO will be a little nicer.

And the new MacBook is just a laptop and fails at doing that, but really succeeds in just being a tablet, which makes the laptop form factor impractical. Nobody should buy the new MacBook. They should just buy the iPad or a MacBook pro if they insist on apple. Or they could go with Microsoft and get the best of both worlds.

When it comes to Surface Book: Good luck trying to make people move from Os X to W10 - it ain't going to happen because of the operating system. Professionals tend to use software and not the OS. Windows is always present which is why it keeps on failing. But the Book looks georgeous no doubt about that.

Says the guy who makes gadgets that dont do enough

Saying the Surface Book is deluded whilst releasing an iPad "Pro" which is the most deluded device ever. Putting the "Pro" name to an iPad is the same as selling a toy toolkit in a hardware store. ‪#‎ShakesHead‬

Hahahahahahahahahahahahahahahahahahahahaha no

Great men never need to talk bad about their competition.

http://m.youtube.com/watch?v=copFbjdQryM

(Clears throat) Let us not forget how useless the iPad Pro is compared to the Surface Book.

Surface Pro: "I am l tablet that can replace your laptop that's not a Surface Book" Surface Book: "I am the laptop that can replace your tablet that's not a Surface Pro." That's how I see it.

Ad hominem fallacy. Cannot prove a point with rudeness. Posted via the Windows Central App for Android

People wanted a Surface laptop, they've got it now and people here are still complaining?

His comment is just eluded

Tim's an ASS and the only thing Apple can do is look (somewhat) pretty!

Tim Cook is a troll. Microsoft is essentially showing their respect to Apple's line of laptops by creating a piece of hardware that not only rivals, but has outdone the Macbook Pro line. This doesn't shock me the pettiness from the Apple camp. They live in a bubble where they can release and re-release the same product and depend on their blind loyalists to continue to by their rehashed products.

Surface Pro is a combo of iPad likes and Dell XPS like laptops. Surface Book has a potential to do what an Alienware laptop has to offer. Am sure, there would soon be the day when Surface Pro would come with options of Type Cover / Additional GPU Cover. So far liking Surface Pro 4.

2017: Apple invented the laptop with detachable screen

what about a stupid ipad pro that tries to be pro and isn't pro at all.

This guy is Deluded..aftersaying whatever he said about the original Surface & now copying the same...wonder who is deluded. Enough said.

What Tim is failing to see is that very soon there will be no real difference between a tablet and a laptop. So ya Tim I just think you're jelly.

Meanwhile, on latest Ipad Pro reviews, people just wish it could behave more like the surface. Oops.

No offense, but as awesome as all the devices I carry aroound are (1520 2520 SP2 SP4) I bow to the Ipad\MacBook\Iphone of yesteryear! Microsoft IS blowing my mind these days. I see where they are goin and it is absolutly incredible. But just a few short years ago, NONE of this stuff existed, while the Apple products showed the world how to be mobile! I am not apologizing for the silly remark Apple CEO made though. That's how you spin getting passed up in the race you were the longtime leader of.

Tim Cook is more of a spokesperson than a leader. Kind of like Major Nelson. But I like Major Nelson much better.

Nelson is so Dadcore its cringe worthy

Surface Pro 4 or Surface Book. To get one of those is gonna be like 5 yearrs!!

Replaced my MacBook Pro and SP3 with a surface book

"It's trying to be a tablet and a notebook and it really succeeds..." - Tim Cook direct quote

I bet the next MacBook pro will have a detachable touchscreen too.

And the next iPad pro will have macOS with a touch-type cover

They said the same thing about the Surface

I can see Tim Cook as Apple's Steve Ballmer...
Remember Steve mocked iPhone the same way....

The iPad pro is basically a computer for moms. There's certainly nothing "pro" about it.

If Surface is deluded... then what does that make iPad Pro? But just you wait wait.... When they come out with their surface clone, it will be labled an industry first and innovative and iFans will claim Apple made it first. Cook... your jelousy is showing again. LOL

That's a lot of bull excrement, even for Mr. Cook.

The chap can talk when his company put out a decent io feature rich tablet with a surface clone type cover kb with a decent keyboard and backlighting. The surface book may be deluded but the iPad pro is confused.

And that's why we have more than 67% windows pc in the world, and unfortunately rest 33% are not all Mac :D

And thats why that w10 surpassed OSX in numbers in less than three months of being released to the public. Because windows is the real superpower in computing and apple is for school kids and hipsters.

It must really be a pretty good product for him to go out of his way to criticize it. Otherwise, just ignore it till it dies on it's on if it's that bad.

In future.... Next Macbook Pro same design Microsoft Surface book... Then apple will patent that design... WTF apple xD

His comment is certainly deluded, not the surface book that pulls off being a notebook and tablet very well. Typical Apple coolaid :S

Yeah, Tim, keep telling yourself that. This is the first year that Microsoft released sexier hardware than Apple, which is now chasing Surface with the iPad Pro. Steve Jobs had vision. Tim Cook? Not so much.

I would rather try to do to much Than to little. IPad "pro" is still a super expensive iPod touch. Call me when you can install a real program and not just an app.

Or have expandable storage and USB hosting!

Hahahah. That....oh man. That is stupid.

So how long before Apple bring there own version out as they seem to love copying eveyones elses ideas and then try to brand them as origional

'So deluded, we're basically copying it'

at this point I lost the pinch-size respect I had for him.

Tim Cook - and many comments here - are funny. There is nothing wrong with being creative and ambitious with hardware and software designs, even if the surface tablets and surface book are late to the game. Cook, and Jobs before him, don't really offer much. Of course, Jobs was around in the 70s and 80s helping to push the industry forward, but what have they (Apple) ever done to truly push the envelope? Everything they have ever done is just an evolution of software and hardware that already exists. Therefore, his comments and opinions on MS and any of the surface brand items are meaningless.

Cooks is biased, softy cook

Not sure why they even put this news about softy cook here

Wait... Tim Cook is talking about the iPad Pro, right?

So now Apple "invented" sufrace once again

Really embarassing. But it doesn't top the laughable presentation of Apple TV as the new gaming console. This would never have happened in the Jobs era.

All fanboism aside, Apple are scared. The surface laptop dumps on the mac book - and the iPad pro is yet another iteration of the same device. How many times can they make an oversized iPhone before someone calls them out? Lets face it, you can only make it so much thinner, the battery last so much longer, the processor be so much quicker. If you don't develop the OS (significantly) it's just the same device in another wrapper. It is genuinely a pity that Steve Jobs shuffled off this mortal coil. He was a visionary, and knew exactly where he was going. Apple is running around like a headless chicken now, trying to convince itself (and maybe it's market) that all people need is the next iteration of what is ultimately the same device to be happy. The fact is (for what it is) the air 2 is/was perfect, you really can't improve on it (I should know, I have owned an iPad 1,2,3 and now air 2) their time at the top is up, and I think they know it. Microsoft has gone balls in now, potentially alienating their hardware pals in Dell and HP by going down the hardware route, but I wish them luck. I am selling my iPad now, I am getting a 950xl and a continuum dock, and I think that is going to satisfy all my mobile needs in one. Just my two pennies.

And that is exactly why Apple is no longer considered the most innovative tech company, Cook seems to oppose innovation and prefer reiterations. Meanwhile Microsoft is revolutionalizing technology (e.g. surface pro, surface book, continuum, hololense, hello, ...)

I think you meant to say the new ipad pro is like the surface. It's not like the surface pro in anyway. Actually it should be compared to the surface rt if anything.

Yes! I'm surprised it was said wrong in the article! It feeds into and promotes Apples' idea / mentality that this big iPhone called a "Pro" device, is the same as, and a competitor to the Surface Pros? Do I need to explain it?

actually its NOT like the surface either. My surface 3 has full OS on it, not a half backed mobile system.

Half baked is what Windows Phone is, iOS is a mobile OS done right. But Windows 10 is kinda promising. Posted via the Windows Central App for Android

If it wasn't for Microsoft this guy wouldn't even be working for Apple. He's just jealous this is such an amazing product.

Diluted isn't much better. And this is funny coming from a bean-counter like Tim Cook. Apple hasn't had an original idea since Steve Jobs died.

More than curious to see if the iPad pro succeeds where the RT failed. Different sell pitch for very similar product. I'm still rocking my surfaces 2, and still believe that this was a solid and great idea and feel conflicted now that the neighbor will capitalize on it.... Or maybe not, and that will give me some piece of mind knowing that if the isheeps didn't pay for this, the RT was never meant to be.

Nothing change at apple...always arrogant.

Looks like he needs a breath mint...How about a bag FULL of em..

I bet the next ipad will have a detatchable feather duster and clean your house

He is jealous about the surface book because he can't make one. Still don't understand why someone considering buying a iPad pro instead of surface pro 4. The price difference is not too much.... Posted via moto x play

i see fear and jealous in his comment.

Cook is the new Ballmer, in a more homosexual way~ Posted via the Windows Central App for Android

What a nonsense comment from a f***king gay man.

He's clearly deluded. It's because you actually can't do anything with an iPad Pro. And no, I won't believe anyone who claims to be a "professional" if that person is using an iPad.

I almost gaurantee you Apple will copy the Surface Book very soon. C'mon, they completely ripped off the design of the surface pro 3. A friend states that we completely ripped off the name from apple by using "book"... sure whatever. He's probably right but thats just the name...the device itself was completely unique. I think copying the name is one thing, but copying the device iteself is a whole other level on its own of copying.

I have a Surface Book. It is by far the best machine I've ever owned. It is truly amazing. It makes the MacBook's look old and silly. And omg, the iPad pro, what an embarrassment! Maybe Tim meant the iPad pro when he was talking.

Had a friend come over last night and was curious about my SB but couldn't login. It was so cool when I could walk over and just look at it, and it logs in. He was wowed by that simple thing not to mention the machine itself.

He better! This guy Tim Cook, of course he's gonna trash every other product. Look at their products macbooks are same laptop from decade ago, nothing new at all, whole surface book has touch screen, pen input, is soo much more! They want to sell everytuing individually and incrementally, so much so that the Surface Book is the antithesis to their whole ideology of ripping people off as much as possible. While Microsoft throws all the best x 10into a single product- APPLE AND COOK AND IT'S CONSUMERS ARE ABOLUTELY DELUSIONAL, JOIN US IN THE 21ST CENTURY! wow! How arrogant, how dare he. WINDOWS 10 IS A MASTERPIECE, it even runs iOS apps, what is he smoking! Jealous, red faced baboon! He knows the truth but has no balls or respect to congratulate MS on such an amazing accomplishment software and hardware wise, and give people so much in one product. Cook, I'd slap you right now!

Tim Cook was the guy who just invented the half-backed Surface Pro 3 clone, right?

Please dont cry Apple CEO