Twitter experiences widespread hack in coordinated cryptocurrency scam
The hack is affecting a number of high profile accounts on the platform.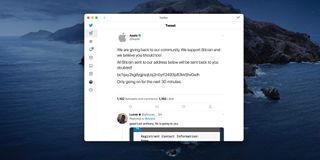 (Image credit: 9to5Mac)
What you need to know
Twitter has experienced a major security breach.
The breach has resulted in a number of accounts sending Bitcoin-related tweets.
The hack appears to be part of a widespread cryptocurrency scam.
Twitter is currently experiencing a widespread security breach that is resulting in a number of high profile accounts encouraging their followers to send Bitcoin to an unknown account.
Update 7: The New York Times reports that the hack started as a quest for usernames but then evolved into a Bitcoin scam.
Update 6: Twitter says they believe the hack was the result of a social engineering attack against some of its employees with access to internal systems.
Update 5: Twitter CEO Jack Dorsey has apologized for the security breach and says the team is still researching what caused the hack.
Update 4: Twitter has limited additional account functionality for more users, not just verified accounts.
Update 3: Some verified Twitter accounts are able to tweet again but only temporarily.
Update 2: Verified Twitter accounts have had their ability to tweet disable but can retweet.
Update 1: Twitter's official Support account has acknowledged the breach, saying that they are actively investigating and working on a fix.
Apple, along with a number of high profile Twitter accounts like Elon Musk, Uber, and Barack Obama have all been affected by the breach. While each tweet has been slightly different, all link to the same Bitcoin account.
In response to the hack, Twitter has currently shut down all verified accounts from being able to post on the platform.
Verified accounts can retweet, but are unable to tweet.
Additionally, non-verified accounts are being affected by Twitter's attempt to remedy the situation. Twitter is recommending everyone reset their password.
Hours after the hack, Twitter CEO Jack Dorsey has apologized for the security breach and says that the team at Twitter is still working to understand how the hack occurred.
Twitter says that the hack is the result of a coordinated social engineering attack against a number of its internal employees which gave the hackers access to internal systems.
After interviewing hackers claiming to be involved in the security breach, the New York Times is reporting that the hack began as a quest to obtain sought after usernames. Then, one individual began engaging in a cryptocurrency scam that affected a number of high profile accounts.
This is a developing story and we will update as we receive more information.
Windows Central Newsletter
Get the best of Windows Central in your inbox, every day!
WhatsApp went offline worldwide on Tuesday, now Twitter gets a major hack. All this since the UK said Huawei kit had to be gone from our infrastructure in 7 years. I'm not saying there's Chinese involvement though...

It was also sunny yesterday, in NYC, just like it was when Instagram was hacked a few years ago. Let's also not forget that cybersecurity stocks have been going up since COVID 19, giving incentive to see more of these attacks. And on July 15th, 1099 the city of Jerusalem is captured and plundered by Christian forces during the First Crusade, Coincidence? I'm not saying... Or, you know, none of this has anything to do with anything and that's not how rational people come to conclusions.

Hahahhaha.....Conspiracy Theorist kill me!!

What day was it when aluminum foil was invented?