Apply filters to your video in real-time with Vixl, now on Windows Phone 8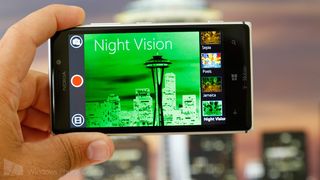 About two weeks ago we told you guys about Vixl, a pretty cool videography app coming soon for Windows Phone. The app is made by the same guys who make Pixl, one of our favorite Flickr apps. Well, you can now head to the Windows Phone Store to try and buy Vixl for Windows Phone.
With Vixl you can create 20 second video clips and share them to Facebook and Flickr, with more social networks (like YouTube and Vimeo) coming in a future update. The app is unique in that you can apply various filters to your video in real-time while recording. You've got fun choices like Lomo, Vignette, 8mm, Black and White, and more. You have 14 total filters in all. See a sample video here.
Future updates for Vixl will bring sound, new filters, more networks to share, a Windows Phone 7 version, and whatever else you suggest through comments and feedback.
Vixl for Windows Phone costs $1.29, but there is a trial that lets you completely demo the app with the exception of sharing to Facebook/Flickr. Grab it in the Store, use the QR code below, or swipe to the right in our app.
Get the Windows Central Newsletter
All the latest news, reviews, and guides for Windows and Xbox diehards.
What's the deal with all these "filter" apps?
I don't get the obsession. About this particular app... no sound?

And that hipstamatic app is just terrible, I've been trying to appreciate it all day... and it's just not happening.
Let alone the UI and app performance, which is even worse.

I had to reboot after installing Hipstamatic and it behaved. Here's my day of playing with it:
http://phonetographs.wordpress.com/2013/07/26/hipsta-6/ As for this app, I'll look at it after they put sound in it. What I'd like to see instead of filters are "frames" for video. One could just make it look like you were looking at a camcorder recording. You could have a book where one side is the title and the opposite page is the video. There could be a variety of screens like old TV, drive-in, etc. Those would be fun to share.

Yeah, it will change the world when Vixl's videos become "talkies". LOL

Easy on the crazy eye bro!

Agreed. Hipstamatic is very disappointing. And slow. and the fact that you have to pay (later on) for various (sucky) filters and stuff.

Oggl Pro is crazy Android slow!!!

A video filter app with no sound? Lol

Is this available on iDroidBerry❔

The sooner we stop comparing Windows Phone to iOS/Android and instead are being compared to, the sooner we become a major platform.

Yeah, that sounds good in principle, and I hope that happens some day, but the reality is that WP is trailing far behind iDroid in the app area.. So, it is nice to know that when we get a app is it exclusive to WP or does it exist on other platforms as well... News that apps are being ported from iDroid is good news because we know that those developers, new developers to WP, are getting interested in making apps for WP.. And, its a domino effect, as far as developers go, because they are inherently sheep for the most part, and that's understandable.. Nevertheless, yes,, I have similar dreams as you do...

That's backwards. When you become a major platform, people start comparing stuff to you. Like the iOS 7 UI. Or the BB10 UI. Those look like WP.

That's what I said, silly ;) "...instead ARE being compared TO..."

I love to see these saved to my camera roll so I can later save it to my PC.

Videos are a foreign thing to me on a phone with half my storage lost to the "other" world

Same, I've been hopping they make a Micro USB to SD/Micro SD connector, so we can have external storage for videos/music hasn't happened yet though.

I don't get why people are having issues with other storage, my 32G is almost full and I only have 1G of other storage use. Maybe it depends on what you download? The majority of my storage is in music, followed by apps and pics.

I think it depends on the phone. I have an HTC 8x which is 16gb. I initially had about 11gb of music on here and now I've deleted music to the point where I have about 6gb left, trying to constantly make room just to take pics sometimes. My other storage is up to almost 6gb

I've got about 3.5 GB in other storage, but I know that at least 2.5 of that is offline maps.
The other gig... I don't know, some of it has to be app settings & temporary files.
Joe Belfiore said that SkyDrive's auto photo upload was causing problems, but some people here seem to still use it... then complain about massive "other" storage. I'm sure there are some other things causing the issue too. One thing is music duplicates, I've heard GDR2 is supposed to improve if not fix that part though.

Why would I not use the feature that I'm supposed to have? It's not my fault that it's buggy. It's their fault if they can't push a simple fix though.

Why? Because it's YOUR problem. Do you think you're sticking it to them by continuing to use the feature?
You've been warned, continuing to use the feature and whining about the result is asinine.

It depends on what you do with your phone. I had 1g other storage for quite a while until last week. I installed a photo viewer and editor, now it's 2.1 gigs. I can't imagine people with 920s or maybe 1020s because if you have a good camera of course you're gonna want to use these apps.

This is a fun app, looking forward to additional features.

Where's the x-ray filter that shoots through clothes?

Does it make anyone else a little nervous allowing an application to ask for your Facebook credentials to share?

It should be so you can post on Fb, many apps do this. It should take you to a browser looking Facebook page to enter your credentials and then confirm that you want to give that app access, if it doesn't (like instance), then you might have reason to be concerned.

That's the classic m.facebook login page. By classic, I mean that it has been the same page for many years. The situation is exactly the opposite: with oAuth, you can be sure that the application won't steal your credentials, because it will just not use it, but an authorization token that you generated.

Look forward to trying this one

Why anyone haven't talk about jitters 920 often creates on recorded videos everytime fucking time using a third party app? happens on Vyclone and Vimeo too. how do i have to say about 920 videos where there be no quality left at all? PLEASE FIX IT. JITTERS, LAGS.. whateverGDR you got you better include ALL THE 'VIDEO' bug fixes!!!

I think that a decent framerate (at least more than 20 FPS) with no jitters starts with 920 devices, and other 1.5GHZ devices. And I'm speaking about a video with no effect, not saved on the fly, and not in HD, but in a video editing context. Hopefully, with C++ on WP8 and Nokia improvements, someone will make something great once a day, so that the device can be used for professional video stuff.

I haven't notice any of that, but I've only taken about 3 videos. 822

This looks like a nice app. It's great to see more of these and other apps available for Windows Phone.

I'll buy it if sound is already enabled in the app. :)

The lack of video editing continues to be a significant weakness for WP.

You haven't heard?
It's coming with Amber I think, and maybe only on certain phones.

I'm actually thinking of using this app to shoot a web series. I can capture the audio using an shotgun mic like I'd normally do anyways.

Murani! Awesome idea, here is the Pinterest Board: http://pinterest.com/mmudassir/vixl-share-your-stories/ and share your stories there!

The developers were supposed to release an update with sound after one week. Now it's been more than a month and still no update in sight. Not really reassuring about this project :-/