Windows Phone Apps and Games from the Nokia Collection
Windows Phone Central App Roundup: The Nokia Collection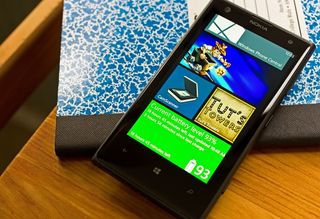 One of Nokia's key elements to success in the Windows Phone market was delivering quality apps and games to the Lumia Windows Phone line. We've seen quality apps such as Sophie Lens HD, AccuWeather, Benji Bananas as well as the line of Nokia imaging apps (Camera, Creative Studio, Video Trimmer, etc.) and navigation apps (Here) populate the Nokia Collection in the Windows Phone Store.
This week's Windows Phone Central roundup we take a look at four titles in the Nokia Collection that are among the newer members of the collection that may have snuck under the radar. We'll take a look at two games and two apps and fear not if you're sporting an HTC or Samsung Windows Phone. Three of the four titles are not exclusive to the Nokia Lumia Windows Phones. While listed in the Nokia Collection, several of the apps the collection have lost their exclusivity or were released platform wide.
CamScanner (free): CamScanner is a document scanning app for your Windows Phone 8 device. You can scan just about anything you can take a picture of. That would include receipts, invoices, contracts, magazine articles, reference books, business cards, tax returns, and certificates.
When you first launch CamScanner you'll need to set up an account with CamScanner.net (opens in new tab). While the app is free, access to a handful of premium features (cloud storage and OCR to texts) will cost you $49.99 annually. Fortunately, CamScanner is running a promotion through the end of November for a free, one year subscription to the premium features.
CamScanner's main features include:
Auto detect and crop of scanned images
Smart enhance to get the right exposure
.PDF file support
Text search with scanned documents
Copy, move and merge documents
Cloud support through CamScanner
CamScanner Library Page and Adjustments Screens
The app is laid out about as simple as you can get. The main page is a library of scanned documents with a camera button at the bottom of the screen to start the document scanning. Up under the three-dot menu you'll find options to sync your documents to the CamScanner's cloud service, select and sort the documents in your library and access the settings.
Settings cover your account information and a few general options that include syncing only over WiFi and choosing your default enhancement mode. The Settings Pages also offer options to boost your cloud storage slightly by rating the app or inviting friends to try CamScanner.
CamScanner's Settings
Document scanning is on par with any other scanning app for our Windows Phone. Once you tap the camera button, line up your document on the screen and press the shutter button or just tap the screen. Once the document is captured, CamScanner will attempt to automatically crop the image. If things aren't just right with the crop, just manually adjust things.
From there you have a series of adjustment screens to navigate through where you can adjust the exposure, sharpness, and contrast of the document. You can also apply one of five enhancement settings to your document that include original, lighten, magic color, black & white, and grayscale. The magic color setting seems to give the document a noticeable boost in contrast, brightness and sharpness that gives things a bit of a pop. Once saved the document will be added to your document library where you can pull the document up to share, edit, set tags, pin to your Start Screen, or add additional pages to things.
CamScanner Document View, InNote Integration and Page View Fully Zoomed
When you are viewing a document you can re-edit the page, edit the page name, share the document as an image or .PDF file, pin it to your Start Screen or delete it all together. You also have options to annotate the document, add a note to the document and apply the OCR filter.
The annotation feature requires InNote to be installed on your Windows Phone. InNote offers an easy way to highlight sections of a document, mark up a document for editing or just doodle away on a document.
CamScanner is an impressive document scanning option for your Windows Phone 8 device. The app has a simple, straight forward user interface and document quality is really good. I think what hurts CamScanner is the cost of the premium features. I would rather pay $4.99 for the app and have the option to use my SkyDrive account. The cloud storage does include 10GB of storage space but I'm beginning to wonder if the sky is getting too cloudy.
CamScanner is a free app for your Windows Phone 8 device. Through November 30, 2013 when you register with CamScanner you'll get a free, one year subscription to their premium services. After that, it'll cost you $49.99 per year.
You can pick up CamScanner here in the (opens in new tab) Windows Phone Store and it is available for all Windows Phones.
Tut's Tower (free): Tut's Tower is a painstakingly frustrating Windows Phone 8 puzzle game. And that's not necessarily a bad thing.
You are given an assortment of shapes that you have to stack and balance. Once you get the last piece in place, the stack must be stable for ten seconds before you can advance to the next puzzle level.
Tut's Tower's Main Menu, Tutorial and Game Screen
Tut's Tower has three difficulties (Easy, Medium, and Hard) that progressively become unlocked as you progress through the game. You also have a level creator where you can create and share your own puzzles with other Tut's Tower players or download their creations.
Game play is simple but don't let that fool you. The game screen has a base pad at the bottom of the screen and your playing pieces lined up at the top. Playing pieces range from blocks of assorted sizes to triangles to bars that you balance on pegs. Just tap and drag a piece into position and repeat those steps until all the pieces are in play. When you place your last piece, a countdown timer will start and if your creation stays balanced, you get to advance to the next level.
Tut's Tower's Puzzle Levels and Level Creator
Tut's Tower is one of those games that can be so challenging you'll toss it aside out of frustration but oddly get pulled back into playing the game. The physics based puzzles border on being cruel and the level creator allows you to vent your own frustration out on other players of the game.
Tut's Tower is available for all Windows Phone 8 and 7.x devices. It is a free, ad supported game and you can find Tut's Towers here in the (opens in new tab) Windows Phone Store.
Battery Sense (trial/$.99): There are a ton of battery monitoring apps available for our Windows Phone. While Battery Pro + is sponsored by Nokia, Battery Sense is part of the Nokia Collection.
Battery Sense Main Pages
The main pages for Battery Sense cover an overview of your battery status (percent charge, time remaining, etc.), a history graph, and details stats. Up under the three dot menu you'll find options to add the app to your lockscreen, view an assortment of tips to maximize your battery life, and an audible reading of your current battery status.
Battery Sense Control Panel and Settings
Battery Sense's setting may set this app apart slightly from other battery apps. From the settings you can:
Set the color of your Live Tile which includes defaulting to your theme color, choosing a separate color or choosing a dynamic color that changes as your battery level lowers.
Set how your battery life is estimated. Your choices are Battery Sense Style and Windows Phone Style. Battery Sense provides a more accurate estimation but takes a little longer to calculate due to the need to learn your battery usage history. Windows Phone Style will use the native or standard estimations used by our Windows Phone.
You have a handful of notifications that include being notified when the battery is fully charged and when the battery is less than 25%.
Battery Sense has a battery drain indicator the will notify you when the battery is draining quicker than normal. This setting has three sensitivity levels that determines how quickly you'll be notified. High sensitivity notifies you immediately once a battery drain starts. Lower sensitivity waits until the draining becomes serious while medium sensitivity is somewhere in the middle.
Speaking of Live Tiles, Battery Sense supports all three sizes of tiles with the larger tile displaying your current battery status and how much life is left.
For the most part, Battery Sense performed on par with the other battery apps we've tested. I did get random notifications that my battery charging was complete hours after I had removed my Windows Phone from the charger. Beyond that, the app ran just fine.
Battery Sense is available for Windows Phone 8 and there is a trial version available. The full version will run you $.99 and you can find it here (opens in new tab) in the Windows Phone Store.
Rail Rush (free): Rail Rush is a relatively new Windows Phone 8 game that first came to light during Nokia World 2013. The game has a Temple Run feel to it but instead of running across hill and dale, you're piloting a runaway mine cart. The task at hand calls for you to safely guide the cart through an endless mine shaft collection precious stones and gold nuggets. All the while keeping your cart on the tracks.
Rail Rush Main Menu, Missions, and Shop
From the main menu you can access game play, visit the game's shop, check out your missions/achievements, and access Rail Rush's options. Options cover replaying the game's tutorial, muting sound/music, viewing which gems you've collected and visit your gaming stats.
The Shop is where you can use your collected gold nuggets (or cash via in-app purchase) buy/unlock additional characters, upgrades for your cart, and other bonus items that can help you survive the mines. You can also get a head start on things and buy extra nuggets through in-app purchases.
When you first jump into game play, Rail Rush will walk you through a tutorial detailing all the moves needed to navigate the cart tracks. In a nutshell, you swipe at the screen to jump your cart left, right or up and duck to avoid obstacles and other situations that will end your journey. Tilt controls allow you to lean your cart left or right to collect objects and avoid obstacles.
To keep things interesting, Rail Rush has four worlds to conquer. The first two are free with the last two costing you $1.49 through in-app purchases. You can bundle the last two worlds for $2.49.
Rail Rush World Choice and Game Screens
Game play has a fast pace to it and if your attention wanders for just a second, you'll find your cart crashing to the bottom of the mine. There are plenty of twists and turns to navigate through and hidden paths to discover. As with most games of this nature, the longer you survive, the pace of the game increases.
Animations are fantastic, game play challenging and the Rail Rush has an addictive draw to it. My only nit is that the game is a little heavy on the in-app purchase options. Rail Rush would easily stand up to a $.99 price tag to reduce the need for so many in-app purchases. Heck, it might even stand up to a $1.99 pricing point.
Regardless, Rail Rush is a great game for your Windows Phone 8 device. It is currently only available for Nokia Lumia Windows Phones. Rail Rush is free with in-app purchases to expand your gaming features and it can be found here (opens in new tab) in the Nokia Collection of the Windows Phone Store.
Overall Impressions
Nokia has done a commendable job of not only designing quality Windows Phone devices but also with the support they have given the platform. In many respects, apps and games drives our Windows Phones and with the Nokia Collection we have access to some appealing apps and games.
CamScanner is a solid document scanning application but may be held back by the optional cloud service fee. I like the ease of use but it's a close call whether or not HandyScan (another quality scanning app) is the better option.
There are plenty of battery monitoring apps available and it is likely a matter of personal preference as to which is the best. Battery Sense is definitely one to consider but Battery Performance or Battery Pro + may suit your fancy a little better.
Tut's Towers and Rail Rush are two quality games to pass the time with. Rail Rush has a little more gaming to it with four worlds, multiple characters, and a hefty amount of in-app purchases to extend the gaming. While Rail Rush is more of an action game, Tut's Tower is more of a thinking game. Just as challenging but from a different approach. Both games are a fine addition to the Nokia Collection and the Windows Phone gaming library.
The Nokia Collection has grown considerably over the years and many of the titles are now available for all Windows Phones. We've touch on a few of the titles and if we've missed your favorite Nokia Collection title, sound off below in the comments.
George is the Reviews Editor at Windows Central, concentrating on Windows 10 PC and Mobile apps. He's been a supporter of the platform since the days of Windows CE and uses his current Windows 10 Mobile phone daily to keep up with life and enjoy a game during down time.