First look at Solar Warfare for Windows Phone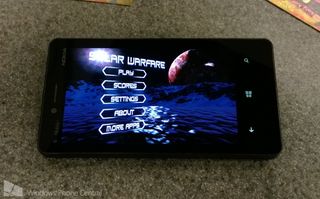 A few days ago, we highlighted three children's games for Windows Phone that two-man indie developer TegTap brought along to Apps World. All great games for kids, but older gamers in our audience will naturally crave a more substantial gameplay experience. Luckily TegTap is poised to bring just such a game to Windows Phone 8 in the next few weeks…
We're pleased to bring you this exclusive first look at the Windows Phone version of Solar Warfare (not to be confused with Star Warfare!) from TegTap. A 3D sci-fi shooter with expansive levels, gigantic bosses, and lots of ship upgrades to unlock, Solar Warfare is poised to take shoot-em-up fans by storm. It will even feature MOGA controller support shortly after launch. Head past the break for our hands-on video and preview!
Solar avenger
In Solar Warfare, players must pilot a lone ship against the alien armada that destroyed their homeworld. Like most shoot-em-ups, the focus is more on action than story – but it's always good to know why you're blowing everybody up.
The controls for your ship are fluid and easy to grasp. Tilt the device in any direction to aim, and then hold anywhere on the right side of the screen to fire rapid shots. A button at the bottom-right corner fires powerful homing missiles that must be purchased from the shop.
The ship automatically flies forward by default. You can also speed it up by holding the thruster button at the bottom-left corner of the screen, hopefully zooming past incoming fire, and even stop the ship's forward momentum by pressing and holding anywhere else on the left side of the screen. The ability to stop in place provides a greater degree of control than you'd usually get in games like this, and makes aiming easier too.
After scouring a planet's surface of enemies, players will complete a level and receive ratings for their performance. You can also visit the shop then and spend the currency collected during the level. The shop sells weapon and shield upgrades, plus missiles and extra lives that will make it easier to complete future missions.
Sights set on Windows Phone
We saw Solar Warfare running on a Nokia Lumia 810, where it generally maintained 60 frames per second during gameplay. TegTap has also tested the game on the entry-level Lumia 520 handset, on which it performed very well. Devices with 512 MB of RAM don't usually get a lot of 3D games, so it's cool that Solar Warfare will run on them at launch.
The Android version of Solar Warfare is MOGA controller compatible, so naturally we wondered if that would apply to the Windows phone game as well. Troy Tegeder, studio president does plan to add MOGA support to our game, though not until the first title update. Still, it's always great to see more games supporting physical controllers!
Solar Warfare should arrive on Windows Phone in late February or early March. The Windows Phone version will not be free to play, which should be good news to gamers who dislike In-App Purchases. We'll let you know as soon as it's available. As for the Windows 8 version promised a while back, that should still arrive later in the year.
Windows Central Newsletter
Get the best of Windows Central in in your inbox, every day!
Paul Acevedo is the Games Editor at Windows Central. A lifelong gamer, he has written about videogames for over 15 years and reviewed over 350 games for our site. Follow him on Twitter @PaulRAcevedo. Don't hate. Appreciate!
Reminds me of starfox. The one pic at least.

That was the first thing I thought of

Off topic but I can't decide between a 920 or a 1320 what's very different between the 2?( I know about the screen sizes)

I would suggest looking up a comparison article. Example:http://mobile.phonebunch.com/compare-phones/nokia_lumia_920-458-vs-nokia...
But what I would recommend most is a Lumia 1020

After looking at that I'm leaning towards the 1320.

920 1.5GHz dual-core w/ Adreno 225 Graphics vs 1320 1.7GHz Dual-core and Adreno 305 graphics. More specs, I use GSM Arena for everything in details.

If its between those 2 the 920 has more specs everywhere you look at it but the 1320 will have more support cause its new the 920 will soon be ignored just like the Lumia 900.

More specs how and yeah that's a reason why I might get a 1320.

1320 should be faster than 920 for games. The Adreno 305 GPU in Lumia 1320 and Lumia 525 is faster than Adreno 225 in Lumia 920. Look at the 1080p offscreen benchmarks below. Lumia 920
https://gfxbench.com/device.jsp?os=Windows&api=dx&D=Nokia+Lumia+920+2C+RM-821%2C+RM-822%29 Lumia 1320 https://gfxbench.com/device.jsp?benchmark=gfx27&os=Windows&api=dx&D=Nokia201320%20(RM-99420RM-99520RM-996) Lumia 525 https://gfxbench.com/device.jsp?os=Windows&api=dx&D=Nokia+Lumia+525+29

I serious doubt the 920 will be ignored, the only reason the 900 was is because it is running wp7

I know it won't be left behind for 8.1 but other updates it could because windows phones only have 18 mouth cycles and the 920 only has about 6 months, while the 1320 has about 15 months.

Lumia 920's last update will be windows 8.1 then Microsoft will stop supporting it and that's if you trust att, the Lumia 1320 will get windows 9 if hardware supports it.

Cesar stop talking like you know somthing.. There's has been zero talk of MS dropping support for the 920

http://winsupersite.com/windows-phone/windows-phone-support-lifecycle-18...

Nokia says it will support all Lumia phone for 2 to 3 years. I don't know everything I just like to read dumbass

I recommend the Lumia 1520.

The 1320 has a big screen meaning that you might notice that it has lower dpi than 920. If I were you I'd go with the 1520. Of course, that might be out of range for you. Make sure to go to a store that has it so that you can look at the screen and see if you are ok with the dpi.

Talk about a blast from the past! We have a new story coming up on Solar Warfare (played with a 1520) very shortly.

May i ask, what's the bloody diference, asides the xbox points(which are nearly useless), and the xbox logo, with an xbox live game and a not xbox live game?

The achievements give you something to work towards and that adds to the fun of the game to alot of people

Yeah I'm an achievement whore so no live = no buy

Set comments to 'whine' in 3.. 2.. 1...

That looks like a potential buy from me. Will keep a look out for the update on its release. Prefer the option to just buy as I know the total cost, compared to IAP.

Some WP owners must live miserable lives

We do :-( it's a terrible life we're all living. Lol

I read the part about MOGA support. Bummer we won't be getting it with the initial app launch :/ but looks like a great game. Thanks Paul!

Yes!!! Can't wait to play!

Who is recording the video?

I like that developer a lot.

not free to play...good news for those who dislike in app purchases, bad news for people who like free stuff

Plz make it free with IAPs :(

When I read comments like the one you replied to, I don't think "troll." I think "poor." :)

Any news from warner bros about injustice????

Make it free with option to remove ads by in app purchase.

LOL! It took me a while to get you ;)

I would like to have an old game Galaxy on fire on my windowsphone

Man do I hate tilt to aim...

Im glad its not free. Free to play and ad-supported games turn me off of mobile gaming. Looks like the dev spent a lot of time on it. I'll buy it for sure but he might want to add a demo- some people refuse to buy otherwise.

Looks good. No Starfox but definitely makes me want to kick down Nintendos doors and force them into making one, along with a new F-Zero of course. Lol
I'll be keeping an eye on this one.

Looks cool. I'll have to try it out. Posted via the WPC App for Android!
Windows Central Newsletter
Thank you for signing up to Windows Central. You will receive a verification email shortly.
There was a problem. Please refresh the page and try again.