Solar Warfare coming to Windows 8 with Leap Motion controls (Windows Phone too!)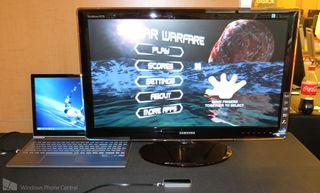 If our last Casual Connect game preview Delicious: Emily's Wedding was a little too feminine for you (shame!), then perhaps a space shooter will be more to your tastes. TegTap, a two man indie gaming studio is currently preparing to bring its most successful game Solar Warfare to Windows 8 and Windows Phone 8. It's built with the Unity game engine, which should hopefully make for an easy dual platform release.
We met with CEO and game designer Troy Tegeder to discuss Solar Warfare's development process, gameplay, and his future plans for mobile Windows platforms. We also demoed the Windows PC version of the game using the new Leap Motion controller. The Windows 8 game will support Leap Motion as well.
Head past the break for our exclusive video showing just how precise Solar Warfare's motion controls really are!
Space avenger
Solar Warfare is not a story intensive game, but it does begin with a cinematic that sets up the action. An alien armada has invaded a peaceful planet and wiped out the population. The player somehow survives the attack and must seek vengeance for the loss of his or her homeworld. It's too late to give peace a chance!
360 degree freedom
In this sci-fi shooter, players pilot a starship across expansive 3D levels. Your ship can equip a variety of laser-type weapons as well as limited use homing missiles. You'll purchase missiles, new weapons, and upgrades with coins collected throughout each level. Upgrades unlock permanently, whereas missiles and extra lives are consumable.
Instead of flying forward on invisible rails like the original Starfox, Solar Warfare gives gamers full 360 degree control of the ship. You can fly past enemies and attack them from behind, adjust your speed, and even come to a full stop in order to focus on a target. Each area culminates in a dramatic boss encounter, and then you're on to the next level – or you can replay previous ones to earn more coins.
Far out control options
The Windows Phone version of Solar Warfare will use touch screen controls and possibly the MOGA Pro controller. On Windows 8, mouse and keyboard controls and Xbox 360 controller support are planned. But the really exciting control option is something we haven't seen in a Windows 8 game before…
The Leap Motion controller is a motion control solution that initially resembles the Kinect. But this device actually sits on your desk facing up, following hand and arm movement above it. The Leap Motion allows for much greater precision than the original Kinect, as it can detect millimeter movements and individual finger position with ease.
Playing via twists of the hand and fingers looks like a fresh way to play, though surely more fatiguing than mouse, touch, or physical controller. The Leap Motion costs a relatively low $79.99 and you can get it at the Leap Motion Store.
The aliens' days are numbered
The Windows 8 and Windows Phone 8 versions of Solar Warfare are due out later this year. As long as the touch controls end up anywhere near as usable as the Leap Motion controls, the game should be a blast on phones and tablets. Solar Warfare will cost $4.99 on Windows 8 and $1.99 on Windows Phone 8.
Windows Central Newsletter
Get the best of Windows Central in in your inbox, every day!
Paul Acevedo is the Games Editor at Windows Central. A lifelong gamer, he has written about videogames for over 15 years and reviewed over 350 games for our site. Follow him on Twitter @PaulRAcevedo. Don't hate. Appreciate!
Ide like to see a review for leap motion....

its 'meh'. pretty cool concept and works alright but its not perfect and there are too few uses for it. also not happy that it has its own app store and apps run in windows on the desktop. would be a lot better if windows store apps could utilize it instead. I'd really look forward to a game like this that utilizes it more. the games on the leap app store are pretty bad so far and the one good one, fruit ninja, isn't even for w8..

Windows Store apps can utilize it.

oh, that's great! do u know of any that do so far? am assuming that this one will be a store app then??

Windows Store apps *can* use it. This is an example of one. And the product is not "meh", I have one and it's fantastic. Sure it's early beginnings, but so is Windows Phone.

Isn't it that thing that can detect the slightest movements such as writing something out? I swore I saw a video of it back in 2012 and they said it can pretty much be used like a holographic notepad since it's so precise.

It wont be a Xbox title, right ??

Same here, thanks for your work Paul!

You're welcome. Appreciate you reading! :)

On Windows 8 it won't be an Xbox title, but TegTap is interested in doing an Xbox One version.

Self publishing and access to the Kinect should make it almost set in stone I guess.

MS prolly sees LM as a competitor to Kinect.

hopefully with microsft opening up indies for live status on 360 and xbox 1 they will on windows 8 and windows phone as well

Tips cam be on here? New exclusives apps on Samsung zone, vídeo trimmer, a vídeo editor, and app folder, an nice app that you can use to unite your apps of choice in one tile!

Sure? , those 2? If so, my bad

Is it a Xbox curated title ?

Unfortunately no. But might come to Xbox One...

"... but instead of using a camera to track player movement ..."
In fact the Leap Motion also uses cameras, mounted in the device and pointing upwards.

Thanks for the correction. We had to post this in a hurry as my plane was about to take off! Fixed now.

Nice to see more great games coming to WP..! :D

Leap motion is an epic fail. I lasted about 30 mins and its back in the box.

Epic fail? Really?? How old are you?

will it support 512mb devices on windows phone 8??

He said it's very likely. We'll know as it gets closer to release.
Windows Central Newsletter
Thank you for signing up to Windows Central. You will receive a verification email shortly.
There was a problem. Please refresh the page and try again.