Apps World: TegTap brings games for kids to Windows Phone 8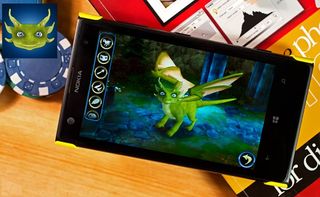 Last year Windows Phone Central brought our readers the first news that indie developer TegTap would be releasing its popular 3D shooter Solar Warfare on Windows Phone and Windows 8. Before we give you an updated status report on Solar Warfare's progress, let's look at what else TegTap has been cooking up for mobile Windows platforms in the meantime.
At Apps World in San Francisco, we met with TegTap CEO Troy Tegeder to check out his studio's lineup of kids' games for Windows Phone and Windows 8. They've already published Dragon Maker for both phone and tablet/PC, and My Fairy Pony and Balloon Maker just for Windows Phone. All phone versions run on devices with 512 MB of RAM such as the Nokia Lumia 520.
We've got the full details and a hands-on video after the break.
My Fairy Pony
Here's a game targeted at girls (and those brony guys that everyone likes to pick on). Players get to customize and interact with four cute ponies in a full 3D environment. Change the pony's color, shoes, add wings and a horn, or even a My Little Pony-like cutie mark on its side.
All four of the player's ponies roam around in a detailed wilderness environment. Besides watching and interacting with the ponies, players can search for chests scattered throughout the landscape. Open a chest and you'll either receive a new customization part or carrots to feed to the ponies.
My Fairy Pony is a fun, simple game that pony fans will love.
My Fairy Pony – Windows Phone 8 – 20 MB - $1.99 – Store Link
Dragon Maker
If ponies aren't your kid's thing, perhaps he or she will enjoy this dragon-themed game instead. It works exactly like My Fairy Pony, except with dragons instead of ponies. Players can change the colors of each part of the dragon, creating some bold and unique combinations. You can even change the color of the fire they breathe.
Like TegTap's pony game, kids will spend their time looking for chests when not interacting with their dragons. There are always three chests spread around the environment, with a new one appearing whenever another gets emptied. The chests in this game contain either dragon parts or marshmallows, a young dragon's favorite treat.
Dragon Maker – Windows Phone 8 – 43 MB - $1.99 – Store Link
Dragon Maker – Windows 8 and RT – 64 MB - $1.99 – Store Link

(opens in new tab)
Balloon Maker
This game is aimed at very young children who are just learning to use a touch screen. Tap anywhere on screen to create a balloon. The longer you touch the screen, the larger the balloon you'll create. Kids can create lots of balloons at once, which will then bounce away from each other realistically.
Tap a balloon to pop it. Flip the device around and the balloons will still float up, just as in real life. Shaking the device causes the background to switch from day to night. There are no wrong moves or menus to confuse your child in Balloon Maker – just lots of balloons to fill and pop.
Balloon Maker – Windows Phone 8 – 8 MB - $.99 – Store Link
See them in action
All of these games from TegTap are for kids rather than adults like us. Check back soon for our exclusive preview of Solar Warfare, a sci-fi shooter that hardcore gamers should eat right up.
Windows Central Newsletter
Get the best of Windows Central in in your inbox, every day!
Paul Acevedo is the Games Editor at Windows Central. A lifelong gamer, he has written about videogames for over 15 years and reviewed over 350 games for our site. Follow him on Twitter @PaulRAcevedo. Don't hate. Appreciate!
BaloonMaker isn't available here in Brazil.

Sorry. Each country gets limitations. Its a matter of priority and creating the language pack for that app. Alot of work im assuming.

You can publish an app or a game here without Brazilian Portuguese support. And if you, or any developer, want to translate their app/game I can help with.

That's a generous offer. Maybe a dev will see you said that :)

I already translated great apps/games to here. Just to name a few: 6sec, 6tag, 6snap, TV Show, Wikipedia, ARMED, Fling Theory, Inka Madness, Picture Weather etc...

I wanted the Nokia Reading app which is available in the UK (I am in US) so I simply went to my language and region settings and changed region to UK then clicked the (restart to change) or similar link and after restart I downloaded the app and changed my region back :) works like a charm. Make sure not to check for Phone Updates while connected to a diff region because my phone TOOK FOREVER to download some language stuff but my phone is fine. Did this a month ago

Read my comment to SlimAndShady.

Brazil has such tight regulations most game developers skip it altogether.

Well its understandable. Why produce a game just for a better chance to be rejected than accepted. I wouldn't.

Sorry, but dosent seams that you are actually updated about that. Even WP Central published an article explained that last year. Since November 2012, everyone can publish your games in here, in any app store, just using a PEGI or an ESRB certificate, and you can get one of these instantly on web. But, as you, most of the developers still dont know this. And that is why I am here, to ask every developer to make their games available in my country. Brazil is the fifht biggest country in the mobile business.

Exactly. Nothing wrong with sharing your helpful opinion. You can't get what you want if nobody knows you want it? I hope the devs see this comment or maybe WPC can do something to help in this regard since they have more ties with devs than we do.

As pessoas aqui estão um bocadinho nervosas :)

In the description of balloon maker it says its the most realistic balloon app on wp... Thank god its here now i don't have to look at those damn fake looking balloon apps anymore.

Pshh, screw those kids. Let them get their own damn phone if they wanna play games.

WPcentral badly needs to start moderating these comments... So much offtopic talk and many unnecessary insults. It brings the professionality of this site down.

We'll get those comments deleted, don't worry.

Thank you. Much appreciated. I notice it's a common problem though here on WPcentral. I hope it'll get better in the future. :)

I agree one hundred percent.

Well they don't soo eat shit

When does a kid ever get to sit in the yard with a stick anymore? You know? Just sit there with a fucking stick. Do today's kids even know what a stick is?
You sit in the yard with a fucking stick... and you dig a fucking hole. You know? And you look at the hole, and you look at the stick... and you have a little fun. But kids don't have sticks anymore. I don't think there are any sticks left; I think they've all be recalled because of lead paint! Who would have thought that one day, the manufacturing of sticks would outsourced to China?
Windows Central Newsletter
Thank you for signing up to Windows Central. You will receive a verification email shortly.
There was a problem. Please refresh the page and try again.