Appy Weather for Windows Phone gets updated, adds lockscreen support and more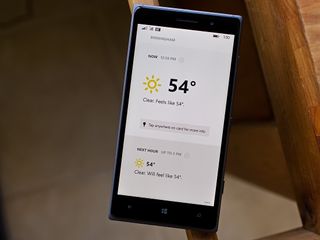 Appy Weather is a unique Windows Phone weather app in that it presents the weather in a more personal manner. The app takes on the weather forecast with a minimal approach, delivers a healthy amount of information and presents the information not only in a "nuts and bolts" manner but also suggest what the temperature will feel like or how the forecasted conditions will compare to your current conditions.
The Windows Phone weather app was updated today to version 1.2, which adds lockscreen support with the ability to use Bing images or custom photos from your Pictures Hub. App Weather is a well-received weather app in the Windows Phone Store and on first impression, the updates only adds to the appeal of this weather app.
The full change log for the version 1.2 update includes:
Added lock screen support with the options to choose between two different layouts: 1) "Now + Today" or 2) "Now + Today + Tomorrow".
Lockscreen support also includes the options of three different background images 1) "Bing Image of the Day", 2) "Custom Photo" and 3) (my personal favorite) "Metro" which adjusts throughout the day/night to be indicative of the time and weather and has a minimal memory footprint (especially important for low-memory devices).
All background images can have their opacity changed from 0-100% to ensure you've complete control over the lock screen's text legibility/readability.
Can toggle to show/hide the current hour's feels like temperature, text summary and wind speed/direction.
Snow data points now correctly show in inches when using the imperial measurement format.
Improvements made to general reliability of background agent to minimize probability of issues occurring, which may have previously prevented the live tile from updating either periodically or completely.
Additionally, everyone who installed the trial version that has previously expired will be able to install the trial version of version 1.2 of Appy Weather. As an added bonus, the trial period has been extended from three to seven days.
There is one minor issue with the Version 1.2 update that should be resolved soon. In the settings under the "Show on Lockscreen" options, the tick mark for the options will not show when registering taps. When tapped, the option is active but can be confusion because the box won't show marked. The fix should be pushed out soon.
Otherwise, the update helps extend Appy Weather's feature list and appeal.
George is the Reviews Editor at Windows Central, concentrating on Windows 10 PC and Mobile apps. He's been a supporter of the platform since the days of Windows CE and uses his current Windows 10 Mobile phone daily to keep up with life and enjoy a game during down time.
Looks pretty good. Just wish MS made it so weather apps can be "live". Like how HTC hub app when you opened it.

By "live", do you mean animated weather effects?

Bravo! The best weather app on Windows Phone just got better...and let me eliminate the weather app I was running in background for my lock screen. Appy Weather, I believe, is the most richly done non-game app for Windows Phone.

Thanks Richard! With lock screen support finally in, I can hopefully concentrate on making other much less time consuming and incremental improvements.

Is it better than the Ms weather app? * I'm kinda new here*

In my opinion, definitely. MSN Weather has always been a good, solid app, but lacked the features of many of the other options in the store. I've only tried the trial of this app but it instantly became one of my favorites for WP. It's a little expensive, at $4, but because of this update I totally think it's worth it.

Good to know Camaroon. This update took 2 months to get just right, and so I'm relieved it's finally out there as it means the incremental update cycle that AW underwent in its first 2 months on the Store can restart come the new year.

iPhone enthusiast talk about the sophistication and polish of the apps for iOS. None of them have anything on Appy Weather.

Thanks Richard. That was one of my primary goals when I started developing AW: to show good design is not something you can only find on the iOS App Store.

MS weather App is fantastic getting your exact location, and that's about it... it's awful on weather prediction, by far the worst I've tried in this regard... great to see Appy Wx on lock screen, hopefully it'll make it to glance too

If it now also gets the ability to pin locations to the start screen as a live tile other than only one main app live tile than i might choose this app as my standard weather app.

That's something on my list of things to add in the new year. The list has become pretty comprehensive mostly as a result of user feedback, so can't say when I'll get around to this. Finally have some time now to sit down and prioritise the feature roadmap for the future.

Awesome. As soon as it comes I will buy. :) I am moving around quite a bit so being able to directly pinning all the locations I frequently visit to my startscreen is a big requirement for me. Keep it up. I really like the design. Maybe you could make the location switching in the app easier by using swipe in the header where currently only the city is displayed that is active? That would also make it more conform with the overall windows UI design language. :)

Sure. Don't know about that particular implementation but I'll definitely look at ways at making it faster. Not sure if you know but if you tap on the location name in the top left, you're taken to the Locations screen. So it's actually two taps to change location. But I appreciate two taps is more work than a simple swipe :)

Yeah, I know of the taping thingy though most of the time I prefere the swiping way of things. Windows Phone raised me that way. ;)

I never download this app, but my friend got the paid version, and i look at it and i love it, But either i am blind or i didn't find a full black theme. I found dark (dark gray) and white (light) theme. I have ATIV S i8750, and as we know it has Super AMOLED screen, and we all know what full black on S-AMOLED screen means. Would be nice if you add full black (background i mean) theme. Either way, I am buying this app, would be money well spend. And @radde's wish is my wish too :)

I think the issue is that the source data is not cheap.

Man, go ahead and buy it! Beleive me, you wont regret a penny! I tried and buyed many weather apps, but this obe beats every one of them!

I would buy it if it would me allow to pin all locations to the startscreen and not just one because the app only supports one main app live tile. :/ The cherry ontop would be suport for the glance screen. Otherwise I do think it is a wonderful app and the design is very minimalistic UI (arguably to minimalistic in some regards like switching location only by several taps instead of a simple swipe)

Thanks radde for the kind words. RE: Glance Unfortunately, this is not something that third-party apps currently have access to. I've actually had bad reviews because of the absence of Glance support. In defence of users though, how are they supposed to know this? Can't blame them to jump to the wrong conclusion. If/when Glance opens up, it will definitely be added.

That's good to know. Did not know devs where locked out of that functionality. :-/ Really hope MS opens that up.

And the developer has been extremely responsive with support and feedback

Coming from a user-centred design background, it's to everyone's benefit for me to carefully listen to user feedback :)

Wish there was also the option for "Now only"

Looks great, definitely buying it

Still think $3.99 is too steep, but I guess when you're developing for such a small percentage of smartphone users that's one way to make up for the lack of volume. Best of luck to the dev.

Very nice app. Also like the option to show bigger icons on the live tile, my eyes aren't what they usd to be :-)
Would be even better if it could show up on Glance as well, but I guess that's still a MS only thing?

Does it have glance screen support??
Windows Central Newsletter
Thank you for signing up to Windows Central. You will receive a verification email shortly.
There was a problem. Please refresh the page and try again.