Archos 40 Cesium gives Nokia a run for its money at $99/€79.99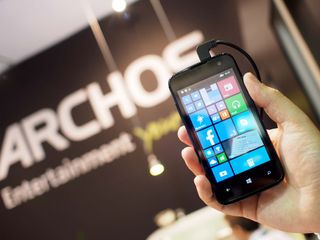 As much as Windows Phone competes in the high end, the low-end is where the real action is at, and Archos's new 40 Cesium Windows Phone is the latest entrant to challenge Nokia's Lumia 530. And it does so at the same $99/€79.99 price point as Nokia's latest entry-level Windows Phone, while possibly bringing a bit more to the table. At IFA 2014 we had the opportunity to go hands on and see just what Archos has in store for Windows Phone.
For the most part the Archos 40 Cesium and Nokia Lumia 530 are evenly matched. Both are powered by a 1.2GHz quad-core Qualcomm Snapdragon 200 processor, both have 4GB of storage and microSD expansion, and both sport 512MB of RAM. They also have an HSPA radio, 4-inch display, and 5MP rear camera in common. Performance in our brief time with the phone was quick and responsive, about what we'd expect from the hardware. It's not mind-blowing fast, but it's more than enough to run Windows Phone 8.1 adequately.
Even the resolution of those displays is relatively close, with the 40 Cesium having a 480x800 display, while the Lumia 530's is 480x854 to accommodate the virtual Windows buttons at the bottom. That does mean that while the Archos has a 15:9 display, the Nokia's is a bit narrower, taller (16:9, to be precise) and slightly more pixel-dense. Neither display is particularly impressive, and while Archos isn't clear on what type of display is in the 40 Cesium, it seems to be about on par with the TN TFT panel in the Lumia 530 and its underwhelming blacks and contrast management.
But matching specs isn't the only trick up Archos's sleeve. The 40 Cesium is more than 1mm thinner than the Lumia 530, sports a similar 5-megapixel camera, and throws in a flash for that camera and front-facing VGA-resolution camera for good measure. Granted, VGA isn't anything to write home about, but a front-facing camera is something you won't find on the Lumia 530. The 40 Cesium's battery also clocks in at substantially more powerful, with 1950mAh on tap — more than 36% more than the Lumia 530. With basically the same internals, we'd expect a substantial increase in battery life, though there's no guarantee of that.
When it comes to the hardware itself, this is where Nokia stands tall over the Archos. The solid polycarbonate construction of the Lumia 530 is, well, solid. That's not to say that the Archos is bad, but when you hold the two, the Archos feels more like a phone at that price point, while the Nokia feels more substantial. The 40 Cesium's back cover is removable, and it'll come with all three colors (black, storm blue, and yellow lightning) included.
Is the Archos 40 Cesium the most impressive Windows Phone ever? Nope, not even close. But it's not supposed to be. It's a decent little phone at a decent little price tag, and not much more. There's nothing wrong with that, and we can see Archos bringing a bit of a fight to Nokia with the 40 Cesium. If anything, Archos is a master at playing the low-end game.
Windows Central Newsletter
Get the best of Windows Central in in your inbox, every day!
Derek Kessler is Special Projects Manager for Mobile Nations. He's been writing about tech since 2009, has far more phones than is considered humane, still carries a torch for Palm, and got a Tesla because it was the biggest gadget he could find. You can follow him on Twitter at @derekakessler.
Ffc is a must for me, even if crappy. I need Skype, even a basic experience.

I wish Nokia would just put FFC and flash on a cheap phone already..

I guess they aren't doing that the reason is
Maybe they what such phones to succeed in front of Nokia. NZ if Nokia provided flash and front cam then no one will buy phones of other WP OEMs and eventually will get Nokia coz of reputed brand name and customer support.

Could be.. It's all about strategy.

620, 625 and 730/5, wish granted

Cheap meaning price < 100 USD :P

Nokia is being cheap. Just bought an unlocked Samsung wp on Amazon for my brother to go to Haiti because he said flash was a must for him $99.00

Wow, that looks good. Hows the camera quality compared to the 530, since it doesn't have pureview?

(Assuming you meant Archos doesn't have Pureview) keep in mind that the 530 is also missing that. As far as I know, it's just a basic budget 5MP in both phones.

Even the 530 doesn't have pureview, no low end or low mid range will ever get pureview. So the camera on both the Archos 40 and 530 should be somewhat similar in performance + quality. If Archos manage to get qi wireless charging before launch they will have a massive jump over all low end offerings. If not this model then their next low end model(s), as I can see them shifting a lot of these.

I still like the Blu Jr, but choices are nice

This looks like the same phone to me, even down to the two dimples next to the speaker grille. Isn't the spec identical?

I think it is. You see this more with indie watch makers. They'll all buy the same parts from the same Asian manfacuterer and just put their name on it or make very minor modifications.

I thought the Blu JR had a focusing camera, which would put it a bit ahead of this. Also, $10 cheaper.

Me too, and would love to know the tech specs of the blu hd, what processor etc.. Still sadly the is no option for blu in the UK.. I wish you could just have the option to buy any if these phones from amazon or the ms store anywhere in the world

KAZAM UK should be releasing Windows Phone 8.1 shortly.

specs and prices and availability please

Interesting. Hopefully all of these OEMs will pressure microsoft to have a better Lumia 530. It seems really odd to omit things like a FFC. Especially if these are seen as devices for kids - people who might be the most likely to want them.

& that is one of the reasons why nokia's low end offerings are missing essential features because they blow it all on the screen & body of the phone

But that is important to some of us. I could care less about a front facing camera but I really enjoy the nice display on my phone. If they can do all it would be great but i would pick a better screen over front facing camera if I can only have one.

+920. I'm not a narcissistic attention whore that spends all my time taking pictures of myself and begging for attention online. I actually use my phone for other crap.

Like... Skyping with my family 1200 miles away? Or does that also make me a narcissistic attention whore?
A FFC can get used for a lot more than selfies. @Casuall: The build quality may be much much better, but keep in mind the display in the 530 isn't very good either.

Yes, I understand. What i was really try to say is we all like different things. And for me I really don't have much use for a FFC. But to each his own. I am not going to knocking anyone for personal preference.

Thats the #1 use for iPhones... Attention whores taking selfies to get lots of comments on their slutty photos.

+don't forget the software, free updates and great exclusive apps

One thing you forgot to mention: Judging by the pictures, the Archos is Dual-SIM. Any idea if it will be coming to the states?

Comes with all 3 covers. I like that.

So this is what has become of WP?

This is what happens when you license for free.

I likes! Good to see all of these devices!

The sub $100.00 wp8 market competition is really heating up.

Yes, sadly, where's the higher end devices? Nowhere. Come November if something isn't out or at least announced, it's Android here I come.

Dont let the door hit you on the way out hehe

HTC One M8 is a legit high end.

Meh. It's an Android phone

And it's a hell of a Windows Phone.

Maybe if it was designed better... it's ugly!

@Dave R4 - Lol. Why does that matter? That's such a fan boy comment.

Between the Lumia 930 and the htc, their is pretty much everything we have been asking for, someone just needs to merge them and slap an updated processor and we are cooking with a fab screen, wireless charging, sd card, slim case, Dolby mics , is there anything else we could want. Oh yeah waterproof would be cool, come on Sony, you are pinching the live tiles, why not offer a z3 wp. (with qi)

Okay, so first BLU beat the entry level Lumia and now ARCHOS. Sad.

Releasing 512mb phones like crazy is asking for trouble...

Are the BLU Win Jr and the Archos 40 Cesium in fact the same phone? Shape, size, specs, camera and flash placement, speaker grill with protruding dimples, capacitve keys and power/volume buttons appear to be exactly the same. So are the MSRPs (though Amazon sells the Blu Jr for $10 less). Too bad between the two of them, none of them offer a red shell. Personally I prefer the looks of the BLU devices with their colored front surround (instead of the Archos' black). Also prefer BLU's color options. BLU is based in Florida whereas Archos is based in France if it makes a difference to anyone.

My bad, you beat me too the punch. I noticed the same exact thing LOL!

Its me or is this the same phone as the Blu Win JR, with Archos stamped on the back? Same everything even down to the rear speaker with the little bumps to elevate the rear of the phone for sound. Cool tho!

Good find. Yup, they look pretty much the same. Looks like it's made by the same ODM probably somewhere in Asia. Could it be based on a reference design from Microsoft? Regardless, not a bad approach at all to flood the market with WP.

No use of vga camera.Lumia 820 has one vga camera which I not fit for video call.Atleast 1.3 mp ffc is required for a good video call.gone are the days of vga.

how about the 1MP FFC on Lumia 830?

I think almost anyone can give Nokia a run for its money considering how many things they omit from the 5XX and 6XX line.

Deja Vu? I bet this and the BLU JR are made by the same ODM...

"As much as WP competes at high-end" we don't. We're a year behind sadly.

Said it before, ill say it again...this company is awful. Was burned numerous times by them. Avoid them like the plague. Go Nokia if you are choosing between the two.

Really? I know many people who have used Archos products happily. They were doing the tablet thing long before the iPad existed.

I am VERY excited from here on out until Spring 2015 to see market share report specifically within Windows phone. All these great low end devices are here to challenge the Lumia 500 series and for the first time we can predict from future reports just how strong the "nokia lumia" brand is around the world. Now with more choices at 100$ or less the 530 is no longer the "best and only" option ahh cant wait :) I've seen history repeat itself and I think these low end phones will do the same it did for android, but keeping in mind that the WP OS will not suffer from the lag many 2.1 - 2.3 android owners went thru.

U call not releasing a flagship in 2 years competeing?

Well, one year... but yea

"more than 36% more than..." --> typo on the paragraph 4. Anyway, glad to see Archos challenged Nokia for this time, with a better main camera and an additional front-facing camera.
Windows Central Newsletter
Thank you for signing up to Windows Central. You will receive a verification email shortly.
There was a problem. Please refresh the page and try again.