Archos to sell a tiny Windows 10 HDMI PC stick for just $99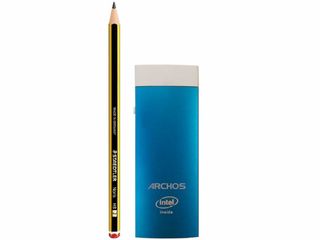 Following in the footsteps of Intel and Lenovo, Archos has announced plans to launch its own HDMI-based PC stick. The device will have Windows 10 pre-installed, and will be priced at just $99, which is the cheapest price we have seen yet for such a PC.
The Archos PC Stick will have an Intel Atom quad-core processor running at 1.33GHz, and will contain 2GB of RAM and 32GB of storage, with a microSD card slot for storage expansion. It will also support Wi-Fi and Bluetooth wireless connections. As with the other two PC sticks, the Archos model is designed to be connected to a PC monitor or large screen television with its HDMI connection. Archos has yet to announce a release date for its PC stick.
Source: Archos
Windows Central Newsletter
Get the best of Windows Central in your inbox, every day!
For real. So much better than a chromecast or firestick

This category will explode and be the next big thing. If Roku was smart, they would include a web browser in their next release...

Same stick different design, moving on....

Two different technologies

Yeh, this is more a competitor to Nexus Player -type devices.

All they make is cheap...

Better for the mass market and Windows over all.

Well you would stream most of your content to this device wireless, so the important thing to know is what WiFi standard they will use most likely N if it were AC I would grab one day one since I would use it on my projector. Posted via the Windows Central App for Android

Windows is expanding to every platform! Nice!

I hope Kodi will rock on this...

I had the exact same thought. This is kind of a way to bypass the tv manufacturers' smart tv choices and let us create our own.

I don't see why Kodi/XBMC wouldn't work. I'm contemplating it myself. I currently have a nice HTPC attached directly, but I'm thinking about moving the HTPC then using one of these stick and installing Kodi on it and stream from my library over wifi.

Hopefully better than the Intel one. Item to beat I feel is a mounted hp stream mini.

Cheaper then a Windows 10 licence itself.

If only MS would have kept updating Media Center.

Yes. I won't be able to update my home computers to Windows 10 without Windows Media Center. Windows Media Center is the only software that serves copy protected cable TV and movies to the whole house.

That's why they probably killed it imo, pressure from the MPAA.

The only problem that I see is that archos gear generally sucks.

How high is such a HDMI PCs Power consumption ( compared to a set top box) ?

One would imagine it would be pretty negligible. It's using the HDMI off your tv as a power source.

I thought these used the microUSB-port for that.

Can it replace a PC ??? I'm interested in this stick

For light tasks such as web browsing, email or document editing...etc. or an HTPC, DEFINITELY.

Hopefully this or similar will be in the UK at around £80, I'd snap it up!

Again...avoid Archos like the plague. Hands down, the worst products and customer service I have ever felt with...and that is on multiple products. Guarantee you, the cheap price isn't worth with pile of junk they will be throwing in the package.

That's damn impressive! Chromecast seems a little old tech, and rather limited in comparison!

Would this be able to stream xbox ?

Doesn't mention a usb port, so I don't think you could plug the required wireless adapter or cable from the xbox one controller into it. EDIT: nevermind, the specs list USB, so I think it would work - not sure if there are system requirements for streaming other than 'Windows 10' though.

Won't matter, you can still connect the pad as normal to the Xbox One and still stream to your PC. I've done this myself so can vouch for it.

That's is the $99 question

This totally is going to be how the next WiiU connects to a tv...
Anyway, these types of devices need new input methods. Maybe a WXM app to go along with the stick.

The only missing component for this tech is the vast array of bluetooth keyboards which include multi-touch trackpad. Even MS has only one model of that type of keyboard and it's not bluetooth, which requires a USB port for the receiver.

Imagine this, and xbox one streaming sertvices :) xbox anywhere on the house :)

A great way to turn an older plasma TV into a smart TV. It will probably also perform better than most TVs also.

Windows 10 can run on something like this but not on a Surface 2? C'mon MS give us RT users something! Windows 10 Mobile???

Windows Mobile - the one with no desktop - would be a downgrade for Windows RT users.
Microsoft owes us the real Windows 10 with continuum.

Well majority of RT users don't really need the desktop, control panel and fiddly UI elements. So Windows 10 Mobile adapted to larger screens makes perfect sense. That just leaves them with two core o/ses.

The full office needs desktop and that's a big deal for me, I rather stay in W 8.1 than losing full office capabilities.

I want HP to make one of this type of device.

Probably be as flaky as their chromebooks

This is unbelievable, I remember when computers were huge and bulky, but this is really amazing

Does it have a CD/DVD drive? jk.

Nah, it has a minidisc slot :P.

That's freaking awesome. Talk about locking up your PC at the office at the end of the night.

Or dropping it down a grate!

Now we need streaming torrents and I can watch any movie I want Netflix style. Possible? I think utorrent does it but idk

I wonder if these will play hulu and other internet videos...