Lenovo ideacentre Stick 300 turns your monitor into a Windows PC for under $130
Lenovo has announced the ideacentre Stick 300, a new pocket-sized device that you can plug into your TV or monitor to transform the seemingly dumb piece of equipment into a fully functional Windows 8.1 PC.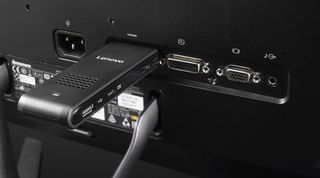 Powered by Microsoft Windows and an Intel processor, the new PC stick is an ideal investment for consumers who are seeking a solution they can use in the office, at home or even at locations like a dorm room. All you'll need is a monitor or TV with a free HDMI slot and you're good to go.
Lenovo will also bundle a Bluetooth mouse and keyboard package to allow for natural interaction with content displayed on-screen. There's on-board Wi-Fi, Bluetooth, 2GB of RAM, 32GB of storage, and Windows 8.1 (with free upgrade to Windows 10) all inside a package that measures in at just 15mm thick.
The ideacentre Stick will set you back by $129 and will be available on Lenovo's website soon. Participating stores will stock the stick later this year. See the press release below for more details.
BEIJING, JUNE 22, 2015 – Lenovo (HKSE: 992) (ADR: LNVGY) today announced the company's first compute stick, the Lenovo ideacentre Stick 300. Designed for consumer usage in the home and on-the-go, the new pocket-sized compute stick is powerful enough for entertainment and web browsing, while affordable enough for existing PC owners to justify owning a second or third mobile PC option. The ideacentreTM Stick 300 expands the mobile computing experience and options for savvy shoppers and is suitable for use in the home, dorm or office, while simultaneously offering portability and convenience for travelers.
Thumbs Up on Price
For the wallet friendly starting price of US $129, this plug and play technology can transform almost any HDMI compatible TV or monitor into a fully functioning Windows-based PC. The ideacentreTM Stick 300 does not look like a traditional computer, but it performs like one once a 2.4GHz wireless keyboard and mouse are added.
Transforming the Computing Experience
Imagine transforming the traditional TV in a vacation rental into a smart multi-media hub, capable of streaming a movie, video chatting with relatives or editing a work document on the fly. Convert the dusty monitor lurking in a spare bedroom into a web-enabled homework station, or transform a coveted man-cave into a home cinema.
Worthy of being crowned the "mini-me" of the traditional desktop PC, the pocket-sized ideacentre Stick 300 measures only 15 mm thin, boasts Intel Atom Processor Z3735F, 2G of memory and 32G of storage. It will initially ship with Windows 8.1 but will be available for a free upgrade to Windows 10 starting on July 29. Fully enabled with WiFi and Bluetooth 4.0, the ideacentre Stick 300 provides the connectivity you need to power up at any time.
Price and Availability
The Lenovo™ ideacentre™ Stick 300 will be available on www.lenovo.com with timiming to be detemined and will hit US retail shelves starting this fall. Pricing will start at US $129. Prices do not include tax or shipping and are subject to change without notice and is tied to specific terms and conditions. Reseller prices may vary. Price does not include all advertised features. On-shelf dates may vary by geography and products may only be available in selected markets. All offers subject to availability. Lenovo reserves the right to alter product offerings and specifications at any time without notice
Windows Central Newsletter
Get the best of Windows Central in your inbox, every day!
Rich Edmonds was formerly a Senior Editor of PC hardware at Windows Central, covering everything related to PC components and NAS. He's been involved in technology for more than a decade and knows a thing or two about the magic inside a PC chassis. You can follow him on Twitter at @RichEdmonds.
I'm just about fed up with sluggish Roku menus. This will be an awesome replacement with all the media apps Windows 8 has.

You have an older Roku? My 3 chomps through menus like they're nothing.

Agree. My 3 is fast and smooth.

It's only for Those Who Do

I have read in a review of such sticks from ubergizmo I think and they reported severe lag in handling wireless devices.

Could be a good option for streaming Xbox One games to a TV in another room, if a little expensive.

You do get Bluetooth keyboard and mouse though, unlike the Intel one.

If it works for the streaming, I'd be really interested.

If its a clone of the Intel Compute Stick from top to bottom, the Wi-Fi is so weak you will add a USB hub to it just to use a real Wi-Fi adapter.

Wonder if you can plug it into the XOne and it work

I guess as long as it is a powered port it will work as a pass through. Don't see any reason why it wouldn't.

It would work but the HDMI input on the XBox has enough of a lag for it be extremely frustring for computing; though it would be fine for navigating simple multimedia interfaces where all you do is open a media file or stream and don't require constant interaction.

Like most Intel sticks, it would draw power from a USB source

But it's being connected to a HDMI port, not an USB port. Did I miss something..?

It also has a MicroUSB port which will be required to be connected to a power source.

I think you're right, although the article just says you need a monitor with a free HDMI space, nothing to mention you need a free USB or power source? Must need it though so you must be right.

The USB source can come from the monitor, or a wall USB adapter. The photo is a little misleading as it probably cant funtion as pitcured.

This looks like a clone of the Intel Compute Stick (ICS), I'm guessing it'll have some of the same quirks and/or issues. With the ICS, USB ports on your TV were barely able to power the device. They would allow it to power on, but when there was need for a more power it would shutoff/crash/reboot. Use the wallplug is the solution to that.

Actually if your TV has a USB 3.0 port it is enough to power the device, it's the same amount of power that the dedicated charger outputs. If your TV has a USB 2.0 or doesn't have a USB at all you need to use the dedicated power adapter or anything that will output 5V.

Agreed, very possible. But if "weird" things happen, switch to the wallplug. A number of issues on the Intel forums were solved by switching from a USB port on the TV to the wallplug. TV model #'s were not always mentioned, so it's hard to say if these were displays equipped with a USB3 port. Good point, though!

If it launches in India it will compete with this.
http://m.gadgets.ndtv.com/laptops/news/iball-splendo-pc-on-a-stick-with-...

What happened to the 'B' in 'X GB' of RAM, storage?

This is an extremely intriguing device. Is this is the new thin client? If I didn't have a Surface Pro3, I'd get one of these. For that price I'm still considering it. You could use "Mouse Without Borders" to use your phone and control it as well. Will it support Miracast? If the networks quit bowing to the cable companies, a device like this could rule the living room (for the non gamers out there). You could feasibly play PC games (Steam) on this thing as well.....older less resourceful PC games, or any game from the store.

This looks much better than the intel compute stick.

With the 32GB of storage, how much left after the OS? I guess that British news agency, SkyDrive can help (Oh I forgot, it's OneDrive). I am always confused which one is which.

Haha see what you did there.....prefer OneDrive now though :)

Yeah, I do too. But it always amazes me how the governments (of most countries) think that the people are stupid. Well I guess they could argue that if your data went to SkyDrive, people would think that it was in the helicopter and that is why they call it 'Cloud Storage.'

Don't underestimate the stupidity of humans. Hanlon's razor kind of applies. People are stupid (including you and I - dunning–kruger effect!)

Probably about 17-18GB left. I have a Stream 7 and out of the box there was about that much free. Should be good enough for what it does...

In that case it may be a good device for my mom who does really download anything. Thanks

Plenty for netflix and a few other apps, with probably enough room to download one or two standard def movies. The way things are going consumers are requiring less storage as providers are providing it via the cloud :)

Its essentially just the Windows 8.1 small tablet SoC on a stick. You'll only get 20GB of space but you can expand it. This would be great for Netflix on old tvs.

A Roku Stick is a lot cheaper and so is an Amazon Fire TV Stick. An AppleTV is half the price. This is horrible solution for getting "netflix on old TVs."

Yea, if all your using it for is Netflix, its a little much.......its for everything else its capable of. You can do anything with it, its a full PC. You can play PC games (low settings), MS store games, stream XBOX games, use Office, play to via Miracast, plug an external HD and play any files, run any music application you want, with no compromises. $hit......i could load AutoCAD on the thing and draw floor plans on my 55" tv if I wanted to, its got the processor to do it all.

If plugged in to a touch screen, does it support touch??

It should, it would need to be plugged into the USB port of the stick with the correct driver installed.

If it's plugged in to HDMI , where does a USB enter the picture as far as Touch goes?

OOT. Someone please give me an advice. 640XL or Zenfone 2 16Gb?. At the same prices.

Zenfone 2 1080p models running Intel are pretty good.

640XL is fantastic phone. Good camera,amazing battery life,screen colors are very good,smooth and fast....... And most important it is Widnows so it is lag free and virus free system+ you get updates easily and fast not like Android. I like it.

Thanks... I'm using L520. and I loved it.

im looking to get a pc for my son and he doesnt need and expensive one either he's only 11. will this be decent enough for him all i need is the monitor, im a little unsure with these PC sticks and the raspberry PI, what would you guys suggest?

Go for it, there is a popular Windows 8.1 PC called HP Stream 11", but with this stick you get about the same experience you get on a HP Stream 11" but on a much less expensive stick

How long till we get gaming pcs this size? Rhetorical question by way. I dont really expect an answer. I am just of the the generation where floppy disks where floppy and 32mb of ram was big

Lol, I can remember splurging on my first PC to get 4mb instead of 2mb of memory...

Define gaming. Can play Baldur's Gate I and II on this stick haha

I would say that it would handle those games just fine. I just started BG II and have been using my Dell Venue 8 Pro without any issues. This stick is comparable and probably has a bit more processing power than the tablet.

I used to think 3 MB of RAM was huge!

Difficult to say. As devices like these get more and more powerful, the gap that they are trying to fill advances also. In a few years we could see something like this out-performing an xbox one or PS4, but then the latest consoles will be far superior too. Maybe things will level out/peak and we'll no longer need to be chasing and producing more powerfull devices but start concentrating on form factor alone.

Actually you can play some popular mobile MORPG,Arena or Sports games on this stick including 1) Heroes of Order and Chaos 2) Order and Chaos Online 3) FIFA 15 4) Asphalt 8. Most of these games are the type of games a Nvidia Shield 2015 console plays, but instead of Android, you're using Windows and a Xbox One Controller.

Thoughts from people who know better than me, but woul this be a good solution for a quick home theater PC?

Absolutely. This would be perfect for XBMC.

Thanks! I've got an old PC I've been running as a HTPC for years now with the intention of upgrading or building one at some point. It's defintiely starting to show it's age since it runs basically all the time. Something like this could be helpful if that's all I'm really doing with it.

Yes, this plays 1080p video at 60hz and 4K video at 30hz which is good since most people don't own a device with DisplayPort 1.2 or hdmi 2.0 today

I'm still using Windows Media Center for the DVR so this is good it actually still comes with W8.1 instead of W10. At least it comes with the option of still using WMC. I'm waiting to see what SiliconDust's new DVR program looks like and how it works before I migrate away from WMC. Hopefully it will be just as easy to use!

Really should pivot around the HDMI jack.. Quite long

Thinking the same thing. It probably comes with an extension adapter

waiting for hands on and the low performance...

It's running the same kind of processor that's in my Dell Venue 8 Pro, that thing is the little engine that could. It runs AutoCAD, Sketchup, and Photoshop flawlessly. Why would anyone get a Roku over this, you can do anything with it.

hey.. did you register your dvp8 for windows 10 upgrade?

Are you serious? Did you know that the Lumia 930's or the 1520's CPU the Snapdragon 800 from Qualcomm has very similar performance than Intel's Baytrail ATOM this stick has?

Good to see this kind of innovation.

Would be a nice little computer for my parents, they just browse the web.

Xbox one with Windows 10 , is my choice, I figure that's good for those without an Xbox one. Onr the PC note , sticking with the Flagship, with Continuum feature once it's released coupled with dedicated Cortana key on Toshiba Laptop PC with option to expand screen to TV

Sign me in, the Atom Z3735F is BayTrail which has very similar performance as the CPU on Nokia's flagship phones (Lumia 1520 and 930) and with 2GB of RAM means you can have FullHD at 60hz or UHD at 30Hz (per HDMI 1.4a) This at that price is priceless, give me 3 of them so I can give as a Christmas present for my parents so they finally can watch Netflix without the need to connect a laptop or buy an expensive SmartTV.

I shall plug this into an Xbox One and use the xbox streaming to Windows 10 to stream the Xbox to this, through the Xbox, to the TV. It will be Xboxception.

This is something I've been wanting for 3 years! In the meantime, I've had to hook up one of my old laptops to my Sony TV in order to watch Netflix, Hulu and other web-based programs (and buy a wireless keyboard and mouse). I then Alt+Tab to check emails and do work during those annoying Hulu ads. I kept thinking SOMEONE had to come up with a REALLY small computer that plugs directly into a HDMI port. I purchased my big screen TV just 2 years before they became 'smart' . So spending only $129 to make my TV smart (and I'll donate the old laptop to a friend) is worth it. The only question I have.......why hasn't Microsoft come up with something like this?

Microsoft launched a similar product (Microsoft Wireless display adapter) which lets you mirror your PC or Smartphone device to your TV , but of course, the stick is better since it supports higher resolutions since it comes with HDMI 1.4a which supports up to UHD at 30hz, while Miracast adapter from Microsoft only supports 1080p at 60hz and your device must support that resolution natively, otherwise you'll get the same resolution of your device.

I would have considered one of our had a type C USB.

I hope this lands in the UAE as well.

I still wouldn't trust Lenovo after their adware incident. http://www.wearobo.com/2015/06/samsung-galaxy-s6-edge-plus-handset.html