ARK: Survival Evolved has more daily Xbox One players than PC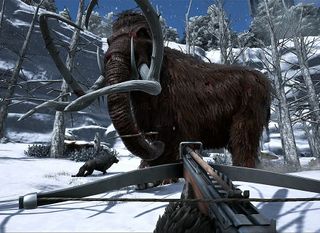 Studio Wildcard, the developer of the popular PC game ARK: Survival Evolved, has already had a huge success with the Xbox One version. It was released just a couple of weeks ago for Microsoft's console. and a new report from the team says the Xbox One port already has more daily players than the PC version.
Jesse Rapczak, the co-founder of Studio Wildcard, stated:
By comparison, the PC version of ARK: Survival Evolved, which was first release via Steam in June, has about 55,000 concurrent players during peak hours. The Xbox One version of ARK: Survival Evolved is part of the Xbox Game Preview Program, and the "final" version of the console game won't be released until June 2016. Rapczak wrote:
Source: Xbox Wire (opens in new tab)
It probably does have more daily players than the PC one because its newer on XBOX than on PC. I would be curious to see the numbers of people who bought the game so far between PC and XBOX.

You're right. It's a pointless metric.

Also comes down to demand. There are "a billion" survival games on PC.

No because this is the first game if its kind hitting a console.
Pc games had games like ark before. Ark is just Sth better and outstanding. But nothing new, on console it is tho.

The game is also much more well known now so even comparing numbers around laugh wouldn't be great comp either.

Since the launch of the game on PC all of my friends have stopped talking about it and I haven't seen them on steam playing it.

Agreed. Tons of Ark streamers when it came out. Now there are much less. What's the most popular now?

My youngest has the PC version, and when the Xbox One version was released. gathered his Christmas money and got that version. Now he plays only on the Xbox One version. I think when games come out they are played more and once the newness wears off, the numbers will go down. I'd like to see the numbers for those that own both and which they perfer after the newness is done.

so there is a free trial correct? how long can you play free trial?

The trial only lasts 1 hour... and that counts menu/loading times.

You wont be able to do much with that hour but you will fall in love with it.

trial of 1 hour was way too short. After the character setup, finding servers, etc. I maybe played a total of 15 minutes. For a sandbox game like Ark, it's too short. 30 day would be fanastic. Although, I think many people would be happy with 30 days and not purchase. Tough business call.
Would love to see Arma 3 Life on Xbox one. Love that game.

Nah 30 days is like buying the game. Cause after 30 days you've done everything ;) so better think first :XD 2 h trail is perfect.

Maybe because it's new, and it runs like absolute crap even on the most high end hardware. Posted via the Windows Central App for Android

Looks like garbage on the xbox though. Like a 360 game really. Heaps of shimmer I'm guessing means its being heavily upscaled, and the draw distance is pretty low.

It's about the same on my pc as well, even with a 970 if you turn off the upscaling it runs horribly.

Yeah with my 970 I got >25fps on low settings. Posted via the Windows Central App for Android

25fps???? That's a $350 video card, guess you'll have to wait for the Pascal architecture due in a few months to get better fps....im assuming it will run $400ish day one....

970= 60 fps on high . Your inet just sucks then.
Ive a gts450 2gb and I play this game on low -medium settings with 30-24 fps dude

Fun game =) I'll probably still be playing it in a month.. but 6 months? prolly not

But what if they release a new world other than The Island in a few months? That could be cool and bring people back. =)


Shame it's a buggy, ugly mess. The graphics are abysmal and nothing like the trailers or screenshots. The textures are ugly, like an early Xbox 360 game and the shadowing looks like an old Quake 2 engine game, where they first started putting in proper shadows, but if you didn't have the settings right, or the correct drivers they just looked like lattices on the ground.

I played this game when it was in alpha on Steam, yes then it was bad but today its far better than it was. yes a couple buggs remain but way better and great fun.

Are you talking PC or XBOX version? The PC version is way, way better. Sure there are a few bugs. I recently killed my friends bird because he was carrying me and I was tranqing a raptor but the hit box caused the bird to get tranqed... But over all the game is pretty great :). I cant speak to the XBOX version but it will be optimized within a month or two I am sure, and then probably a few more times.

That's the problem with Early Access style games. Gamers see it while it's still a mess. You only get one shot at a first impression.

I bought ARK the day it was made available and have played pretty much everyday. It's obviously an unfinished game but it's uniqueness it's very attractive. I really like the game a lot and would recommend it to everyone.

Cause it req a machine to play prop.

I trialled it on xbox and bought it on steam... As more of.my steam friends were interested in playing. Great game if you have a group of friends in a tribe :)

$3 on steam last week i got it there. I wont get it on xbox untill its at that price now.

Oups I mixed up Chiailry and this game. This one is on sale for $20.00 on stream. Drop it on xbox to that price I will get it then.

Still haven't started my free hour trial. Now that I have finished MGSV, I may get to it.

Pretty sure the number of players who have bought it on PC is way more than XBOX. Posted via the Windows Central App for Android

I so want to play this but have no time at all -.-.
Windows Central Newsletter
Thank you for signing up to Windows Central. You will receive a verification email shortly.
There was a problem. Please refresh the page and try again.