Taking a look at the classic action RPG Titan Quest on Xbox One
Titan Quest is a memorable experience on Xbox One despite the odd controls.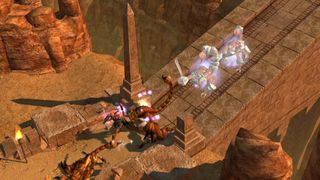 Titan Quest on PC remains one of my most favorite action role-playing games (RPG) even to this day. Ever since an early age, I've been fascinated by Greek mythology and its countless stories. Many years ago, a strategy game called Age of Mythology somewhat satisfied my craving, but fans like me still wanted a proper role-playing game set in Ancient Greece. Many years later, Titan Quest was the answer. Not only did it feature great gameplay, but it also told a compelling story which contained almost every major figure from the region's lore.
Players started from humble beginnings but eventually embarked on a grand adventure across Greece, Egypt, and Asia. The premise of the game revolves around the Titans. The Titans shaped the world but were eventually imprisoned by the lightning God Zeus. Now, they've returned and are wreaking havoc across the land. To combat this threat, the gods are looking for a champion who can turn the tide of battle. While it's not apparent immediately, the fate of both groups hangs in the balance because the Titans are a threat to all.
Titan Quest was created by Age of Empires co-creator Brian Sullivan and Braveheart writer Randall Wallace. It's safe to assume that these two know how to tell a story. The game benefits from their experience in many ways because the gameplay feels in harmony with the tasks you're given. The plot isn't thrown at you but steadily revealed throughout the course of the campaign.
Titan Quest originally launched in 2006 so it wasn't feasible for the developer to simply increase the resolution and call it a day. A lot of work had to be done to perfect the experience on modern displays. An Anniversary Edition launched on PC in 2016 which featured new resolution options and better menus. This same version appears to be the basis for the Xbox One release. The voice acting from quest givers also remains excellent on many occasions.
Titan Quest appears to be running at 1080p 60 FPS on Xbox One. The game looks crisp and doesn't appear to suffer from too many technical hiccups when it comes to performance. From what we can tell, it doesn't feature any Xbox One X enhancements. The environment looks gorgeous and there are a number of camera positions to help you see more of the world at any given time. Unfortunately, the lighting still feels subpar and the main character probably needs a higher polygon count. Other than that, it definitely looks vastly superior to the original due to the reworked textures and water.
Titan Quest features many ways to create your ultimate champion. This is mostly accomplished through the two dozen or so classes and a thousand unique items. While other games lock you into a particular playstyle, the tremendous class variety gives you new options here. Even though a lot of the gear is similar, there are still some noteworthy items in there for each class. You'll definitely be able to find at least a couple of items you like to use regularly.
Not everything about Titan Quest is so great though, the skill tree is still a little convoluted and could've been simplified by the developer in this remastered version. While it's not a game-breaking problem by any stretch of the imagination, it's still cumbersome to deal with. However, that's not the end of the problems.
The biggest issue with Titan Quest on Xbox One has to be the controls. Even after you stop moving the thumbstick, the hero continues to walk forward a few paces. Sometimes you even lose control of the character altogether. There also appears to be a "snap" system in place because whenever you approach an object of interest, it seems that you're automatically drawn towards it. Games like Diablo III or Path of Exile don't have this problem at all and it's quite baffling why Titan Quest, which has stellar controls on PC, suffers this much on consoles.
The developer needs to issue a patch to address the clunky controls as soon as possible. There are some other bugs in there like allies and enemies getting caught behind objects rather often. What should've been a joyous return to a beloved game becomes a jarring experience due to this. You eventually get used to it but it's not an ideal experience at all.
Overall, Titan Quest on Xbox One is a great game and represents great value. You get used to the finicky character movement eventually as you slay one mystical beast after another. At $29.99, Titan Quest on consoles also contains the Immortal Throne expansion. This greatly expands gameplay options and provides additional challenges for players. While Titan Quest: Anniversary Edition for PC is the best way to play the game, the Xbox One version isn't that far behind. It just needs a little more work.
Keep an eye on WindowsCentral.com/Gaming for all the latest in Xbox and Windows 10 gaming, accessories, news, and reviews!
Get the Windows Central Newsletter
All the latest news, reviews, and guides for Windows and Xbox diehards.
Asher Madan handles gaming news for Windows Central. Before joining Windows Central in 2017, Asher worked for a number of different gaming outlets. He has a background in medical science and is passionate about all forms of entertainment, cooking, and antiquing.